Jasper vs. Writesonic: Choosing the Right AI Writing Assistant for You
As businesses look for ways to increase their productivity and profitability, artificial intelligence is gaining a lot of traction. It seeks to accomplish tasks in ways that are not only faster but also somewhat smarter like how humans achieve them.
While there is no way AI can replace human creativity and decision-making capabilities, it helps us to do things in less time. AI copywriting tools are making headlines all over the internet, this is due to their potential in writing amazing content with only the barest of information required from the user. If you are interested in it and want to buy one, then Jasper vs Writesonic review is the place to be.
Disclaimer: this post contains affiliate links which means that if you click one of my links (please do!) and purchase the tool, I get a small commission at no additional cost to you.
Jasper Vs Writesonic: How Do I Pick?
Every SaaS tool has its own unique set of features that provides different perspectives to the user. While Jasper and Writesonic may seem similar in goals as they both allow you to create quality content much faster with the help of AI, there are definite differences in features. We have highlighted a few of them in the comparison table below:
| | | |
| --- | --- | --- |
| Features | Writesonic | Jasper |
| AI Technology | GPT-3 | GPT-3 |
| Languages Supported | 24 languages | 29 languages |
| User Experience | Simple, clean and clutter-free | Top-notch and easy to understand |
| Educational Material | Official Youtube channel with tutorials and how-to guides to create awesome content | Video content by Jasper team (100s of tutorials and superb Facebook Community) |
| Long Form Document Editor | Yes | Yes |
| Search Engine Optimization | Semrush, WordPress, and SurferSEO are integrated | Yes, with SurferSEO add-on |
| Plagiarism Checker | No | Copyscape |
| Chrome Extension | Yes | Yes |
| API/Webhooks | Yes | No, coming soon |
| Chat | Yes | Yes |
| AI Image Generation | Yes | Yes |
| Free Trial | Yes, 2500 words every month for free | Yes, 10,000 words free |
| Pricing Model | Subscription | Subscription |
What Is Jasper?
Jasper is an AI-powered copywriting tool with tons of useful features for creating better content without spending days on the writing process. The AI-powered writing software gives you the ability to create unique content for your business, blog posts, landing pages, social media posts, ads, emails, newsletters, and more. AI content creation is a widely discussed topic among marketers.
Some of the best things about Jasper:
Long form document editor with workflows to speed up your process
ChatGPT-like feature called Jasper Chat
Jasper Art which features AI art generation
For more in-depth information about Jasper, read my full Jasper review.
What Is Writesonic?
Writesonic is an AI writing tool that allows you to create content 10x faster in a few easy steps. Not only is it powerful in terms of features, but also extremely user-friendly. Initially, Writesonic was introduced for product landing pages and ad copies but later on further templates and features were added to make it even more comprehensive. For e.g, a blog post generator is the main attraction of Writesonic. Whether it is blogs you want to create, product descriptions, a landing page generator, pages, emails, ads, or eBooks, Writesonic helps you to get the job done in minutes. And it's getting better day by day, the team is continuously working on new features and integrations. Now it consists of various mini-tools and features that help you write better, save time, and make more money.
What Is The Difference Between Jasper and Writesonic?
Jasper and Writesonic offer similar features, but they also differ in several key ways. We'll look at how each platform delivers in categories such as AI technology, user experience, languages supported, educational content, and more.
AI Technology
Open AI's GPT-3 is an underlying technology driving Jasper and Writesonic to produce text based on the input given. There are many other language models powering different AI content generators, but GPT is the large language popular model utilized by many platforms. Read more about GPT-3 in my GPT-3 guide.
You won't see much difference in the output as both Jasper and Writesonic use the same technology as their main text generator, so it boils down to speed and other features that may give one a slight edge over the other.
Languages Supported
For those of you who are running multi-language projects or own businesses targeting global audiences, Jasper and Writesonic both support different languages for copywriting. It opens new opportunities when you have these AI writing tools at your disposal, as they support 20+ languages.
Jasper supports 26 languages while Writesonic supports 24. If you need content in any of the supported languages, it's quite easy to switch between them within the tools.
In Jasper, you can change the output language within the different features the platform offers. If you want to change it always to be a certain language, you can go to settings and set it that way.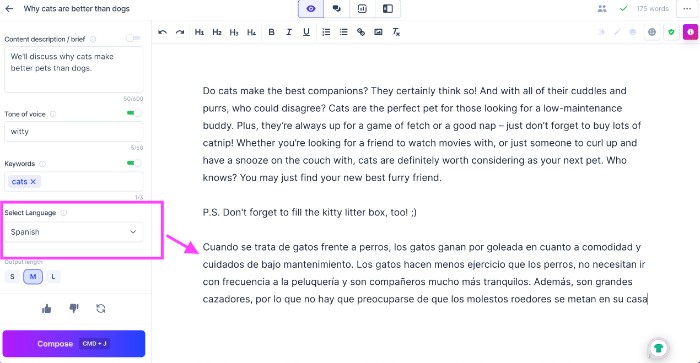 Writesonic works the same way as Jasper. You can change the output language everytime you generate copy or you can set the language to always be generated in a certain language from the settings area.
User Experience
A tool can have 100s of features but they are all a waste if the user experience doesn't feel right. That isn't the case with Jasper and Writesonic. They both look kind of similar in many ways; whether we talk about templates, documents, styles, etc. Both platforms offer smooth user experiences where you can easily create stunning content with ease and efficiency.
In Jasper, you'll be presented with a main page where you can see three or four different sections: Jasper Chat, Workflows, News, and Refer your friend (you can earn more credits through a custom link, if someone signs up then you get a bonus).
If you wish to start chatting or take a look at workflows you are free to do that. On the left sidebar, we have other options such as projects, documents, templates, recipes, chat, art, and a few more. Each and everything is easy to navigate and the design is familiar with other web conventions we see.
However, in Writesonic you will see all the templates divided into different categories here it's called a library – a collection of templates. Once you log in to the account you will land on the main page where creativity can be unleashed. Same as Jasper, the left sidebar has a few more things that are worth mentioning such as Photosonic – the AI image generator, Chatsonic – the ChatGPT like chat tool, bulk upload etc.
Bulk upload stands out to me as a differentiator between Jasper and Writesonic. It's a premium feature that you can only access if you have a paid account, but it allows you to upload a CSV of topic ideas and bulk generate copy at once.
Educational Material
Both Jasper and Writesonic have lots of video tutorials and documentation to help everyone understand the tool and how to produce content for different purposes.
Jasper offers education as primary main menu item within their UI, showing how much Jasper AI wants to ensure the success of their users. They also offer Live 101 Training, blogs, support, live Q&A, a Facebook group, and detailed documentation.
Jasper has a blog with content to help you make the most of Jasper, while the Help Docs provide you with material to help you use Jasper AI. Jasper AI also has hundreds of video walkthroughs for those who prefer a more visual approach.
Jasper also has a complete training program which allows you can get to know the tool and some advanced ways to use it. You can even get Jasper certified.
Writesonic has a Youtube channel is full of video tutorials. However, Writesonic's documentation pales in comparison to Jasper's. I personally prefer reading tutorials rather than watching them and Writesonic's documentation often just plops a video in the section you're trying to get help for and calls it a day. It also doesn't seem to be particularly updated often.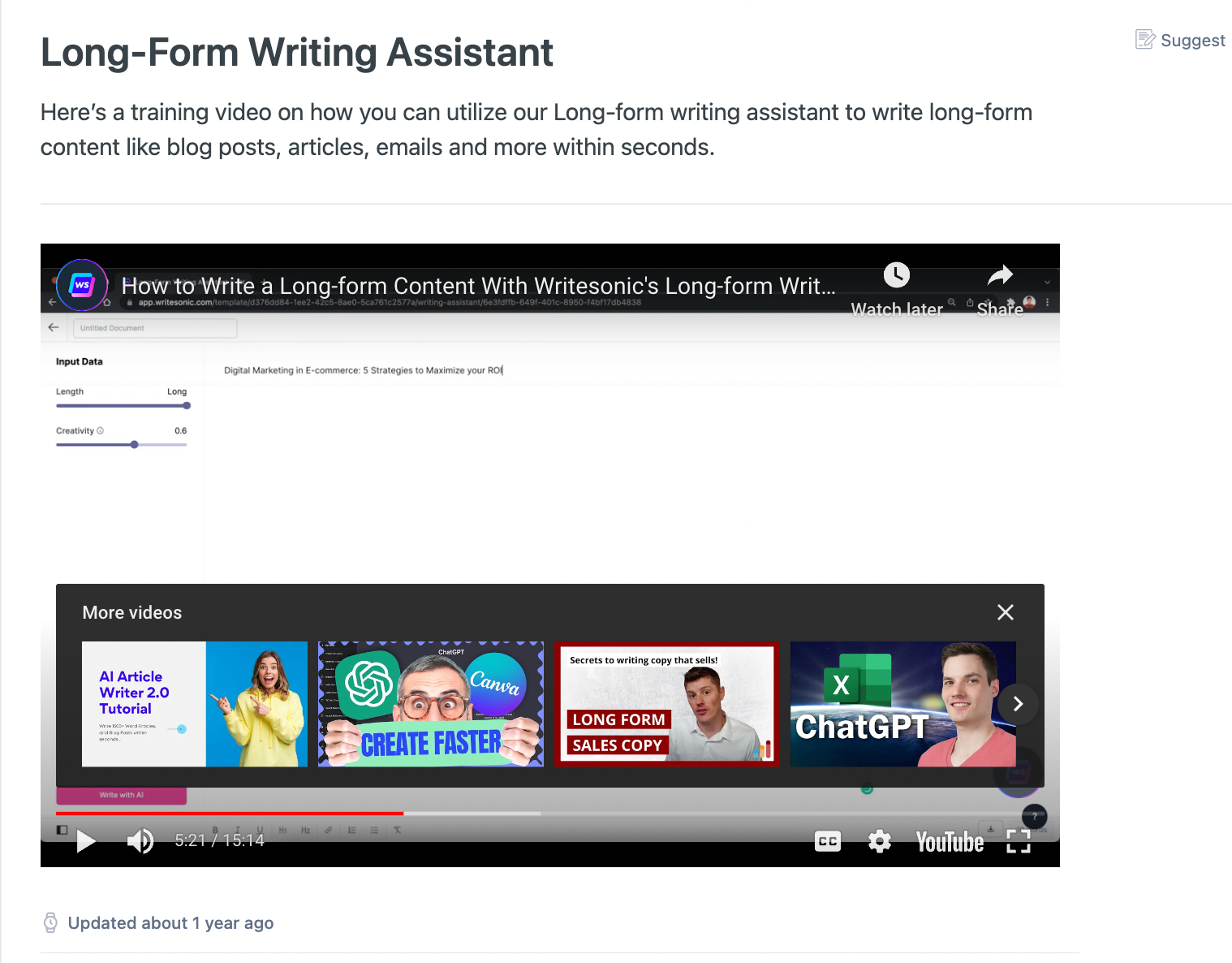 Long Form Document Editor
A long form document editor is a vital part of all AI writing tools because it helps you create articles and blog posts all in one place. This feature is available in both Jasper and Writesonic's higher tier paid plans. I personally like to do everything in the long-form editor as it gives me the flexibility to write, format, and structure content according to different needs while staying in the main document. All the necessary text formatting options are there to make your content catchy and well-structured.
Jasper's LongForm Editor
I like how easy Jasper's long form content editor is to find. You can access it in several places and it's one of their main features.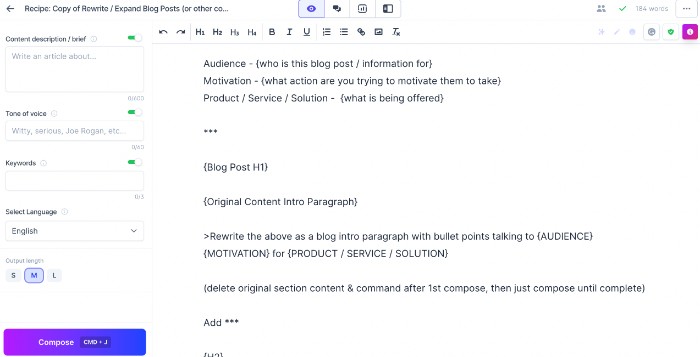 It took me FOREVER to find Writesonic's document editor. I was getting really annoyed. It's in their Library under "Sonic Editor."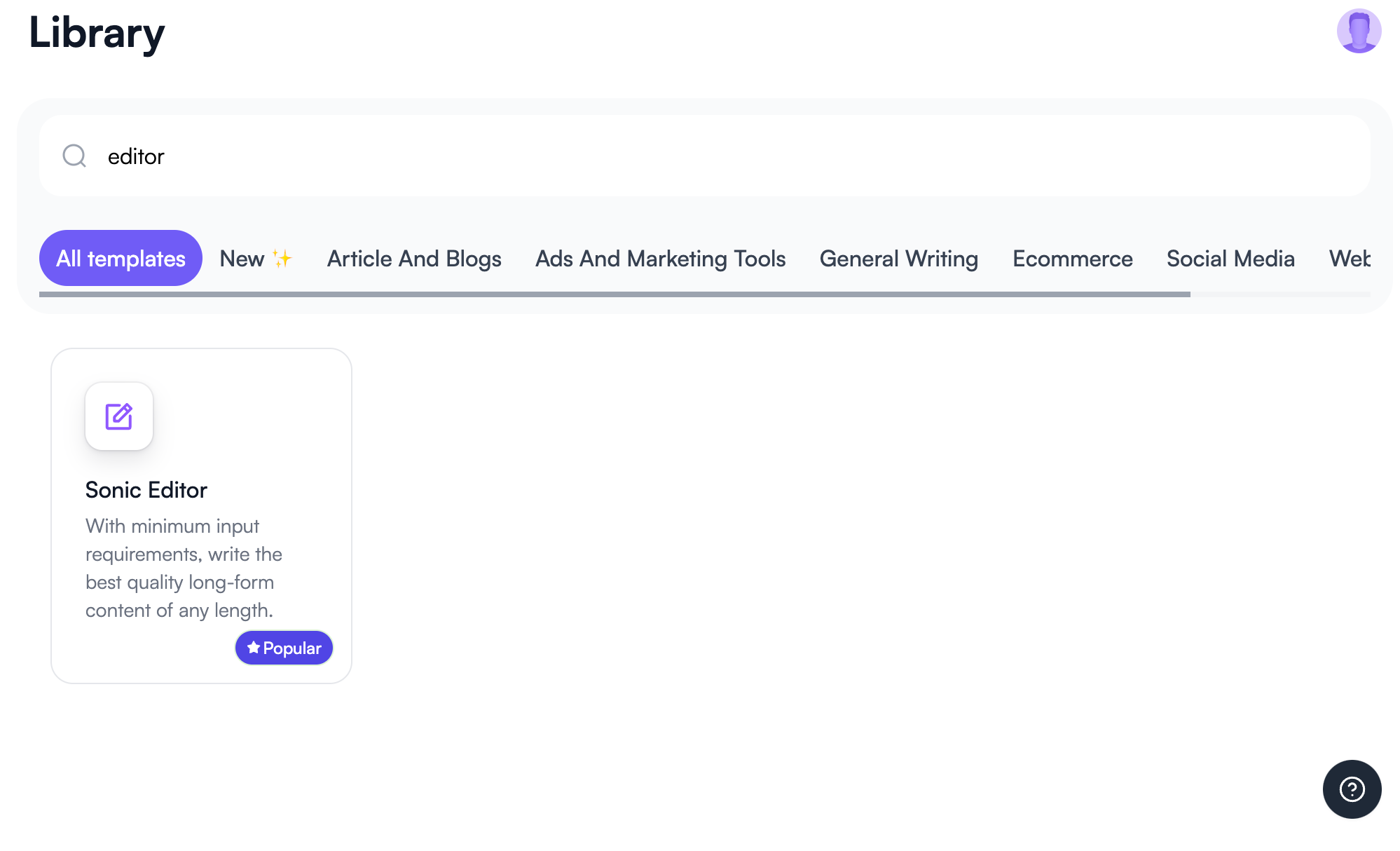 I never would have though to call it that. I thought for a while that Writesonic limited you to writing up to 3000 words with the Article Writer tool, which forces you to go through a workflow.
Both Jasper and Writesonic's document editors feel similar. They both have an integration with Surfer SEO as well. I wrote a Surfer SEO review if you're interested to learn more about that wonderful tool.
Content Templates
Most people don't realize the power of templates. There are many that you can utilize for your content strategy PAS, AIDA, Landing pages, call to actions, website copy, and a lot more. These templates are must-have features for any AI writing software by this point.
Writesonic 50+ templates
Jasper 50+ templates
These powerful content AI tools are all combined under one umbrella so you don't have to search for any other software to write better copy with AI.
Search Engine Optimization
Jasper and Writesonic both have a SurferSEO extension which you can grab for just $1 for the first month. SurferSEO is a leading content optimization tool used by thousands of agencies and bloggers. Check out my Surfer SEO review for more info about how Surfer SEO works.
Within both Writesonic and Jasper, you'll be able to take advantage of SurferSEO's content editor while you're writing with AI. You'll also want to be sure to look at Surfer's SERP analysis, quality score, and NLP suggestions.
Plagiarism Checker
Even though these AI writing tools generally produce plagiarism-free content, you never know. You also just might want to double check since plagiarized content damages your brand's trustworthiness and hurts an entire website's reputation. That's why it is essential to make sure that your content passes plagiarism checkers. Jasper integrates with Copyscape and is an additional cost.
No plagiarism detection tool is available in Writesonic.
Chrome Extension
Write content directly from your browser; whether emails, articles, blog posts, or product descriptions – you can write anything from the comfort of your browser. Wherever you are, you can write, edit and or add some extra content to your copy with the help of an AI writing assistant in the form of a Chrome Extension. Both platforms have chrome extensions for their customers.
Sometimes you want your AI writing assistant to come along with you and that's where a browser extension can help.
To install the extension: go to the chrome webstore, type in the name, install the extension, make sure to pin it and enhance your writing experience even further.
API/Webhooks
Writesonic offers an API that you can use to integrate with your system or software.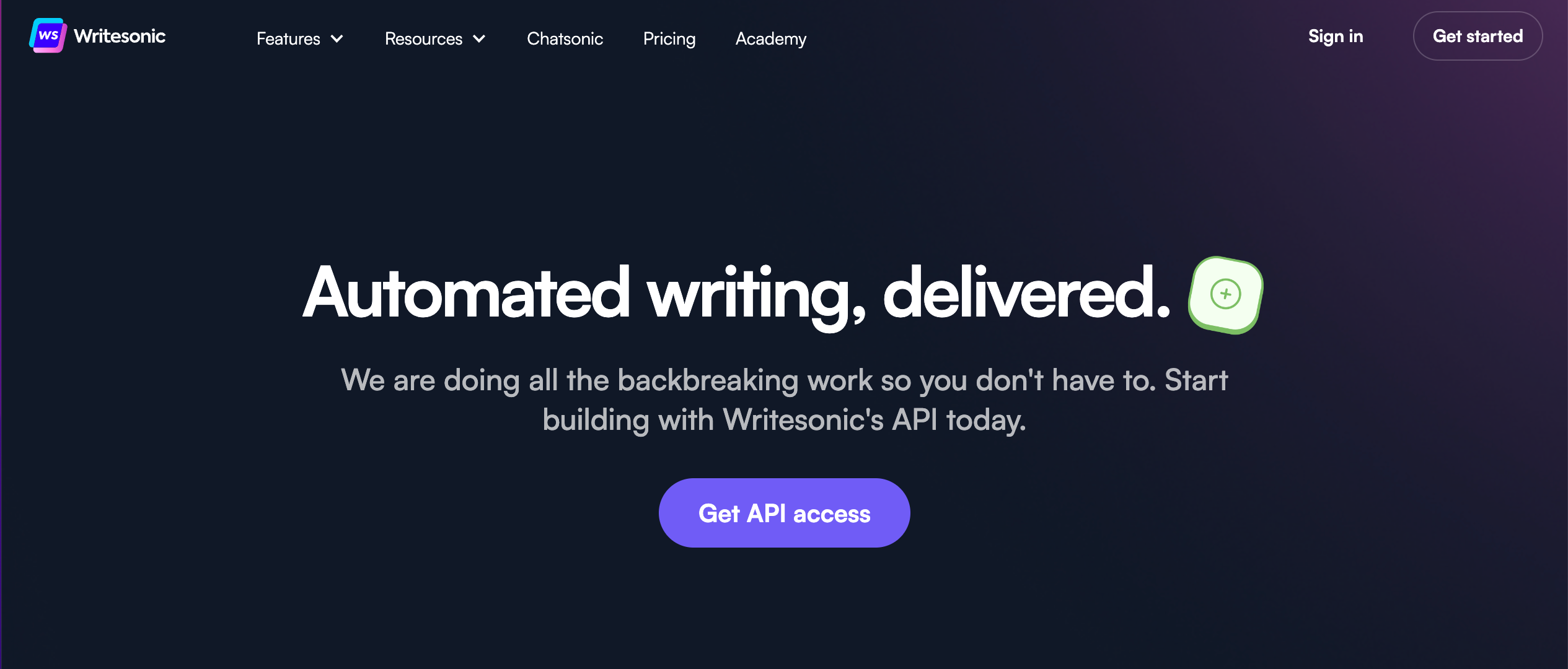 Jasper does not yet have an API, but you can sign up to get access
Free Trial
Jasper provides a 10,000-word free trial without any commitment. However, it needs card details to validate your identity.
On the other hand, Writesonic lets you use their AI assistant for free without any credit card details. However, the free trial is a limited version of their tool, whereas you can try Boss Mode on Jasper for free with your credit for 10,000 words.
Pricing Model
Jasper now offers unlimited words on all plans, while Writesonic charges per word.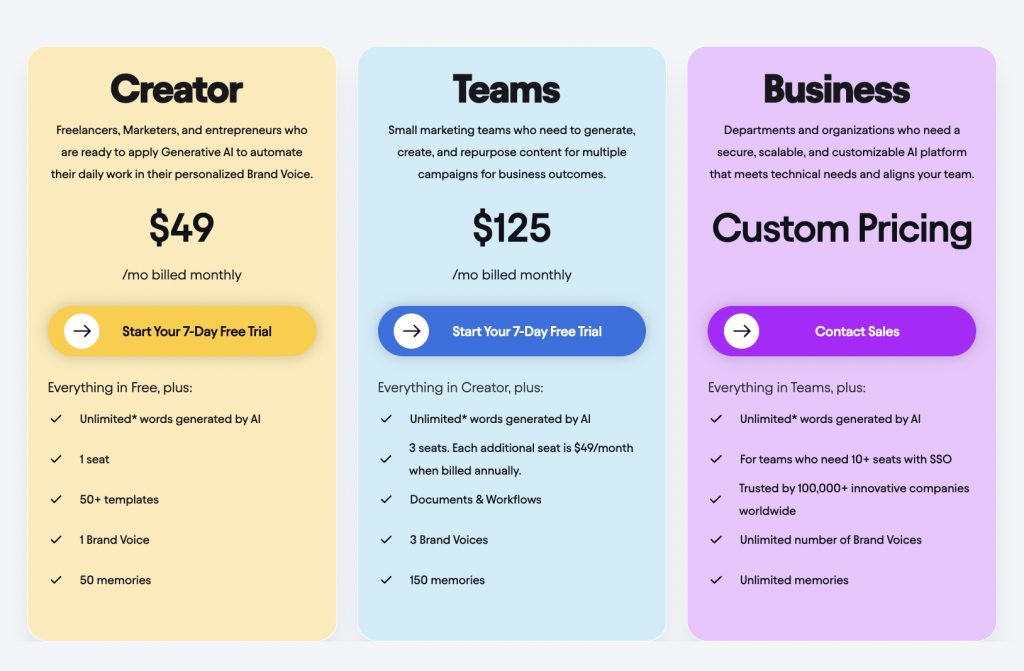 Jasper has three paid plans:
Creator Mode: $49/month for unlimited words
Teams: $125/month with unlimited words, 3 seats, and 3 brand voices
Business: Custom pricing
Writesonic's paid tier is called Long-form, which you can adjust by how many words you think you can use. Neither Jasper nor Writesonic offer an unlimited word count plan.
AI Image Generation
If you're looking for the ability to generate AI art while writing your content, then you'll be happy to know that both Jasper and Writesonic offer this feature. Use the equation subject + description + style when trying to create ai art of the art you want.
Jasper Art allows you to go create art based on the prompts that you give it. Jasper uses DALL-E2 as it's underlying model.
Photosonic (the AI image generator feature inside Writesonic) does not publicly disclose the AI model they use for art, but it's safe to assume they're using Stable Diffusion. If you care about AI art and ethics, Stable Diffusion is the AI art generation model with the least amount of safeguards in place. I discuss this and more in my AI art generator overview article.
Regardless, Photosonic is free for 5 images, so you might want to get your hands on it and see the world of possibilities that AI can provide you with.
AI Chatbot
ChatGPT shook up the AI space. Tools like Jasper and Writesonic launch their own chat interfaces to sustain their customers. If you would like to use something similar to ChatGPT to generate content, then Jasper and Writesonic provide just that.
Writesonic recently released a Chatsonic chrome extension of their chat tool. They also claim to have different tones of voice and personas you can use while interacting. Writesonic also offers search engine verification within the chat interface. I asked it about a current event and the resulting information had the disclaimer "based on the given web search results…" and included citations.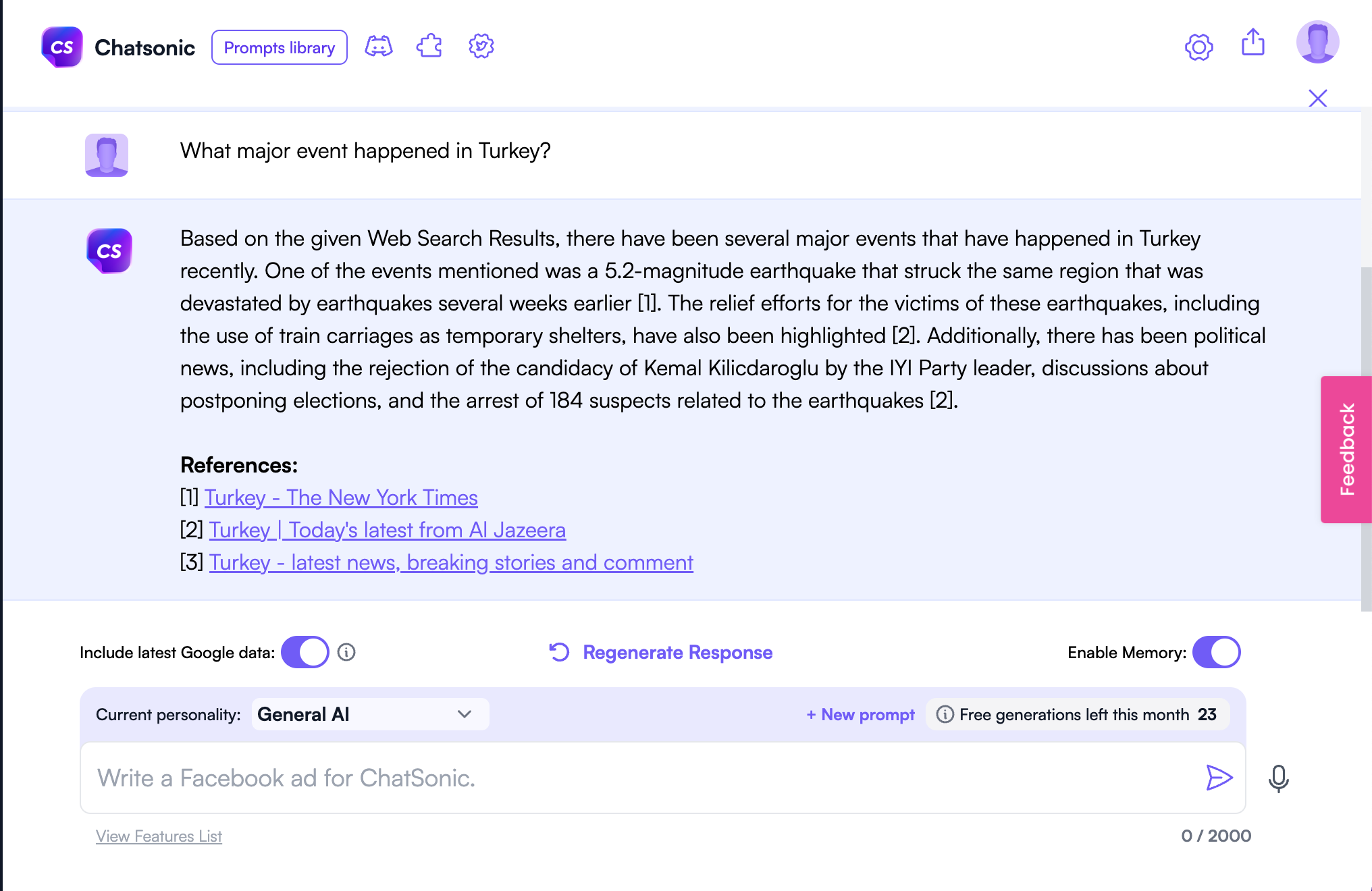 Jasper Chat is a simple-to-use user interface, that feels familiar with chatbots since it includes prompt examples for you. It works very much like ChatGPT. Writesonic has an edge over Jasper with the Google search data feature. Jasper Chat's training data only goes up to summer 2021.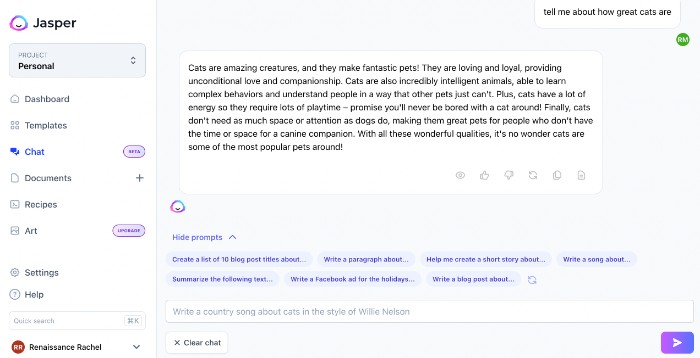 How Do I Choose The Between Jasper And Writesonic?
Selecting one tool can be a little tricky, but hopefully the information shared in this article will make it easy for you to decide. Here are a few things you should consider:
What do you want to accomplish with the help of a tool? For instance: blog posts, emails, social media, landing pages
How often will you be using the tool? Or are you a content nerd who's daily writing thousands of words?
Your budget
Different features
Output quality
Speed
If you aren't a heavy user who prefers writing blog posts, website copies, and landing pages without any AI. You can buy the basic plan of either Jasper or Writesonic.
If we talk about pricing, Writesonic is a bit cheaper, but the catch here is quality. Writesonic divided output quality into multiple categories such as economy, average, good, and premium.

I've never heard of an AI writing tool doing that before.
On the other hand, Jasper gives you a single output quality that is superb no matter what plan you pick.
When it comes to speed both are fast, efficient and you won't need to wait long to get content. Both of these tools write whole paragraphs in seconds and provide well-written copy.
The templates are similar in all AI writing tools, so what really matters the most is the long-form editor, custom frameworks, and output. Writesonic offers a few more integrations with other tools than Jasper, such as Semrush, WordPress, and Zapier.
Semrush is an all-in-one complete SEO analysis tool, from keyword research, website audits, and backlink analysis to competitor research. It helps you gain visibility, track the performance of your website and maximize ROI. WordPress is a content management system (CMS) that allows you to easily create and manage websites. Zapier helps you connect your apps together.
Writesonic has all of these integrated into its system so you get a complete SEO marketing power-packed package. On the other hand, Jasper only offers an integration with SurferSEO. That said, SurferSEO integrates with SEMRush.
Other AI Writing Tool Alternatives
The other alternatives are just too many to add in this blog post, so I would recommend you to look at my AI writing buyer's guide. Here are some of my favorites:
Sudowrite: Most User-Friendly Writing Tool
Paragraph AI: Best AI Writing App for your Mobile Device
QuillBot: Excellent for Proofreading, Plagiarism Checking, and Citations
GrowthBar: Best AI Tool for Content and SEO
Surfer: Best for SEO Writing
Scalenut: Best for Powerful AI Commands with SEO
Final Thoughts
Using AI is an art, one who knows how to play with it the right way, usually ends up having good output no matter what the tool is. Open AI's GPT is the main technology running behind these tools so results won't be that much different.
As you can see they both are quite similar. It's just about which one seems more convincing to you and what your requirements are. Overall, I would recommend Jasper if you really don't want your quality to be compromised because you didn't select the premium version. Jasper provides you with a single output of high quality content that is consistent and of superior quality. Otherwise, Writesonic is a decent choice as it provides you with some extra integrations that you may find useful.
They both are super fast, robust, and easy to use. Get a free trial of both and try them out for yourself. You'll get a better idea then.