13 Best AI Legal Tools of 2023
Artificial Intelligence has reached the legal industry and serves to be an absolute time-saver from the heaps of paperwork legal professionals have to dive into each day. When streamlining repetitive tasks, lawyers can redirect their time to higher-value impacts such as facing clients. Whether you work in a law firm or involve yourself in any legal practice, or maybe you simply want to sue someone or cancel an app subscription, AI legal software can help make things easier for you. Check out our guide to generative AI for legal for a deeper dive into how you can use AI legal software.
What Is the Best AI Legal Software?
AI ventures in the legal industry, which is one of the lines of work with the most amount of repetitive tasks that take long lengths of time to process. Time is one of a lawyer's most valuable assets, it is essential to use it wisely and strategically. Legal professionals spend so much unrecoverable time doing mundane administrative tasks such as drafting motions, phone calls, billing procedures, marketing, revising documents, and such. And it does not go easy at all, the law is quite strict in its formal setting, so the idea of fully entrusting legal work to a computer gives rise to the concern of accuracy.
No need to worry about that. Artificial intelligence has come a long way and is continually developing. AI in legal software and tools is backed up by human intelligence and utilizes machine learning and natural language processing. They also provide references from relevant and credible sources that clients can check and verify themselves.
Much like AI in any other field, artificial intelligence in law focuses on a variety of features, here are some of the top features to look at when choosing your AI legal assistant:
Drafting Documents – Artificial intelligence is widely known for its development in writing. In legal fields, repetitive tasks such as document drafting consume time. To save time, and cost, and provide relevant information that would take hours to research, AI legal software drafts legal documents within a matter of minutes
Resources – Automated complex legal documents such as standard statutes and regulations, state trial court records, motions, and intellectual property rights claims should have reference to large credible collections, libraries, blogs, case studies, and other sources of legal information
Analytics – See real-time updated analytics about relevant legal data information. This improves strategies with data-driven insights in legal settings and professionals such as law firms, courts, judges, lawyers, and case studies across the majority of legal practice fields. No need to wait lengths of time from using traditional data science methods to collect key information.
Legal Research – It can be greatly time-consuming if law firms do not have an expert who specializes in the field they have to conduct legal research on. Legal Research is needed for just about any type of case and is crucial to move the legal process on most of the time. With automated legal research, lawyers can gather information in a few minutes and be presented with questions relevant to the case
Document Review – Some AI legal software provides document review features, with a specialization such as a contract review automation solution. This eradicates any error that could go unnoticed in documents by the human eye and strengthen claims by providing related legal citations
Human Expertise – Artificial intelligence still requires human intervention to produce accurate and credible results. AI legal software that makes an effort to hire legal professionals to input or refine collected legal data ensure that the outcome they produced is no less than what would have been produced by a real lawyer.
Workflow Integration – Streamline workflow with your legal teams or third parties for better work management and cycle. Integration to the client's current tech stack, application, and devices makes it easier to avoid multiple documents and emails
Mobile App – Carry artificial intelligence within your pocket. AI legal software may offer its legal services as a mobile application, Apple and Android devices can download these mobile apps and use the same legal AI features as they would on a laptop or tablet
Customer Service – Reach out to the people behind this software. Most AI legal software requires customers to schedule a demo or discussion with a representative, this is to pinpoint the client's demands and how the software can answer these demands. While clients utilize these AI legal assistants, providing persons to reach out to is crucial for companies to present accountability and improve their legal tech solutions
With those features in mind, we have gathered a list of the best AI legal software. See what features, pricing, and other aspects would suit your demands
Lawgeex: Best for Contract Review Process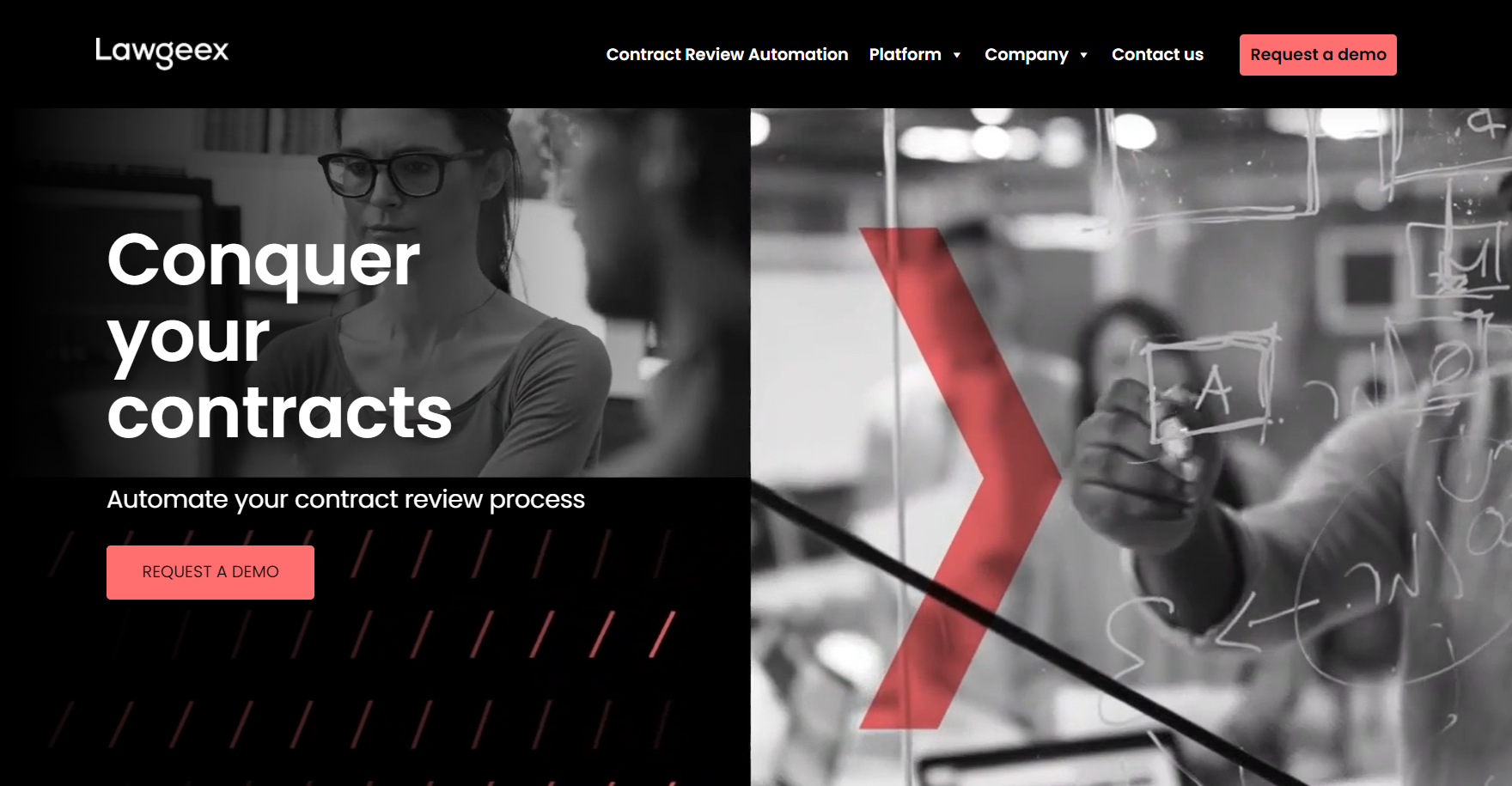 Overview
Lawgeex is an AI-powered legal software that automates legal work, redlining, and contract review processes in a faster and more efficient method. Best known for its technology to review and redline legal documents based on customers' predefined policies. Its AI technology uses machine learning which equips a secure algorithm to process contracts and negotiations. Save 80% of the time from reviewing and approving contracts, 90% costs compared to manual approaches, and close deals 3x faster.
Highlights
Platform – Lawgeex reviews and redlines contracts according to its customer's pre-defined policies with increased speed and precision
Security – Offers efficient security for data protection, with a range of tough measures in place to keep sensitive information secure
Analytics – Provides data-driven decisions about customers' legal policies and streamlines the negotiation process
Artificial Intelligence – Best-in-class AI, its AI achieved 94% accuracy compared to 84% from lawyers and saves 90% costs and 80% time
Integrations – Easy integration to the client's current tech stack
Customer Service – Provides 24/7 live representatives, email/help desk, chat, and phone support
Pricing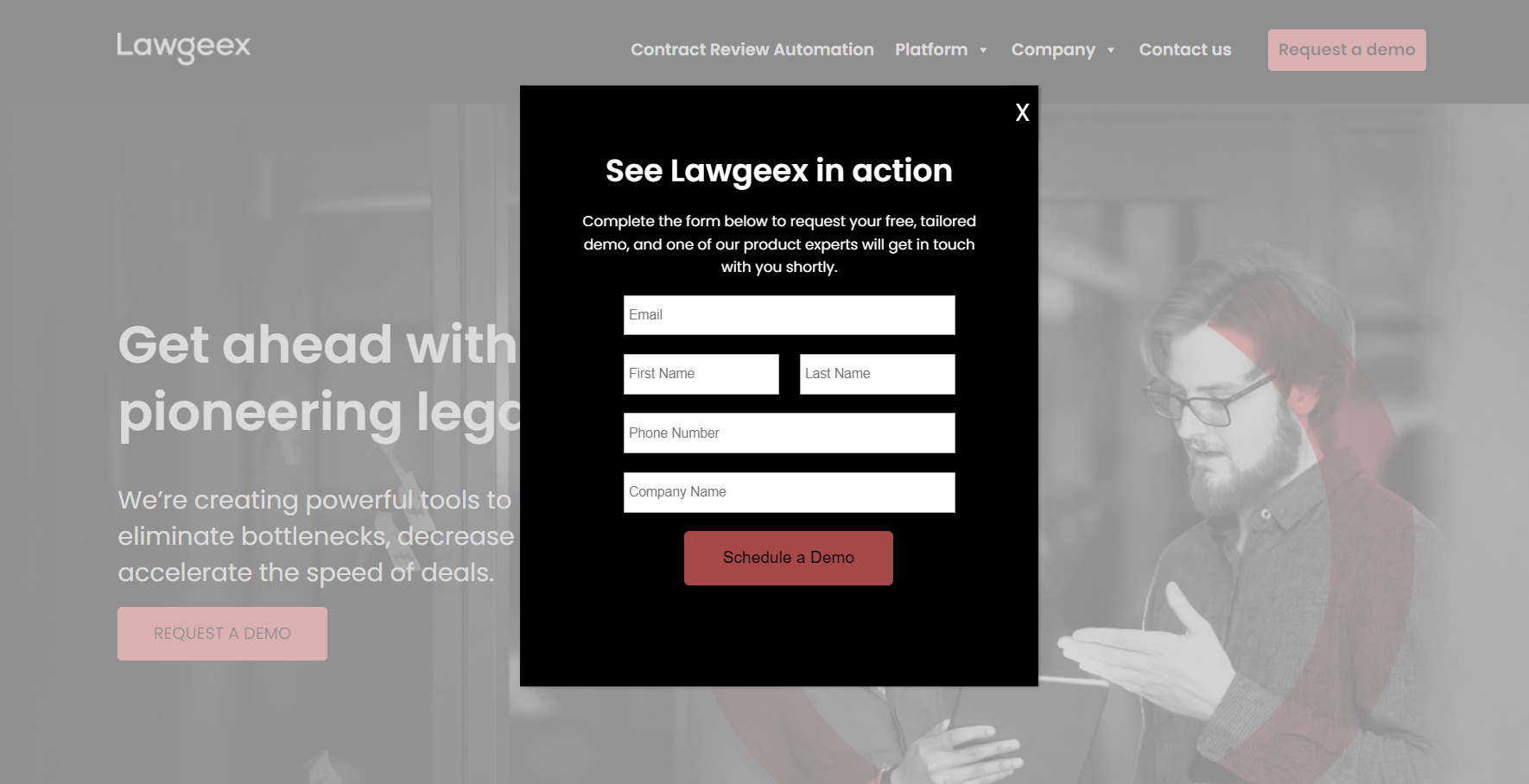 To receive a pricing plan from Lawgeex, customers will have to start with a demo or contact Lawgeex for an immediate subscription.
Bottom line
Lawgeex is a great AI legal assistant for businesses of all sizes and is even easy to use for freelancers. Learn how to equip this AI tool through a variety of training options it offers such as in-person, documentation, live online, videos, and webinars.
CSDisco: Best for Automation of Legal Processes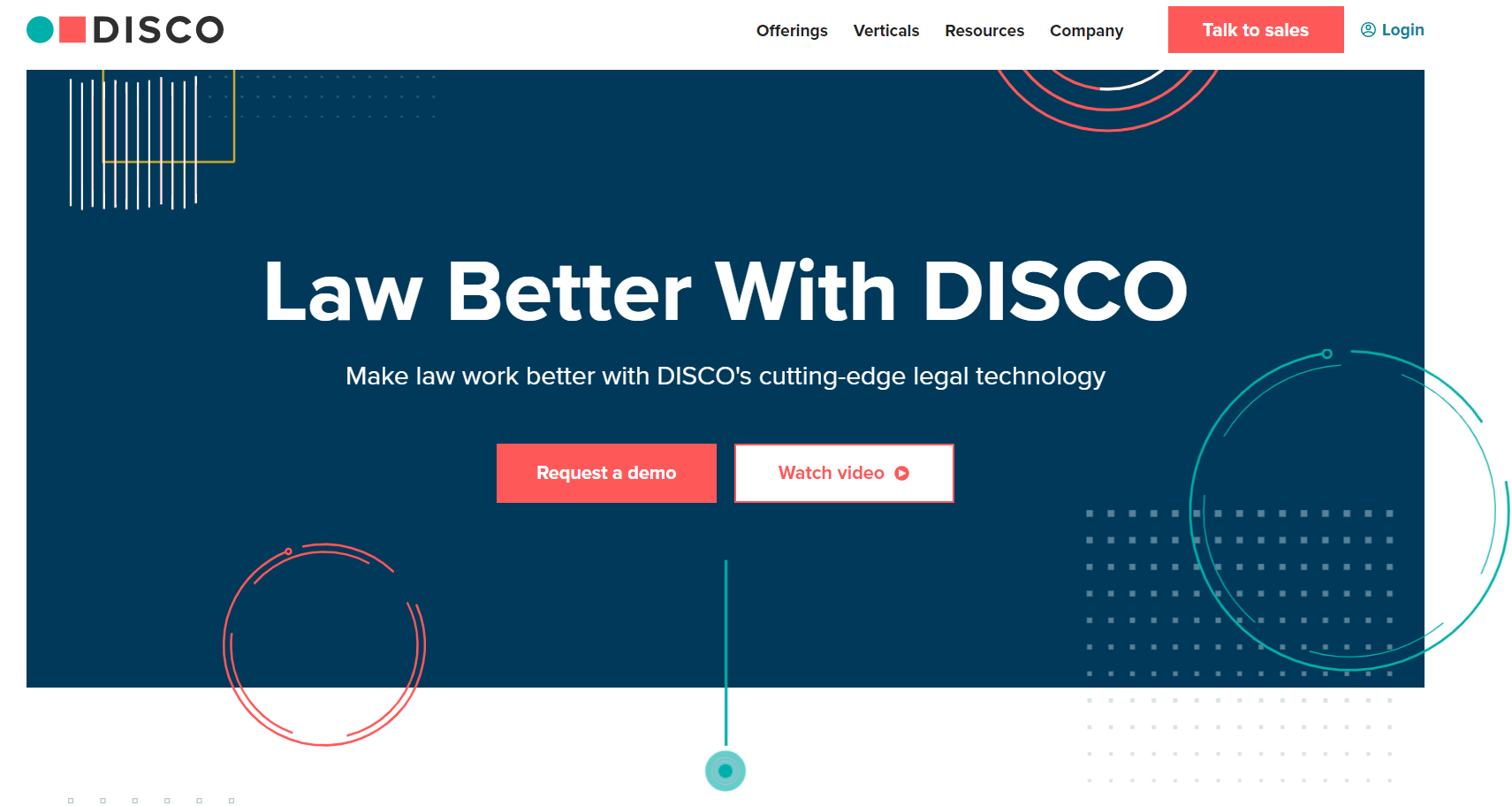 Overview
CSDisco is an AI legal software that utilizes artificial intelligence and cloud computing to automate legal processes and produce better legal outcomes for corporations, law firms, schools, and other agencies. With this legal tech company, clients can get the chance to explore their careers, venture into investor relations, host pro bono cases, and get updates on press releases and company updates. Clients can also streamline their legal processes from start to finish and get access to legal knowledge resources from videos to white papers.
Highlights
Request – Customers can manage all legal requests from a single system of record
Hold – A self-service legal hold solution for the modern enterprise
Ediscovery – Cecilia is an Ediscovery AI chatbot. Clients can ask her a question about a case, and be provided with an evidence-based answer with citations to documents in the DISCO Ediscovery database.
Review – AI-powered document review that is guaranteed on time and budget
Case Builder – Collaborative deposition review in the cloud
Professional Services – A deep bench of world-class experts available on-demand to partner with customers on all of their case needs
Partner Program – For e-discovery service providers seeking a cutting-edge technology partner to differentiate their offerings
Resources – Get access to CSDisco blogs, libraries, and its university to gain industry insights, professional development, case studies, legal tech skills, certificates, news, and more
Pricing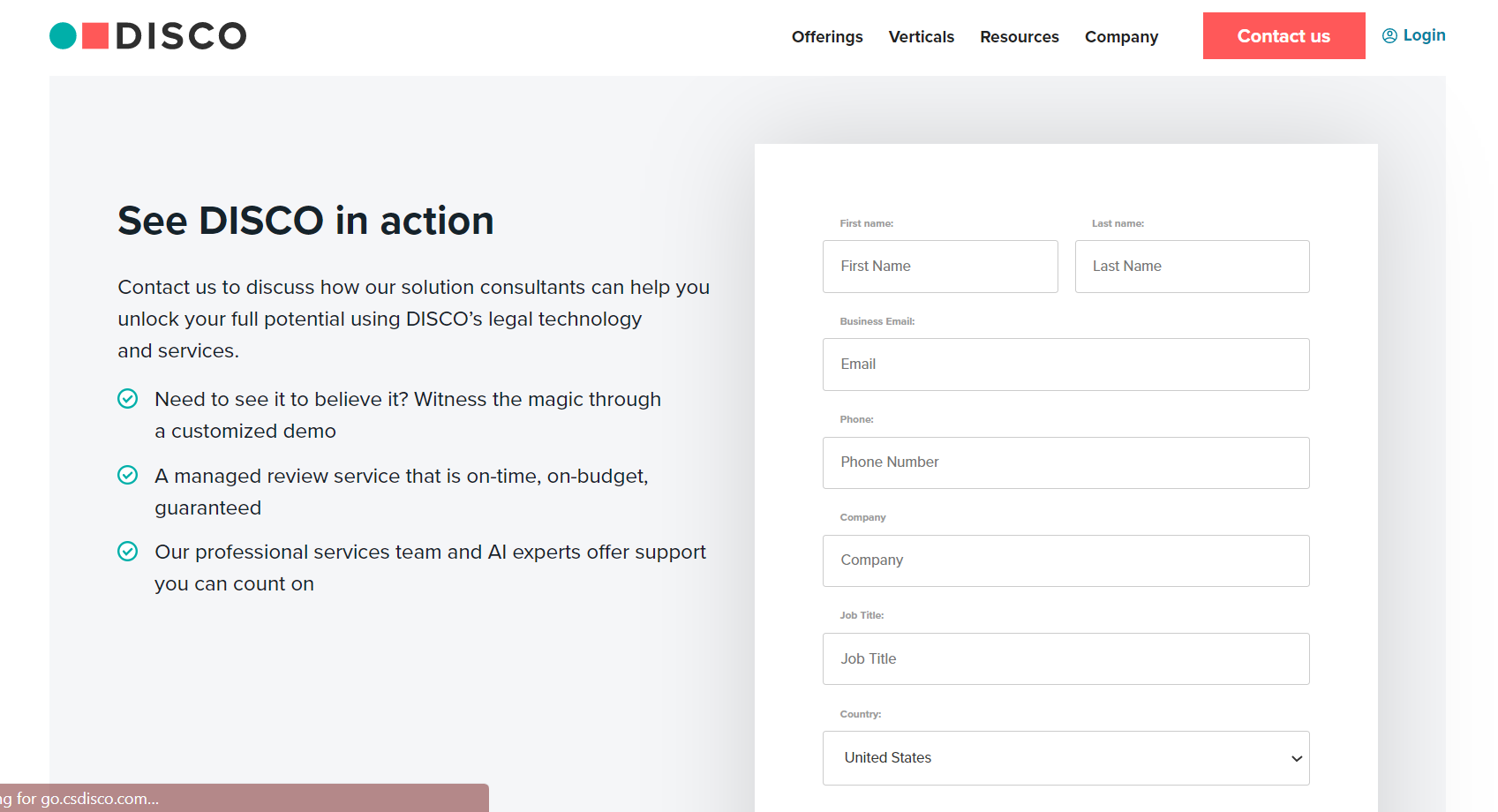 To receive a pricing plan from CSDisco, customers will have to start with a demo or contact CSDisco for an immediate subscription.
Bottom line
CSDisco offers a variety of features to ensure efficient and secure automation of legal processes. This AI-powered legal software is excellent for professionals and students in corporations, law firms, and schools. Schedule a free demo of CSDisco today.
Lex Machina: Best for Legal Analytics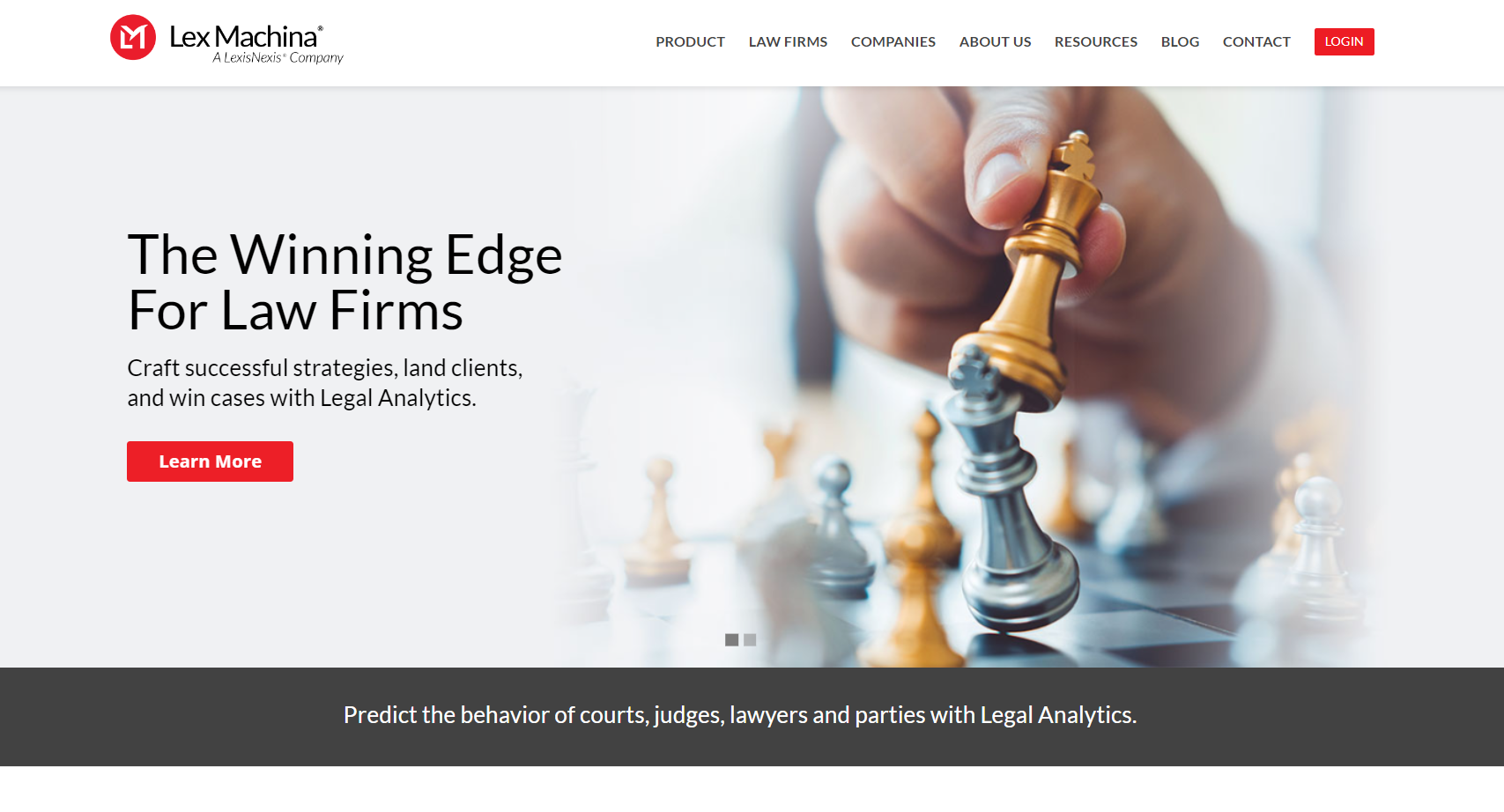 Overview
Lex Machina is an AI legal assistant that provides a legal analytics platform, delivered via on-demand subscription, that enables customers to craft successful strategies, win cases, and close business. It works by capturing data from various legal parties every 24 hours and cleans, codes, and tags all data using its Lexpression technology, which is proprietary natural language processing, and machine learning software. It goes through several other legal processes using Lex Machina's features to ensure efficient automation.
Highlights
Lexpressions – Collects and processes millions of raw records to extract structured, consistent data about all facets of litigation
Attorney Data Engine – Corrects and adds missing counsel data, producing an accurate record
Human Expert Review – Its legal experts further verify, refine, and annotate data that machines are not able to process, creating high-value insights
Case List Analyzer – Find similar cases with its practice-specific filters and tags, so that insights are relevant and help produce favorable legal outcomes
Custom Insights – Customers can receive custom insight from judges & courts, law firms & attorneys, and other parties
Outcome Analytics – Case resolutions, damages, findings, and remedies help customers comprehend their cases
Timing Analytics – Know the time for critical litigation milestones to help set accurate budgets and manage customer expectations
Motion Metrics – this AI legal software compares detailed motion chains and motion outcomes to craft a winning motion strategy
Pricing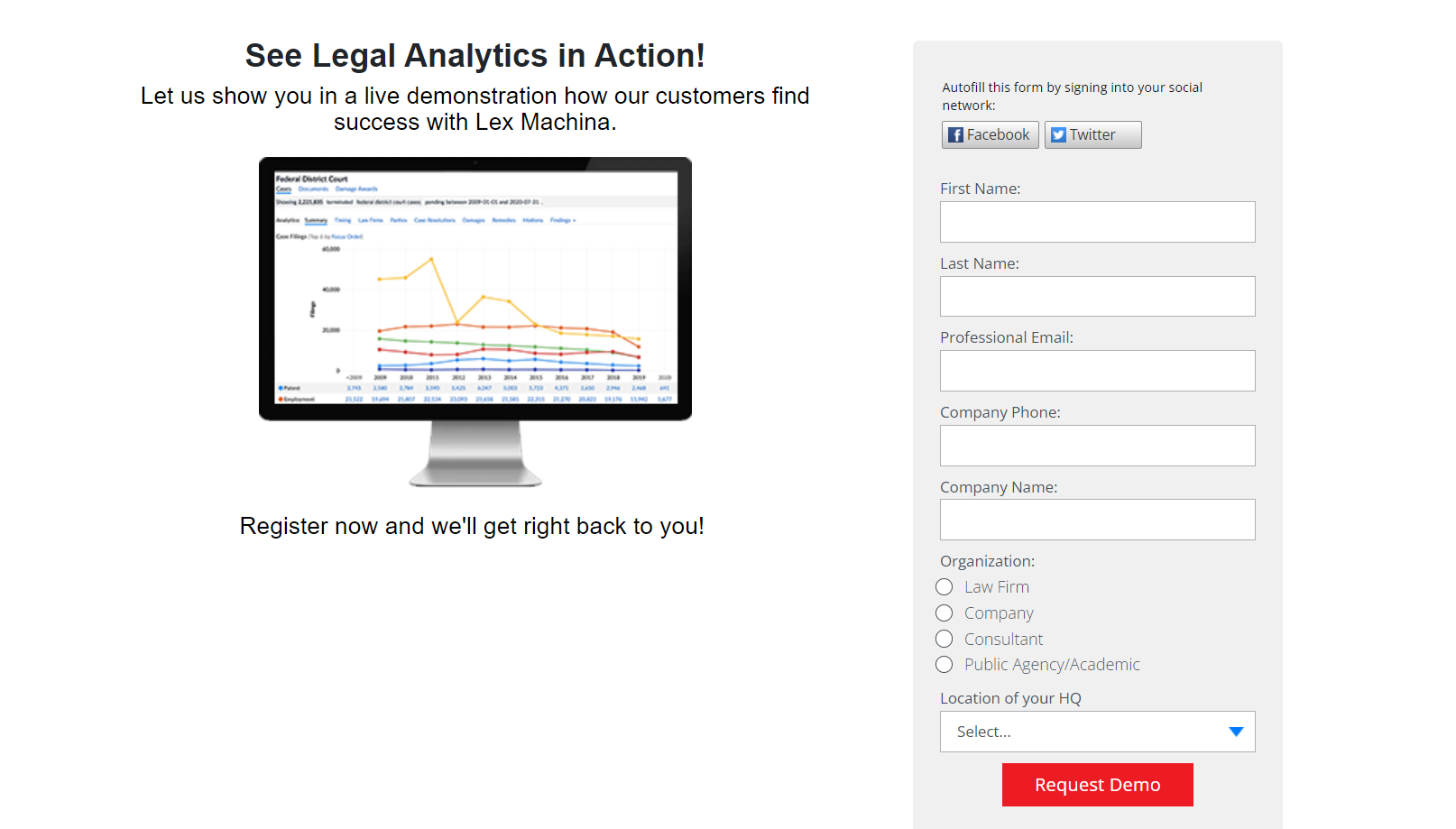 To receive a pricing plan from Lex Machina, customers will have to start with a demo or contact Lex Machina for an immediate subscription.
Bottom line
Lex Machina is ideal for law firms and other large companies. Its wide range of features enables customers to reduce litigation risk, improve effectiveness, predict legal costs, and identify and hire the best talent (both in-house and outside counsel) with its innovative technology. With the Enterprise Package, customers can have access to all of Lex Machina's functionality, as well as new capabilities they release in the future.
Latch: Best for Contracting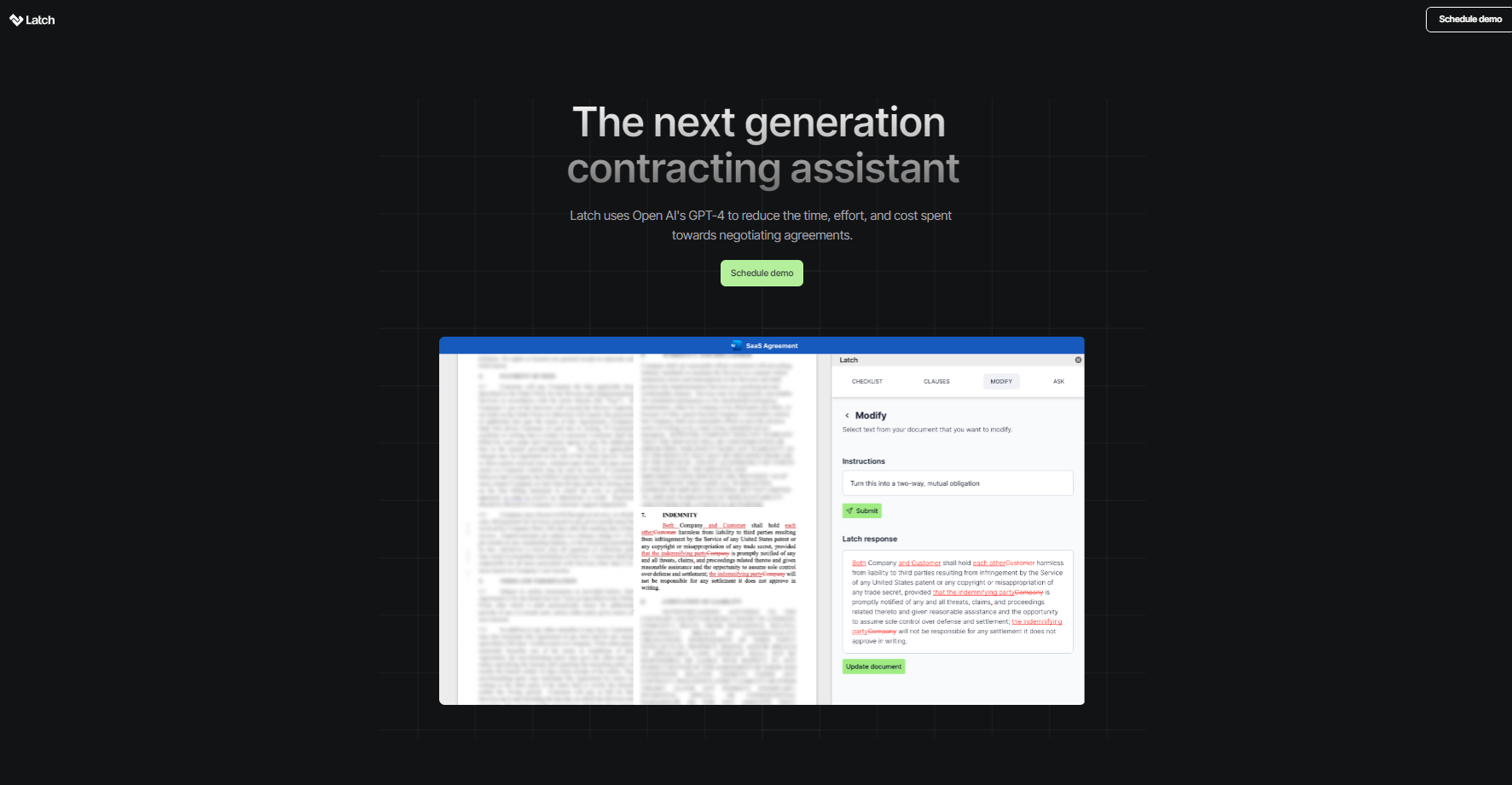 Overview
Latch is an AI contracting assistant powered by GPT-4, a large language model created by OpenAI. Data processed by using OpenAI's API are not used for service improvements. First and third-party contract information is not stored and is used only to maintain playbooks. That's an assurance of the client's data privacy. Latch provides legal assistance by generating redline suggestions, modifying and determining if clauses are market standard, and more. Customers can utilize Latch as a Microsoft Word Add-In, directly from the Microsoft application.
Highlights
Generate Suggestion – Receive suggestions on how to update counterparty language based on the customer's standard position. Toggle suggestions to accept and generate redline
Modify Clauses – Generate automatic redlines and customers can insert them directly into the document
Ask Questions – Get answers about your agreement. Ask anything from granular, needle-in-the-haystack questions to broader, open-ended questions
Checklists -Assemble simple, plain-language checklists for every situation. Analyze agreements to check for compliance with your checklists. Customers can use sources to navigate directly to the relevant passage in the agreement
Custom Features – Includes visualization of performance, track models, spin-up training clusters, production deployment, and tune hyperparameters
Pricing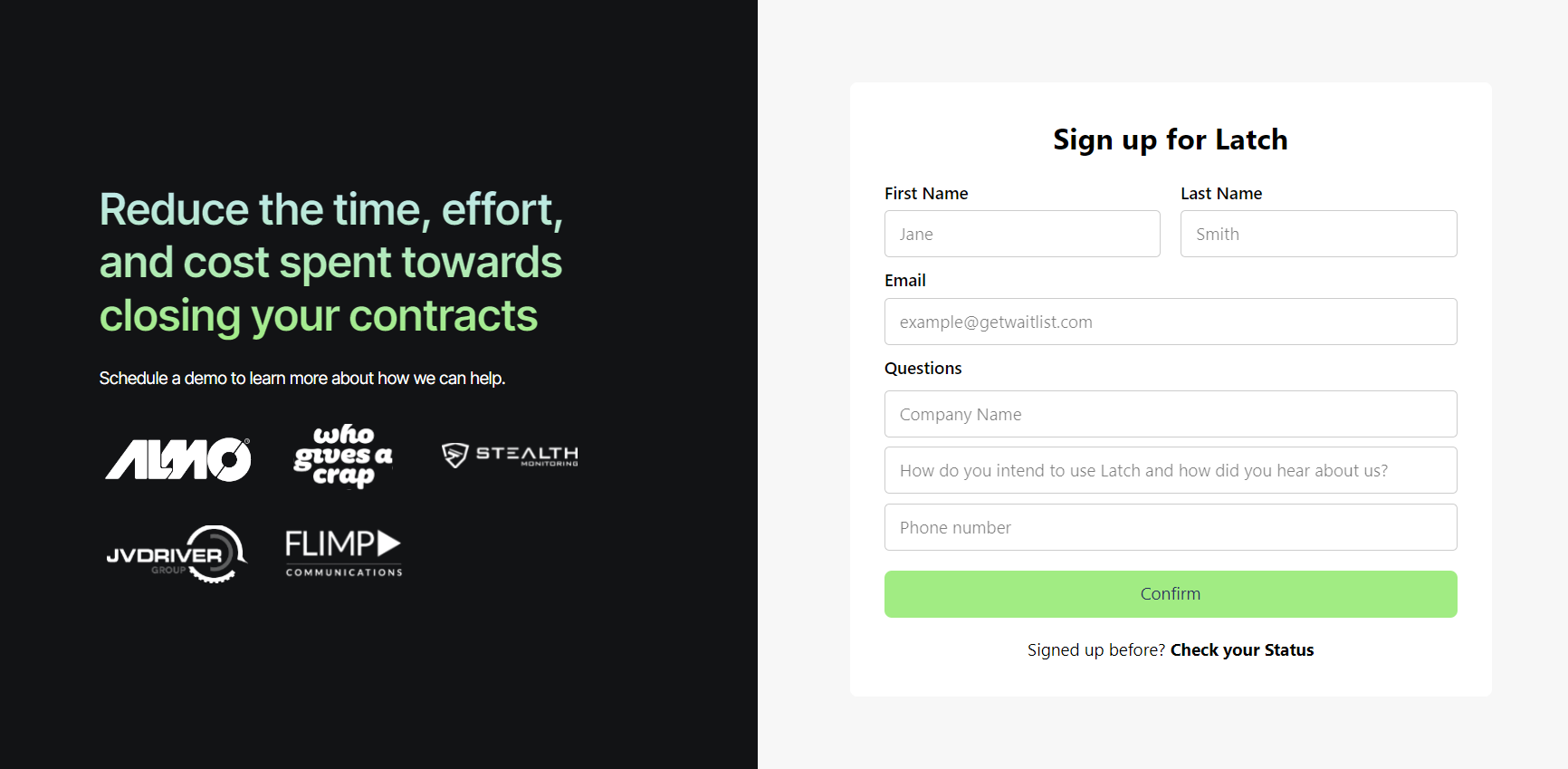 To receive a pricing plan from Latch, customers will have to start with a demo.
Bottom line
Latch is one of the best AI legal assistant tools for progressive companies that value secured data privacy tools and terms. Legal teams can streamline their workflow with ease through its cloud-based tools and focus on contracting with an approach innovated through AI technology.
One Law AI: Best for Legal AI Communication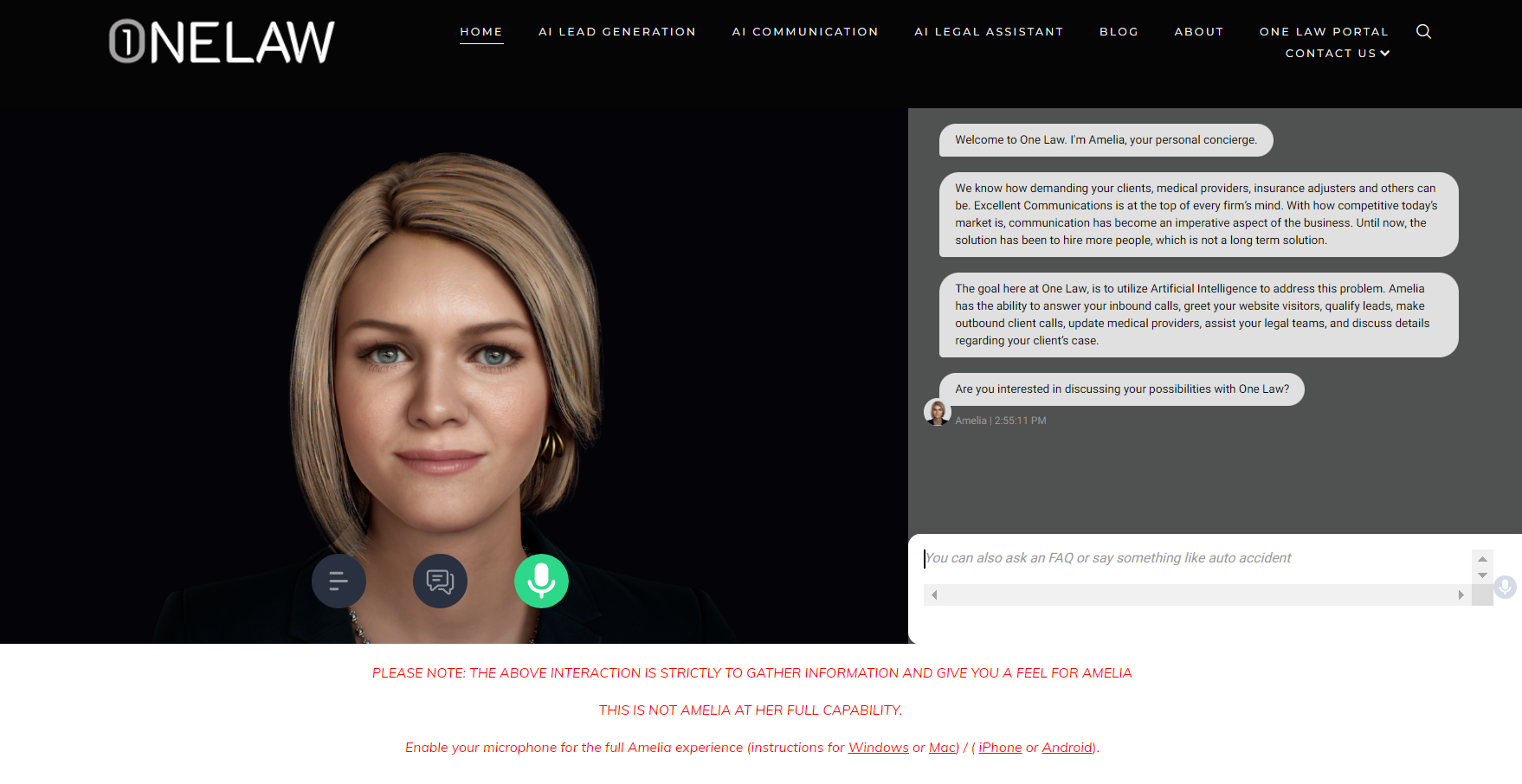 Overview
One Law is one of the best AI legal assistants for state-of-the-art AI communication. It presents Amelia, an AI-based virtual assistant that users can interact with through voice, text, email, and chat regarding legal inquiries. Amelia is the most human and comprehensive AI platform on the market. She navigates business process flows dynamically and works in 40 languages. Clients can get a preview of what interacting with Amelia is like by visiting One Law AI's website.
Highlights
Case Manager Assistant – Ask a variety of questions, ranging from legal matters, human resources, IT support, case management, and medical providers' new phone numbers, and more
Case Manager Voice – In addition to texts and emails, customers can make outbound calls. The call transcript is emailed and can be dropped automatically into the customer's CRM system.
Medical Provider/Funding Portal – The data is automatically collected from CRM databases and deposited in the Medical Provider Portal, third parties will have a tool that they can visit and pull in the updated information legal departments want to provide
Client Portal – Gathers real-time information from the customer's CRM system. Customers have access to their cases with ease
Mobile App – Available to download on Apple and Android devices. Amelia toolset assists customers with a wide range of features, from collecting data about traffic accidents to weather forecasts
Pricing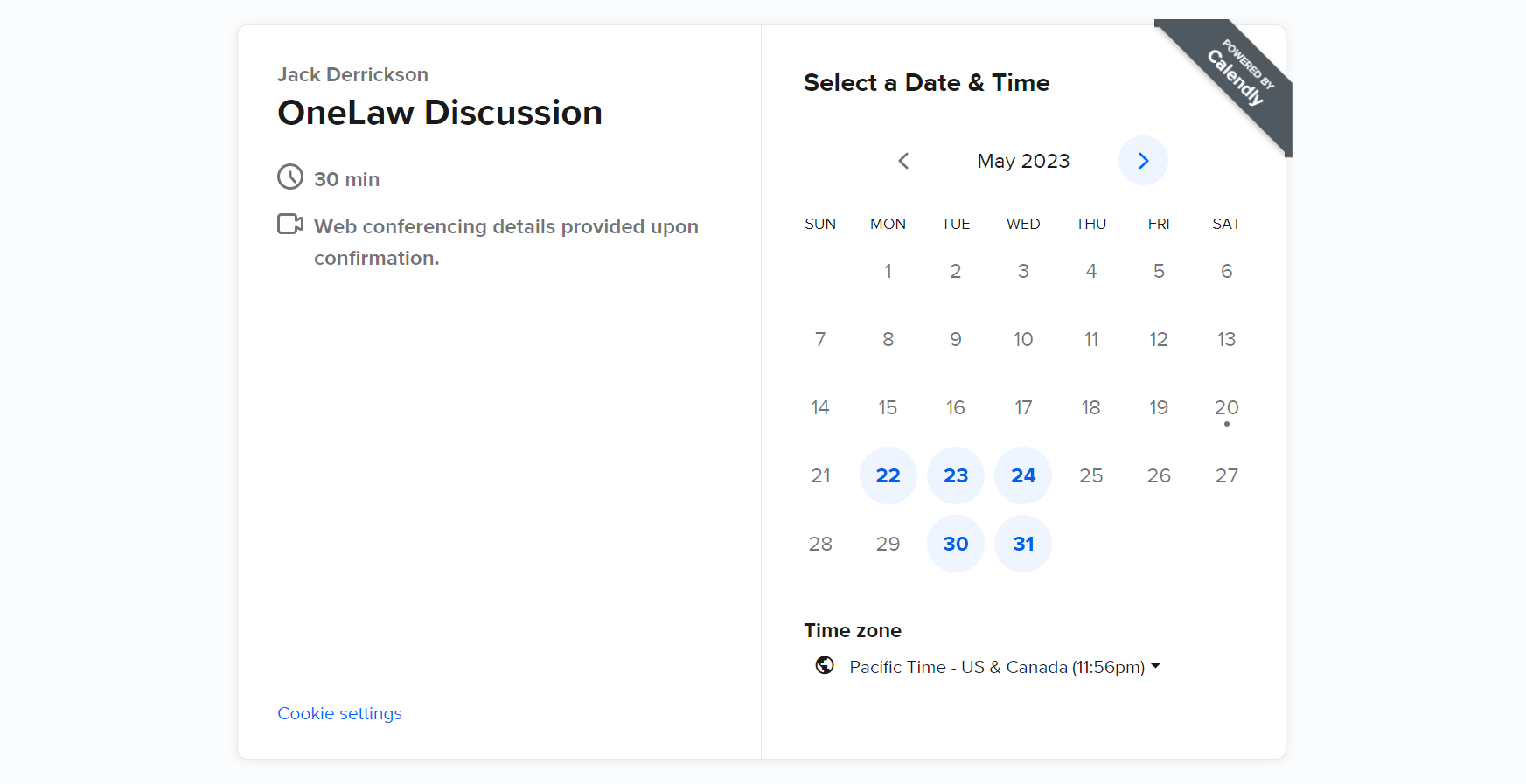 To receive a pricing plan from One Law, customers will have to schedule a meeting with their representative.
Bottom line
One Law is a great means of displaying an openness to innovation in the legal industry. All legal professionals, law firms, businesses, and organizations of all sizes can rely on Amelia, one of the best AI legal assistants, to record legal notes, and provide up-to-date and accurate information, legal analysis, and anything relevant to the legal industry.
DoNotPay (Robot Lawyer): Best for Writing Legal Claims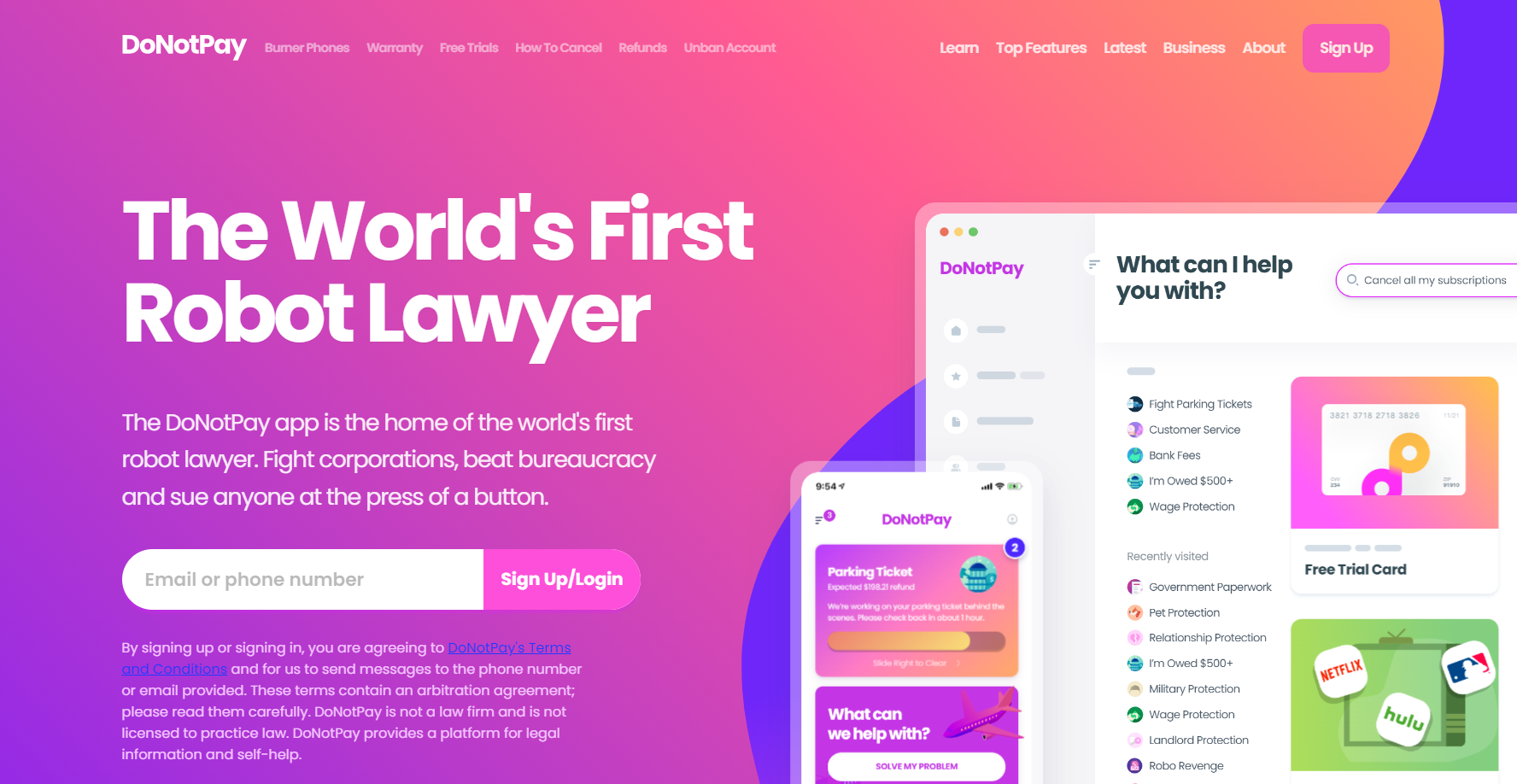 Overview
DoNotPay is a legal tech company that houses what is dubbed to be the first legal robot lawyer, one of the most popular multi-faceted AI legal assistants. This AI-powered tool can write corporate and legal documents from an endless number of concerns from appealing parking tickets in any city to trademark registrations. With DoNotPay, customers can fight corporations, beat bureaucracy, find hidden money, sue anyone, or automatically cancel their free trials. Enjoy dozens of legal products to save time and money.
Highlights
Draft Legal Documents – Generate complex legal documents such as banking and finance documentation, the contract review process, state trial court data, defense attorney fees, format legal citations, and more
Protect Your Money – Get up-to-date information on burner phones, airline flight compensation hacks, virtual credit cards, how to get free trials with no charge, insurance claims, and warranty claims
Find Hidden Money – Reduce property taxes, and college fee waivers, discover and apply for scholarships, get gift card cash back, draft financial aid appeal letters, and more
Fight Spam – Fight email spam, and text spam, and enforce robocall compensation
Beat Bureaucracy – Contact the government, embassies, and consulates, get compensation for victims of crime, notarize documents, enforce FOIA, and more
Pricing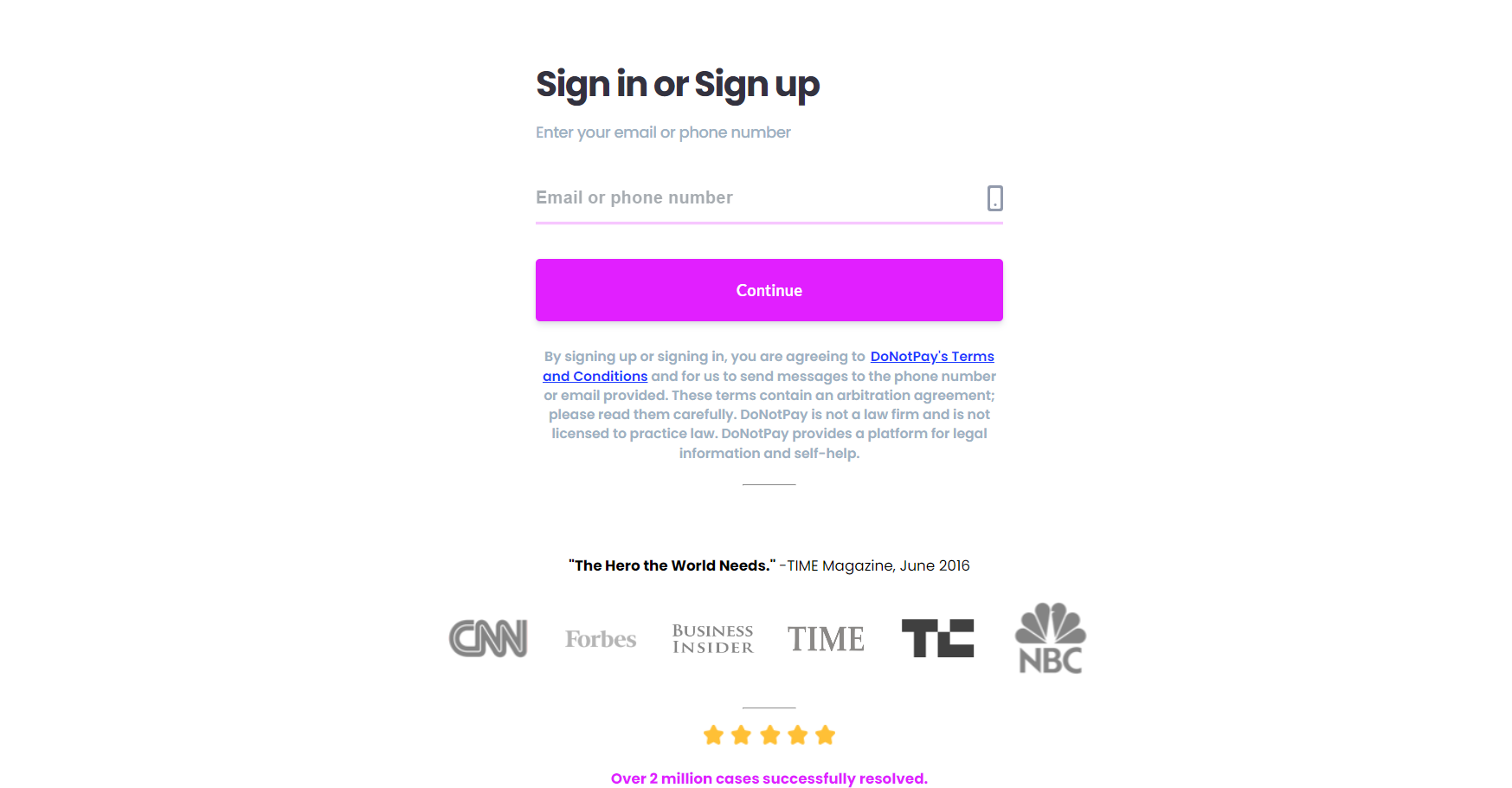 To receive a pricing plan from DoNotPay, customers will have to create an account or log in to an existing account on their website.
Bottom line
DoNotPay is targeted at individual clients seeking legal assistance. This AI lawyer works great in many fields of claims, complaints, and hacks. Get a free trial of DoNotPay today by simply creating an account.
Westlaw Edge: Best for Legal Research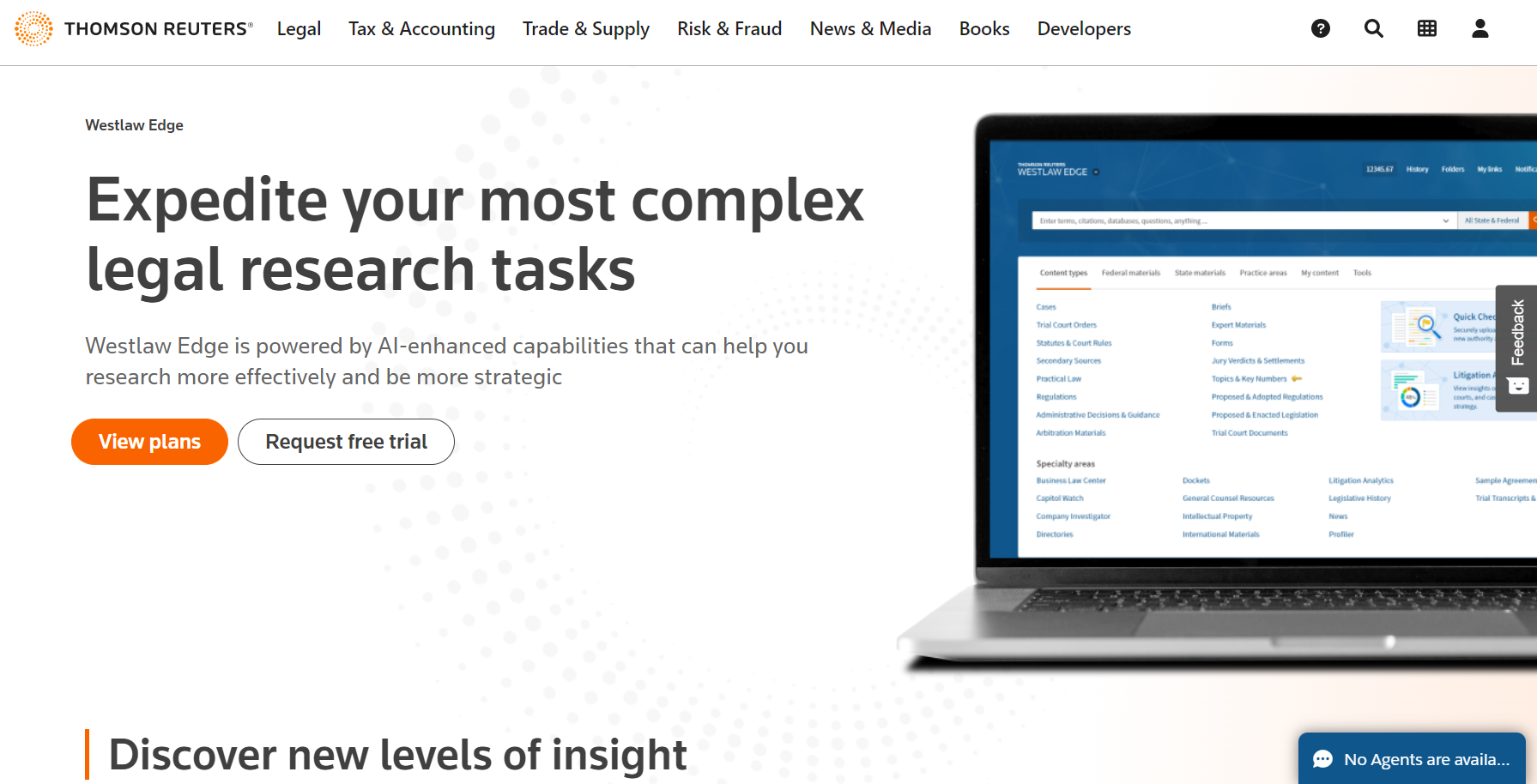 Overview
Westlaw Edge is an AI-powered legal tech solution parented by Thomson Reuters. This AI legal software excels in legal research to assist attorneys, law firms, and other legal professionals in their legal work. Expedite massive amounts of the most complex legal research tasks. Aside from legal research, Westlaw Edge also offers assistance in tax, accounting, trade and supply, risk, fraud, news, media, and books. It also features a developer portal for clients to discover Thomson Reuters' APIs and documentation.
Highlights
Quick Check – Clients can simply upload a brief and in minutes it identifies any bad law and surfaces any additional highly relevant authority
Statutes Compare & Regulations Compare – Streamline legal research and instantly compare any two versions of a statute or regulation to see exactly what has changed over time.
Jurisdictional Surveys – Assess laws across jurisdictions, understand variances as they relate to compliance activities, refine a legal argument, or identify new or emerging policy trends
Litigation Analytics – Powered by the largest collection of federal and state dockets, this feature compiles information from comprehensive legal databases to help clients build the strongest case strategy across the most practice areas
Legal Content and Editorial Enhancements – Boost legal research with the largest, most up-to-date collection of legal information including primary law, secondary sources, litigation materials, headnotes, KeyCite, and key number system
Human Expertise – Legal professionals making this technology possible are bar-admitted attorney-editors, reference attorneys, and the premier legal teams of the legal industry
Pricing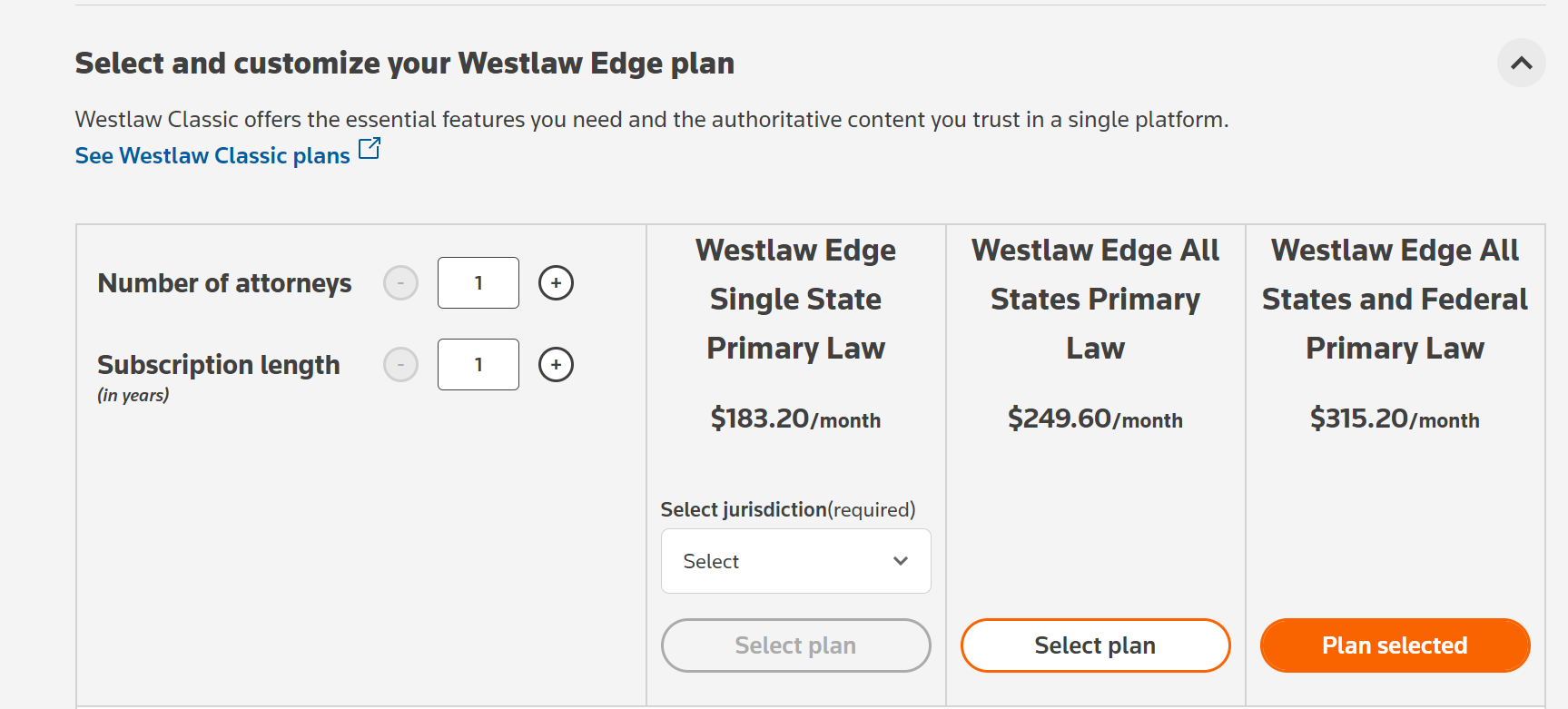 Westlaw Edge pricing starts as follows for a one-year subscription
For law firms:
Westlaw Edge Single State Primary Law – $183.20/month
Westlaw Edge All States Primary Law – $249.60/month
Westlaw Edge All States and Federal Primary Law – $315.20/ month
For general counsels:
Westlaw Edge Premium – $582/month
For government agencies:
Westlaw Edge Single State Essentials – $115/month
Westlaw Edge Single State Primary Law – $237/month
Westlaw Edge Single State Primary Law and Analytical – $404/month
Bottomline
Westlaw Edge eliminates how legal professionals dread legal research. For law firms, businesses, and agencies of all sizes, Westlaw Edge is one of the best AI legal assistant tools on the market. Try Westlaw Edge's free trial today.
Bigle Legal: Best for Contract Management
Overview
Bigle Legal is an AI-powered versatile contract lifecycle management. Create exceptional error-free documents with no-code technology, use electronic signatures, and track and manage in an all-in-one platform. This trusted platform functions with a focus on security and privacy. The perfect document automation solution for clients anywhere in the legal industry, real estate, corporations, law firms, notaries, and more. Get access to Bigle Legal's large collection of legal information such as case studies, videos, Ebooks, webinars, and the Bigle Academy.
Highlights
Contract Lifecycle Management – Automating templates, generating forms, classifying metadata, reviewing and sharing to third parties, negotiating contracts, digitally signing, automatic saving on a cloud-based platform, and managing dashboard
Document automation – Create legal documents on demand and 90% faster with smart forms.
Contract Management – Create, sign, distribute, manage, store, and track legal documents. Modern legal teams can organize their contracts on a single platform which reduces the time employees have to spend managing legal documentation
Intelligent Workflows – Assign roles, define tasks, and manage your contracts intelligently
Contract Negotiation – Negotiate on contracts remotely without leaving the platform and creating endless chains of emails and multiple versions of contract files
Artificial Intelligence – Based on natural language processing, this facilitates the contract management process and offers the necessary tools
Integrations – Bigle Legal integrates with over 10 applications, and allows clients to add their preferred application as well
Pricing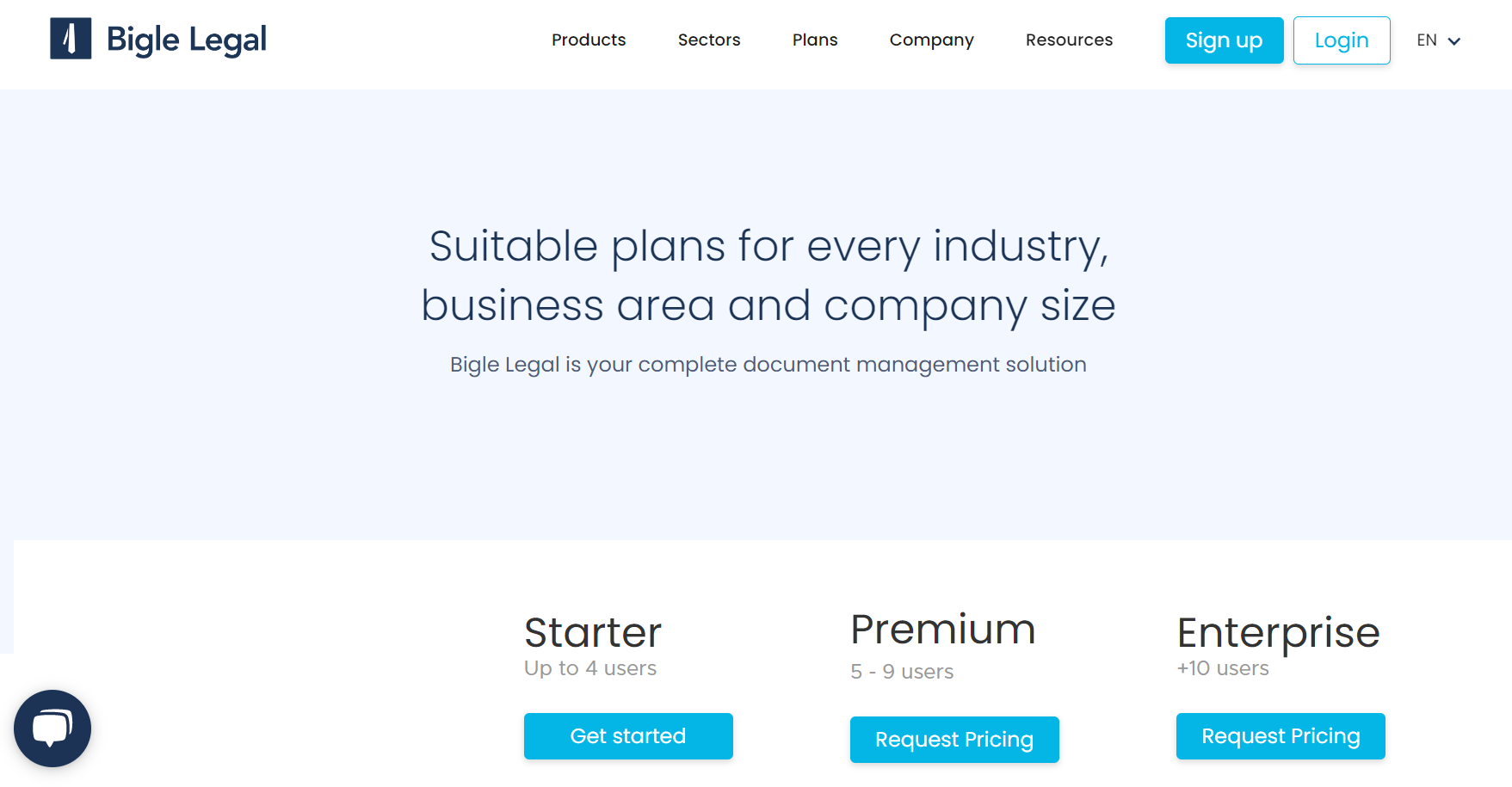 To receive pricing from Bigle Legal, clients will have to request it. Bigle Legal offers three plans: Starter for up to 4 users, Premium for 5 to 9 users, and Enterprise for 10 and more users.
Bottom line
Bigle Legal works consistently with individual legal professionals, businesses of all sizes, and anyone who wants to manage legal contracts and receive detailed contract analysis. Try a free trial of Bigle Legal today.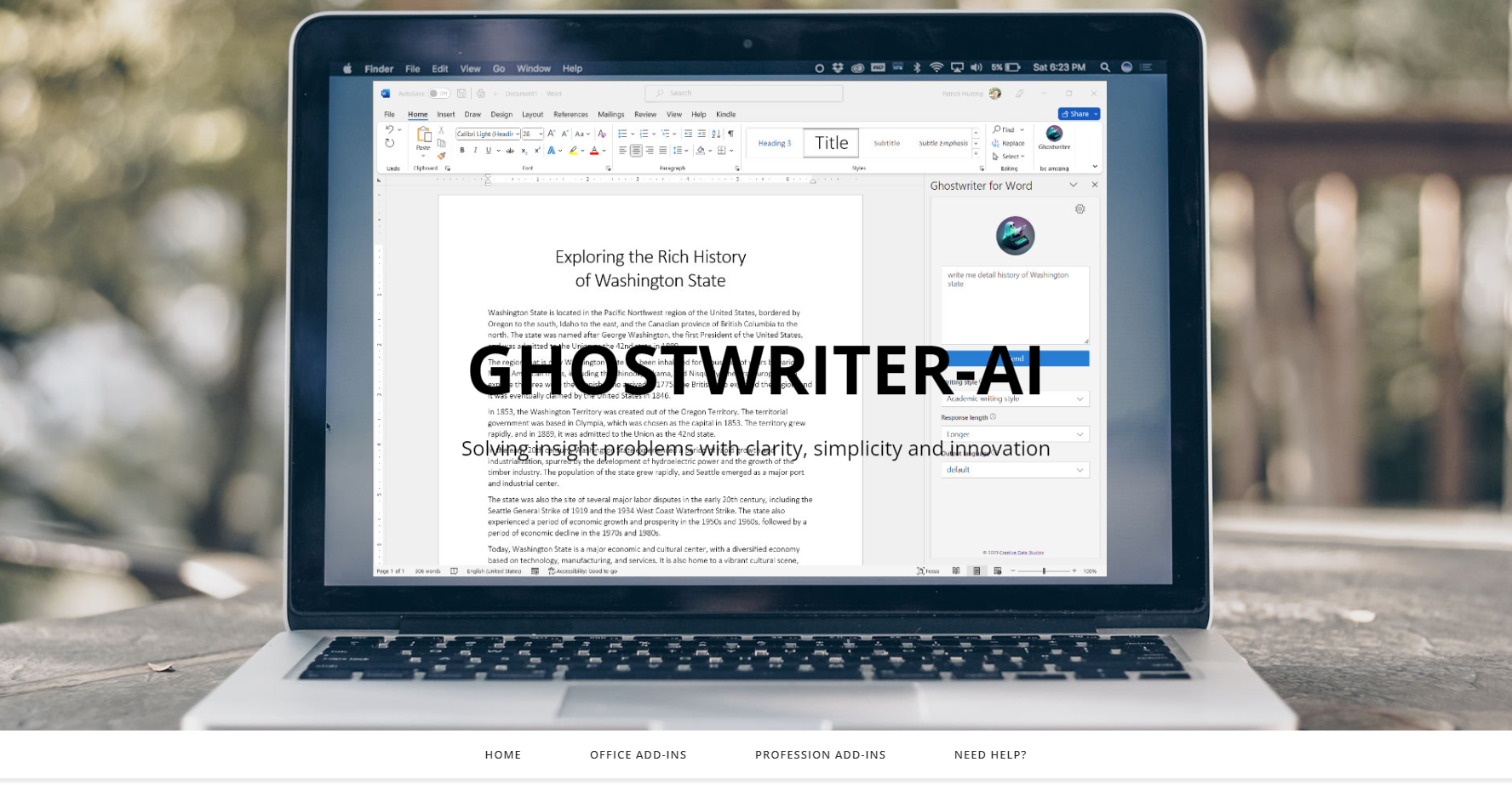 Overview
Ghostwriter presents its own legal tech solutions through its Legal Edition. It functions as a Microsoft Word add-in specifically crafted for law professionals. Streamline workflow by utilizing exceptional AI-powered assistance in drafting legal documents, researching case studies, and summarizing legal information. This cutting-edge add-in saves valuable time and resources and also levels up the quality of legal work with its up-to-date sources ensuring that attorneys and law firms stay ahead in the competitive legal landscape.
Highlights
Personalized for Legal Professions – Choose a writing style and tone for a wide range of laws
Contract Drafting – Automate document drafting and contract review applying contract clauses and templates to cater to specific legal requirements and industry standards. Saves time and automatically reviews legal contracts
Legal Writing – Automate complex legal documents such as legal briefs, pleadings, and motions based on specific legal arguments and legal precedents
Legal Research: Automate legal research by analyzing large volumes of legal documents and providing relevant case law and legal precedents
Multi-Language Output – Works in over 16 languages
Available on Most Devices and Applications – Download Ghostwriter Legal Editon on Windows, Mac, Web, iPad, Office 2021/MSFT365, and more with bug fixes and free instant updates
Pricing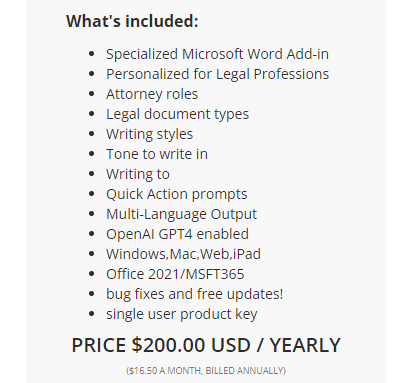 Ghostwriter Legal Edition costs $200 annually and is billed at $16.50 per month.
Bottom line
Ghostwriter Legal Edition works for legal professionals of all legal fields. Receive accurate and efficient legal assistance and self-serve legal documents through automation in a Microsoft add-in. Ghostwriter's free trial offers an add-in with limited tries, users can purchase a product key to unlock it with access to OpenAI GPT Models. Try a free trial of Ghostwriter Legal Edition today.
Amto AI: Best for Drafting Legal Documents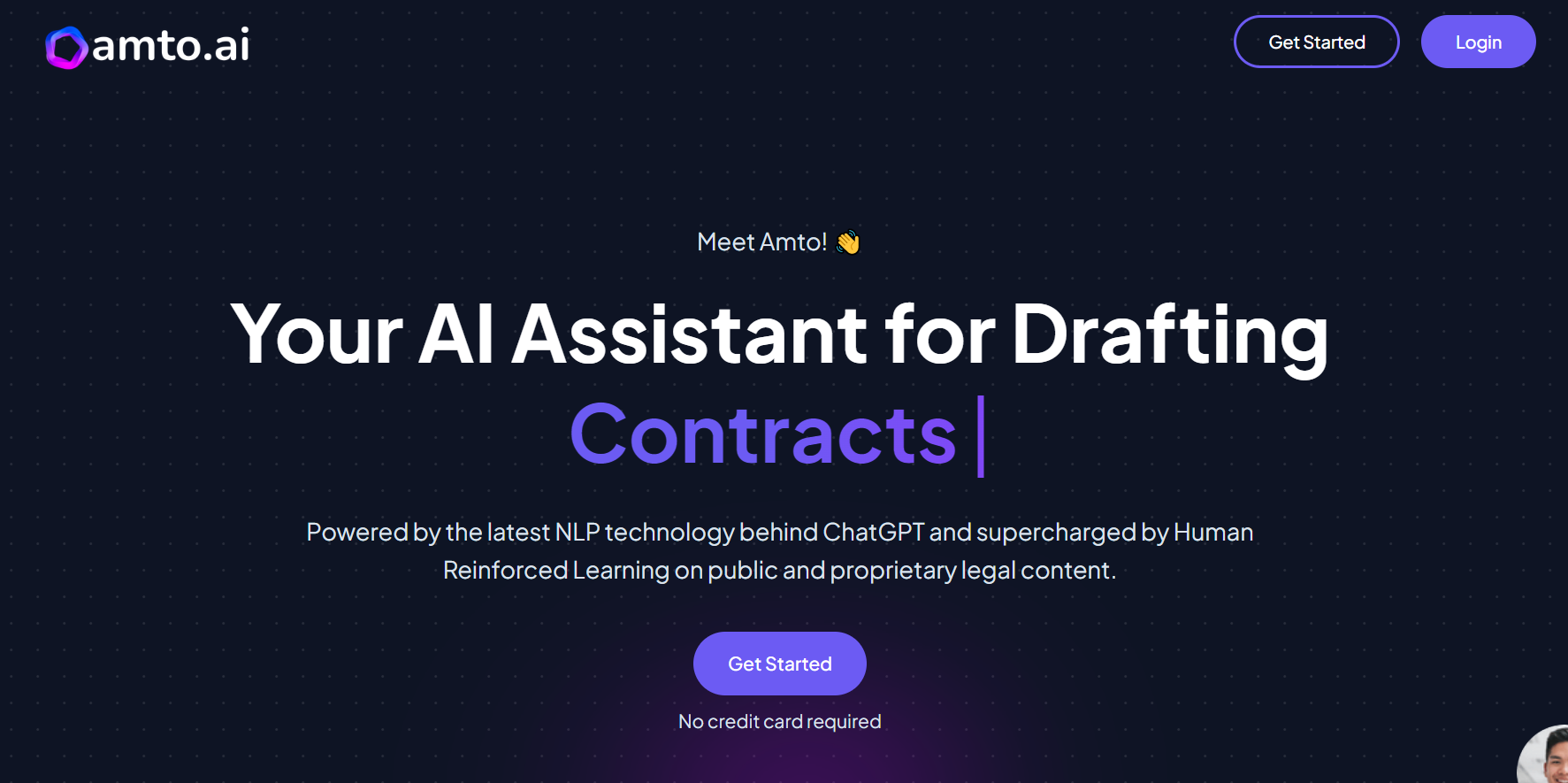 Overview
Amto AI is the world's first AI legal Assistant for drafting powered by the latest NLP technology behind ChatGPT and supercharged by human-reinforced learning on public and proprietary legal content. Amto can draft legal documents such as contracts, letters, briefs, emails, and blogs up to 5x better and faster. As well as generate personalized reminders and greetings, customizable updates, tailored compilations of relevant legal news or updates, summaries of various client discussions, and answers to clients' legal queries
Highlights
Improve Legal Documents – Generate new clauses, revise and modify, summarize, resolve missing clauses, handle negotiations
Contextual Recommendations – Shares recommendations based on the existing conventions and styles followed by clients in the draft agreement
Focus on High-Impact Issues – Spend less time creating boilerplate and repetitive tasks and more time on what matters: getting meaningful results for your clients
Draft Contracts 5x Faster – Provide suggestions on a single clause or entire section, increasing writing productivity 5x
Avoid Risky Language – Draft clearer, more defensible language that all parties understand
Revise Contracts within Minutes – Intelligently identifies revisions that may affect other clauses. Get instant alternative versions of a clause as per the client's instructions
Integration – Integrates directly into client's favorite Apps such as MS Word and Outlook
Pricing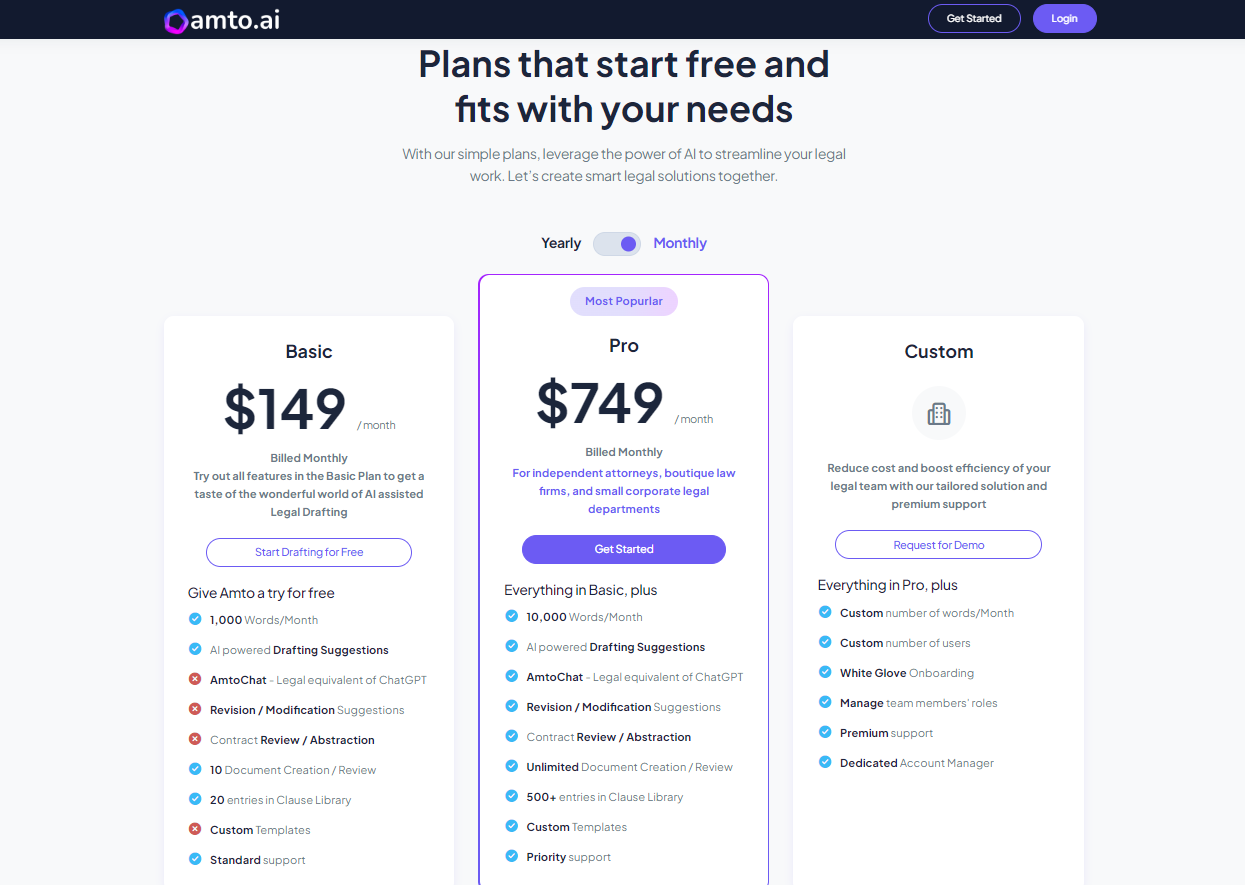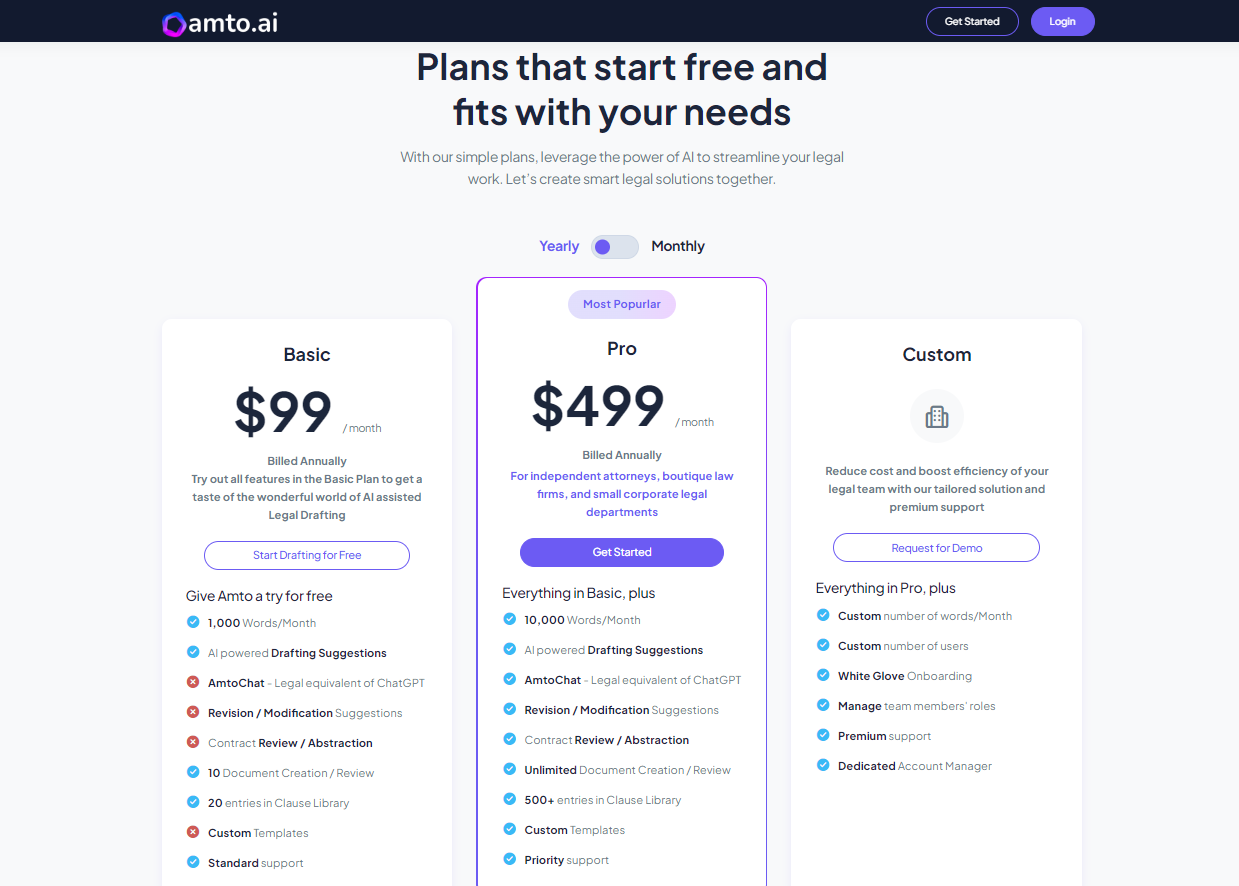 For Monthly Subscription:
Basic – $149 per month
Pro – $749 per month
For Yearly Subscription:
Basic – $99 per month, billed annually
Pro – $499 per month, billed annually
Bottom line
Amto AI is the ultimate tool for businesses of all sizes and legal professionals in the legal industry that want to create smart legal solutions and build good relationships with their clients through efficient written communication. Try a free trial of Amto by creating an account today.
Law Support: Best for Mobile Legal AI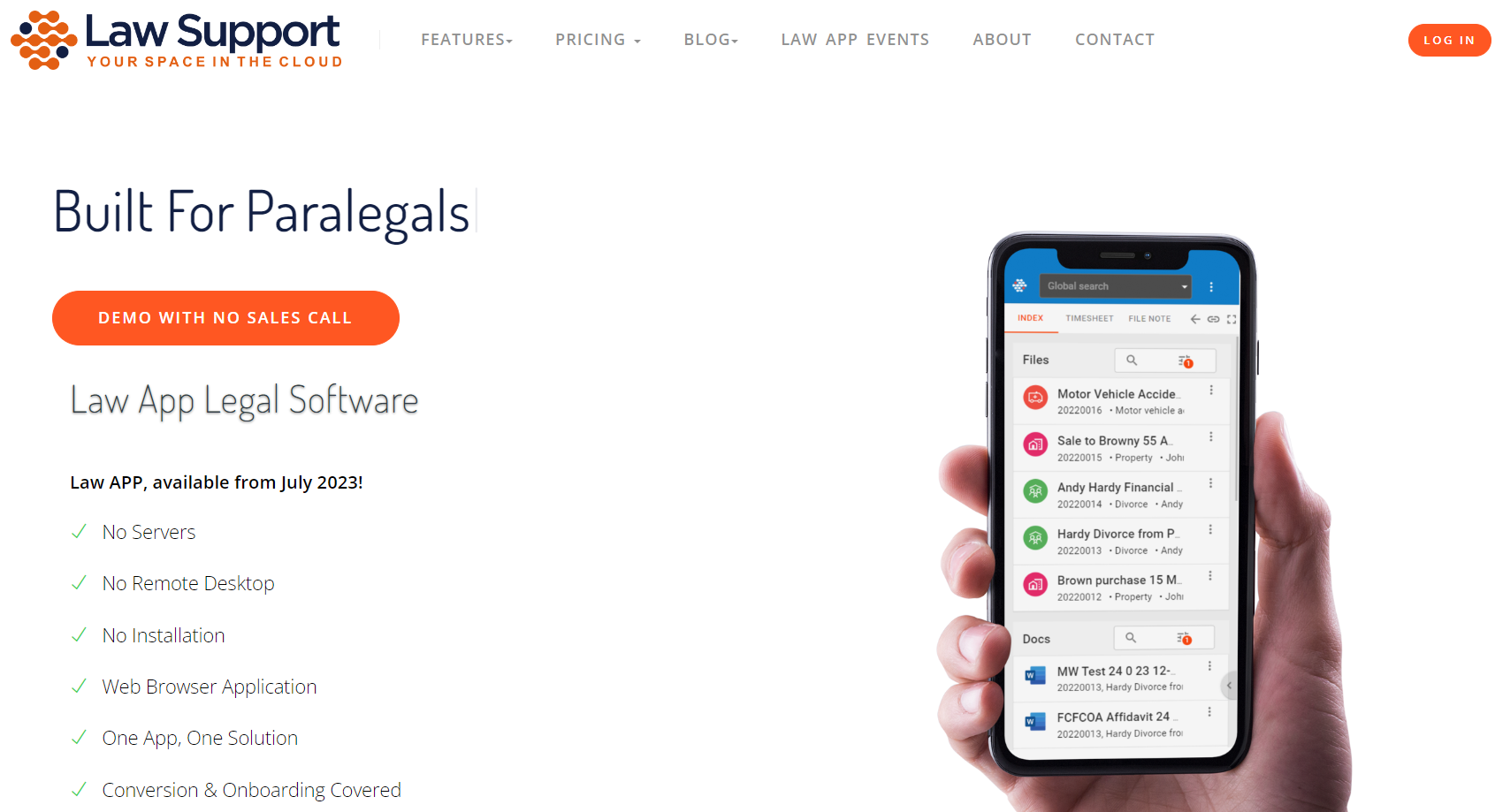 Overview
Law Support is one of the pioneers in creating AI legal assistants for mobile use. The Law App enables clients to use convenient legal assistance on their smartphones. No servers, no remote desktop, and no installation required. This cloud-based one-app-one solution also provides a web browser application with conversion and onboarding covered. It partners with companies such as CodeHive, Legal Payroll, Microsoft Azure, and Fox Data. The future proof of law practice lies in the latest technology and efficient streamlined process methods.
Highlights
Document Management – Create, store, store, and find legal documents
Trust Accounting – Fast-compliant legal trust accounting, keep finances organized and secured
General Accounts – Fast and accurate management of other legal documents including auto code legal transactions, cash and accrual reporting, bank statement imports, BAS help, STP-compliant legal payroll, and more
Law Firm Billing Software – Value billing, per unit, time-based, or per item, depending on the client's preference. Layout legal bills to suit client demands
Legal Templates in Law App – Access to ready-to-use legal templates and document automation
Legal Matter Management Platform – Superior, built, and matter-specific legal matter management system
Pricing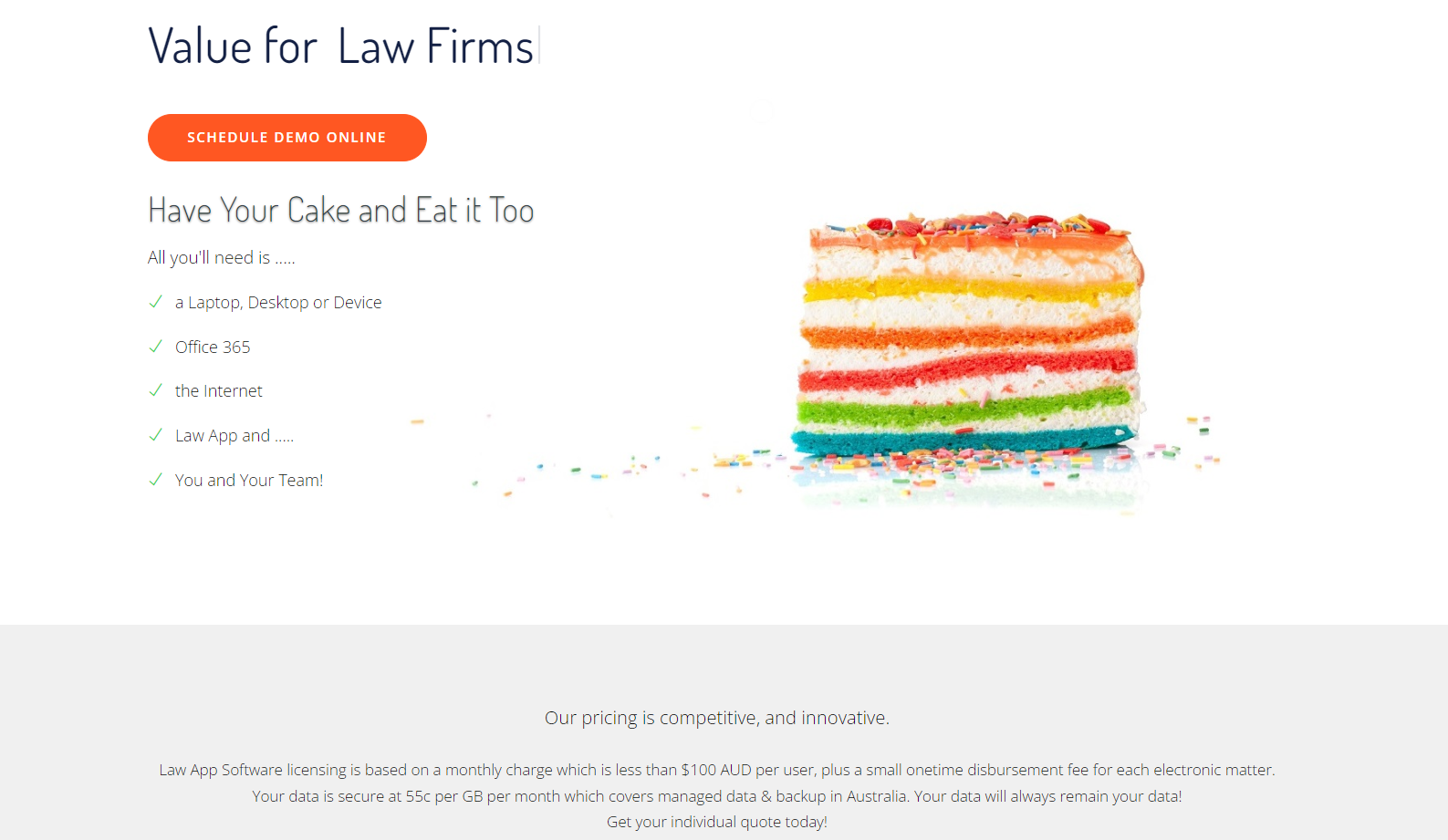 To receive a pricing plan from Law Support, customers will have to start with a demo or contact Law Support for an immediate subscription.
Bottom line
Law Support is built for paralegals, family lawyers, criminal lawyers, litigation lawyers, solicitors, practice managers, conveyancers, injury specialists, law bookkeepers, and all other legal professionals. Get verified and accurate legal information from Law Support's legal team, made up of creative, experienced designers, and developers, just within a few taps. Try a free trial of Law Support today.
Legaly: Best for Document Management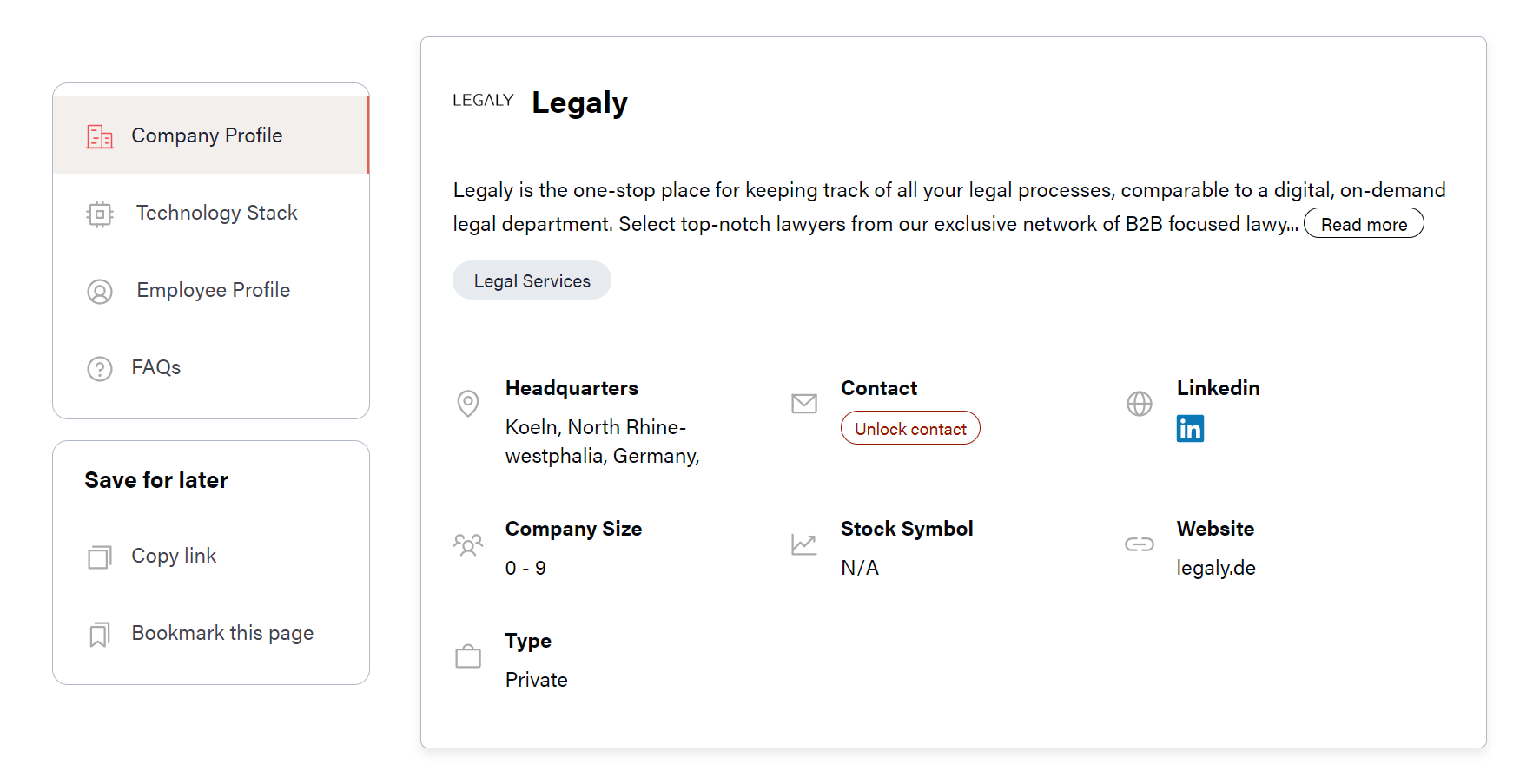 Overview
Legaly is a legal tech solution presented by 6sense. Legaly allows clients to efficiently manage their legal documents and streamline workflow to other users on the network, clients can select lawyers from provided in-house legal teams or add seats for their current lawyers to join the platform. Easily collaborate on cases and have all the necessary communication tools, document versions, and billing stored in one centralized place.
Highlights
Drafting Documents – Automate the creation of legal documents by analyzing legal data, suggesting helpful revisions and modifications, summarizing paragraphs, and detecting errors
Document Review – Save time from reviewing multiple pages of documents without having to risk accuracy. Document reviewing can handle sorting and categorizing large quantities of data and ensuring no errors or risky language and information is left
Document Management – Artificial intelligence helps the legal department by managing the creation, review, revisions, storage, and distribution of legal documents
Workflow Integration – Easy collaboration with client's legal teams by integrating workflow, avoiding having to create email chains and multiple file copies
Pricing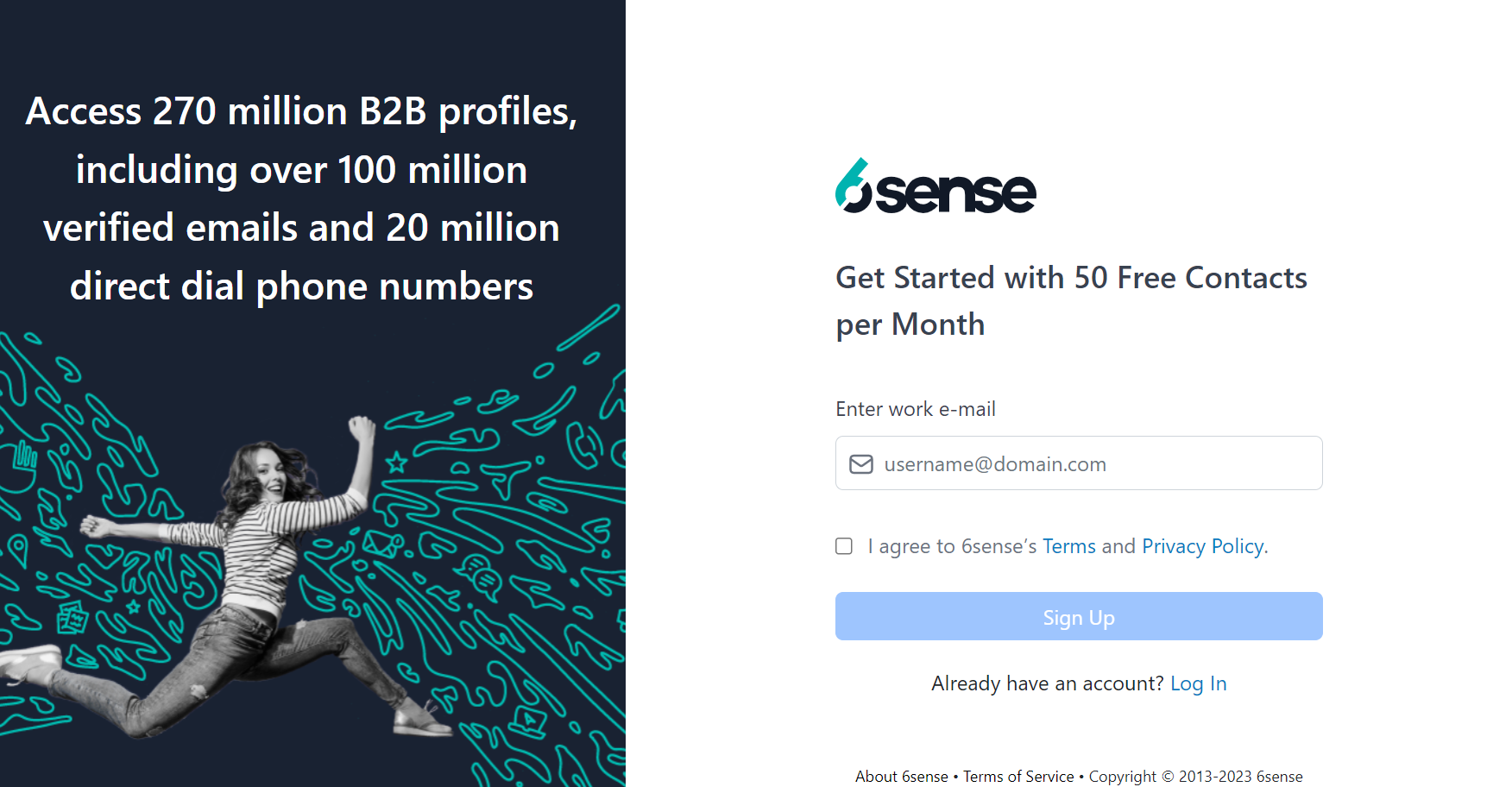 To receive a pricing plan from Legaly, customers will have to create an account or log in to an existing account on the 6sense website.
Bottom line
Legaly works as a one-stop platform for individuals and legal teams in the legal profession to work collaboratively and securely to keep track of their document creation, document review, and management. For companies, the usage is completely free. Reduce client legal costs by 50% and finally structure legal work.
Ansarada: Best for Legal and Business Processes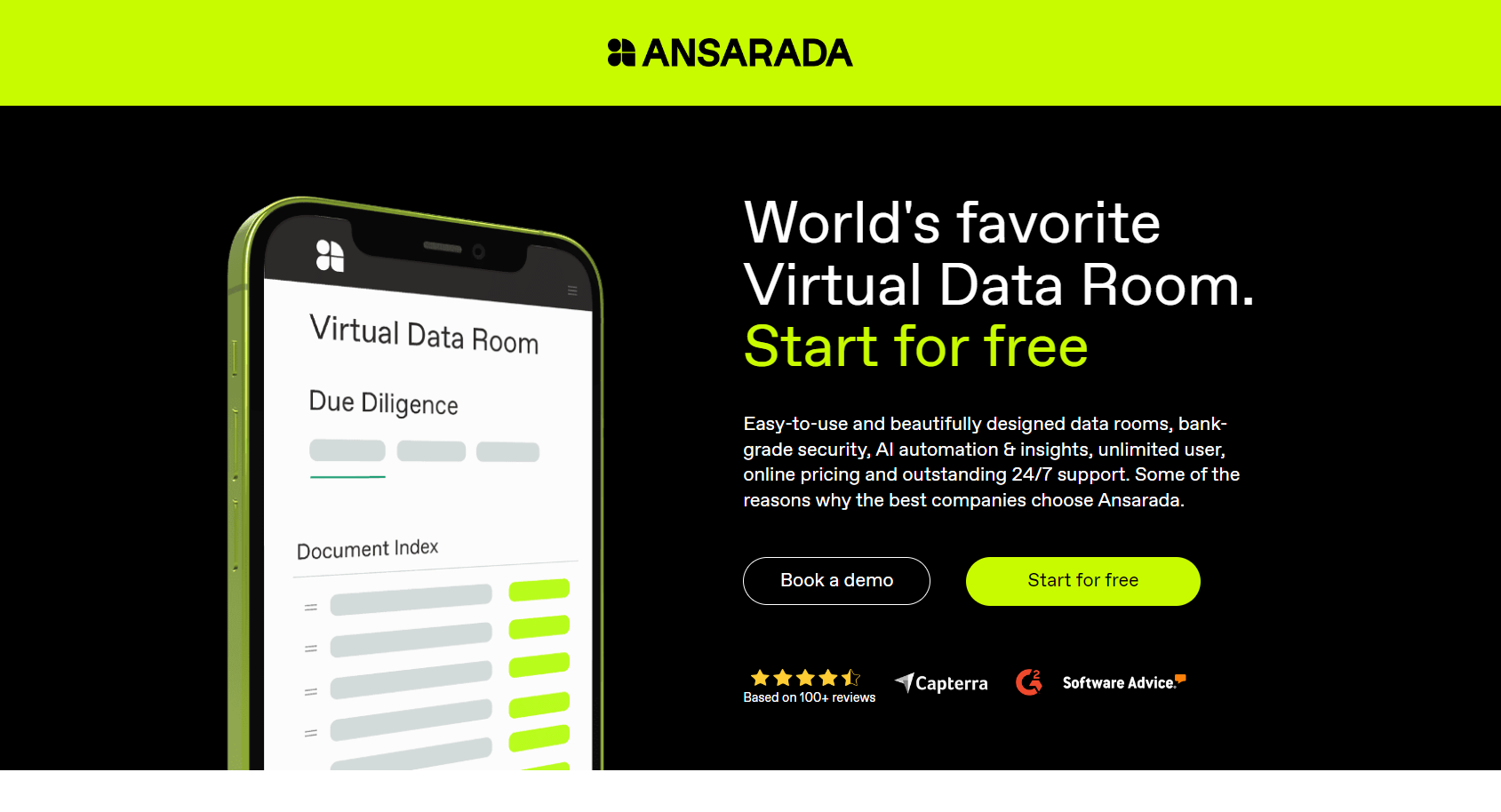 Overview
Ansarada is the world's most intuitive virtual data room platform. All your processes are in one place, all in order. This SaaS platform is relied on by companies, advisors, and governments for securely managing critical information, workflow, and collaboration in high-stakes processes like deals, risk, compliance, transaction management, board governance, and procurement. Ansarada offers the world's most secure data room comprising over 110 controls. Track changes and restrict access, even to documents outside the data room.
Highlights
Virtual Data Room – Get access to mobile-friendly designs, ultimate security features, flexible SaaS pricing, AI-powered insights, deal workflow project management, powerful collaborations, and more
Security and Compliance Program – Take control of client information and share it from a central secure file repository
Capital & Debt: Review and Management – Review forecasts, capital, debt, and operational efficiency, and decide on best actions
Procurement Lifecycle Management – The only software solution purpose-built to run large, complex, high-value procurement
Deal Preparation – An OS solution enabling on-demand delivery to drive stronger outcomes through every stage of a client's business and investment lifecycles
Customer Success and Help Centre – Customer service offers a dedicated CS manager, customized setup, and localized support available 24/7/365
Workflow and Notifications – A project management tool for advisors to digitize all their workstreams full deal lifecycles
AI Insights and Automation – Uses AI to predict winning bidders with 97% accuracy
Redaction – Bulk AI-powered redaction for easy disclosure of client's data
Pricing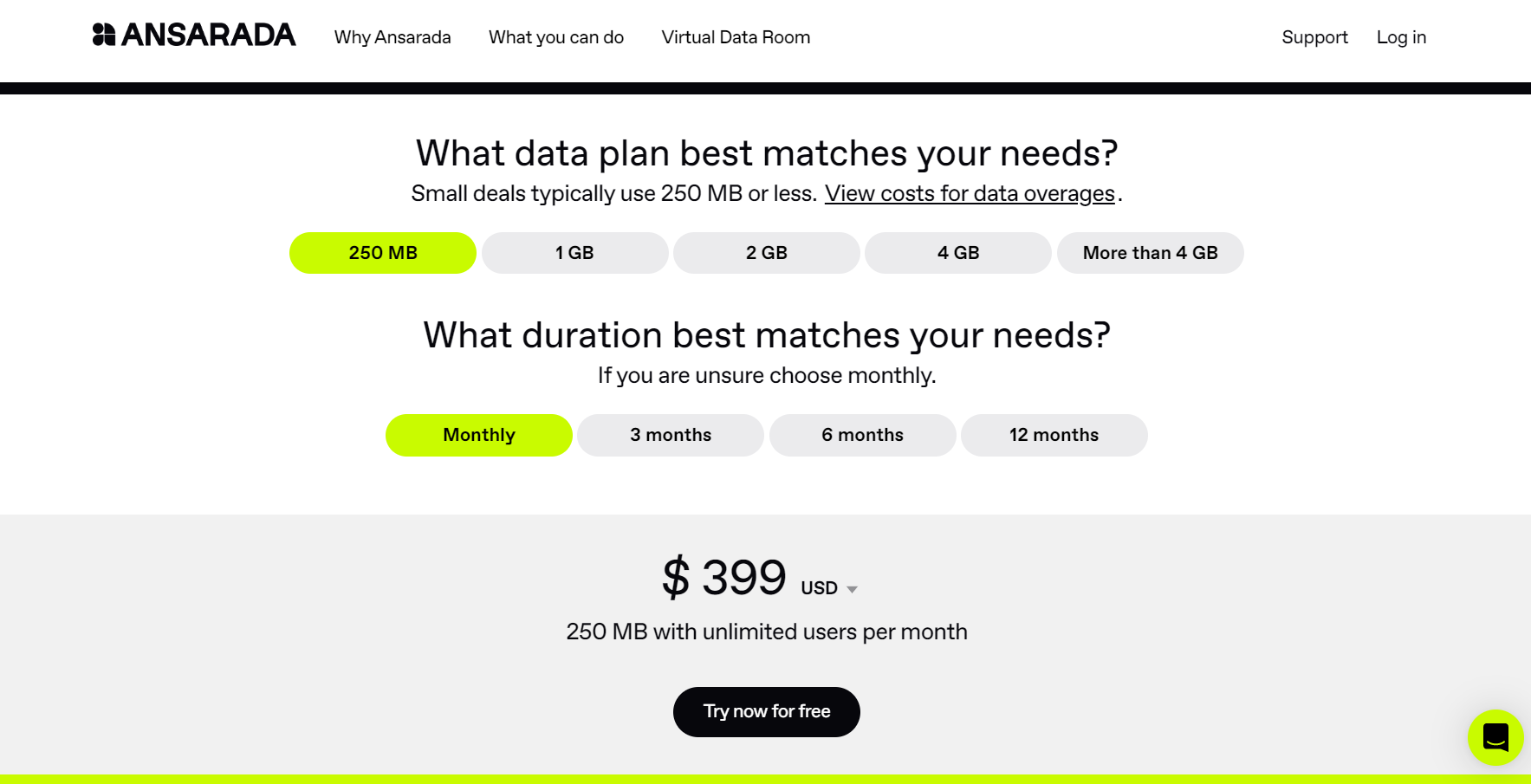 For a standard subscription, pricing starts at $399 per month on a one-year subscription and $240 for a month-to-month subscription.
For Pro Subscription, pricing starts at $86 per month on a one-year subscription and $143 for a month-to-month subscription.
Bottom line
Ansarada works well with law practitioners, M&A advisors, and procurement advisors, as well as board management, private equity, risk & compliance, investment banking, the C-suite, and businesses of all sizes. This is one of the best AI legal assistant tools for legal professionals that venture into both business and legal services. Try a free trial of Ansarada today.
What Are AI Legal Tools?
AI legal tools are software applications that utilize artificial intelligence to cater to legal concerns. These AI-powered legal assistant tools automate legal work such as contract review, contract analysis, document review, legal research, drafting claims, legal analytics, perfecting legal writing styles and tone, and more. The automation of legal services offers faster, more accurate, and cost-efficient outcomes.
What is the best AI to write legal documents?
Amto is the best AI tool to write legal documents. It can generate clauses, revise, summarize, resolve missing clauses, and handle negotiations within minutes. It also offers contextual recommendations, avoids risky language, and focuses on high-impact issues 5x faster than other AI legal writing tools. Clients can easily use Amto on their preferred applications such as MS Word and Outlook, saving so much time spent writing.
Which AI is used for reading legal documents?
Legal professionals may use AI legal tools such as Westlaw Edge, Ghostwriter Legal, and Lex Machina which are created with high priority to manage large amounts of legal documents. These AI legal assistants offer several features to enhance the client's reading experience such as quick check, legal research and writing, policy comparison, multi-language outputs, and human expert review.
Can AI write legal documents?
AI can write legal documents efficiently and accurately. AI in the legal industry uses chatbots similar to ChatGPT to produce and draft legal documents. By analyzing the database provided by the user and extracting relevant data about its structure, functions, and policies, natural language processing techniques can be utilized to translate collected data into comprehensive texts that can be used in legal practices.
Can AI do legal research?
Yes, today's AI is equipped with the necessary tools to ensure reliable and relevant legal research to aid legal professionals. One of the best AI legal software for legal research is Westlaw Edge. It provides research features such as statutes and regulation comparisons, jurisdictional surveys, litigation analytics, legal content, and editorial enhancements, all backed up with human expertise.
Final thoughts
The legal industry is ever-growing with tons of cases, court filings, laws, transactions, and other legal works added each day. The purpose of AI legal software is to automate tasks and save law firms, corporate legal departments, and legal professionals alike the number of hours spent on lower-impact activities. Hopefully, our list AI legal software helps you level up your legal experience.
If you're interested in learning more about how artificial intelligence impacts other fields, we have a variety of articles you can check out:
For those who venture into writing, you can check out how AI writing impacts society, and see what AI text generators can suit your needs. Now, if those summaries aren't enough information, we also have specified reviews on AI writing assistants such as Sudowrite, Wordtune, Copy AI, and Peppertype which also serve as great marketing tools for content generation.
One of the hot uses of AI today is to generate images, to understand how AI image generators work, we explain diffusion models in machine learning. You can also check out the 7 best image recognition software.
If you have assets and want cost-efficient technology to track and monitor your maintenance operations, we have a list of the 7 best predictive maintenance software.
Lastly, discover an AI tool that combines the power of the latest and greatest in natural language processing in the form of a personal robot assistant through our review of AutoGPT.