7 Best Predictive Maintenance Software of 2023
We continually look for ways to make business easier for companies with the help of technology. Today, we focus on how to condition-monitor assets through the use of predictive maintenance software. Otherwise known as CMMS (Computerized Maintenance Management System), which is made to help a company monitor and track all of its maintenance operations. This maintenance approach aims to reduce the amount of money, labor, and time spent repairing assets by predicting necessary maintenance ahead of time. Check out our list of the top 7 best predictive maintenance software for 2023.
What is the best predictive maintenance software?
The best predictive maintenance software is that which gives companies the most efficient results. With this maintenance approach, companies can use data analysis to determine which and when equipment needs maintenance or repairs. Predictive maintenance tools can examine equipment when they perform differently from what is expected of them, such as when its efficiency is low, which may indicate a need for maintenance or repair. The expectation of an equipment's performance is based on the algorithm that predictive maintenance software records and reads through predictive analytics.
This cost-efficient technology greatly helps prevent equipment from deteriorating to the point that replacement would be the only option. Companies do not have to hire workers to manually disassemble equipment to pinpoint the issues.
Predictive maintenance involves several important components to function, with software and technology being the pivot of it. Other integral components include the Internet of Things (IoT), artificial intelligence, and integrated systems that allow for the connection, collaboration, and sharing of various assets and systems, as well as the analysis and use of data.
Join Renaissance Rachel's holiday giveaway!
1st Prize: $300, 2nd Prize: $75, 3rd Prize: $25
If you have read our previous articles on different fields that use artificial intelligence such as Best AI Sales Software, Best AI Time Management Tools, Best AI Project Management Tools, and AI Video Editing Software, then you know that AI is used in a multitude of fields and industries. And there are also many features to look for.
In Predictive Maintenance, here are a few key features to look out for to improve your maintenance program:
Data Reporting and Analytics – Identify, collect, research, and process trends and patterns from the enormous amounts of data input to optimize productivity and reduce costs.
Configurability – Modify and extend a system even when it is running. Drive better high-level choices and more efficient processes with a tool that can function as you demand.
Mobile CMMS – Be able to use your software on cross-platforms anywhere and anytime for ultimate convenience. This helps streamline maintenance operations by providing a centralized database.
Integration – Connect your new and existing work data and stack with other software and hardware tools. Get quick and easy instant updates for better communication and greater workflow.
Ease of Use – Mainly maintenance technicians and teams use CMMS, however, there are instances that other parties would be given access. Easy navigation and discovery are optimal for faster and better workflow.
With that in mind, check out the best Predictive Maintenance Software and all the things you kneed to know about them.
Limble CMMS: Best for Work Order Software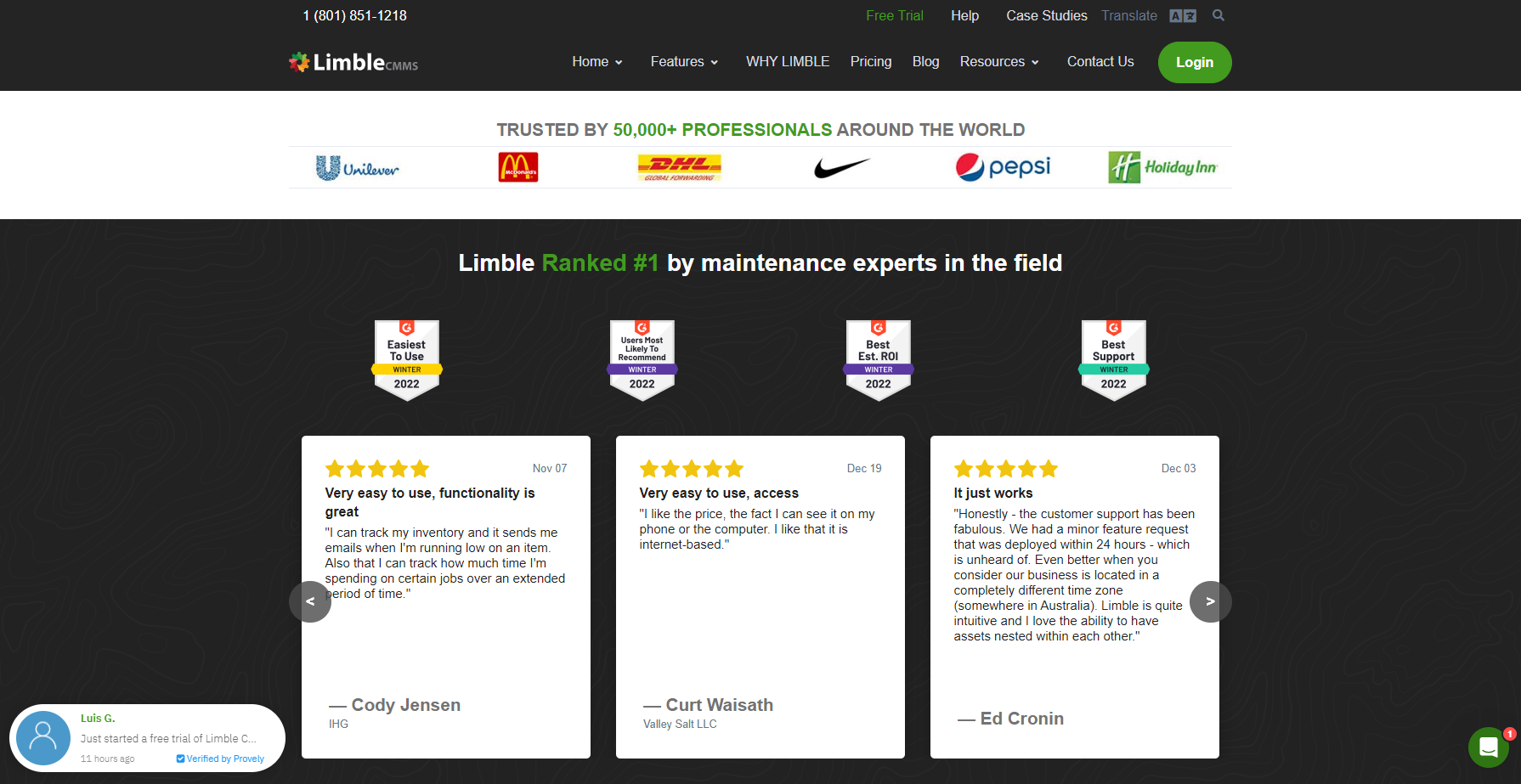 Overview
Limble CMMS is an all-in-one predictive maintenance software trusted and used by well-known companies such as Unilever, Nike, and Mcdonald's. Limble's Modular IOT approach and integration with other tools allow quick, easy, and cheap testing if a predictive maintenance strategy will work in a facility. Its availability on cross-platforms helps make businesses use its various features anywhere and anytime.
Highlights
Work Orders Organize all the Work Orders, PMs, and other Tasks in a centralized database that can be accessed everywhere.
Mobile Maintenance App – Increase company experience with better organization, communication, accountability, and productivity by up to 30%.
Asset Management – Module can be used from 10 to 1,000,000 assets, allowing companies to track exactly what they want in a convenient tree structure.
PdM (IOT Sensors) – Get a potential ROI in the 10x range through a plug-and-play sensor setup, instant alerts, automated triggered corrective tasks, and real-time actionable data that trends over time allowing precise analysis such as root cause analysis.
Vendor Management – Vendors can be integrated into various maintenance systems and streamline workflow by externally sharing Work Orders straight to Vendors.
Pricing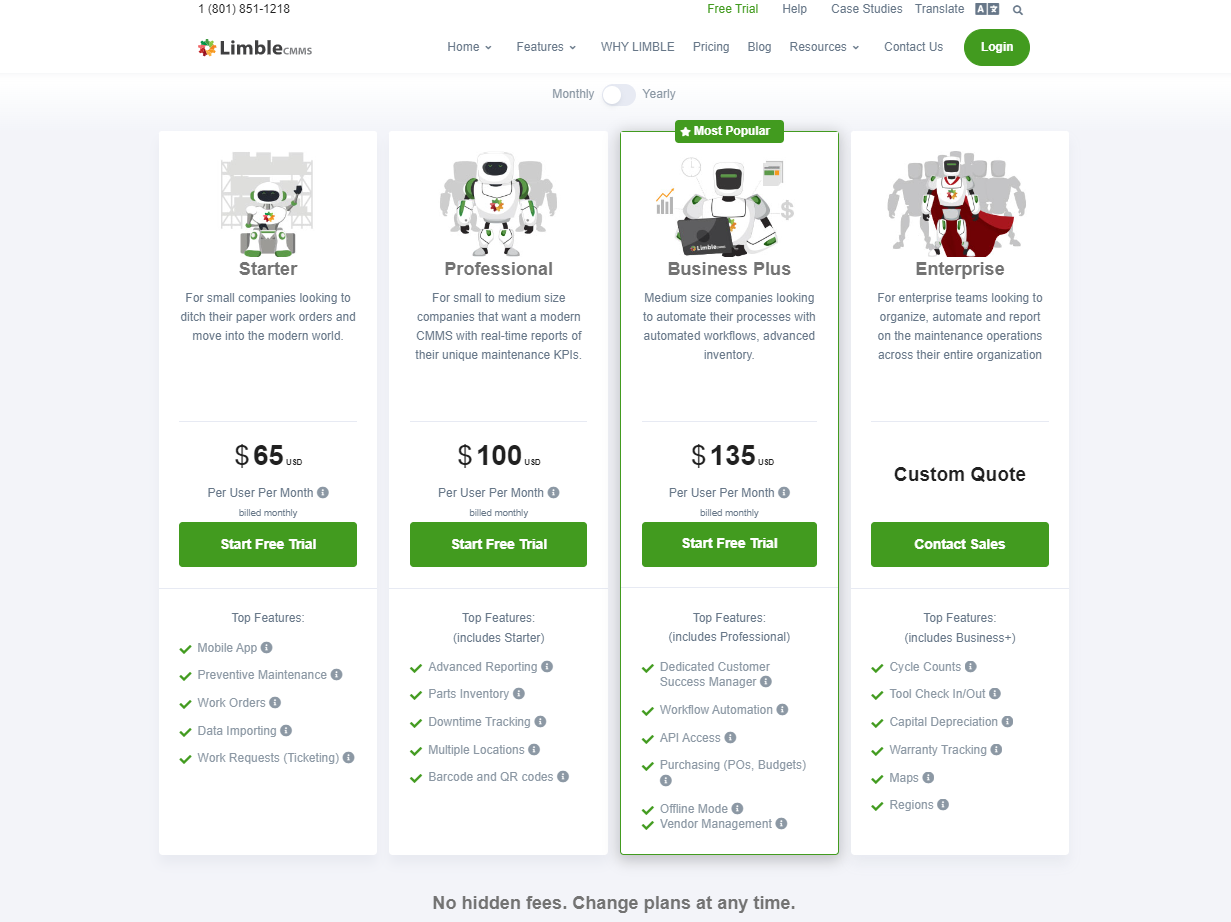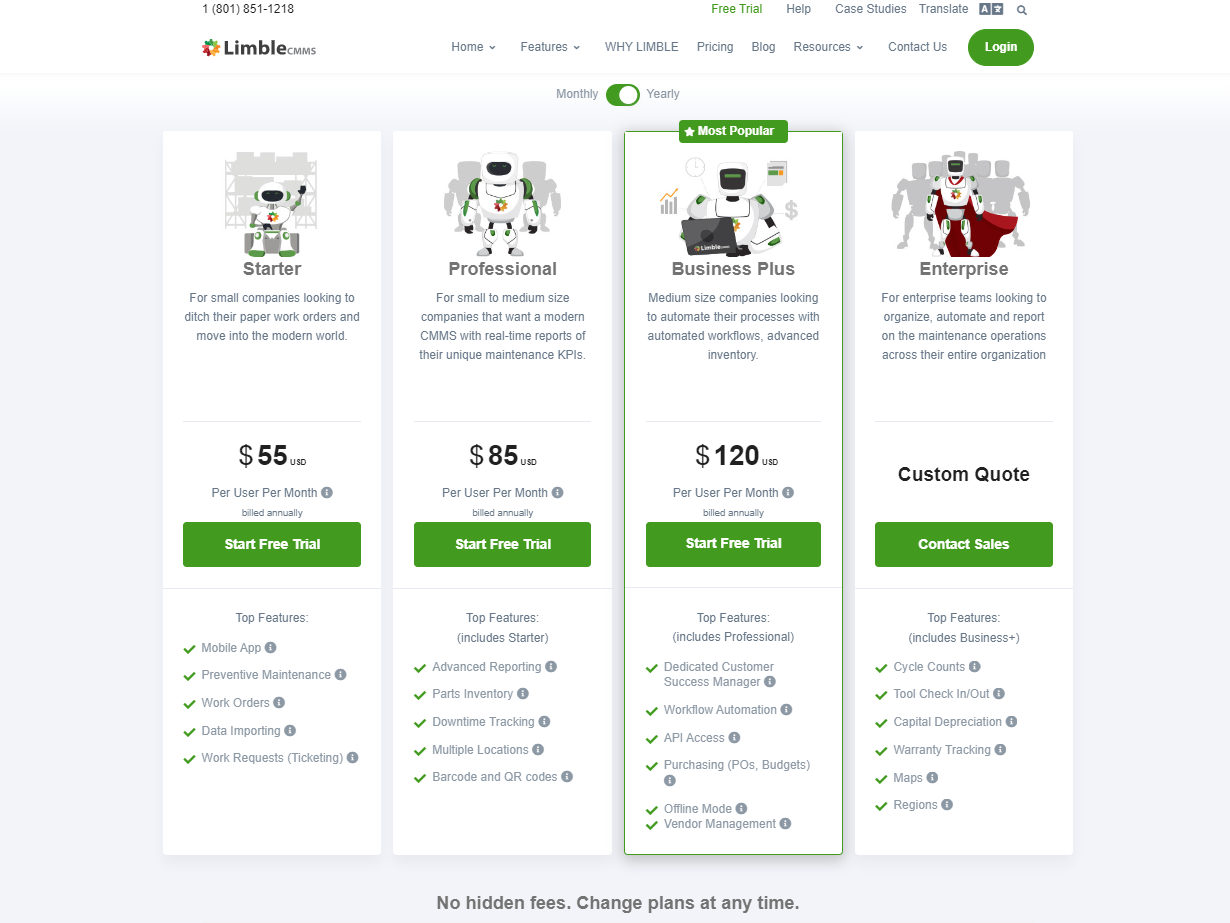 Starter: Monthly -$ 65 | Yearly – $ 660
Professional: Monthly – $ 100 | Yearly – $ 1020
Business Plus – Monthly – $ 135 | Yearly – $ 1440
Enterprise – Custom Quote
Bottom Line
Limble CMMS is ideal for companies that look for software that offer the complete package and then some. It is designed for businesses of all sizes. When using Limble CMMS for maintenance teams, it is easy to streamline work because of its user-friendly interface and customizable dashboard available on cross-platforms. Try Limble CMMS's free trial today.
eMaint CMMS: Best for Asset Management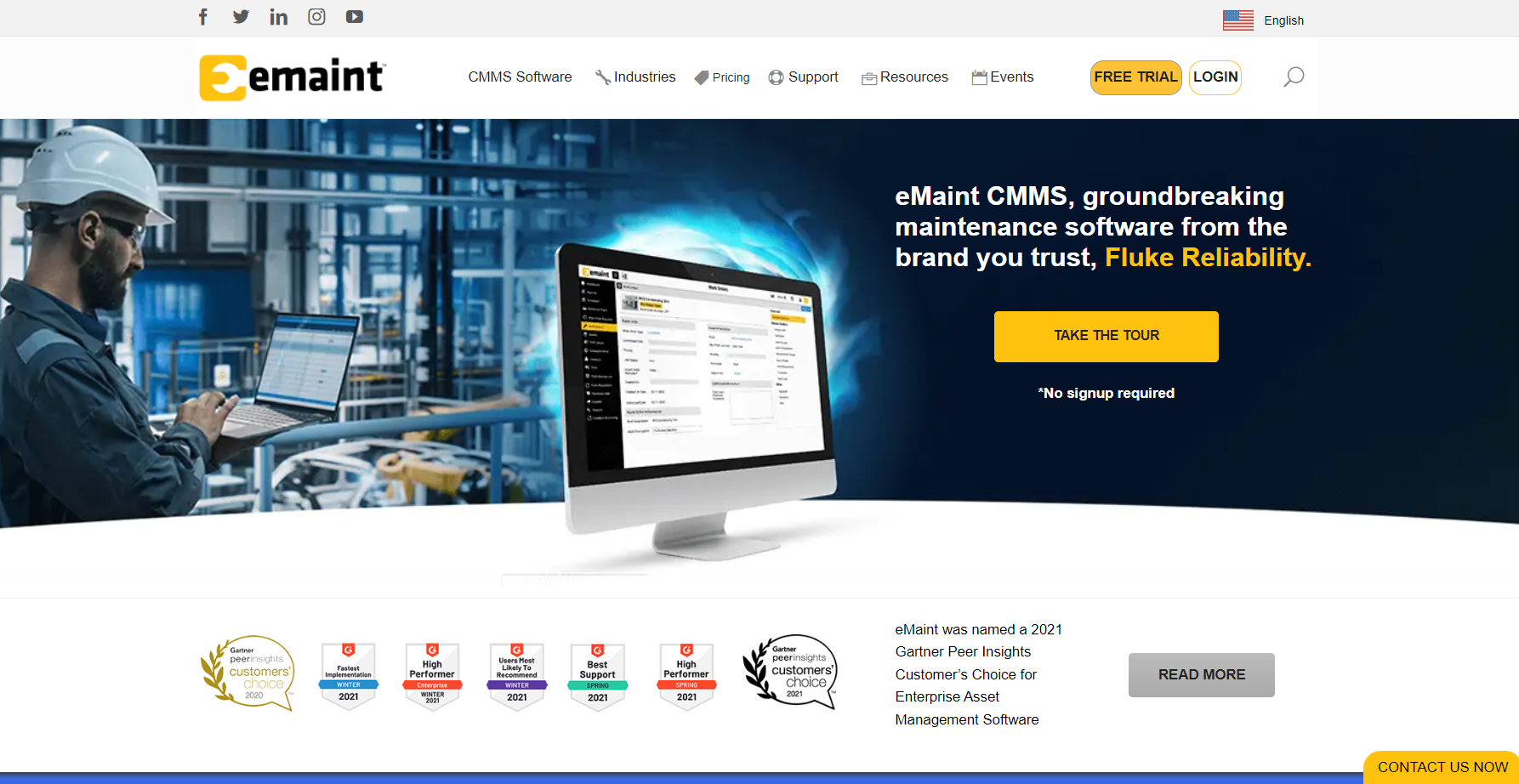 Overview
eMaint is a cloud-based maintenance solution that highlights asset management. This predictive maintenance software gives focus on equipment management, asset life, resource allocation, and effective maintenance operations. It is one of the few software that offers full custom configuration and functionality that develops meter-based or calendar-based routines while setting up schedules to avoid potential equipment failure and repair costs. A company can record inspection completions directly in the software for real-time updates.
Highlights
Work Order Management – Manage, update and assign work orders and requests.
Asset Management – Track assets, view history and create hierarchies.
Parts Inventory Management – Organize your parts and optimize inventory levels.
Preventive Maintenance – Simplified PM scheduling with drag & drop calendar.
Analytics & Reporting – Discover trends and quickly generate reports.
Integrations – Connect your CMMS: ERPs, SCADA, and 1000+ apps.
Interactive Floor Plans – Map your assets and quickly see the status or details.
Mobile CMMS – Manage maintenance on the go and work offline.
Regulatory Compliance – Easy-to-use dashboards and comprehensive audit trail.
Mutli-Site Capabilities – Work across sites, languages, currencies, and countries.
Pricing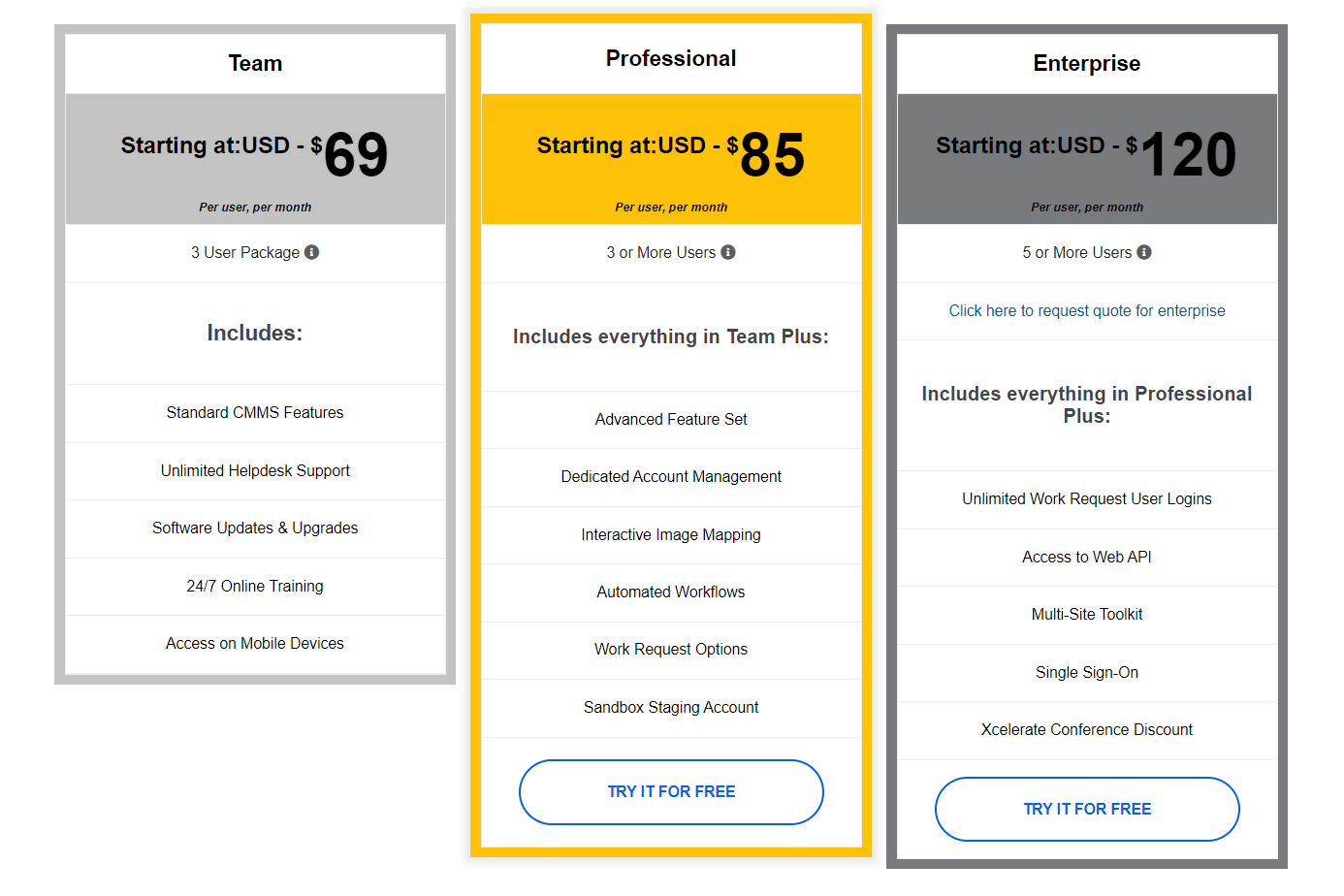 Team – Starts at $69 Per User
Professional – Starts at $85 Per User
Enterprise – Starts $120 Per User
Bottom Line
eMaint is versatile for businesses of all sizes. Renowned for being an award-winning solution for managing work orders, PM schedules, and parts inventory, eMaint delivers an effective asset reliability platform, with seamless integration of maintenance tools and other software solutions to aid businesses to reduce downtime and increase productive uptime. Try eMaint CMMS's free trial today.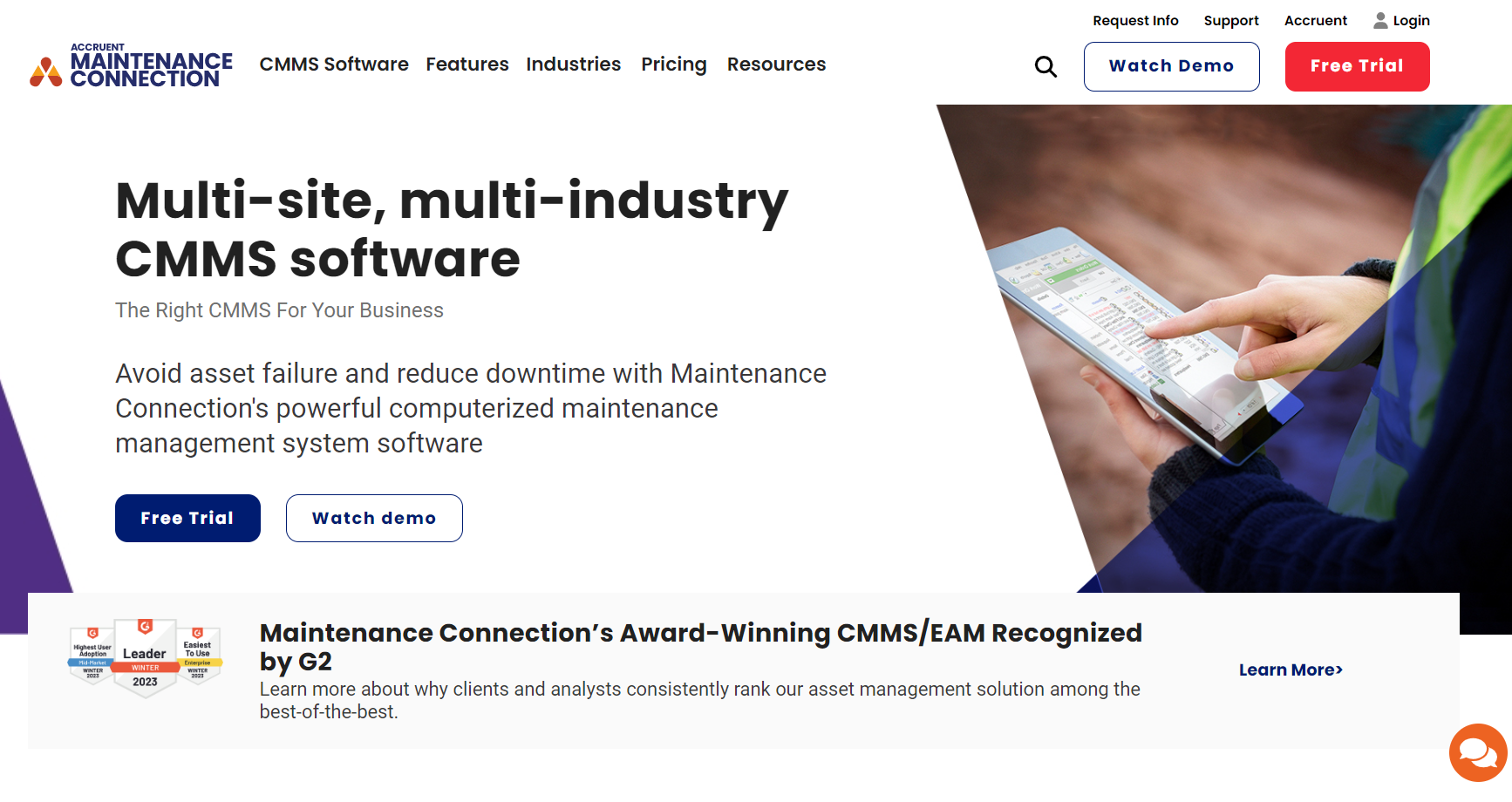 Overview
Maintenance Connection is a predictive maintenance software that allows businesses to develop their key data, automate repetitive tasks and optimize critical SOPs and processes. This solution helps businesses to efficiently manage work orders, asset information, and other key data points, highlighting a focus on maximizing efficiency and transparency. It also focuses on managing multi-site facilities to give a company the ability to operate multiple businesses, divisions, locations, or facilities from anywhere at any time.
Highlights
Work Order Management Software – Prioritize, review, track, and document work orders.
Reporting And Analytics – Tailor-made reports help track usage, manage KPIs, and increase revenue.
Equipment Inventory Management Software – Easily automate purchases, locate parts, and track big-picture inventory metrics.
Automated Notifications – Automatic and trigger-based alerts keep the entire team updated.
Mobile CMMS App – Access key procedures and documentation anywhere, anytime via Android or iOS.
CMMS Security – Keep your sensitive data safe with modern security features.
Intuitive Ease-Of-Use – User-friendly software helps maximize adoption, and simplify training.
Comprehensive Integrations – Easily connect to your other mission-critical tools.
Compliance And Audit Preparedness – Facilitate ongoing compliance with ever-changing regulations.
Pricing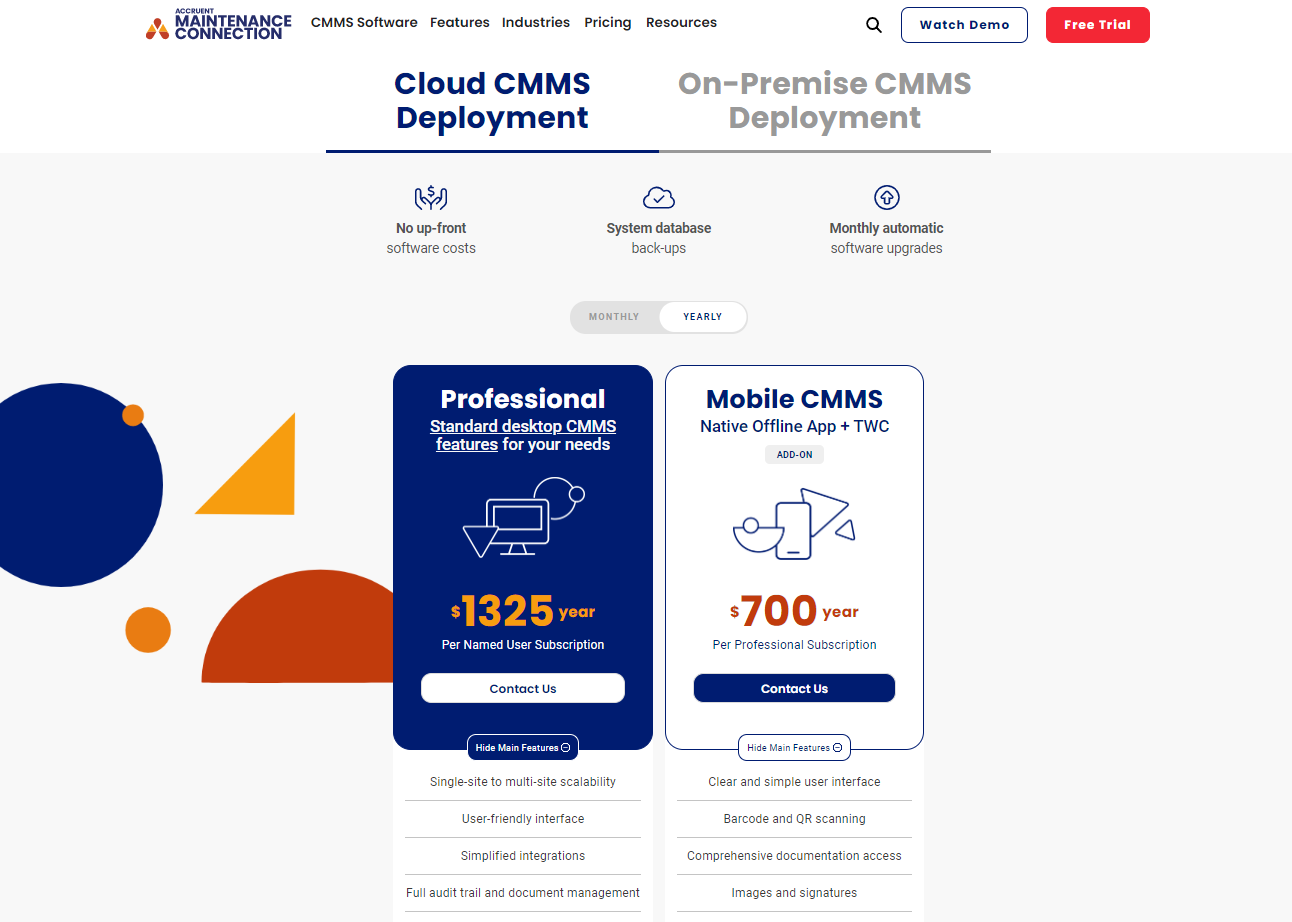 Professional – Monthly -$110 Per Named User Subscription | Yearly -$1325 Per Named User Subscription
Mobile CMMS – Monthly – $58 Per Professional Subscription|Yearly – $700 Per Professional Subscription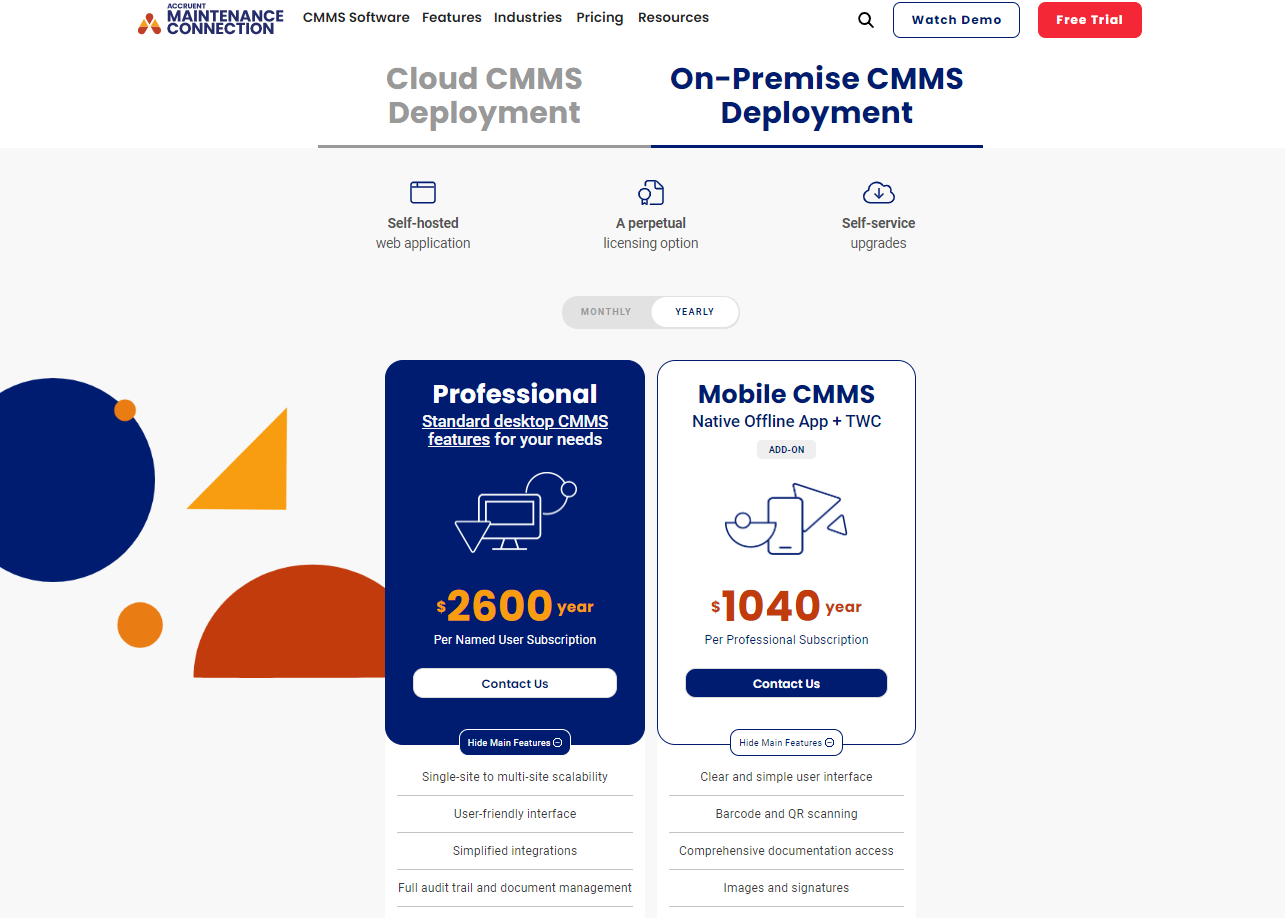 Professional – Monthly -$216 Per Named User Subscription | Yearly -$2600 Per Named User Subscription
Mobile CMMS – Monthly – $86 Per Professional Subscription | Yearly – $1040 Per Professional Subscription
Bottom Line
eMaint allows maintenance teams to track, record, store, and exchange asset performance data and utilize it to maintain and increase equipment life. Small or growing businesses and multi-site maintenance operations can manage their system to fit their specific demands. Try Maintenance Connection's free trial today.
IBM Maximo: Best for Enterprise Asset Management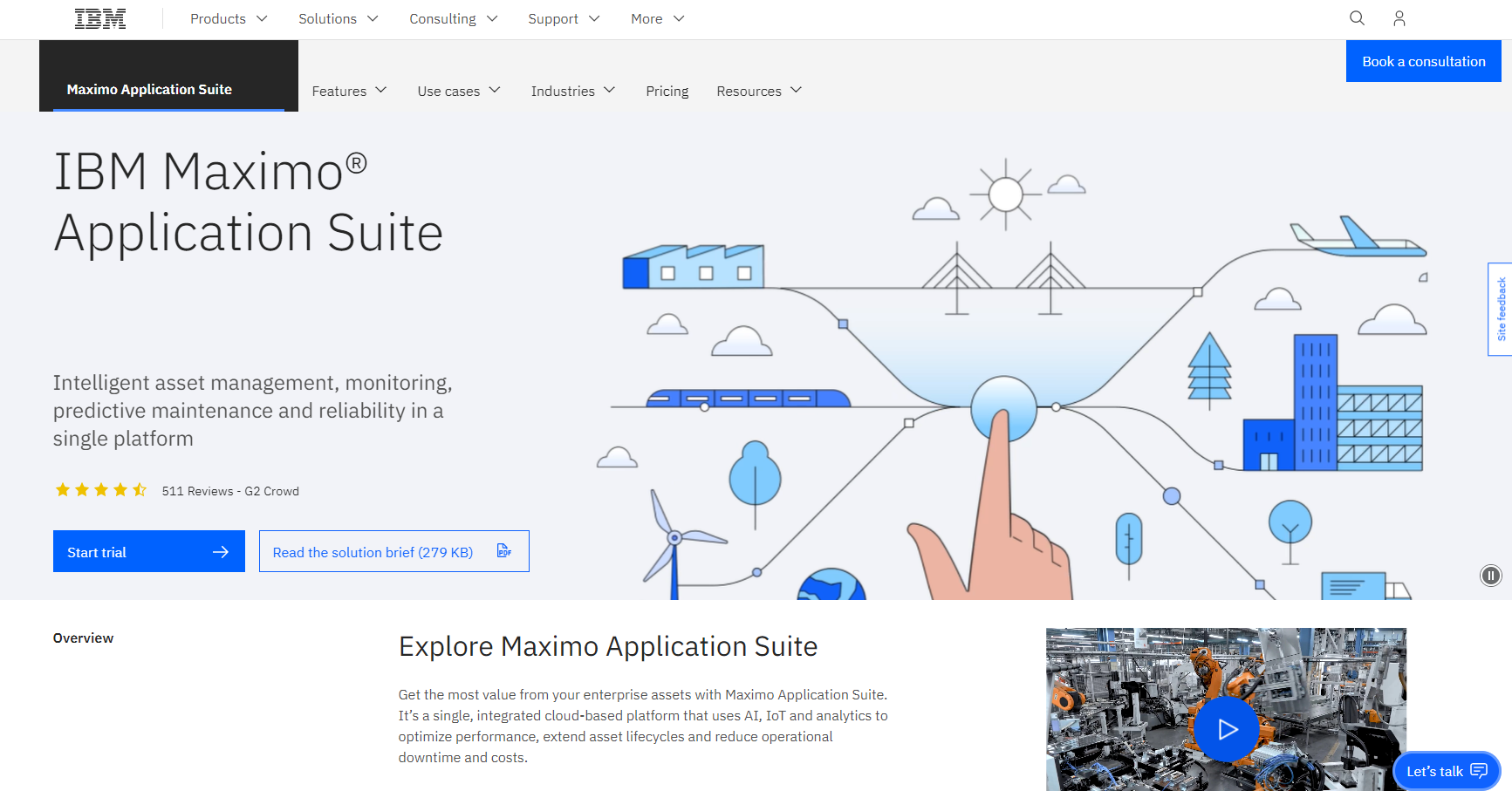 Overview
IBM Maximo is a predictive maintenance solution that offers intelligent asset management, monitoring, and asset reliability with condition-based action based on asset health insights from operational data and analytics. Manage the health of your assets by using IoT data from asset sensors and other sources, such as the weather, asset records, and work history, to increase asset availability and improve replacement planning.
Highlights
IBM Maximo® Predict – Integrate various operational data into analytics-driven predictive maintenance models to help you better schedule maintenance and increase the dependability of your assets. Reduce unplanned downtime and risks, maintenance costs, and improve asset utilization.
IBM Maximo® Health – Make better management and maintenance decisions by understanding the state of crucial company assets using insights from data and analytics. Increase asset availability and reduce the cost of asset failure.
Pricing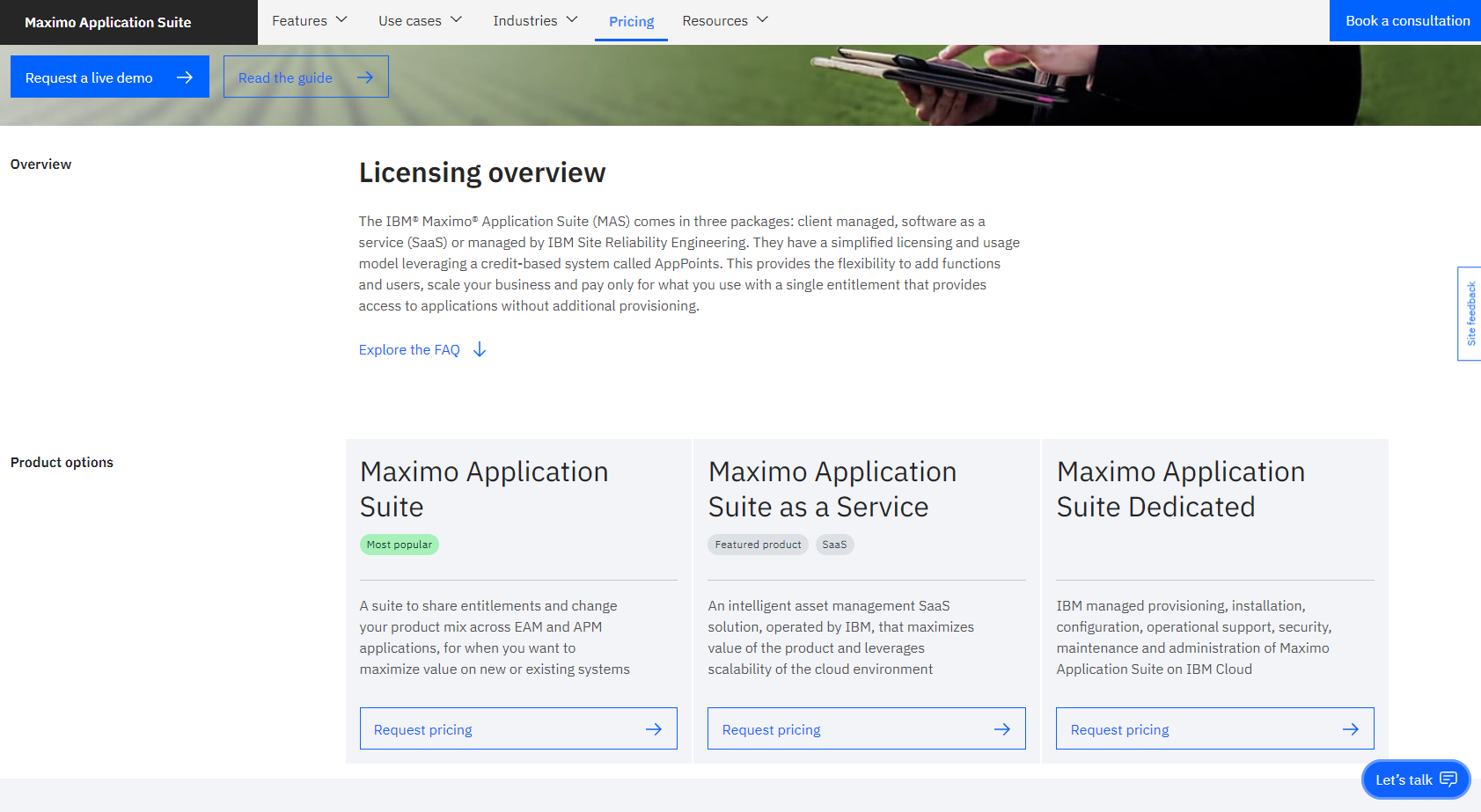 IBM Maximo's plans, Maximo Application Suite, Maximo Application Suite as a Service, and Maximo Application Suite Dedicated require clients to book a meeting to request the pricing.
Bottom Line
IBM Maximo is ideal for businesses that want to streamline their maintenance operations with Enterprise Asset Management (EAM). See the benefits of visibility, control, and automation and maximize asset value to grow your company. Try IBM Maximo's free trial today.
Siemens MindSphere: Best for Open Digital Platforms for Cloud-Based Industrial IoT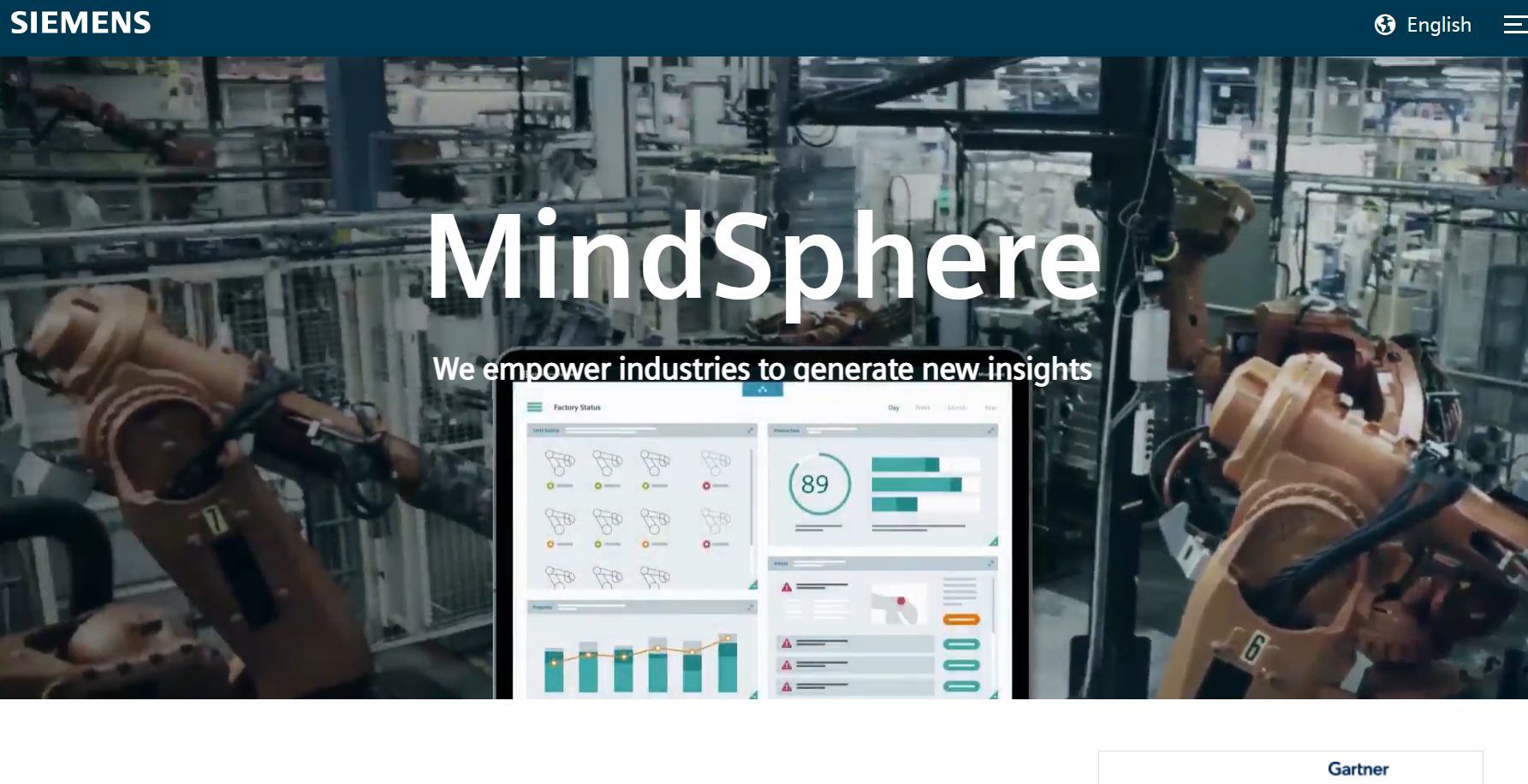 Overview
Siemens MindSphere is the leading industrial IoT as a service solution that uses advanced analytics and AI. It boasts the most comprehensive industrial Internet of Things solution – from edge to cloud – powering the convergence of IT and OT. Mindsphere offer lower costs, higher quality, more flexibility, efficiency, and faster innovation as predictive maintenance software. Succeed in your market through the integration of data and digitalization.
Highlights
Scalable Solutions – Enables global access for rapid scaling, expansion, and integration based on business demands for cloud-based apps and solutions.
Continuous Insights – Advanced streaming analytics is used at the edge or in the cloud to accelerate insights for both critical and non-critical processes.
Comprehensive Analytics – Easy integration and analysis of IoT data with information from PLM, CRM, ERP, SCM, SLM, and MES systems.
Custom Digital Strategy – Gain instant value from the wealth of data collected from the IoT by accessing industrial-based applications.
Global Partner Ecosystem – Transform IoT data into useful insights by utilizing a diversified global partner ecosystem and Siemens' cross-industry domain expertise.
Closed-loop Digital Twin – Get real-time performance information from linked goods and manufacturing processes to build a closed-loop, fully-functional digital twin.
Pricing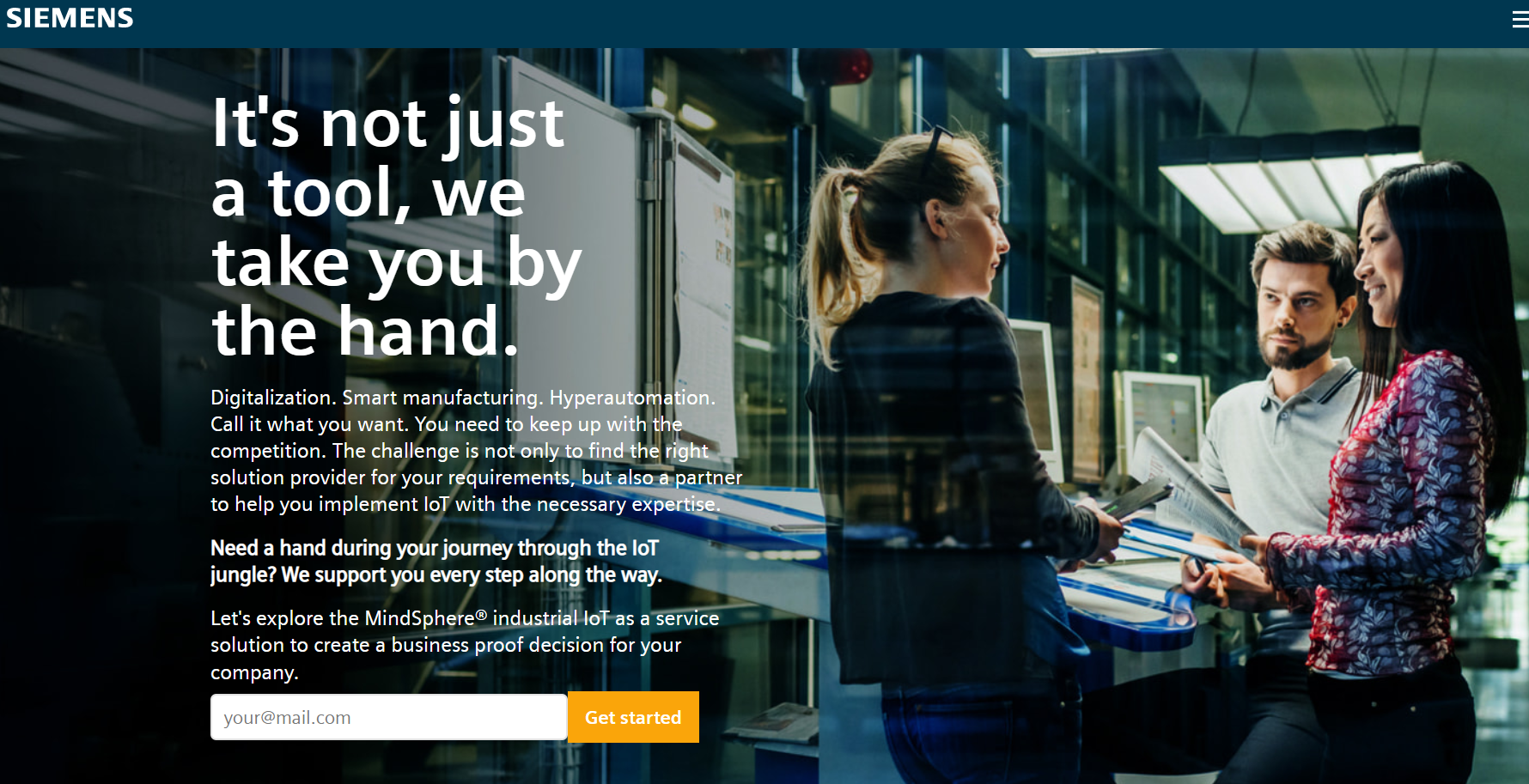 Siemens MindSphere offers highly customizable features and custom quotes for every company. To get more information contact Siemens Minsphere.
Bottom Line
Siemens MindSphere is for businesses of all sizes that want extensive customization of their maintenance program. Fully realize your digital potential with MindSphere through the consumption and visualization of real-time data and analytics results in one centralized location. Try Siemens MindSphere for free today.
Presenso: Best for Automated Machine and Deep Learning (Auto-ML)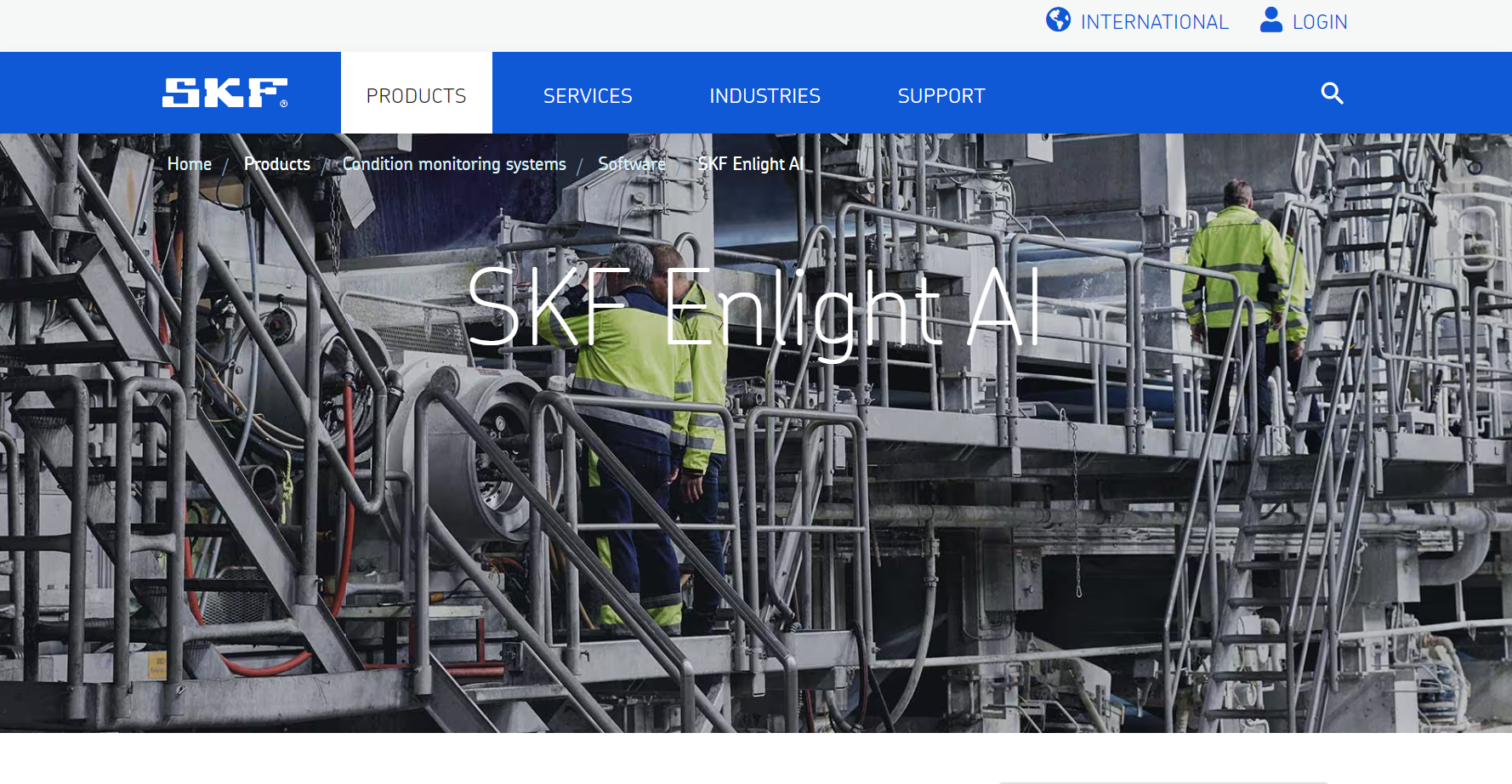 Overview
Presenso is an AI-driven cloud-based industrial solution that is a pioneer in the application of real-time artificial intelligence for predictive asset management. It provides real-time asset predictions based on condition-monitoring sensors' signal data in the cloud. Presenso can also study sensor behavior, automatically learn how machines operate, and utilize this learning to detect machine faults before they occur. Its company, Presenso Ltd., was acquired by SKF in October 2019.
Highlights
Big Data – Provides a clear and constant performance view by analyzing industrial IoT data, deep prediction analysis, reduced production downtime by 30%, and 100% sensor and machine agnostic as it learns and adapts to various sensors and machines.
Artificial Intelligence Engines – Uses a method of predictive maintenance that combines remote diagnostic services with machine learning technology. This hybrid approach to industrial analytics provides tools for both recognizing, fixing, and preventing problems, and potential issues.
Unsupervised Machine Learning – An unsupervised solution that requires no pre-defined criteria or human input. Advanced deep learning and machine learning algorithms since assets behavior to automatically find anomalies and patterns within them.
Predictive Alerts Generated – Provides Operations and Maintenance program (O&M) personnel with instant and real-time alerts of potential and evolving machine failure.
Pricing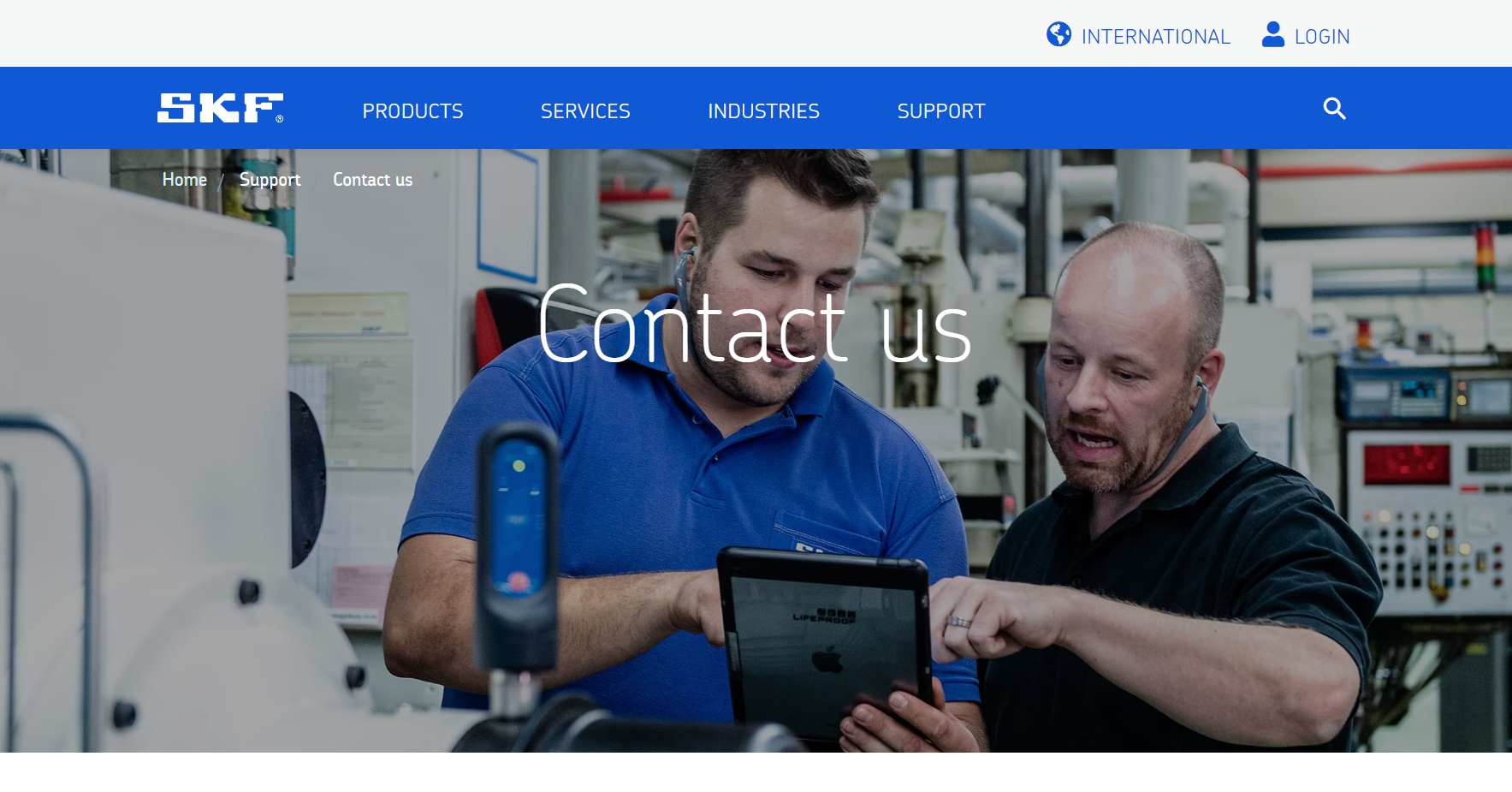 Contact Presenso's acquirer, SKF, to get started and receive their pricing plan, or look for a local distributor in your area.
Bottom Line
Production facilities may now automatically identify and respond to abnormalities that were previously challenging to locate without the assistance of data scientists thanks to Presenso's AI technology. Using Presenso's expertise, SKF will improve its Rotating Equipment Performance offer. Presenso's technologies are continually developing for businesses of all sizes.
GE Predix: Best for Asset Performance Management (APM) and Operations Performance Management (OPM).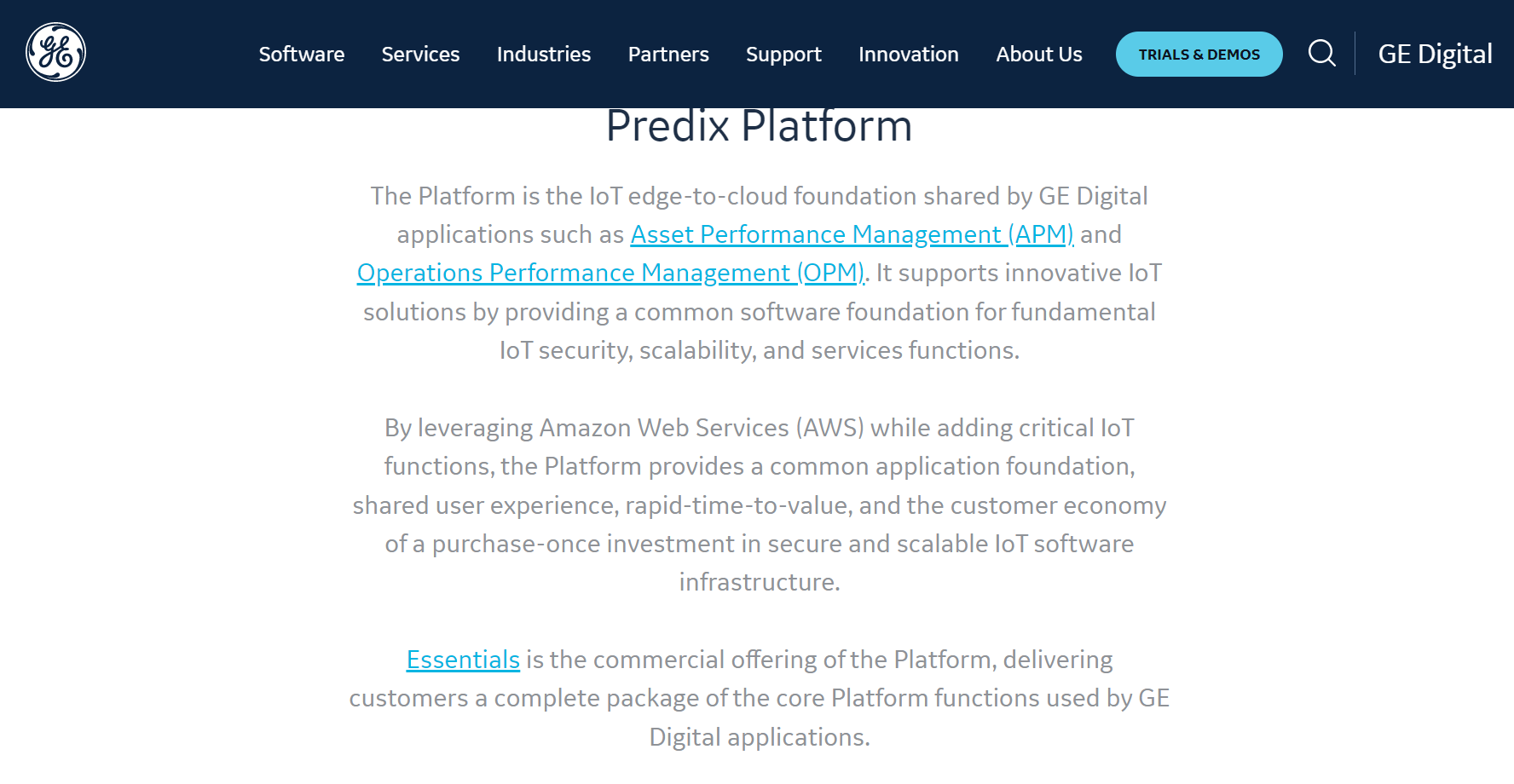 Overview
GE Predix is the IoT edge-to-cloud solution designed to keep up with industrial data challenges that combine complex analytics, asset modeling, big data operating, and applications to provide the IT foundation for future industrial systems. For real-time edge asset management or cloud-based big data analysis, this software may employ the secure Predix connection and execution environment.
Highlights
Asset Performance Management (APM) – Optimize asset performance and O&M efficiency across equipment, the plant, and the entire fleet.
Operations Performance Management (OPM) – Improves the performance of plants, sites, and generation portfolios with performance intelligence and optimization, and production planning.
Analytics Execution – GE Digital Twin analytics and customer-developed analytics may be executed and orchestrated flexibly at the edge and in the cloud.
Data Processing Fabric – Streaming and batch data intake, as well as real-time data and analytics processing, are used to meet a range of application demands.
IT/OT Connectivity – Safe and trustworthy OT data transmission from hardware, sensors, HMI/SCADA, historians, and IT sources like EAM/CMMS.
Edge-to-cloud security – Ensures end-to-end data and user access management and compliance, from fortified edge processing to encrypted data transport to secure operation in the cloud.
Pricing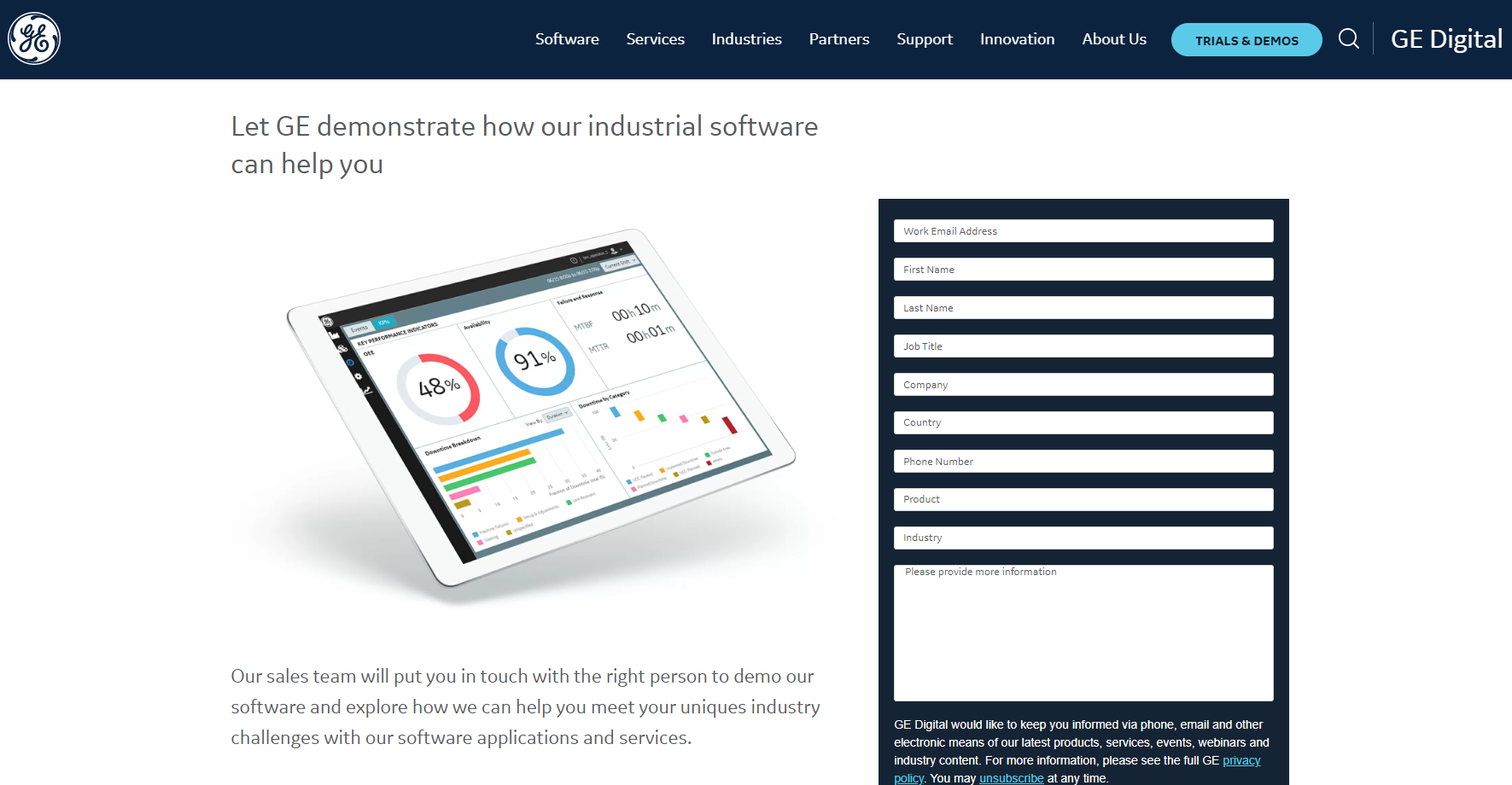 Contact GE Digital to get started with GE Predix. Request a demo, start building your customized maintenance program, and receive a custom quote.
Bottom Line
GE Digital offers the Predix Platform, providing support for industrial and manufacturing machinery. Ideal for growing enterprise businesses that aim to support innovative IoT solutions by providing a common software foundation for fundamental IoT security, scalability, and services functions.
What is predictive maintenance software?
Predictive maintenance software is software that utilizes artificial intelligence to analyze and track asset conditions and provide real-time information to the maintenance team. This condition-monitoring helps predict and prevent asset failure and other potential issues through machine learning. This software provides automated analytics and reporting, asset and work order operations, and easy integrations.
Final thoughts
Companies have to utilize their invaluable asset for as long as they possibly want to and to do so, they have to provide maintenance. Predictive maintenance software is the most efficient approach to increasing productivity on that. Most software on our list offers a free trial period that you can check out Hopefully our list helps you in your maintenance program.