10 AI Tools to Plan for Your Next Trip
Want to take the hassle out of planning your next vacation? Artificial intelligence has revolutionized the travel industry, and some amazing AI tools can help you plan an incredible trip. Whether you're looking to save money, find hidden gems, or create a customized itinerary, AI has got you covered.
Get ready to take advantage of AI and plan a smarter, more memorable trip. The future of travel is here – let the adventure begin!
How AI transforming travel
The AI revolution is changing how we plan and experience travel. As an avid traveller, you'll want to take advantage of these innovative AI tools to make your next trip a breeze.
Chatbots can help you research and book hotels, flights, and activities. Just tell the chatbot your trip details and preferences, and it will provide options to choose from.
AI-powered recommendation engines give tailored suggestions based on your interests and location. They'll even tell you the best times to visit each place.
Smart suitcases with built-in batteries, GPS, and Bluetooth locks make navigating airports and keeping track of your luggage a snap. Their integrated apps let you check the location and lock status of your bag right from your phone.
AI translation apps break down language barriers, allowing you to communicate in many places worldwide. Just speak into your phone, and it will translate your speech into the local language in real-time.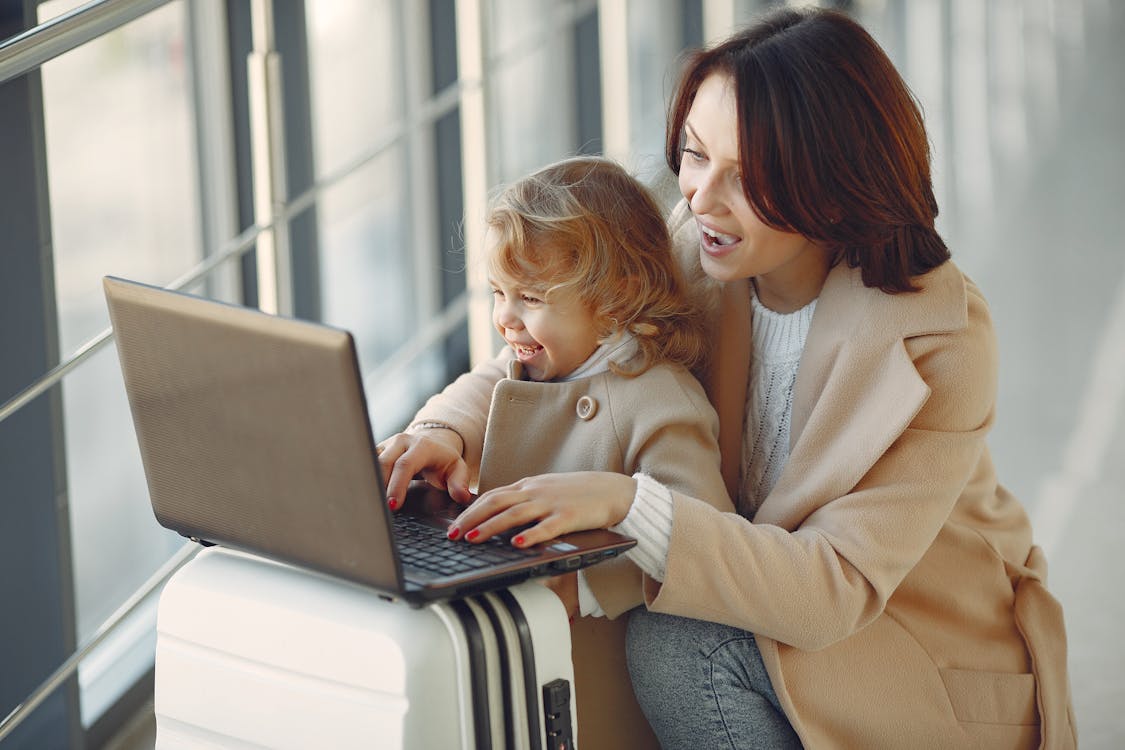 Let AI be your personal travel agent
AI is transforming travel planning in exciting ways. The next time you're gearing up for an adventure, take advantage of AI tools to craft your perfect itinerary, find the best deals, pack efficiently and make the most of your trip.
Let AI plan your itinerary
As a traveler, you have a lot on your plate when planning a trip. Luckily, AI tools can act as your personal travel agent. AI trip planners use information about your interests and budget to suggest customized itineraries. All you have to do is provide details about where and when you want to go, and the AI will map out your perfect adventure.
AI knows what you like
AI trip planners get to know you through a quick survey about your travel preferences, interests, budget and more. The AI uses this knowledge to suggest destinations, attractions, hotels, and activities tailored specifically to you. If you love art and culture, the AI may recommend museum visits and historical tours. If you're a foodie, the AI can map out a food crawl of the top local eateries. The AI curates suggestions based on what it knows you'll enjoy.
Optimize your time
With limited time on your trip, you want to make the most of it. AI trip planners analyze the locations and distances between attractions to optimize your itinerary. The AI will account for factors like travel time, crowds, and opening and closing times to ensure you can fit in as much as possible without feeling rushed.
Stay on budget
When traveling, it's easy to overspend if you're not keeping track of costs. AI trip planners allow you to set a maximum budget and will then suggest free or affordable options to suit your needs. The AI can recommend budget-friendly hotels, low-cost transportation options between locations, and deals on activities and dining.
AI tools for travel planning
You've decided where you want to go for your next vacation, but now comes the tedious task of planning your itinerary. Fortunately, AI-based travel planners can help take the hassle out of crafting the perfect trip. These tools provide customized suggestions for activities, sites, and an optimal daily schedule based on your interests. All you have to do is provide some basic details about your trip and let the AI handle the rest.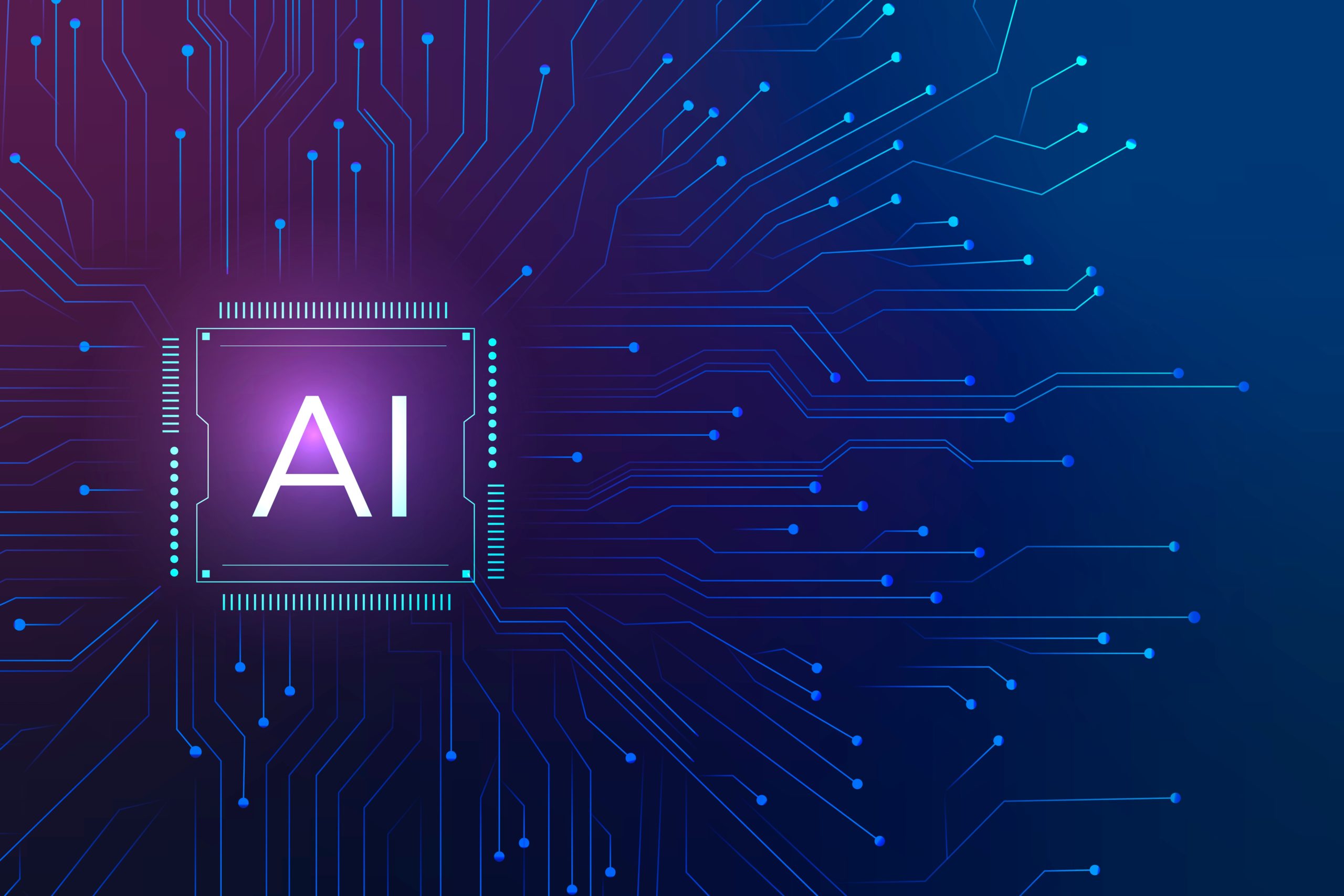 1. Roam Around
Roam Around is a leading travel planning tool powered by ChatGPT. It offers a seamless plan for your next adventure by generating complete itineraries in seconds. With over 4 million itineraries created, Roam Around is the largest and smartest AI travel planner available. Simply input your desired destination, and the tool will provide personalized travel suggestions tailored to your preferences and needs.
Features
AI-powered travel suggestions: Roam Around utilizes artificial intelligence to suggest travel itineraries based on user preferences, saving time on extensive research.
Personalization: Users can customize their travel preferences, including budget, location, and activities, to receive tailored recommendations aligned with their interests.
Collaboration: Roam Around allows users to collaborate with others on travel plans, ensuring everyone's preferences are taken into account.
User-friendly interface: With a user-friendly interface, Roam Around is accessible to all users, regardless of their technical expertise, making travel planning a breeze.
2. Plan My Trip ASAP
Plan My Trip ASAP is an AI-powered tool that enables users to create personalized trip itineraries within minutes. By gathering information about the destination and activities of interest, the tool generates customized itineraries featuring Google map routes and top recommendations for dining, bars, and cafes.
Features
Customized itineraries: Plan My Trip ASAP offers three itinerary options: The Day Tripper for quick trips, The Weekender for weekend getaways, and The Vacationer for longer stays. Users can choose the desired itinerary and receive tailored recommendations.
Sample itineraries: The tool showcases sample itineraries, such as specific ones for yoga enthusiasts in Costa Rica or history lovers in Paris, serving as inspiration for users.
Travel blog: Plan My Trip ASAP maintains a travel blog featuring various destinations and packing tips, providing additional resources for travelers.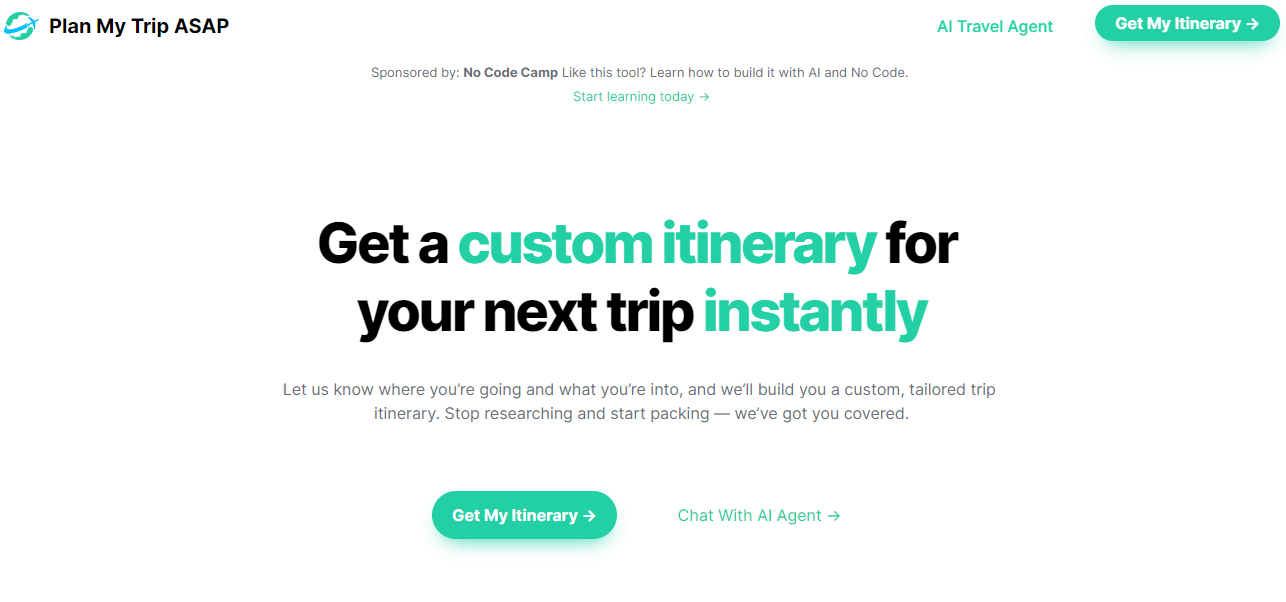 3. iplan.ai
iplan.ai I offers an AI-powered travel planning solution that curates itineraries matching users' preferences. The platform emphasizes the accessibility of good travel plans, aiming to provide free planning assistance. Users can share their preferences, and artificial intelligence will generate personalized itineraries.
Features
Free itinerary generation: iplan.ai's focus is on providing free access to curated travel itineraries, making travel planning accessible to all.
Personalized recommendations: By considering users' preferences, iplan.ai's artificial intelligence creates itineraries that match their specific needs.
Easy accessibility: The platform ensures that users can access their itineraries from anywhere, making travel planning convenient.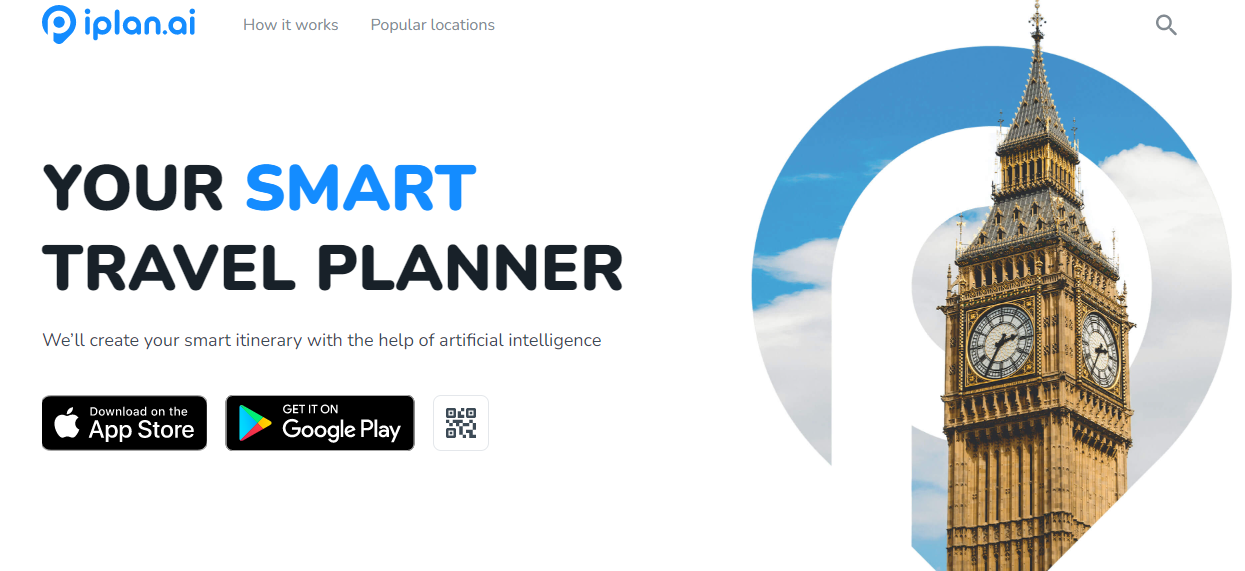 4. Travelmoji
Travelmoji is an AI-powered trip planner designed to make travel planning stress-free and convenient. With Travelmoji, users can receive highly tailored city or road trip itineraries within seconds, eliminating the need for extensive internet searches.
Features
Tailored itineraries: Travelmoji's AI-powered trip planner generates highly customized itineraries based on user preferences, ensuring a personalized travel experience.
Comprehensive recommendations: The tool provides a wide range of recommendations covering various aspects of travel, including attractions, dining options, and more.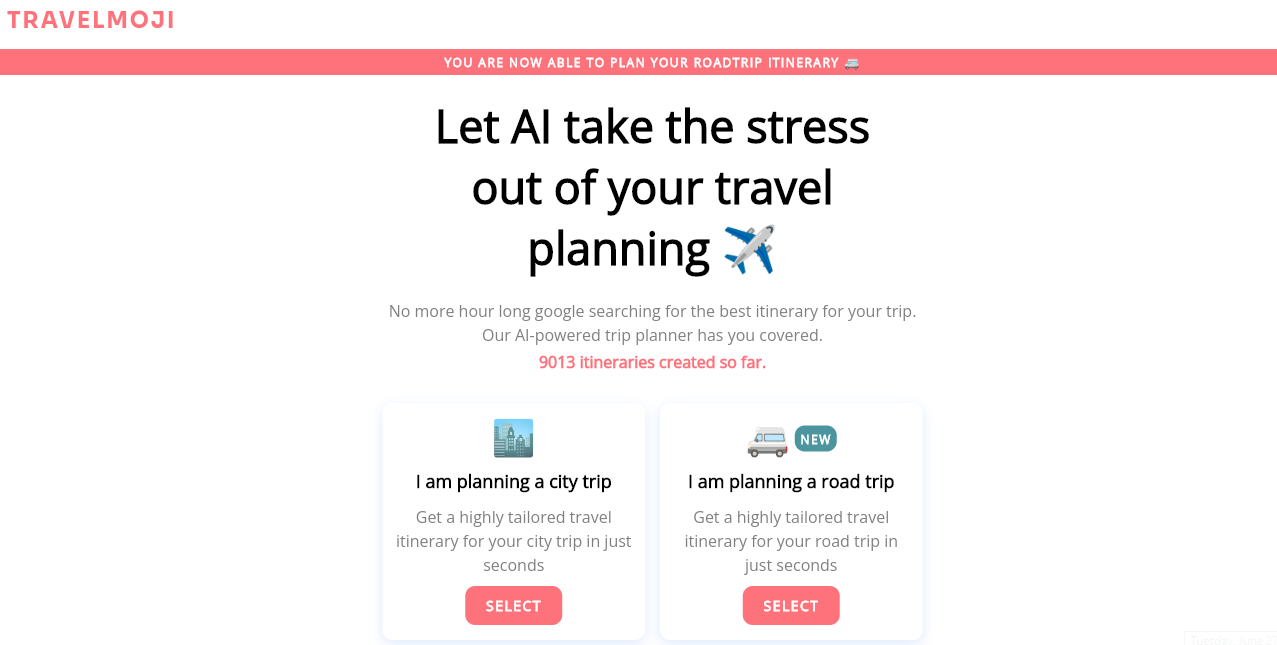 5. Destinations.ai
Destinations.ai is an AI-driven platform that helps users discover the best travel destinations in the United States. By considering users' activities, weather preferences, and budget, the platform utilizes data to recommend the perfect destination.
Features
Personalized recommendations: Users can input their preferences for activities, weather, and budget, and Destinations.ai uses AI algorithms to suggest the ideal travel destination.
Weather-based suggestions: The platform considers users' weather preferences, ensuring that they can find the best time to visit their desired destination.
Easy trip planning: With destination recommendations in hand, users can start planning their trip and book their adventure.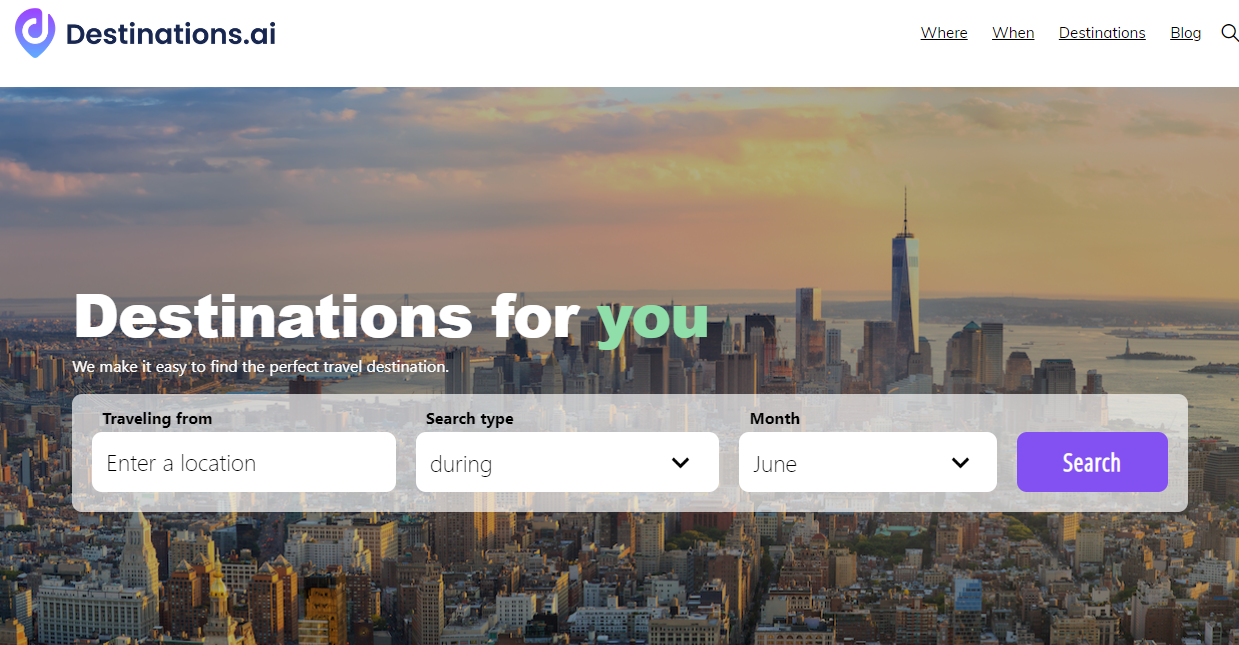 6. Tripnotes.ai
Tripnotes.ai is a travel planner that leverages a custom recommendation engine and AI technology to help travelers find the right places to visit. It generates personalized travel itineraries, optimizes plans based on user preferences, and simplifies the trip planning process.
Features
Personalized itineraries: Tripnotes.ai uses AI algorithms to generate itineraries tailored to users' preferences, ensuring a personalized travel experience.
Preference-based optimization: Tripnotes.ai optimizes travel plans based on user preferences, ensuring that the recommended places align with their interests and requirements.
Effortless trip planning: The tool streamlines the planning process, allowing users to create itineraries with minimal effort.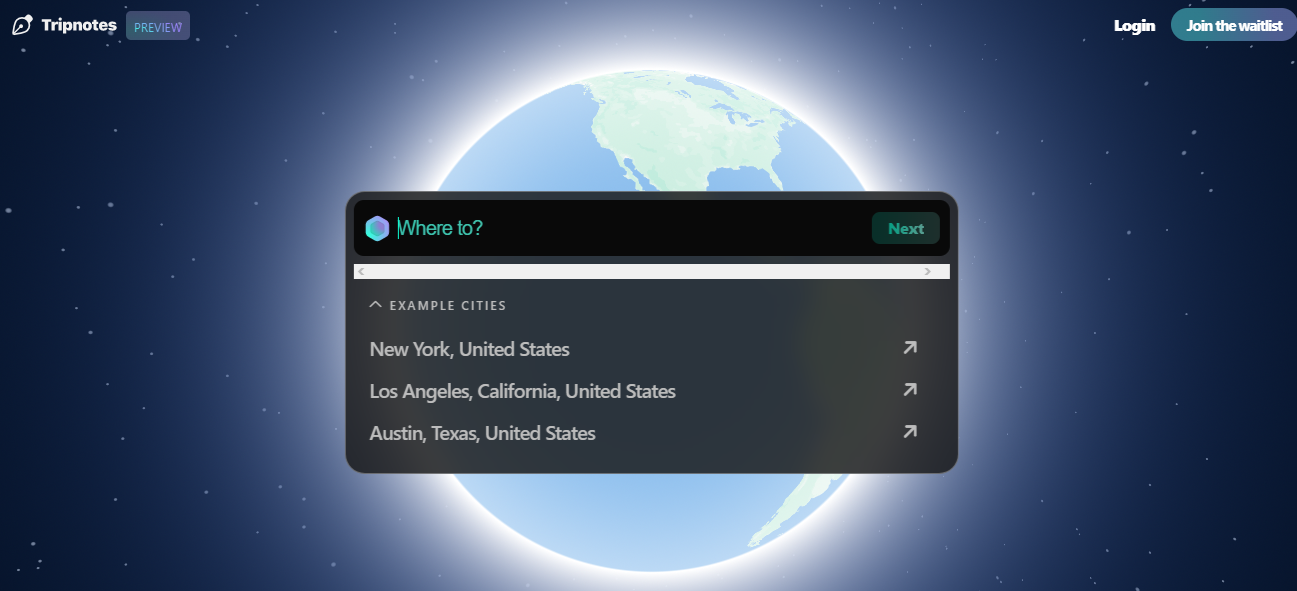 7. Skoot
Skoot is an AI-powered tool designed for family-friendly travel and activity planning. It simplifies the trip planning process by offering customized itineraries for 1, 3, or 7 days based on the user's location and preferences. The tool considers factors like budget, transportation, and children's preferences to ensure a fun and memorable experience for the whole family.
Features
Customized itineraries: Skoot generates personalized itineraries tailored to the user's location and preferences, making family trip planning hassle-free.
Activity finder: The tool suggests fun activities suitable for families, allowing them to explore and enjoy together.
Family-friendly dining recommendations: Skootbot suggests restaurants and eating options suitable for families with children.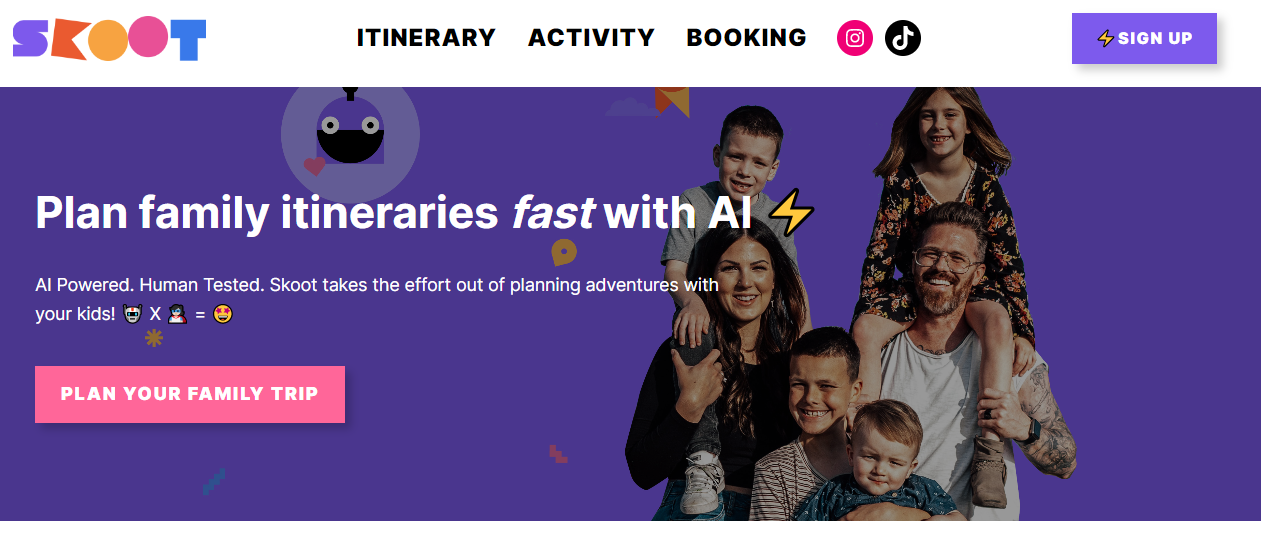 8. Vacay Chatbot
Vacay Chatbot is a travel discovery and planning platform that provides curated and personalized travel recommendations to its global user base. It offers various features, including vacation trips and tours, hotel and resort suggestions, live events and concert information, GPT-based travel tools, and live chat support for user assistance.
Features
Curated travel recommendations: Vacay provides high-quality travel recommendations to help users discover exciting destinations and experiences.
GPT-based travel tools: Vacay incorporates GPT-based travel tools to enhance the travel planning experience and provide relevant information.
Vacation trips and tours: The platform offers information and options for vacation trips and tours, making planning and booking travel experiences easy.
Hotel and resort suggestions: Vacay suggests hotels and resorts based on user preferences and requirements, ensuring a comfortable stay.
Live events and concerts: Users can explore live events and concerts at their travel destination, adding entertainment options to their itineraries.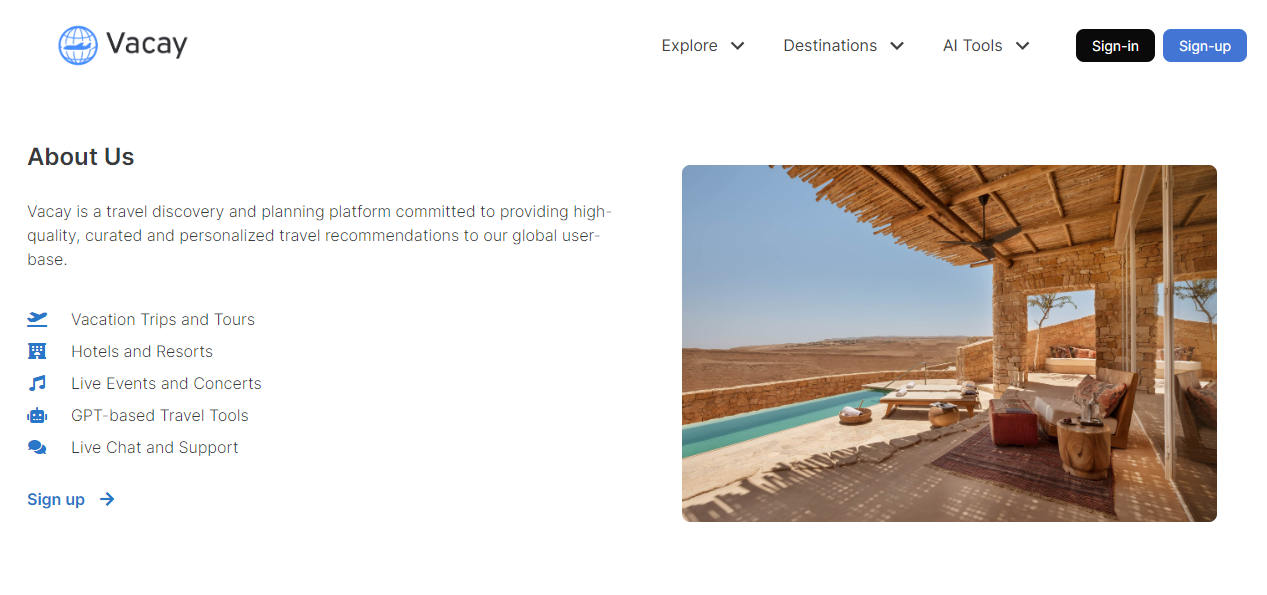 9. Curiosio
Curiosio is a specialized travel planner focused on road trips in major countries across continents. It utilizes its AI engine, Ingeenee, trained on crowdsourced travel resources, to create itineraries that meet specific requirements. Users can set options for round trips or one-way trips, add preferred places to visit, and set the number of travelers, dates, vehicles, budget, and the desire for curious or obscure places. Curiosio provides multiple plans and routes based on these options, complete with maps, day-wise breakdowns, and clickable points of interest.
Features
Road trip itineraries: Curiosio specializes in generating itineraries for road trips, considering user preferences and requirements.
Customization options: Users can customize their road trip preferences, including round trips, one-way trips, specific places to visit, number of travelers, dates, vehicles, budget, and more.
Detailed itinerary: Curiosio provides detailed itineraries with maps, day-wise breakdowns, and clickable points of interest, enabling users to explore and plan their road trips effectively.
AI engine: The platform's AI engine, Ingeenee, is trained on various crowdsourced travel resources to ensure accurate and comprehensive itinerary generation.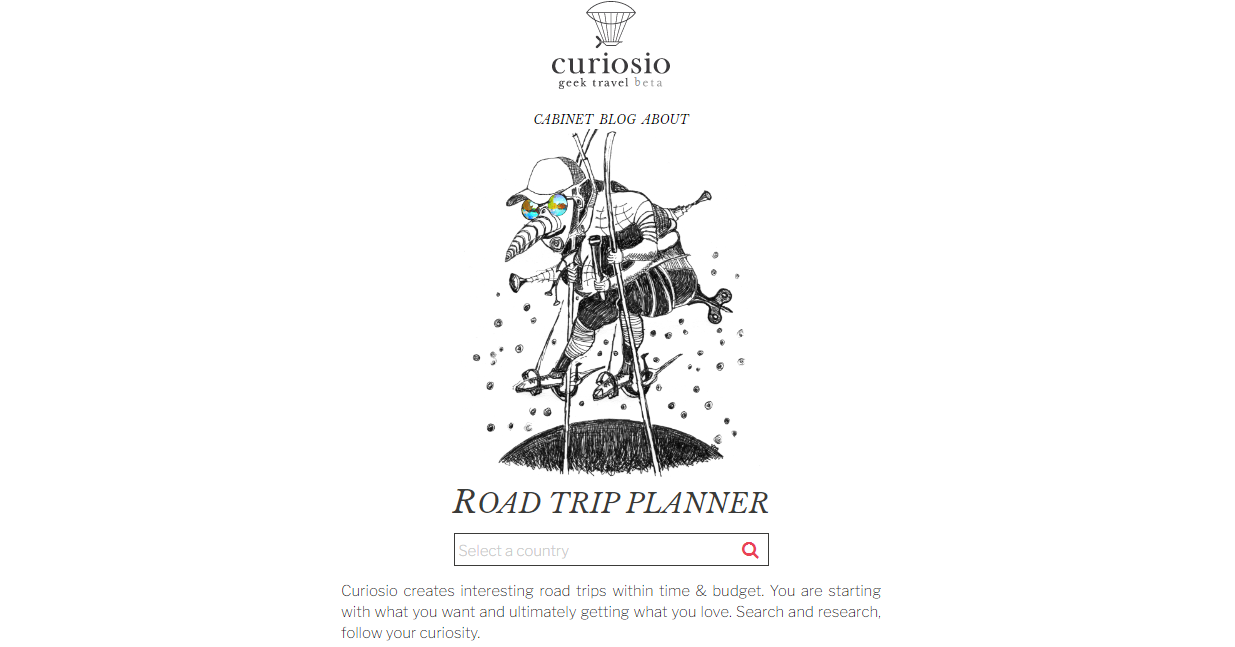 10. Wonderplan.ai
Wonderplan.ai is an intelligent AI-powered trip planner that creates personalized itineraries for road trips and vacations based on the user's unique preferences, interests, and budget. By gathering information about the user's likes and dislikes, the tool generates tailored suggestions for travel activities, destinations, and accommodation options.
Features
Customizable itineraries: Users can customize their itineraries according to their preferences, allowing them to curate a travel plan that suits their needs. The AI algorithms continuously learn and improve based on user feedback, ensuring more accurate and relevant suggestions.
Real-time collaboration [coming soon]: Wonderplan offers a real-time collaboration feature, enabling users to plan and make changes with their travel partners easily. This central location for communication streamlines the process of discussing travel plans, making it convenient to finalize trip itineraries together.
Connect with like-minded travelers [coming soon]: The tool provides recommendations for other like-minded travelers based on age, gender, location, and travel preferences. This feature allows users to connect with individuals worldwide who share similar interests and travel styles, fostering a sense of community and facilitating travel networking.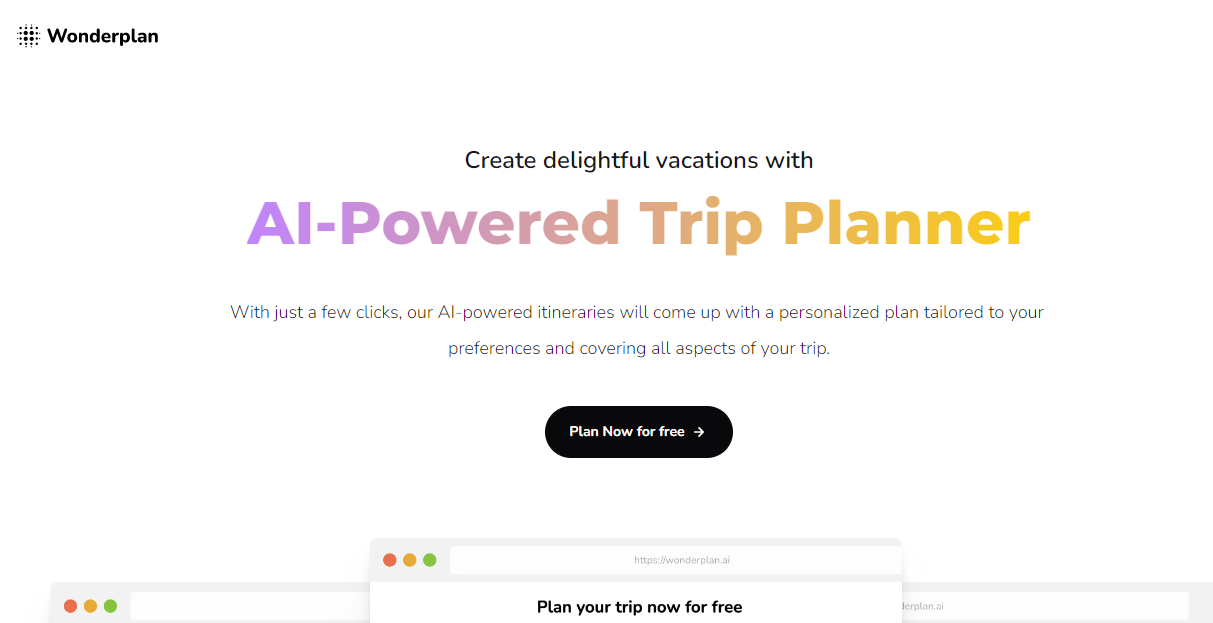 Final thoughts
Why spend hours searching travel sites and poring over reviews when AI can handle the details for you? Using these intelligent trip planning tools, you can have a personalized itinerary at your fingertips and focus on enjoying your well-deserved vacation. The future of travel is automated and designed with you in mind.
With so many AI tools out there to help plan your next trip, you have no excuse not to take that well-deserved vacation. Whether you want to save time finding cheap flights or the best hotel deals, discover exciting new destinations, get recommendations for can't-miss experiences, or even pack smarter – artificial intelligence has got you covered.
The possibilities for AI to enhance your travel planning are endless. So start dreaming up your next adventure, pick a few of these AI tools to help make it a reality, and get ready to make some amazing new memories.