Copy AI Review: Featuring Chat
Say goodbye to that dreadful blank page and hello to high-quality, optimized content that actually converts. Copy.ai is an AI copywriting assistant that empowers users to generate high-quality, optimized content in just a few minutes. With over 6,000,000 professionals and teams already using the platform, Copy.ai is quickly becoming a go-to tool for those looking to save time and improve the quality of their written content.

Copy.ai offers various content creation options ranging from blog content, e-commerce copy, social media posts, and more. The platform is designed to work with minimal input from users and guides you with prompts on what sort of information you should include. Simply choose the type of content you need from a variety of tools and templates, provide a bit of context about your brand and products, and Copy.ai will generate multiple options for your project. Afterwards, you can sift through the results, edit, polish, and publish.
In addition to tools and templates, users can now make good use of Copy.ai's Chat – The latest competitor to ChatGPT. Chat by Copy.ai is an exciting development as it marks the company's entry into the field of conversational AI. This opens up new opportunities for Copy.ai to expand its services beyond content creation and into the broader field of AI-powered customer engagement.
With Chat by Copy.ai, the company is well-positioned to capitalize on the growing demand for conversational AI and to continue to innovate and push the boundaries of what is possible with AI-driven technology. As Copy.ai themselves put it, "Experience the full power of an AI content generator that delivers premium results in seconds."
If you're looking for an AI writing tool that can help your streamline content production and research, Copy.ai may be the right choice for you.
Copy.ai Overview
Copy.ai's AI-powered content generation and chat abilities is game-changing for businesses looking to boost productivity and pump out volumes of content. The platform makes use of advanced machine learning algorithms making it possible to create high-quality content in a fraction of the time it would otherwise take using traditional methods. With a wide range of templates and tools to choose from, Copy.ai provides users with the flexibility to create content for a variety of use cases, including social media posts, blog posts, ad copy, and more.
Chat by Copy AI allows anyone to research and generate content in a conversational manner. Unlike other AI writing tools, Chat by Copy.ai stays up to date with current information – Truly one of its most impressive features. Most AI tools on the market today operate off of information 2+ years old. Copy.ai's real-time search capabilities allows users to receive truthful answers to queries like, "Summarize the latest news on generative AI".
With Copy AI, you can also create long-form content in-platform, brainstorm ideas with Chat, and generate personalized copy for sales outreach. You could even ask Copy AI to write your wedding vows for you. The possibilities are endless.
With its user-friendly interface and powerful AI technology, Copy.ai is worthy of being named one of the best AI marketing assistants on the market. Let's dive into why.
| | |
| --- | --- |
| Copy AI | Features |
| AI Technology | GPT-3 |
| Languages Supported | 25+ |
| User Experience | Chat Interface and Document Editor |
| Educational Material | Yes |
| Long Form Document Editor | Yes |
| Search Engine Optimization | Yes |
| Art Generation | No |
| Text Summarization | Yes |
| Plagiarism Detection | No |
| Chrome Extension | No |
| API/Webhooks | Yes |
| Free Trial | Yes |
| Pricing Model | Subscription-based |
What Copy.ai Does Well
Copy.ai is an innovative AI-powered copywriting tool that excels in helping businesses streamline their content creation process. It offers a streamlined user experience and so far as I can tell, unmatched real-time search capabilities.
AI Technology
At the core of Copy.ai's technology is the GPT-3 (Generative Pre-trained Transformer 3) large language model, developed by OpenAI. GPT-3 is one of the most advanced natural language processing (NLP) models available, with over 175 billion parameters that enable it to generate human-like text with remarkable accuracy. Copy.ai's platform utilizes GPT-3 to generate content that is tailored to your project's specific needs. Copy.ai also uses machine learning to learn from user feedback, allowing it to continually improve and refine over time.
In early 2023, Chat by Copy AI was released – it feels like every day there are new AI chatbots rolling out on the scene, like ChatGPT, Claude, and others. What differentiates Chat from its competitor is its ability to search the web in real-time.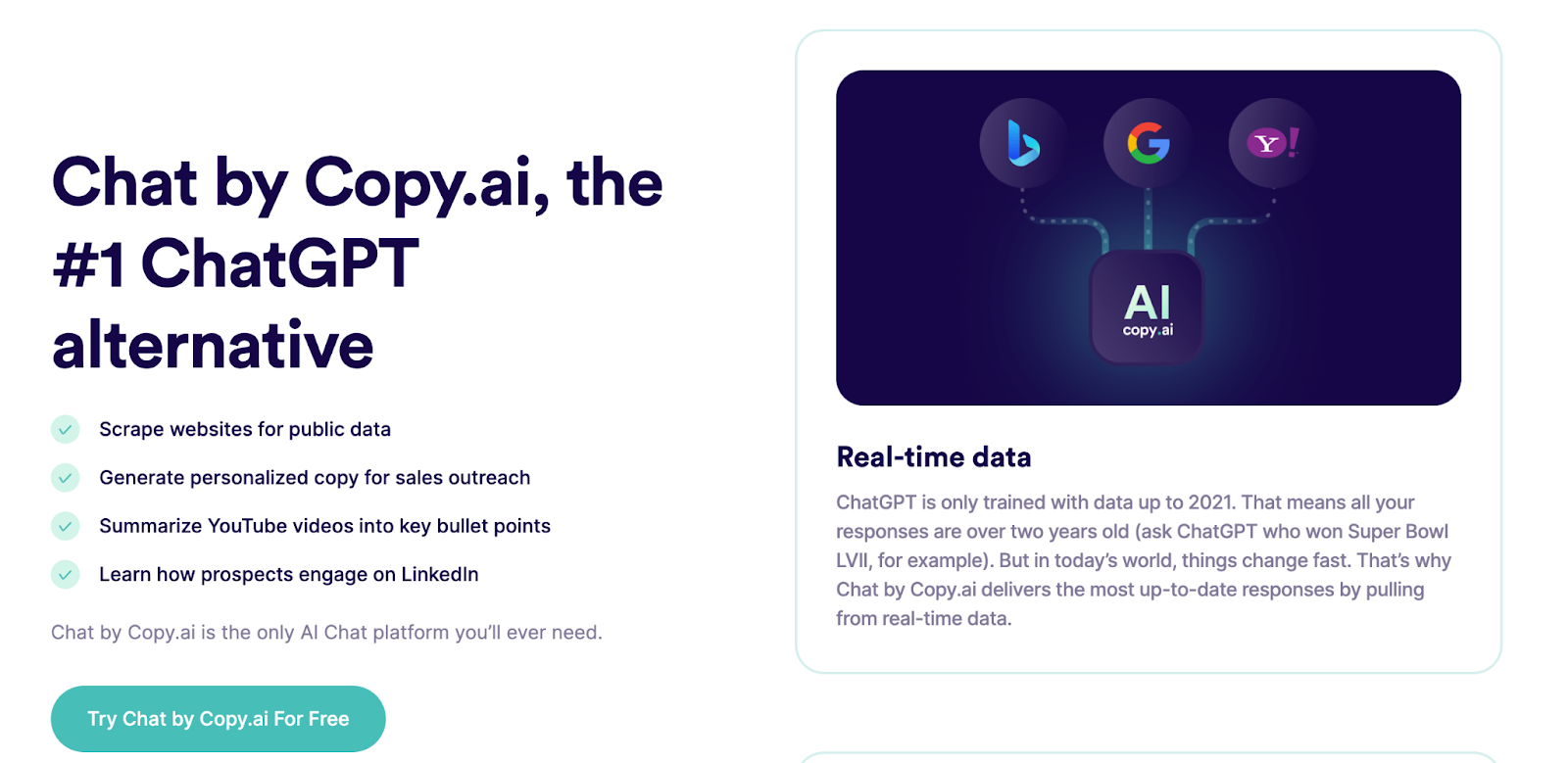 Some of Copy.ai's chat capabilities include the ability to request niche written content and summarize websites and YouTube videos. You can also research companies, people, and hot topics with cited sources.
Like other AI tools, you'll save yourself a lot of time and effort by using Copy.ai. By automating tasks such as research and summarization, you can prioritize actual content creation and strategy. Additionally, Chat's ability to cite sources in its responses ensures that users can trust the information provided, making Chat by Copy.ai a valuable tool for professionals in a range of industries. That being said, it is always a good idea to double check information for its factual accuracy before using it publicly.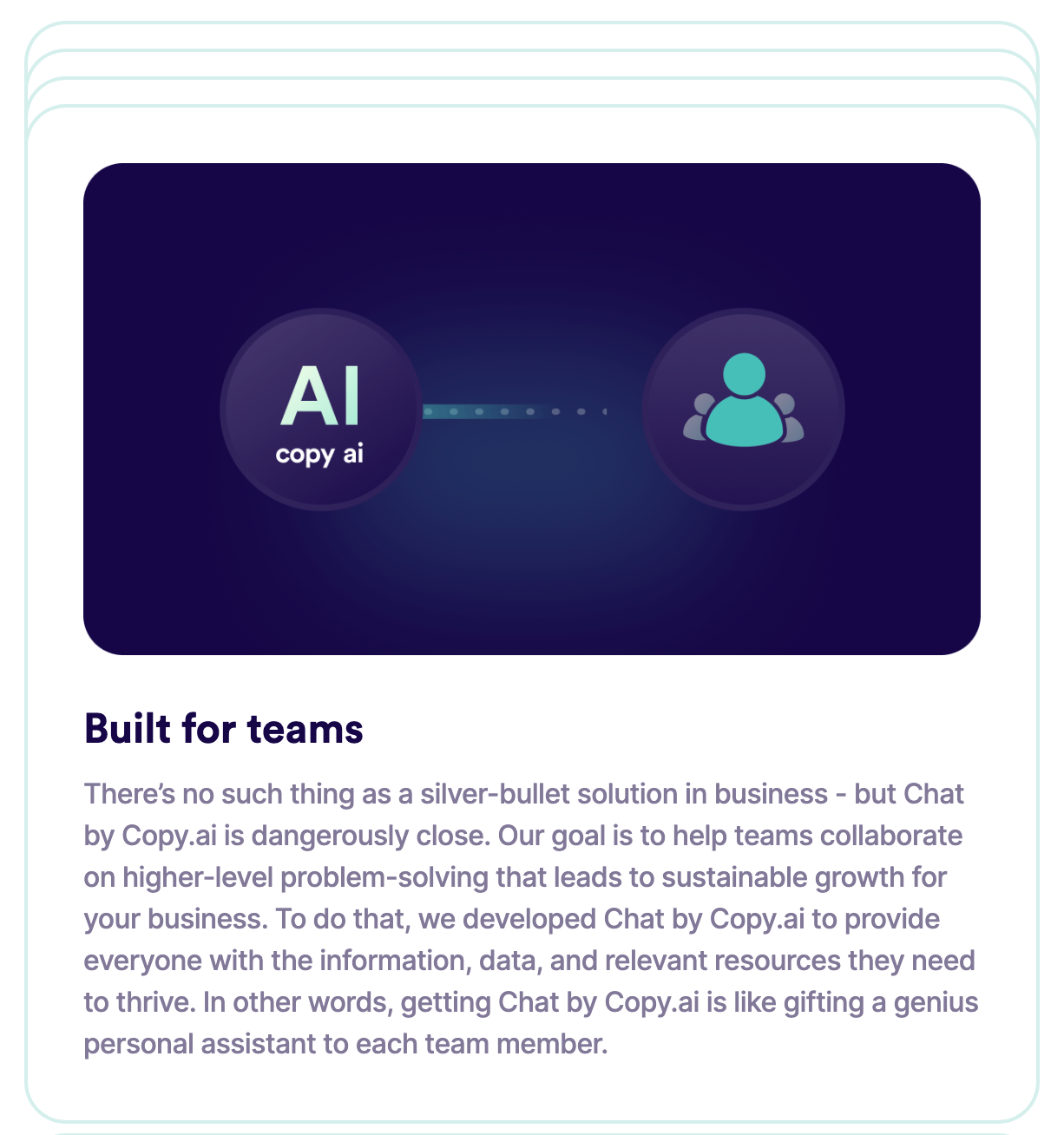 Chat by Copy.ai is an exciting new addition to the world of AI-powered tools, and its ability to help people get things done more efficiently is sure to make it a popular choice for freelancers and teams alike.
Languages Supported
Copy.ai's default language is English, meaning that is what the platform is proficient in. When asked, Copy.ai suggests it has the ability to understand and generate text in various languages, including Spanish, French, German, Italian, and more.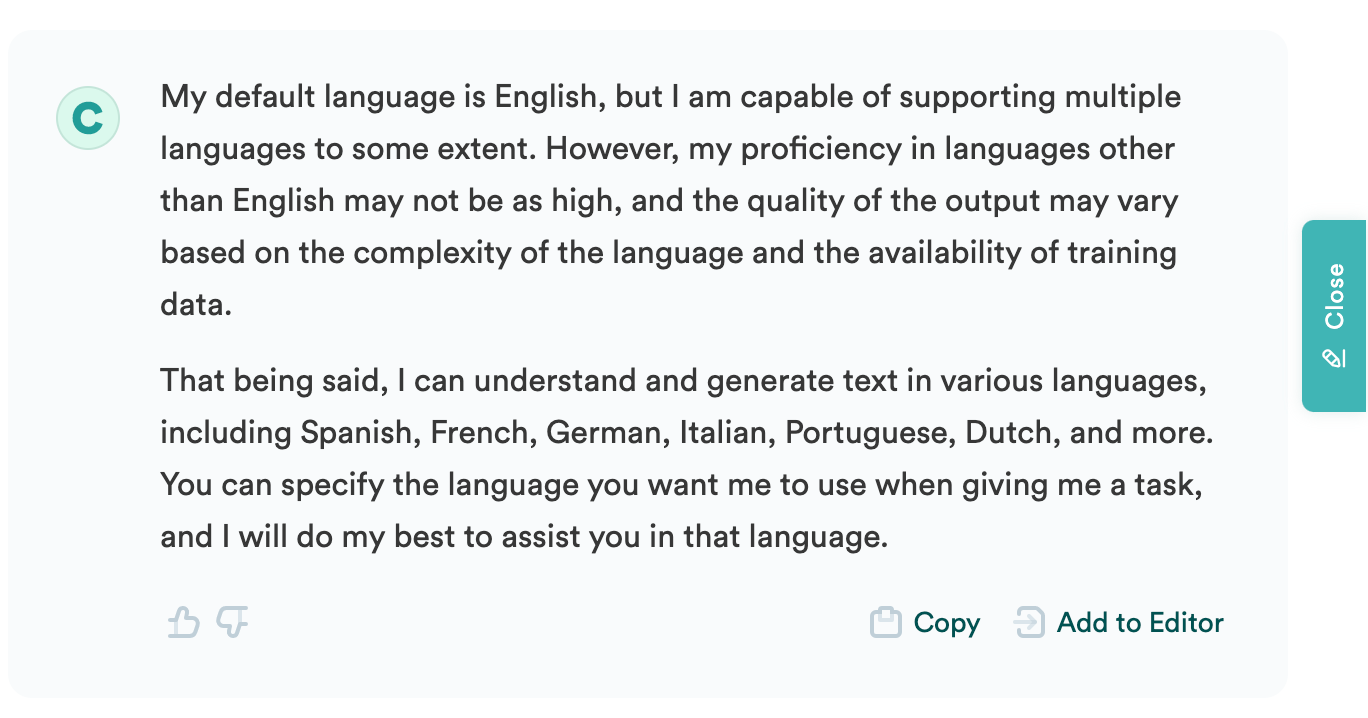 Copy.ai's ability to speak multiple languages is a significant feature that sets it apart from many other AI copywriting tools on the market. With the ability to speak 25+ languages, Copy.ai can help businesses and individuals reach a wider audience and create content that resonates with different cultures.
I prompted Copy.ai to translate "Congratulations on getting married!" to Spanish, and it did. I can't say how accurate the translation is because I don't speak Spanish, but it's better than nothing.

User Experience
Copy AI provides a fun experience with a simple interface. We'll wholly evaluate Copy.ai's user experience in this section.
Twofold UX
Copy.ai's user interface is designed to get you excited about writing. The main screen is split between the chat feature and a long-form document editor. The days of switching tabs trying to find the right one for hours on end are over. This unique UX offers users the best of both worlds – Generate high-quality copy using the chat feature. Refine and polish the work in the long-form document editor.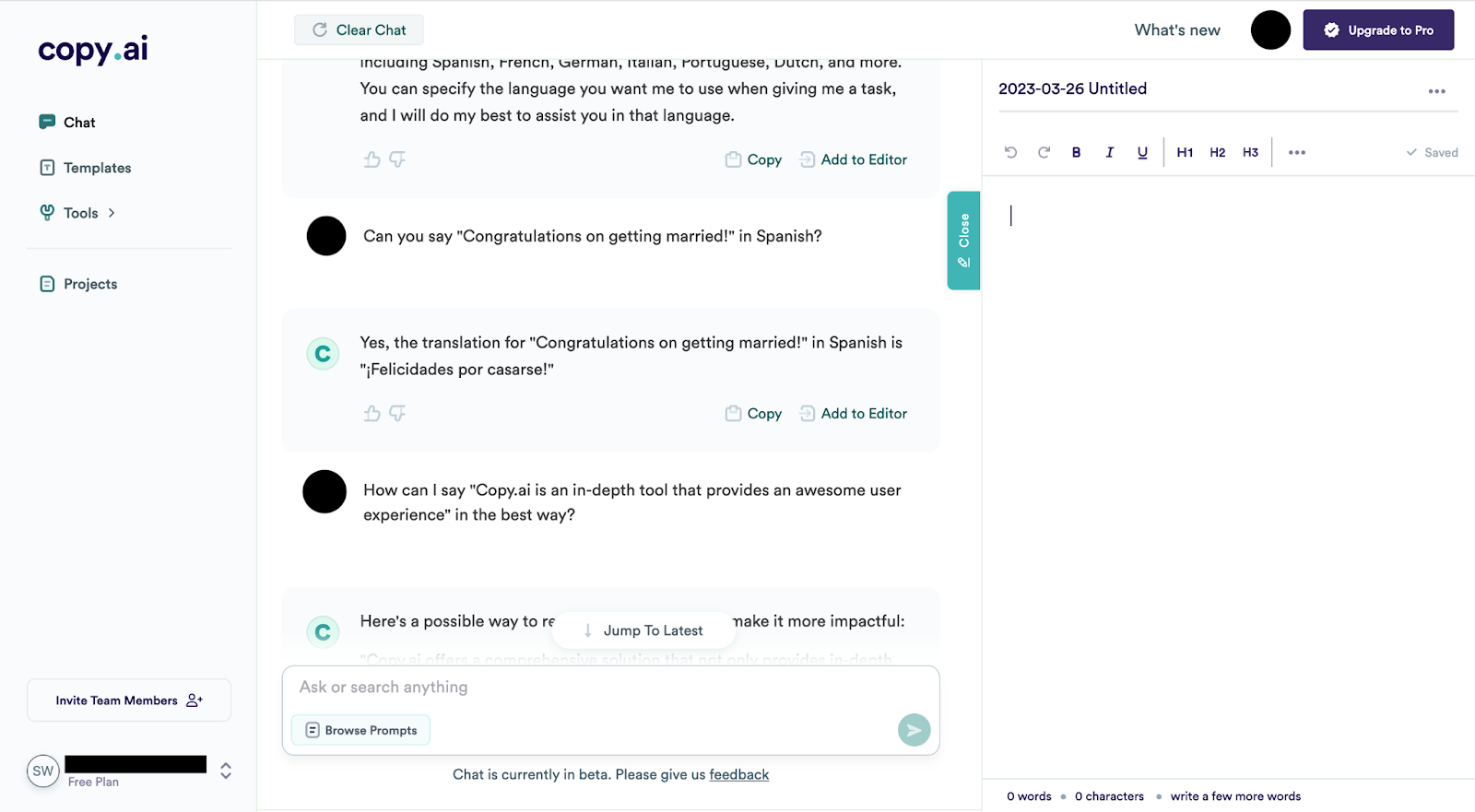 The chat feature provides users with a quick and easy way to generate content on the fly, with a range of prompts and templates available to help jumpstart the writing process. This feature is especially useful for social media managers and other professionals who need to create a lot of content quickly.
On the other hand, the long-form document editor provides users with a more traditional writing experience, with all the features and tools they need to complete their work. Tweak and edit your copy until it is just right. Copy.ai has brilliantly created a UX that is flexible, versatile, and highly effective.
Templates
Copy AI offers various templates to kickstart your project. This is a powerful tool that allows anyone to quickly and easily create high-quality copy for a variety of purposes. Whether you need to write an email, a blog post, product description, or even your wedding vows (Who would know?), the templates feature has you covered. Simply select the template that best fits their needs and start writing.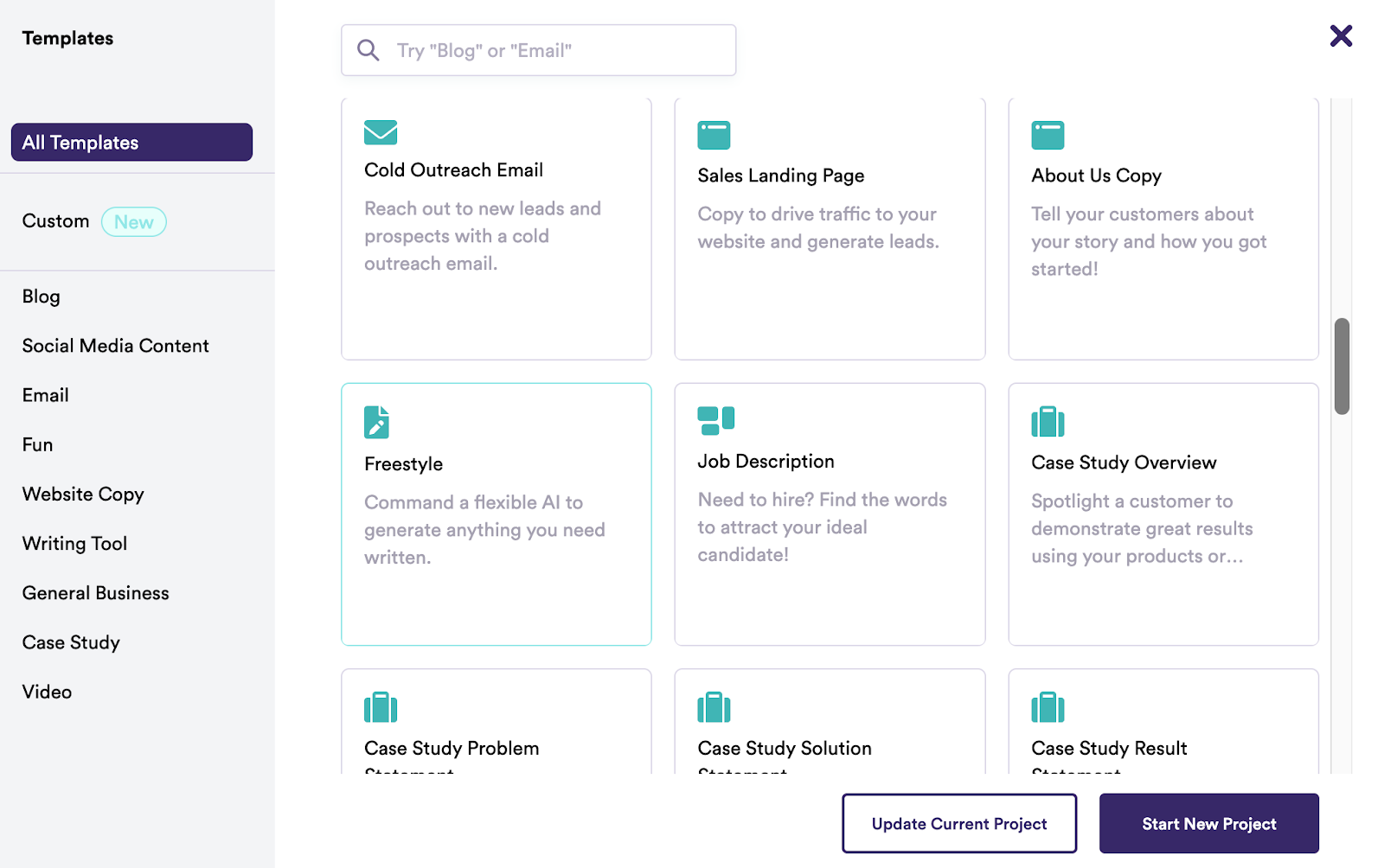 I chose Freestyle and clicked "Start New Project."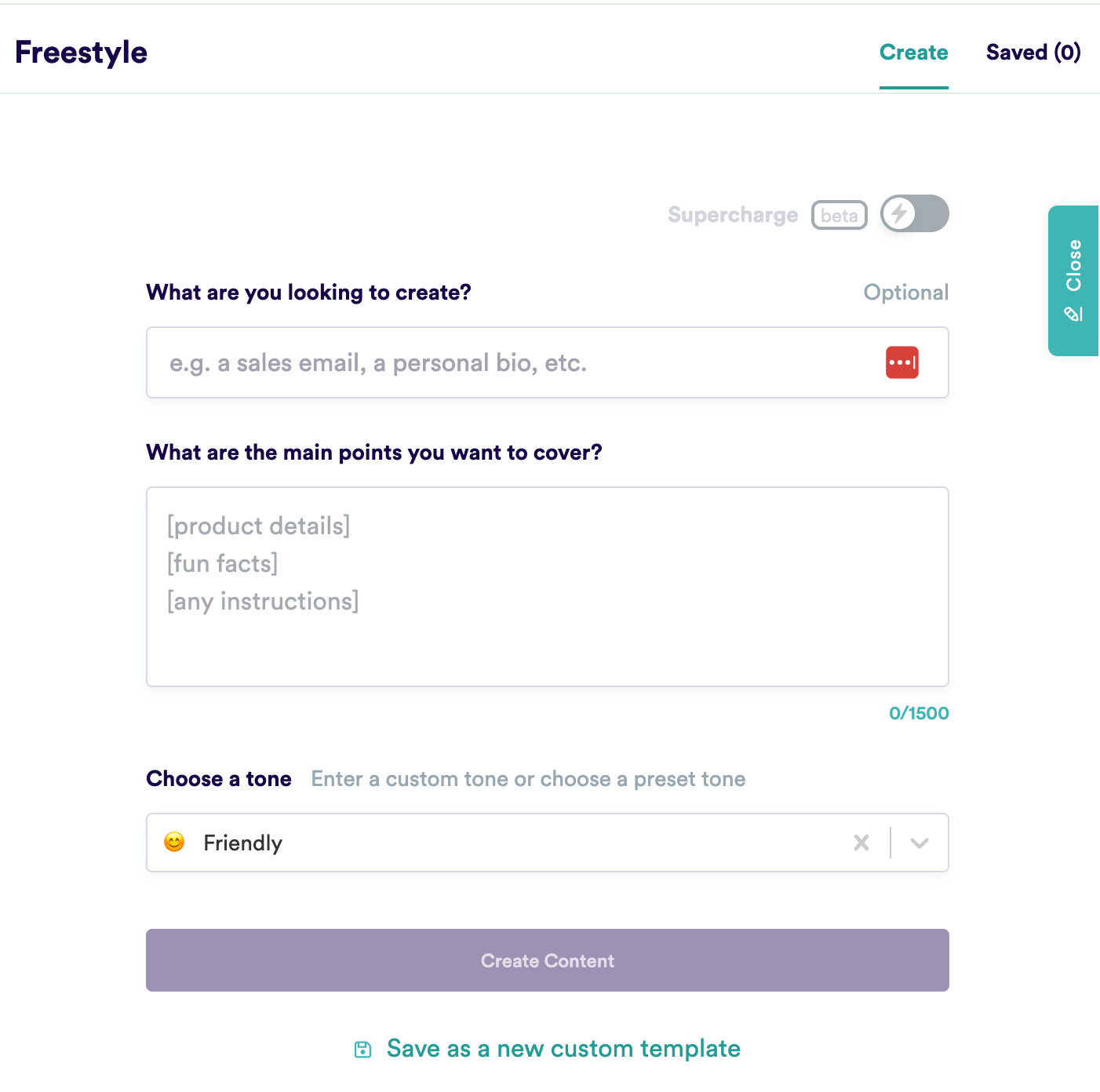 I was then prompted to create my project. I entitled the project "Copy.ai research" and added some key points I wanted to cover. Copy AI offers a variety of tones – like luxury, relaxed, or witty – to choose from – Interestingly, you can add a custom tone. Copy.ai suggested "Elon Musk," so that's what I chose.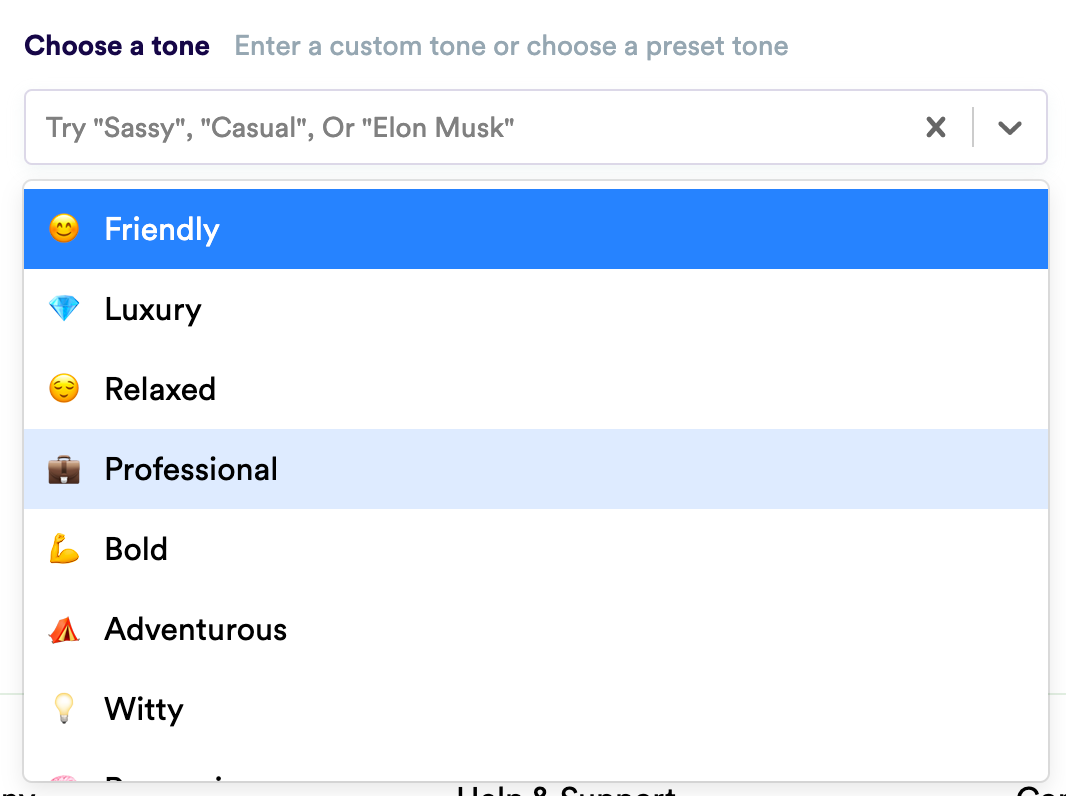 Here were the results: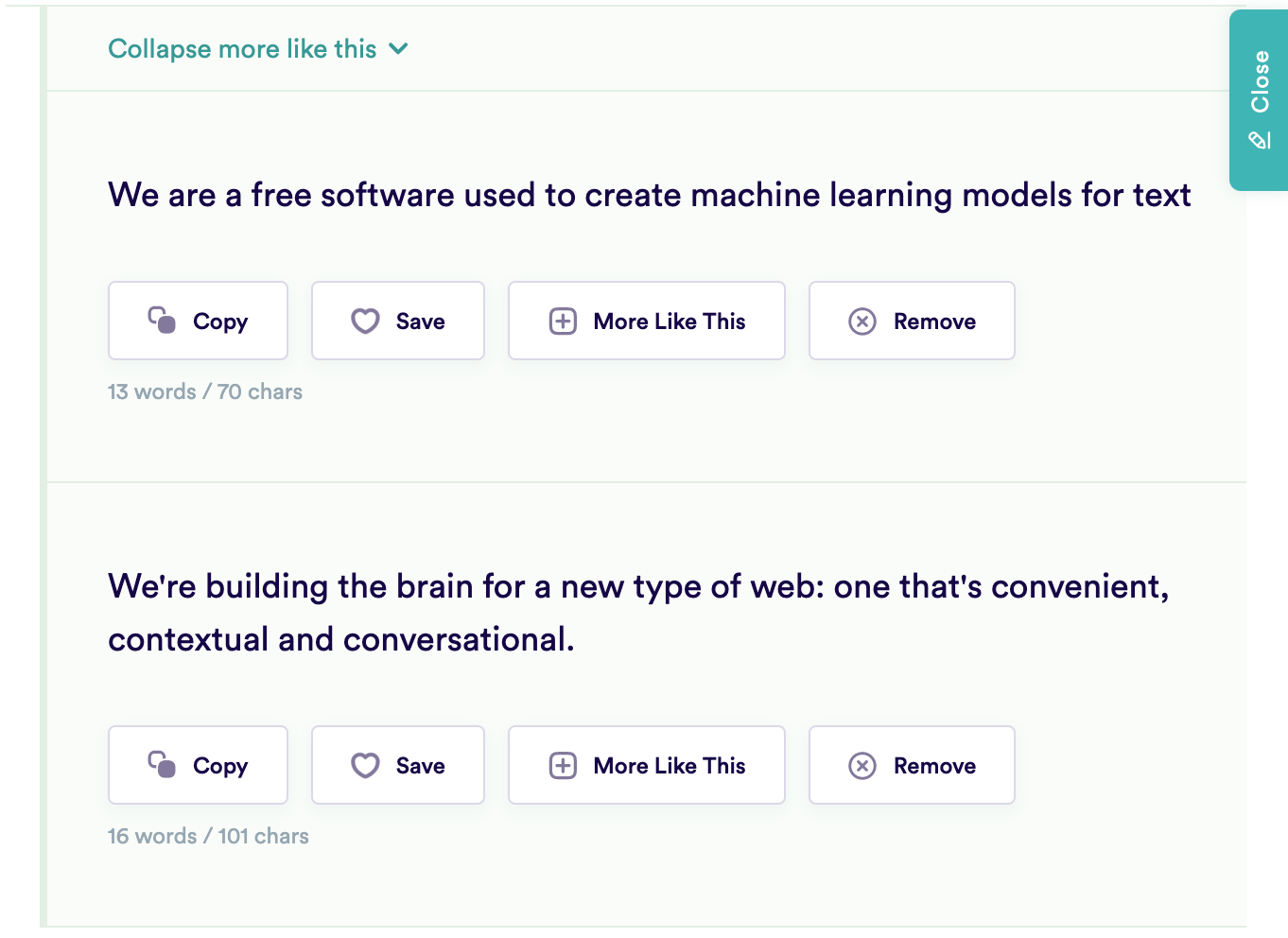 No complaints. "We're building a brain for a new type of web" sounds like something Elon would say.
I then prompted Copy.ai to write a song about a summer's afternoon.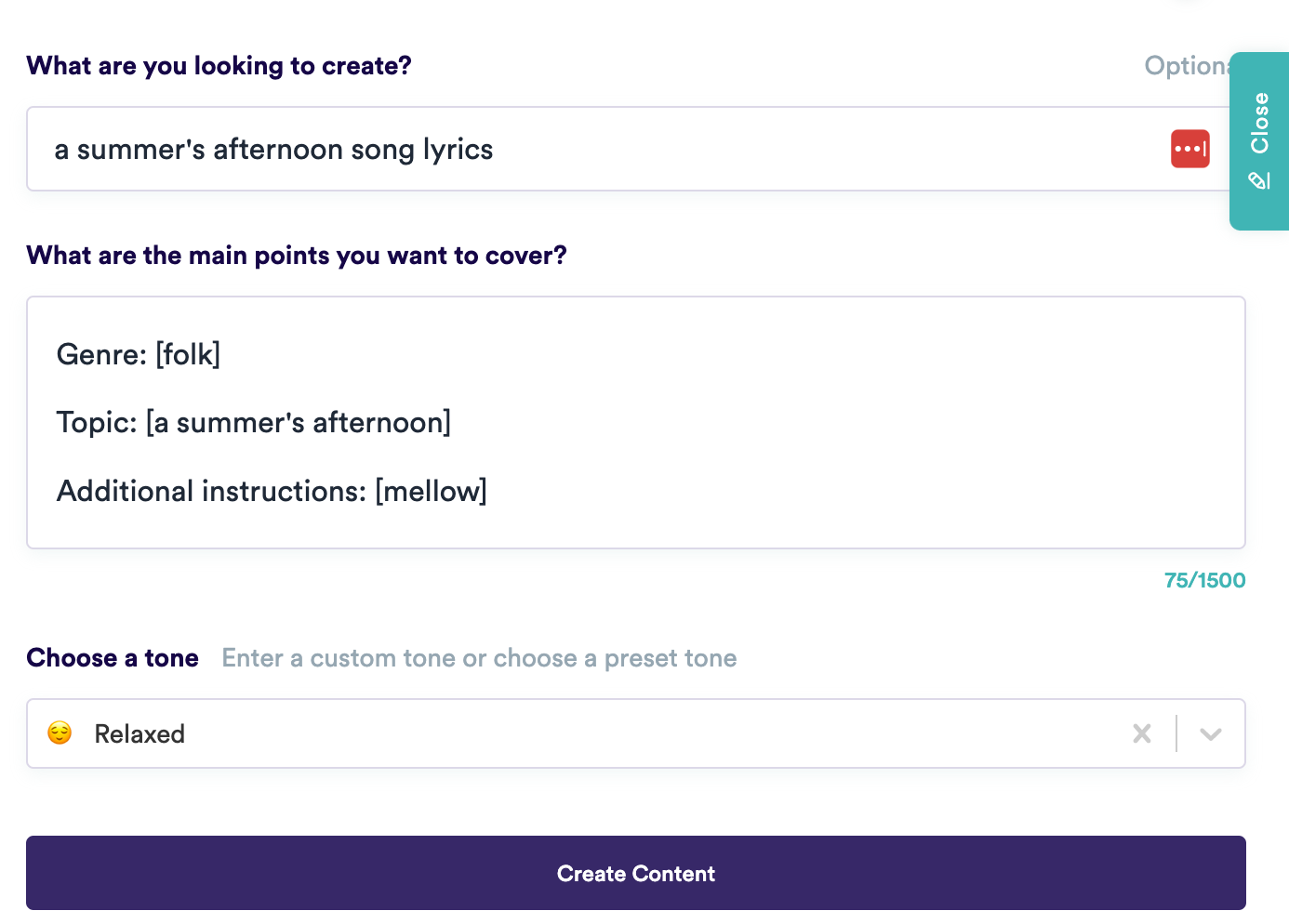 The lyrics need work, but they're a good starting point.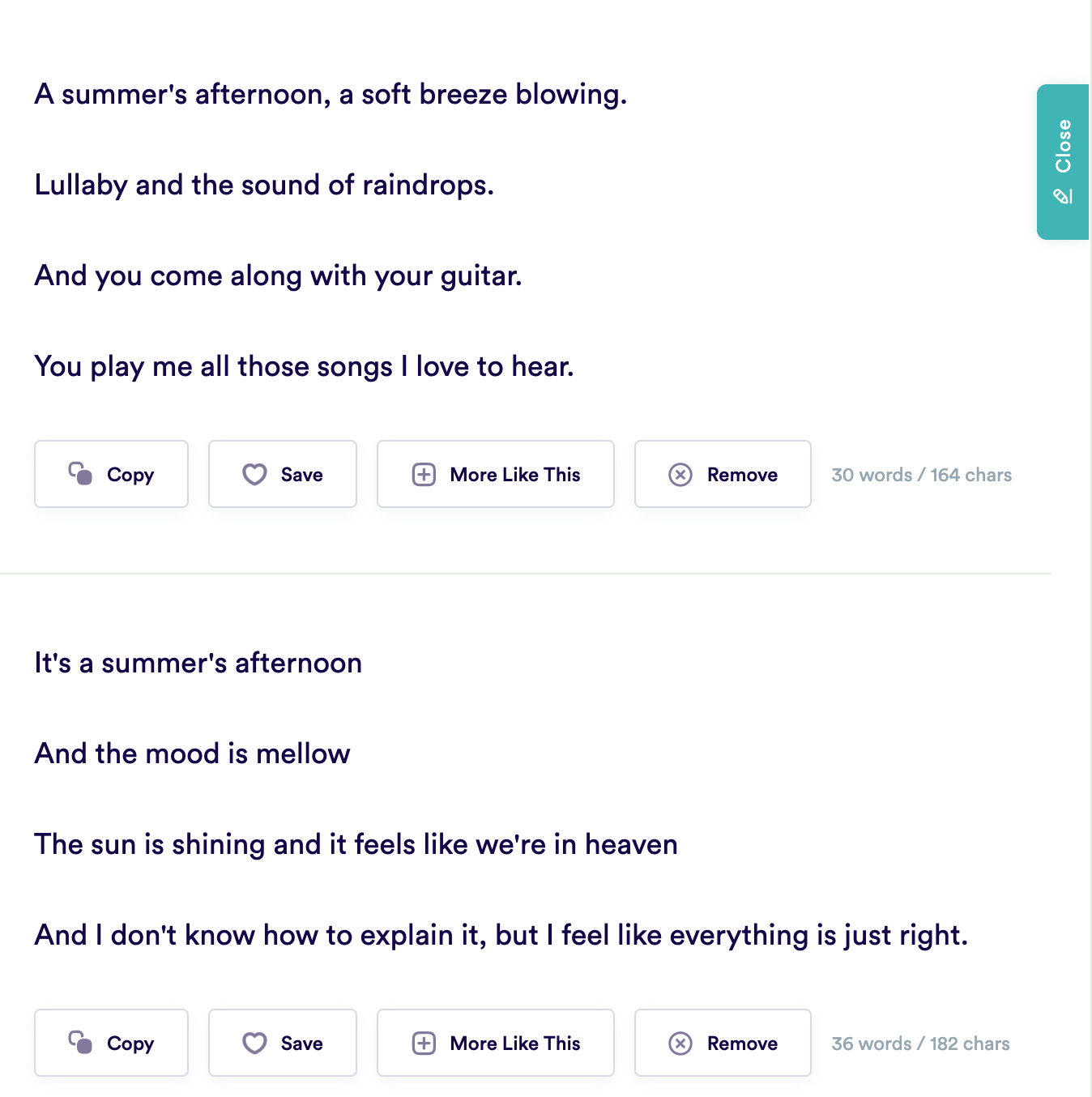 Overall, Copy.ai offers various professional and fun templates that allow users to flex their creative muscles in unexpected ways. For example, the songwriting template is a great way to craft lyrics to win over someone's heart or come up with a catchy jingle for an advertisement. The freestyle template is a fun way to experiment with different writing styles and to let your creativity run wild.
These templates not only provide a unique writing experience, but they also offer a chance to break out of your usual writing routine and try something new. Whether you're a professional writer or just looking to have some fun with words, these templates are a great way to spark your creativity and explore new ideas.
Tools
In the left-hand column, you'll find a Tools section with some interesting templates like workflow tools, social media tools, and sales copy. These tools have been designed to help users streamline their workflow and save time while creating substantially more effective messaging.

Let's explore these templates a little bit.
The Sales Cold Email is a template designed for people working in sales who need to send personalized emails to potential customers. The tool generates text based on input like a prospect's name, job title, and company. Further customize the text to fit your specific needs by highlighting the benefits of the product or service or addressing a specific pain point. Effective emails take time to come up – With Copy.ai, the work is done for you.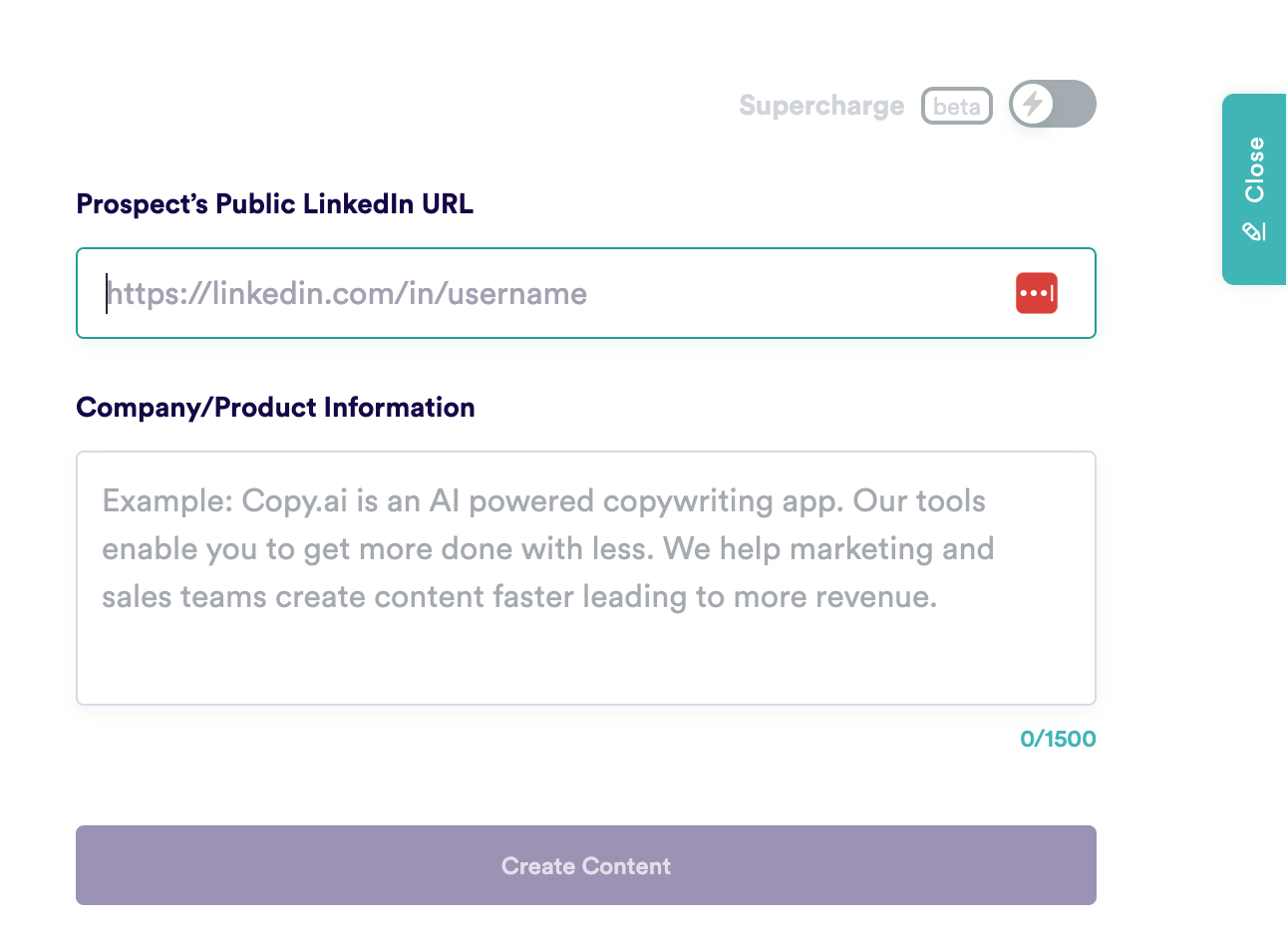 I prompted Copy.ai to sell me on incorporating an AI-copywriting assistant into my daily workflow. Copy.ai killed it with the subject line.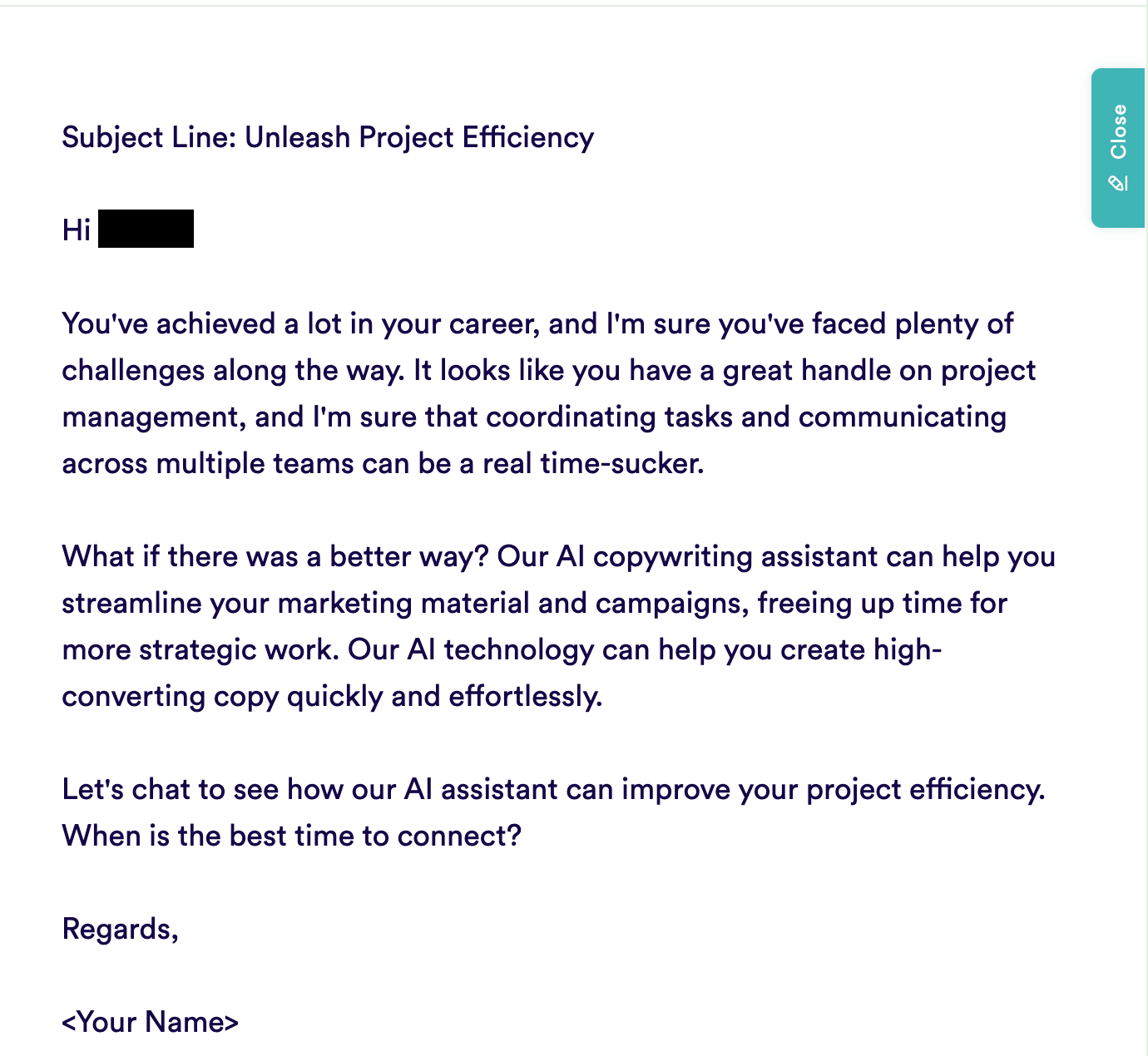 Next, I tried out the Motto Generator with the following input.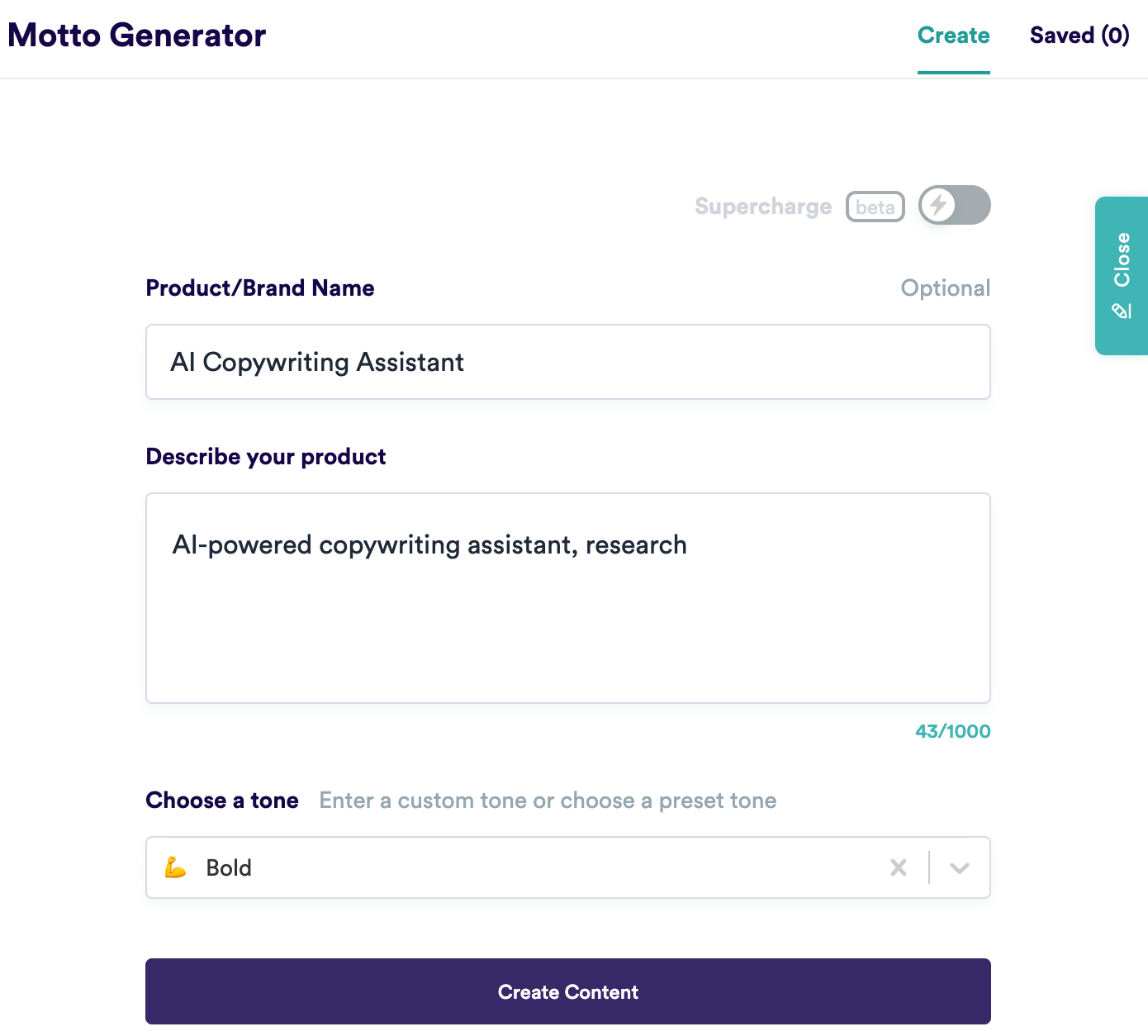 Copy.ai missed the mark on this one, but the results gave me a laugh. My favorite is "the Writer."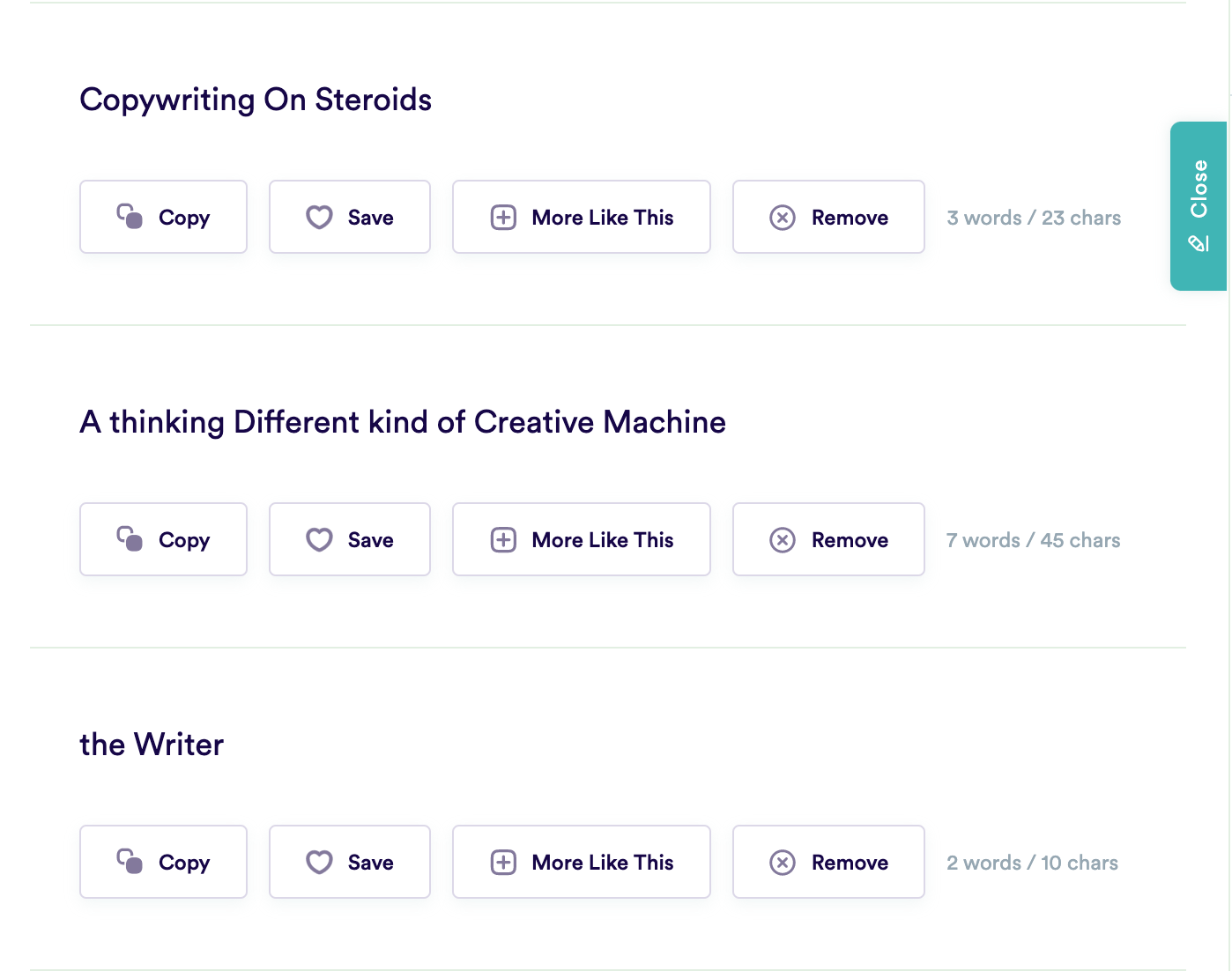 The benefits of these workflow tools are clear. Copy.ai saves time by generating effective messaging that can be quickly customized.
Long-Form Document Editor
Copy.ai's long-form document editor is a powerful tool that allows anyone to write high-quality professional material quickly and efficiently. Generate long form content like blog posts, reports, and white papers without spending hours researching and writing. If needed, you can use the tool to generate outlines for your documents, making it easy to organize your thoughts and ideas before you start writing.
Copy.ai makes it easy to write and research all on one screen – Simply enter your questions or topics of interest in Chat and let the AI do the heavy lifting. Copy.ai may even suggest new ideas and provide insights you may not have considered otherwise.
I decided to test out the long form document editor by starting with the Blog Intro template, entitling the project "5 Reasons to Use Copy.ai."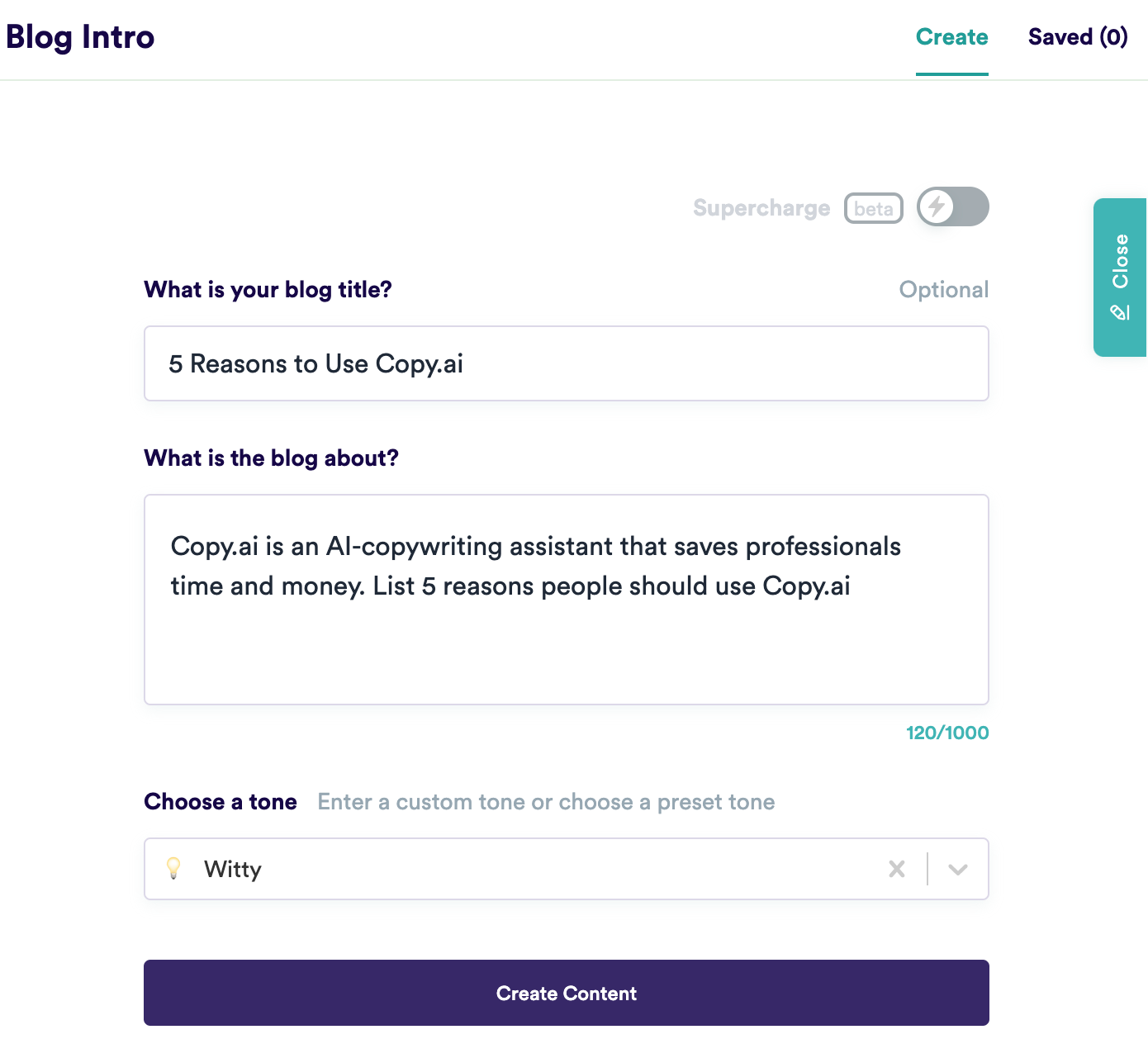 Copy.ai produced numerous results. I chose my favorite and moved it into the document editor. I appreciate the ability to choose the most effective messaging for my purposes from a variety of options.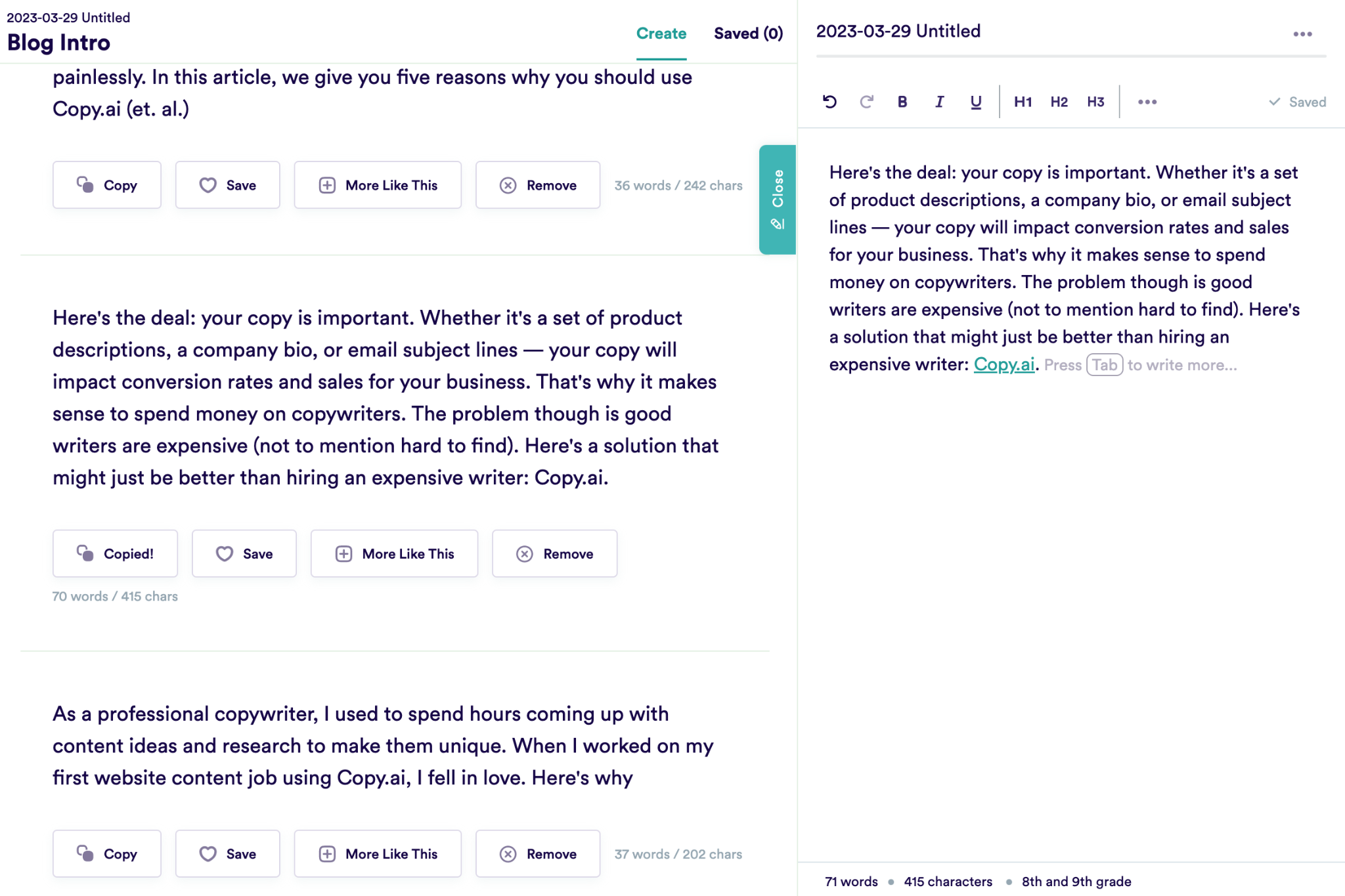 Being able to use the AI Chat feature and long-form document editor in one screen is incredibly beneficial for a few reasons. Instead of having to switch between multiple tabs or windows, you can access both features from the same screen, making generating ideas and fleshing them out a seamless process.
Having both features in one place allows for a more cohesive and integrated approach to content creation. It's easy to refer back to the AI-suggested content as you work on your project, making it easier to stay focused and maintain consistency.
I prompted Copy.ai to write a blog section based on the input I provided.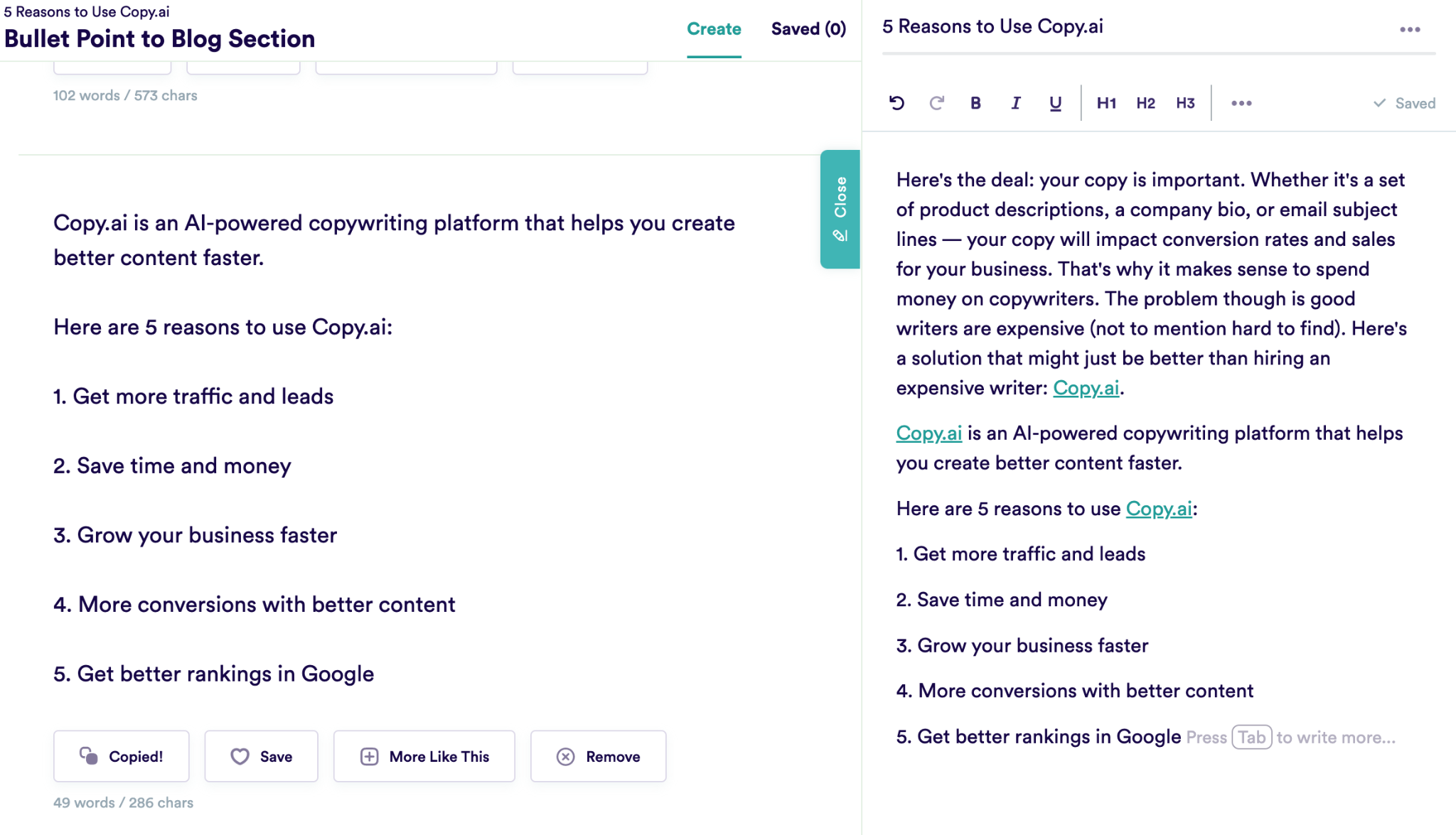 I chose the suggestion I liked the most. Then, I pressed the Tab button to write more as indicated in the screenshot above. Copy.ai displayed 4 different content suggestions.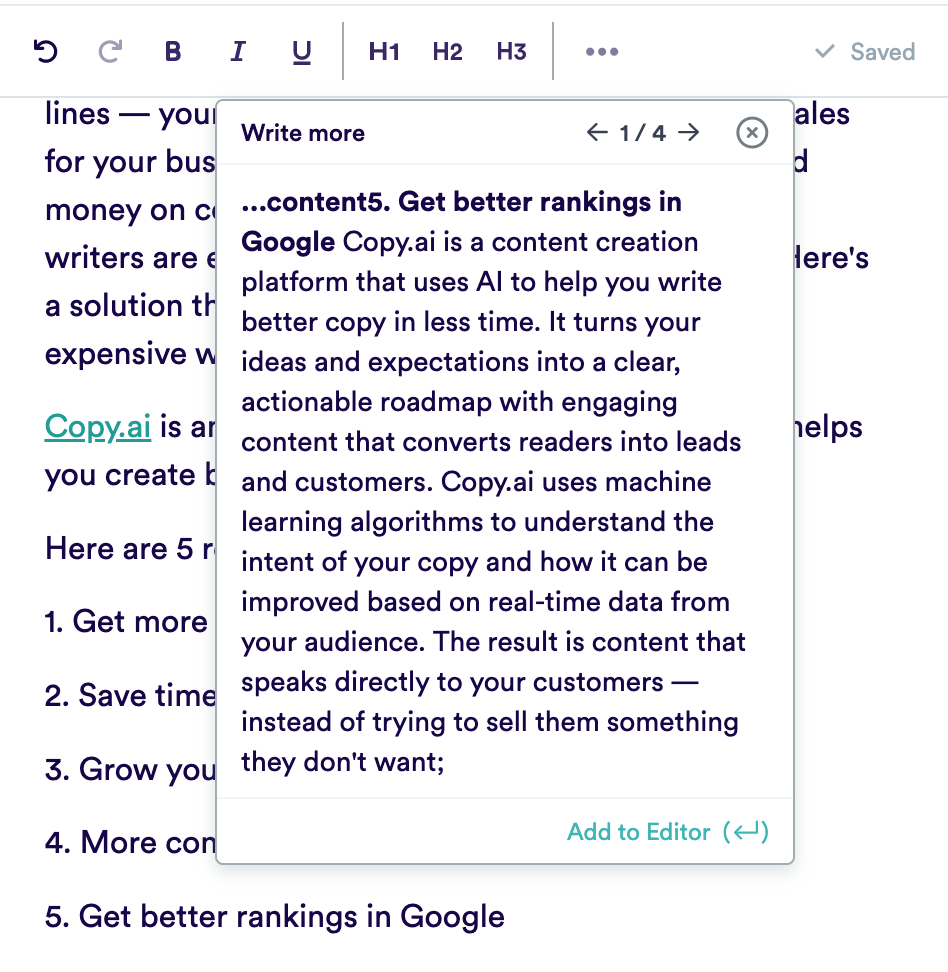 Copy.ai is a lot like a content laboratory that allows users to experiment with AI-writing while providing them with all the necessary tools to tweak and polish content to their preferences. The editor offers a range of standard formatting options, such as bold, italic, and headings. It also includes a 'Write More' option that generates more content based on the already written content. The editor also offers the ability to add code snippets, hyperlinks, and more.
Text Summarization
Text summarization is the process of generating a shorter version of a longer text while retaining the main essence of the original document. It's an important tool in today's digital age where people are bombarded with a vast amount of information every day.
Text summarization can be used to extract key information from lengthy documents such as research papers, websites, and legal briefs. This then allows readers to quickly and easily scan the summary to determine if the document is relevant to their needs without having to read the entire text.
I prompted Copy.ai to summarize the same article in two different formats – It successfully completed this task. Copy.ai's summarization model has been trained on a massive amount of text data, allowing it to quickly and accurately summarize any document.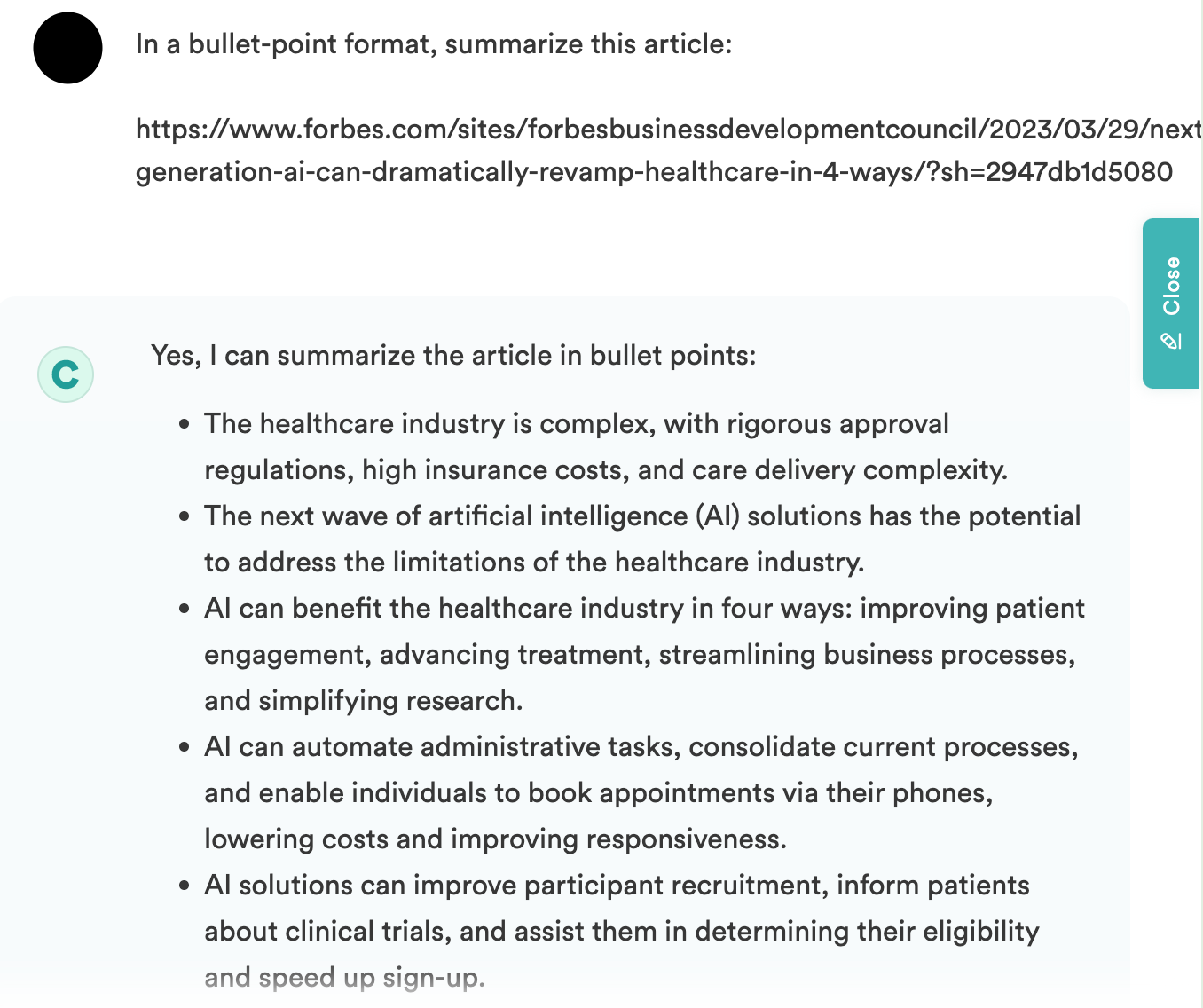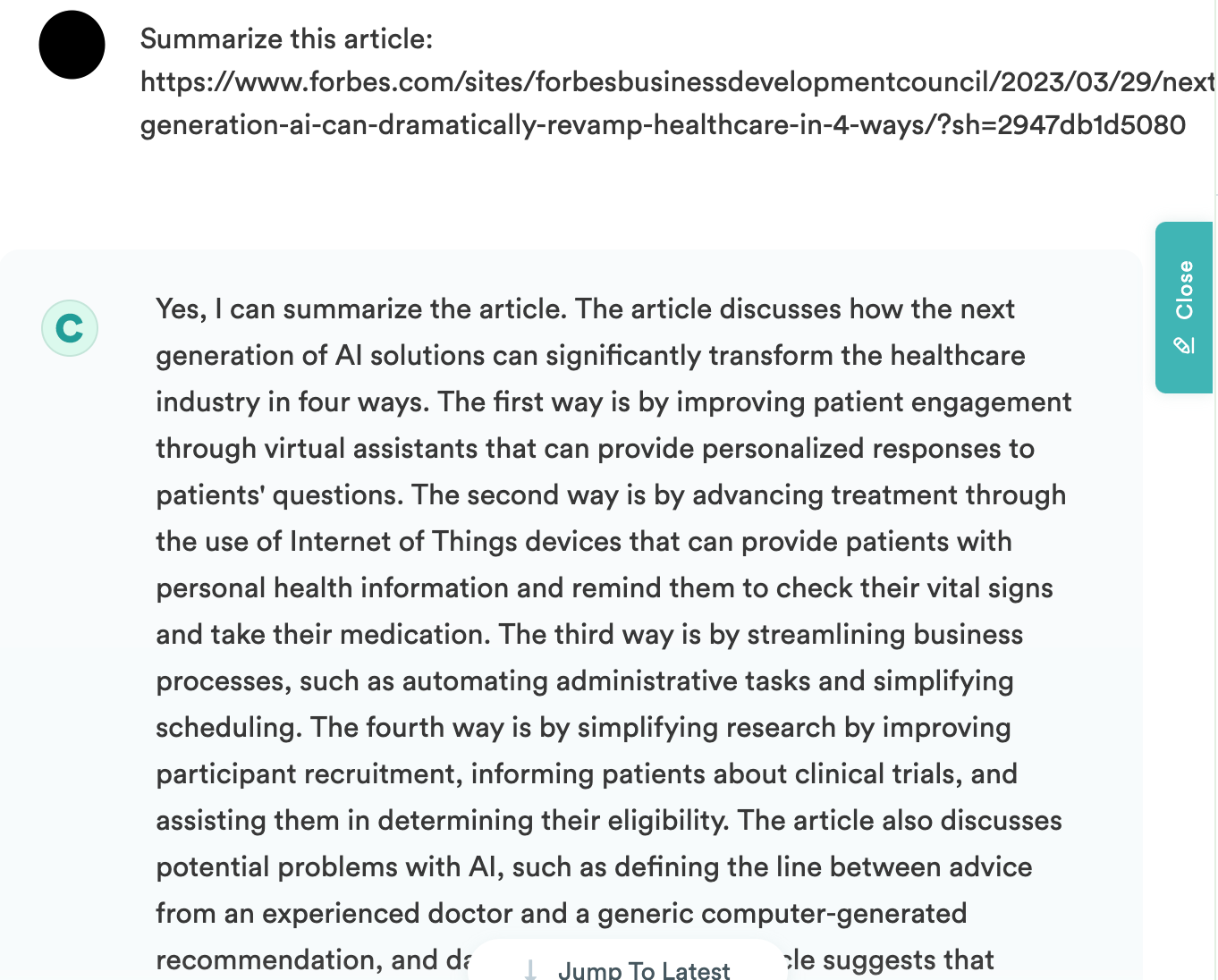 SEO
Copy.ai's SEO capabilities are designed to help users generate content that is optimized for search engines. With the help of AI, the platforms offers a range of tools and features to help users improve their content's ranking on search engine results pages. Copy.ai also identifies key phrases from the user's input and suggests related keywords to include within the content. This helps ensure that the content remains focused on the main topic and includes all relevant keywords.
Keyword Generator
Copy.ai's Keyword Generator tool is essential for anyone looking to optimize their SEO strategy. It helps users identify relevant keywords and phrases that have a high search volume and low competition, allowing them to create content that is more likely to rank highly on search engine results pages.
By using the Keyword Generator tool, you can create content that is both engaging and optimized.
I prompted Copy.ai to generate some keywords for me based on 5 reasons to use Copy.ai. The AI provided some solid suggestions.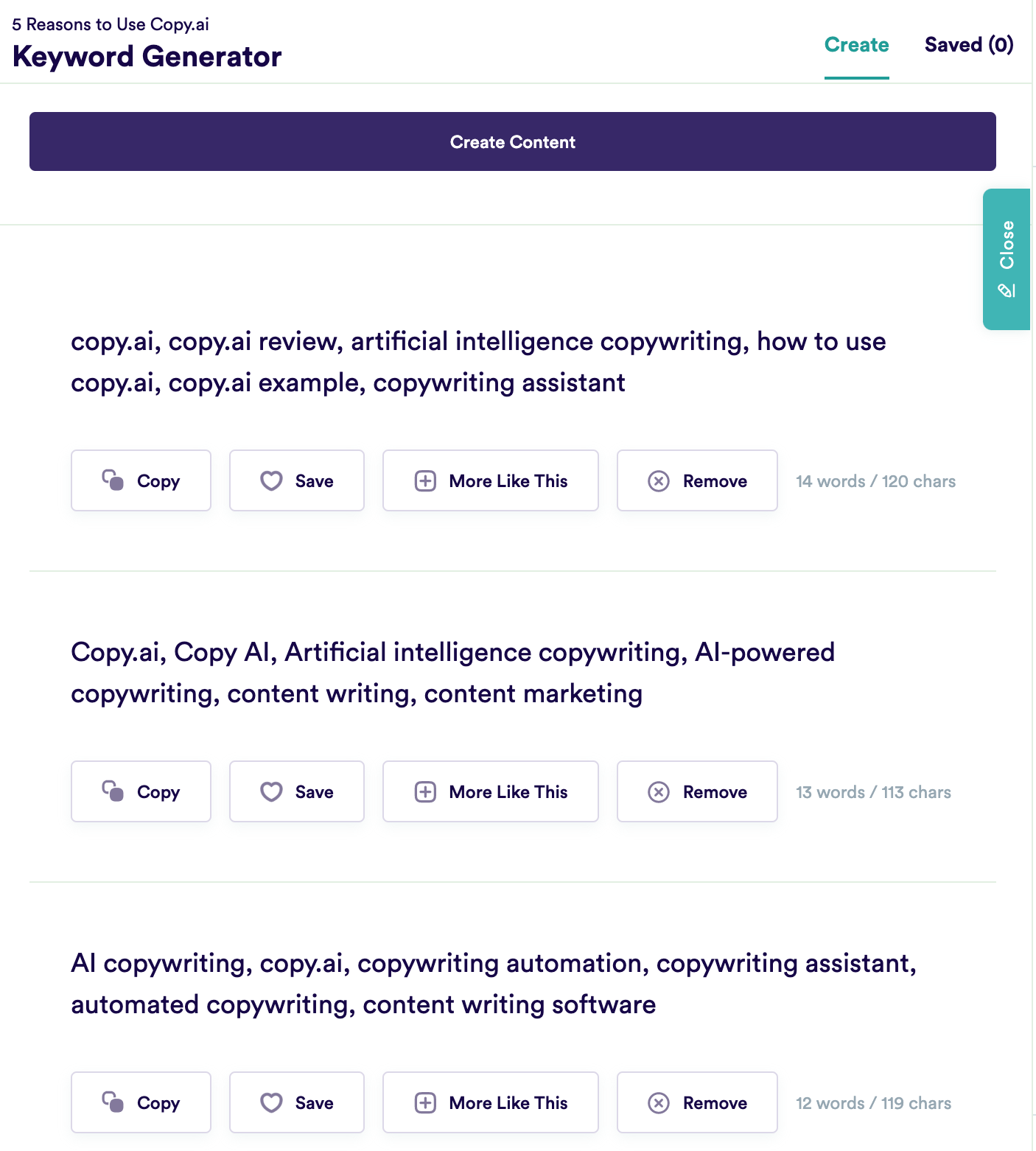 SEO Website Copy
Copy.ai's SEO Website Copy feature is an impressive tool that makes building landing pages fun again. The tool uses advanced algorithms to generate high-quality copy that is optimized for search engines, enabling websites to rank higher on search engine results pages (SERPs) and attract more targeted traffic.
The SEO website copy feature allows users to enter keywords related to their business as well as the preferred structure for the site.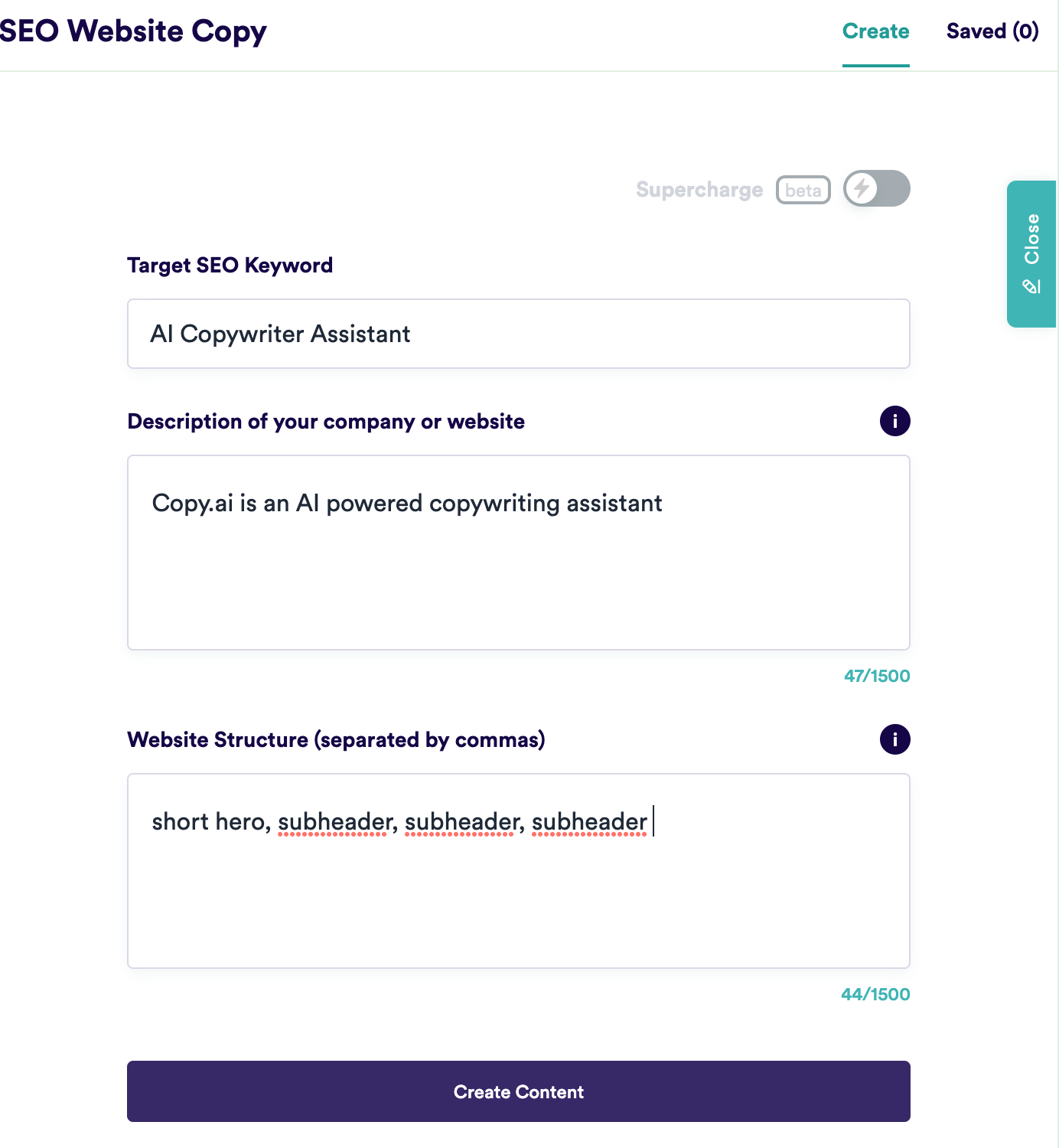 The tool analyzes the content of top-ranking websites for the targeted SEO keywords. With Copy.ai's SEO website copy feature, businesses can create copy that not only engages their audience but also improves their visibility on search engines, leading to increased traffic, leads, and revenue.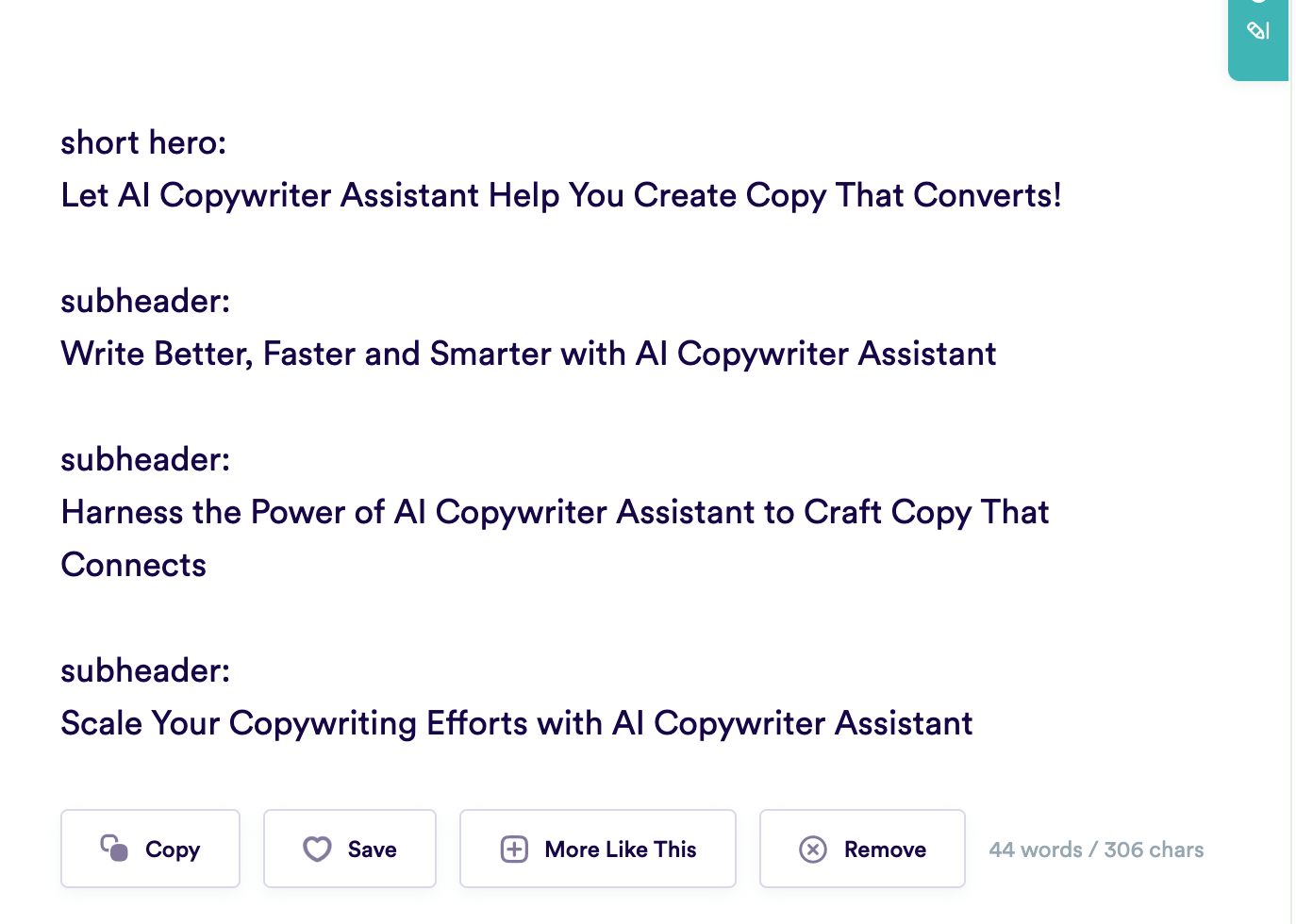 The content is solid, besides Copy.ai's grammatically incorrect use of "AI Copywriter Assistant".
What Copy.ai Could Improve
Overall, I was pleased with Copy.ai's output. There were only a couple things I noticed that could be improved.
Problem Solving
Something Copy.ai could work on is its problem-solving skills. I prompted Copy.ai with two riddles, see below.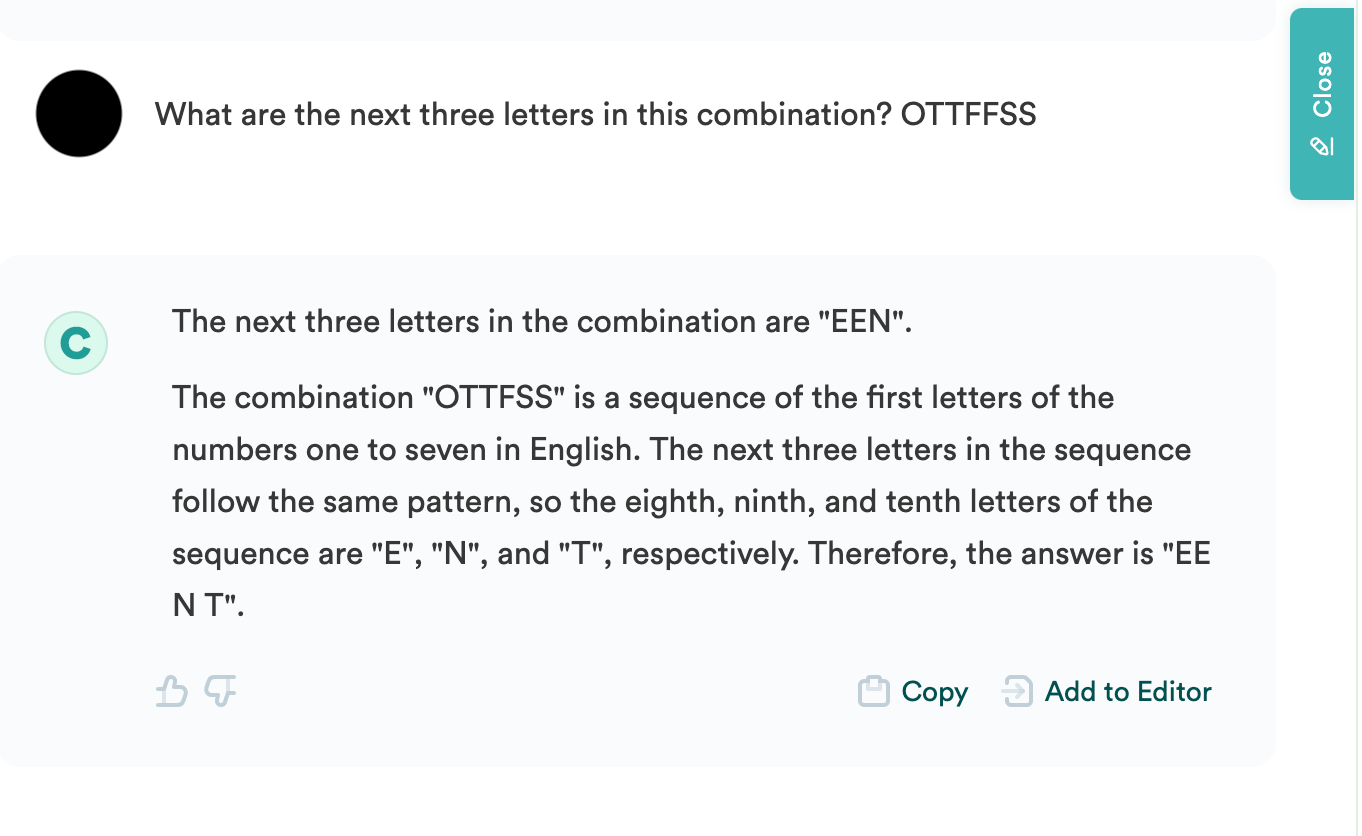 The correct answer here is ENT – eight,nine, ten. Copy.ai sort of got it.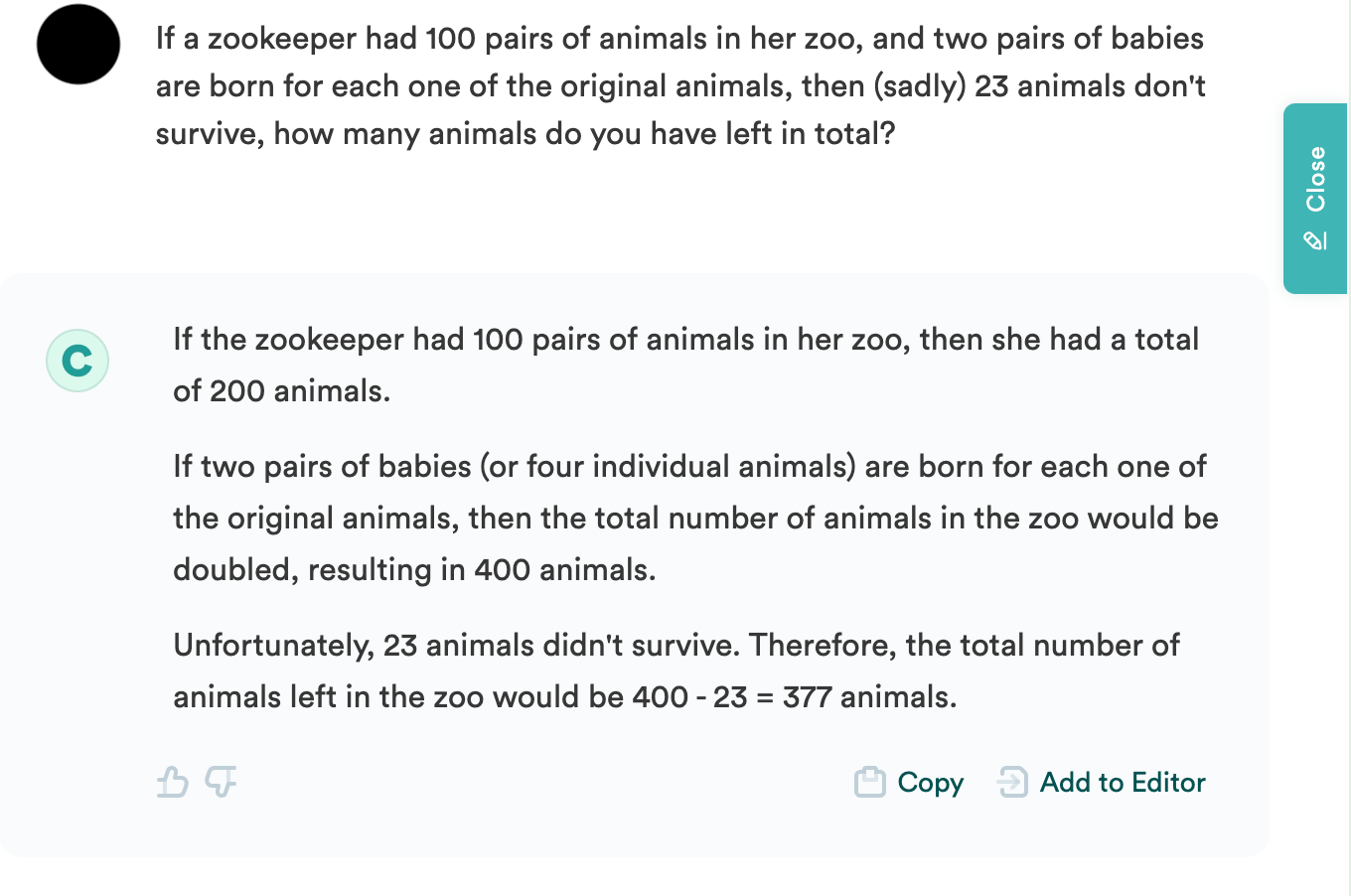 The correct answer here is 977.
Pricing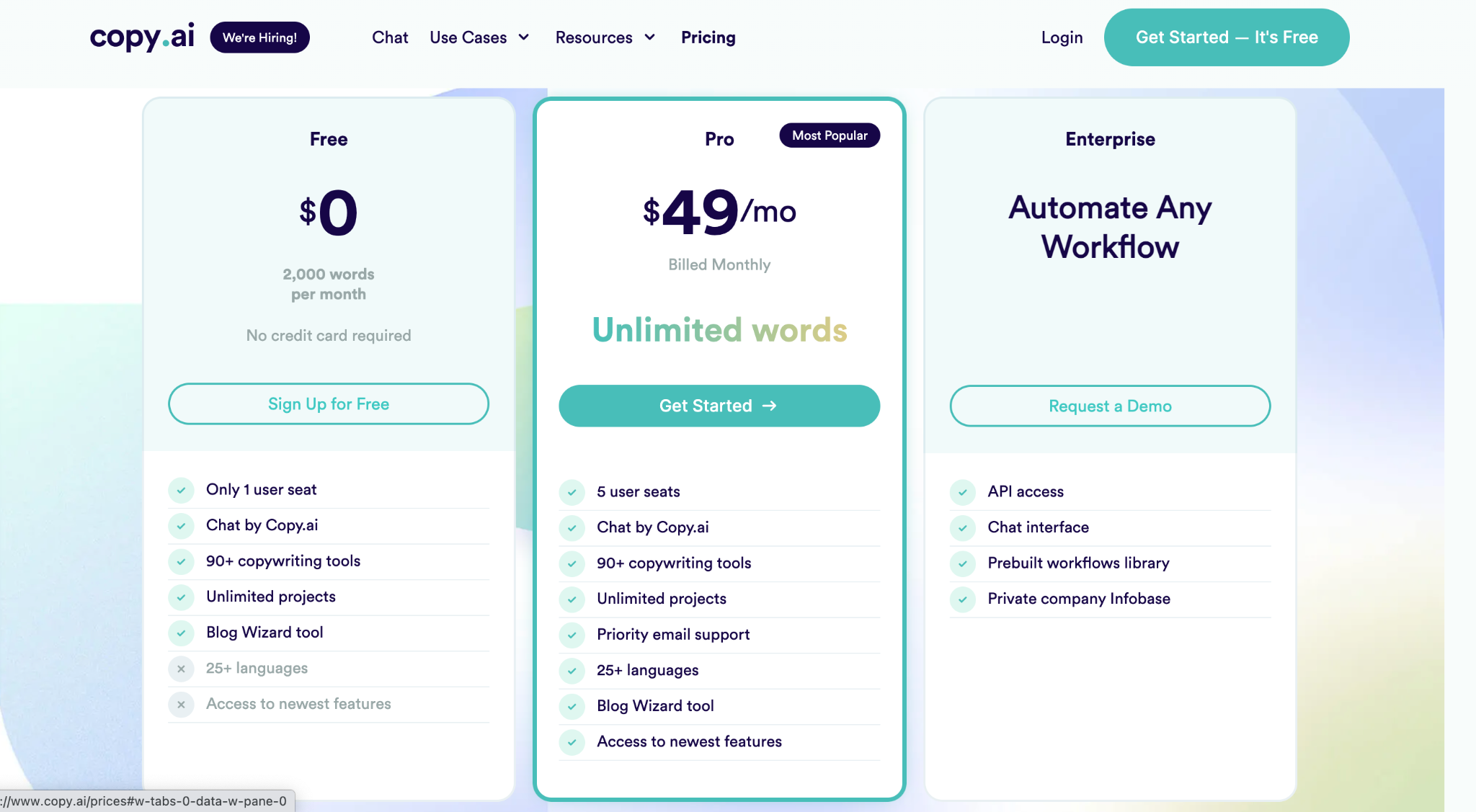 Copy.ai offers a couple of plans designed to meet the copy needs of different types of users. There is a free option, giving casual writers access to up to 2,000 words per month. This option is suitable for folks working on one-off professional or personal projects.
The Pro plan is billed at $49/mo and includes unlimited words and projects, 5 user seats, priority email support, access to 25+ languages, and more.
If you're looking into Copy.ai for your enterprise-level company, contact Copy.ai for a demo.
It would be nice if there was an in-between plan for freelancers who don't need 5 user seats or access to the latest and greatest.
I'm confident we can expect to see even more impressive applications and uses for Copy.ai in the future as the technology evolves.
Final Thoughts
Like other AI writing assistants on the market, Copy.ai uses natural language processing algorithms to generate high-quality content for businesses and marketers. The tool is capable of producing a wide range of content, including blog posts, social media captions, and even song lyrics with minimal input from the user.
Copy.ai automates the marketing process, saving time and money. This in-depth tool is designed to be user-friendly, with a simple interface and plenty of customization options. Copy.ai makes an excellent tool for small to medium-sized businesses and marketers who are looking to save time and streamline their content creation process. The tool is particularly useful for those who need to create a large amount of content on a regular basis and are looking for a cost-effective and efficient solution.
Implementing AI writing assistants into professional workflows is a smart move for businesses looking to streamline processes and improve the quality of their output. AI writing assistants can even help writers and marketing teams by providing real-time feedback on grammar, style, tone, and structure, saving valuable time and reducing the need for extensive editing. By leveraging the power of AI, writers can focus on creating more engaging and impactful content while relying on the software to handle the more mundane, time-consuming tasks.
Adopting an AI writing platform like Copy.ai into your business model is an effective way to improve content quality, save time, and ensure consistency across all content channels.