Content is king and attention is the coveted currency. Crafting captivating and search engine optimized content has become a formidable challenge faced by businesses across all industries, as they strive to capture the attention of audiences in an increasingly competitive digital landscape. NeuralText, an AI copywriter and marketing assistant, hopes to help businesses stay relevant.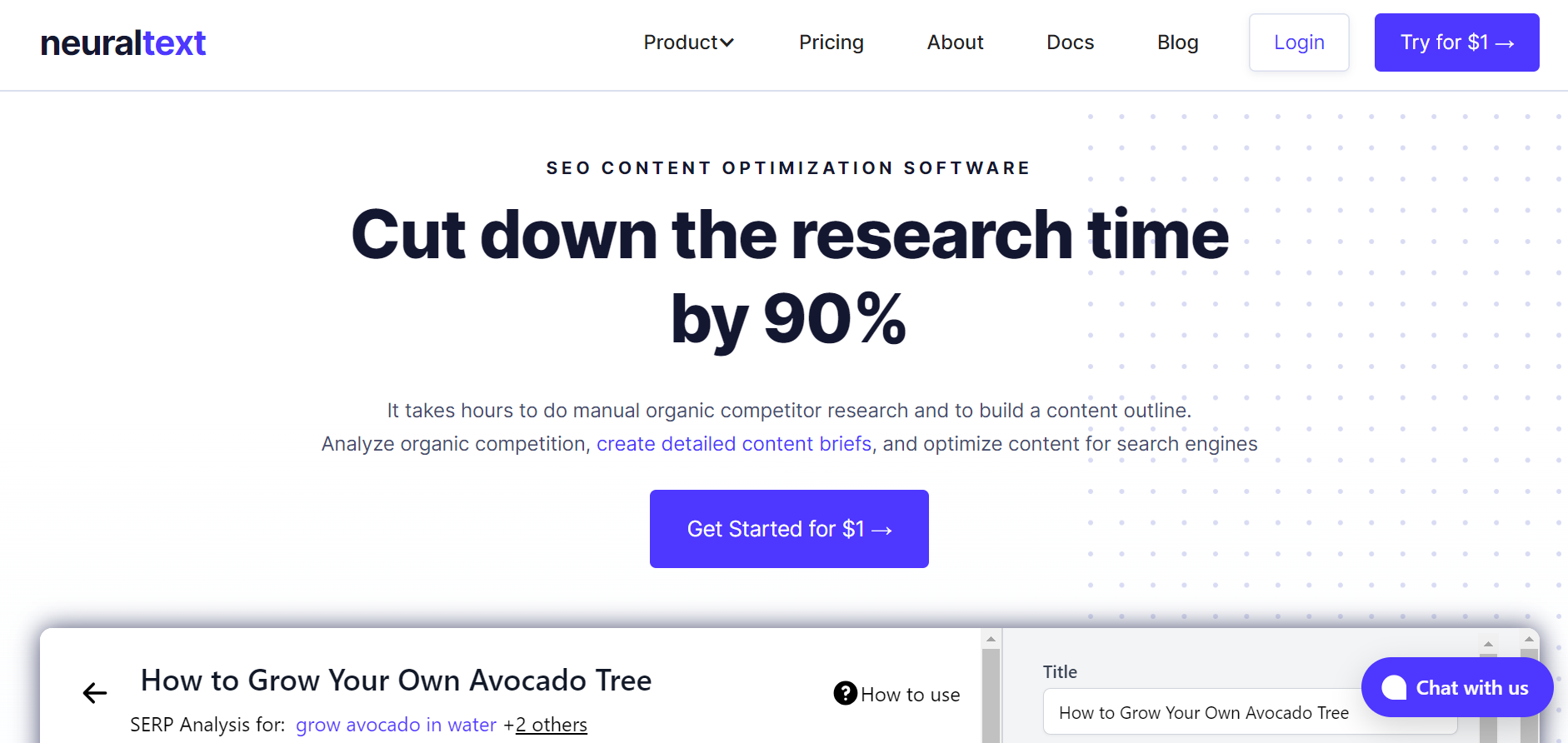 Harnessing the power of artificial intelligence, NeuralText offers a range of features designed to enhance the content creation process. Whether you're an established brand looking to analyze your organic competition or an aspiring writer seeking inspiration when it comes to AI writing, Neural Text might have something to offer for your marketing team.
NeuralText's toolkit includes various AI copywriting and SEO tools. When it comes to SEO, users can research keywords with the keyword discovery and clustering tools, analyze top-ranking competitor articles, and more.
The platform's AI content tools help marketers in generating marketing ideas and smart copy. The use of AI copywriting is becoming a standard in today's digital arena. With it, marketers gain access to a powerful way to can enhance their creative process and boost productivity.
By the end of this review, you'll have a comprehensive understanding of NeuralText's capabilities and whether it is the "all-in-one content marketing platform" that will meet and exceed your content creation needs.
Neural Text Overview
NeuralText is a versatile AI content marketer that offers a range of powerful AI tools and features designed to take making generating marketing ideas and conducting SEO research to the next level. With its advanced AI capabilities and content operations, NeuralText empowers businesses and individuals to craft engaging, optimized, and impactful material in an ever-evolving digital world.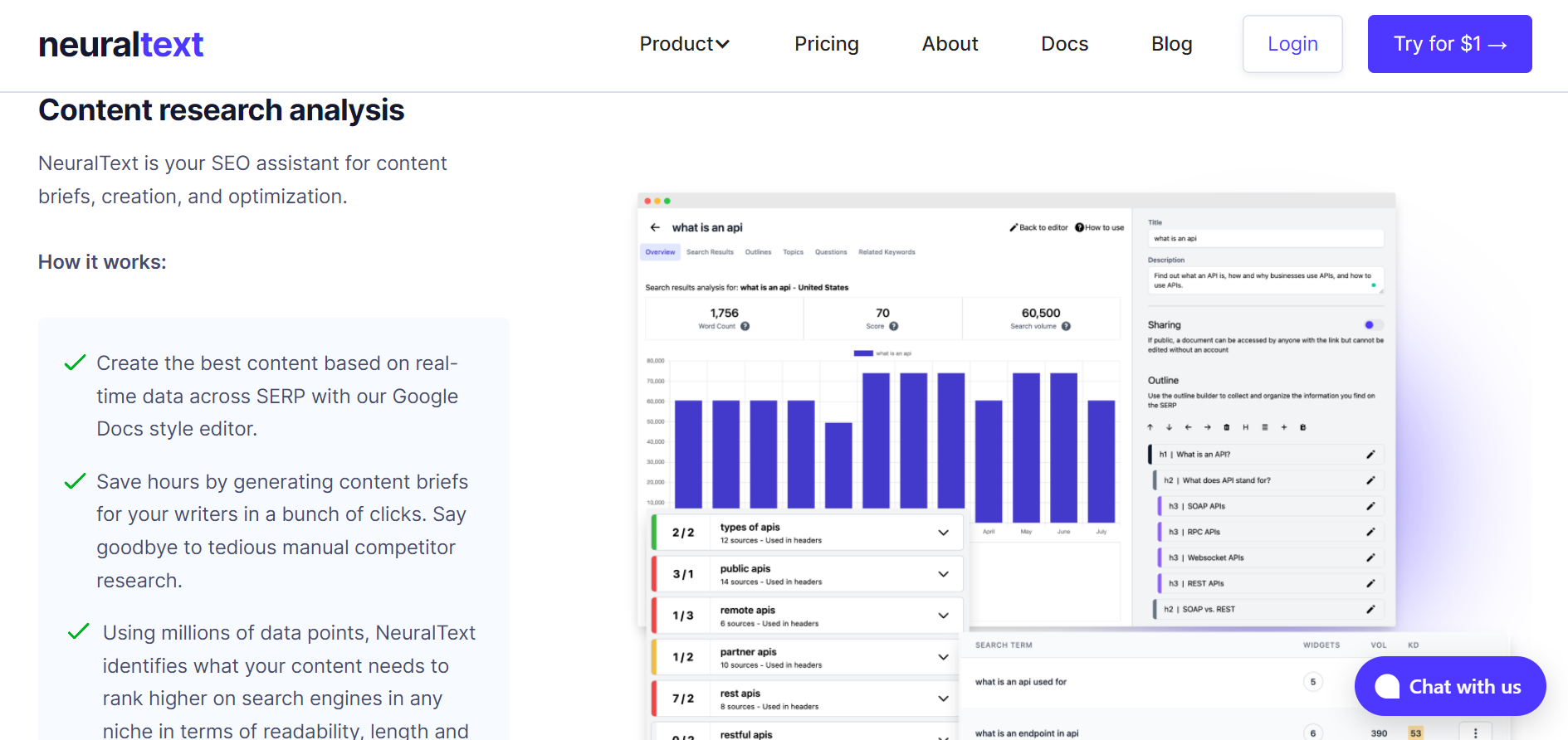 NeuralText's AI tools provide users a wealth of suggestions and insights to create content and enhance the creative process. From generating attention-grabbing headlines to refining the overall structure and tone of the content, NeuralText equips users with a powerful way to create compelling and effective content.
To help guide users through the content creation process, NeuralText offers an impressive library of AI-powered templates. These pre-built templates cover a wide range of content types and purposes, including marketing angles, deck outlines, viral ideas, blog ideas, and more. These templates are ready-made frameworks that help inspire marketers to kickstart a project.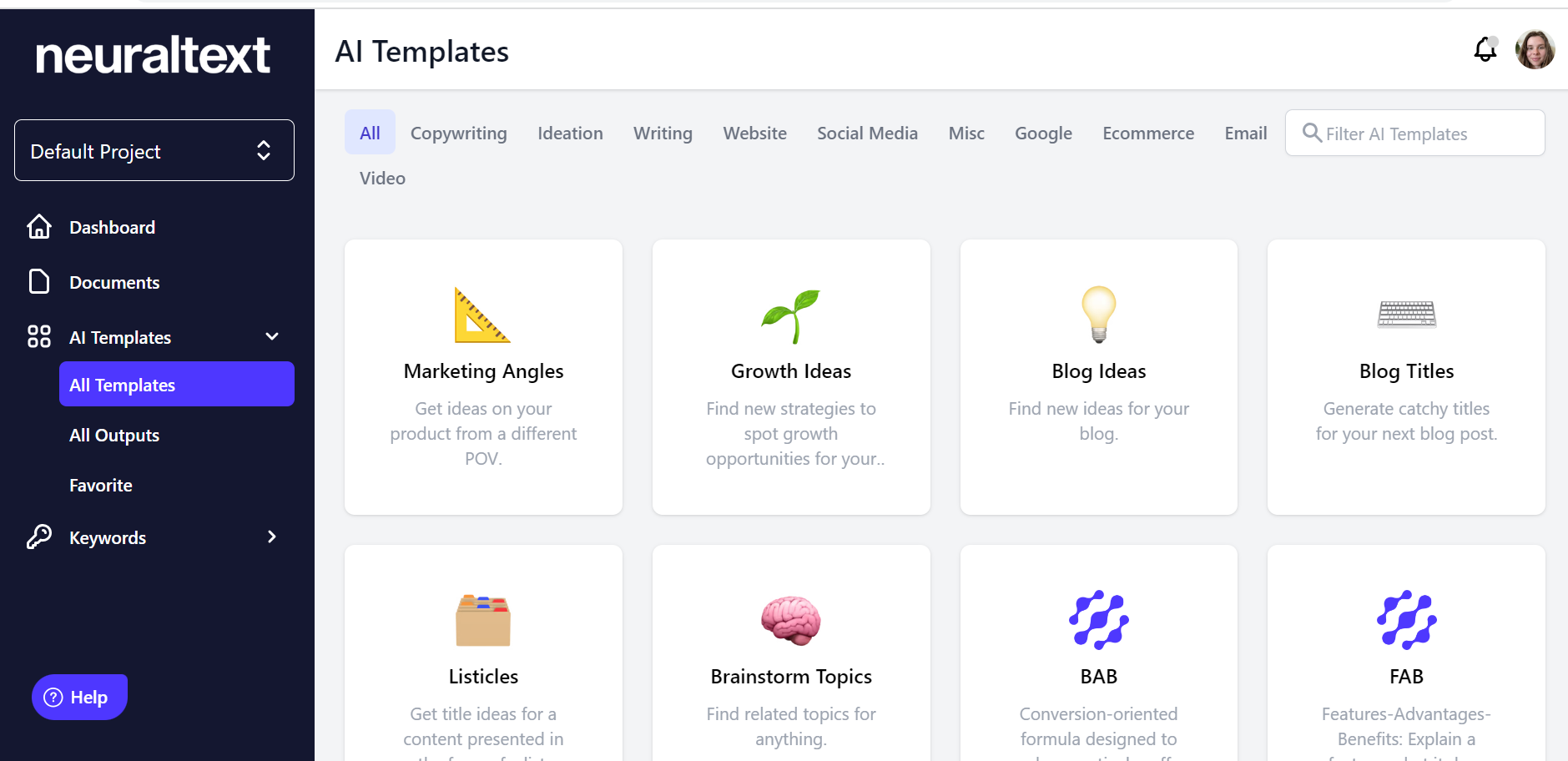 Whether you're an established brand, a social media manager, or an aspiring writer, NeuralText's comprehensive suite of AI-driven tools, including copywriting, templates, and SEO optimization enable businesses to craft compelling, optimized, and impactful content that cuts through the noise. In this review, we'll explore NeuralText's various features, what it does well, and what it could improve.
| | |
| --- | --- |
| Feature | NeuralText |
| AI Technology | GPT-3 |
| Languages Supported | 90+ |
| User Experience | Web Interface |
| Educational Material | Yes |
| Long Form Document Editor | Yes |
| Search Engine Optimization | Yes |
| Art Generation | No |
| Text Summarization | No |
| Plagiarism Detection | No |
| Chrome Extension | No |
| API/Webhooks | Google Docs |
| Free Trial | No |
| Pricing Model | Monthly Subscription  |
What Neural Text Does Well
NeuralText excels at providing users with a seamless and intuitive experience through its user-friendly interface and powerful AI-driven tools. Offering features that enhance productivity, optimize SEO strategies, and inspire creativity, NeuralText simplifies the content creation process, allowing users to focus on producing high-quality content efficiently and with ease. Let's delve into what NeuralText excels at below.
User Experience
NeuralText offers a user experience that gets people excited about writing. With its bubbly and modern design, the platform's clean interface presents a relaxing environment that promotes focus and creativity. NeuralText ensures its users can navigate the platform effortlessly and find what they need with ease with its thoughtfully organized design.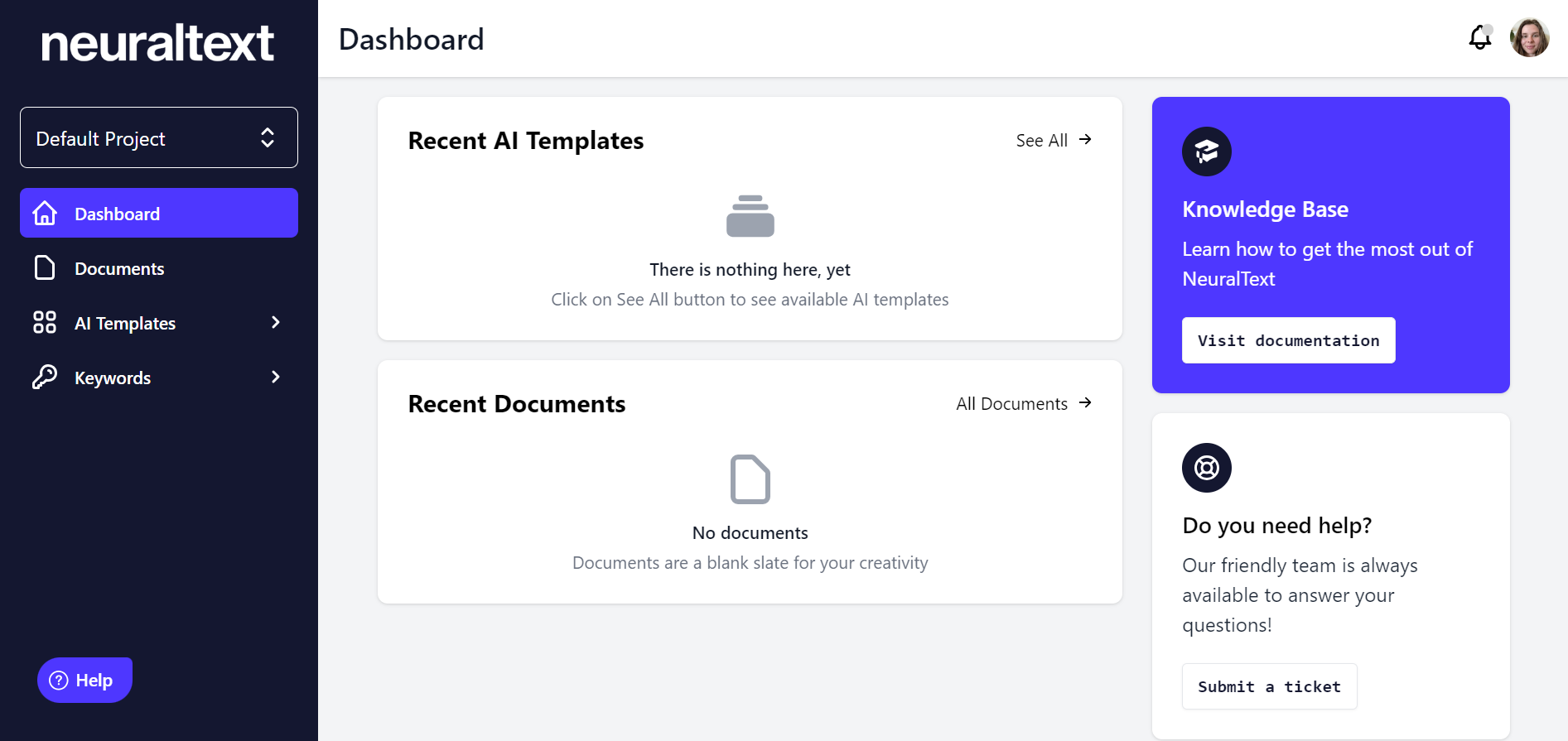 The simplicity of NeuralText's user experience is one of its key strengths. The platform's intuitive nature allows users to quickly grasp the platform's functionalities and start using them effectively without a steep learning curve. From the moment you log in, you are greeted with an interface that encourages exploration and experimentation.
The carefully crafted user experience of NeuralText caters to writers of all skill levels, making it accessible and inviting for beginners and experienced writers alike. With helpful AI templates, NeuralText empowers users to refine their writing style, explore new ideas, and overcome creative blocks.
In particular, I am a big fan of NeuralText's long-form document editor. When I created my first document, entitled "Beginner's Guide to Camping", I was greeted with not only the editor, but top ranking articles and questions on the topic on the same screen. Having immediate access to data like this and on the subject being written about simplifies the research process and reduces the need to switch between tabs.
Search Engine Optimization
When it comes to content optimization, any marketer knows search engine optimization (SEO) plays a vital role. NeuralText has incorporated powerful SEO capabilities into its platform to help users maximize their content's visibility and reach.
Once you're in the long-form document editor, you'll see various SEO features on the right-hand side. The 'Overview' section displays top-ranking articles on the same topic. This integration allows users to gain valuable insights from successful articles and understand what gives them their ranking in search engine results.
NeuralText's 'Topics' feature is another powerful tool for optimizing content for search engines. This feature identifies common subtopics that readers are likely to search for when exploring a particular subject. By incorporating these subtopics into your blog or article, you can provide comprehensive coverage that aligns with what readers are actively searching for. This not only enhances the value and relevance of your content but also increases the likelihood of attracting organic traffic from search engine results.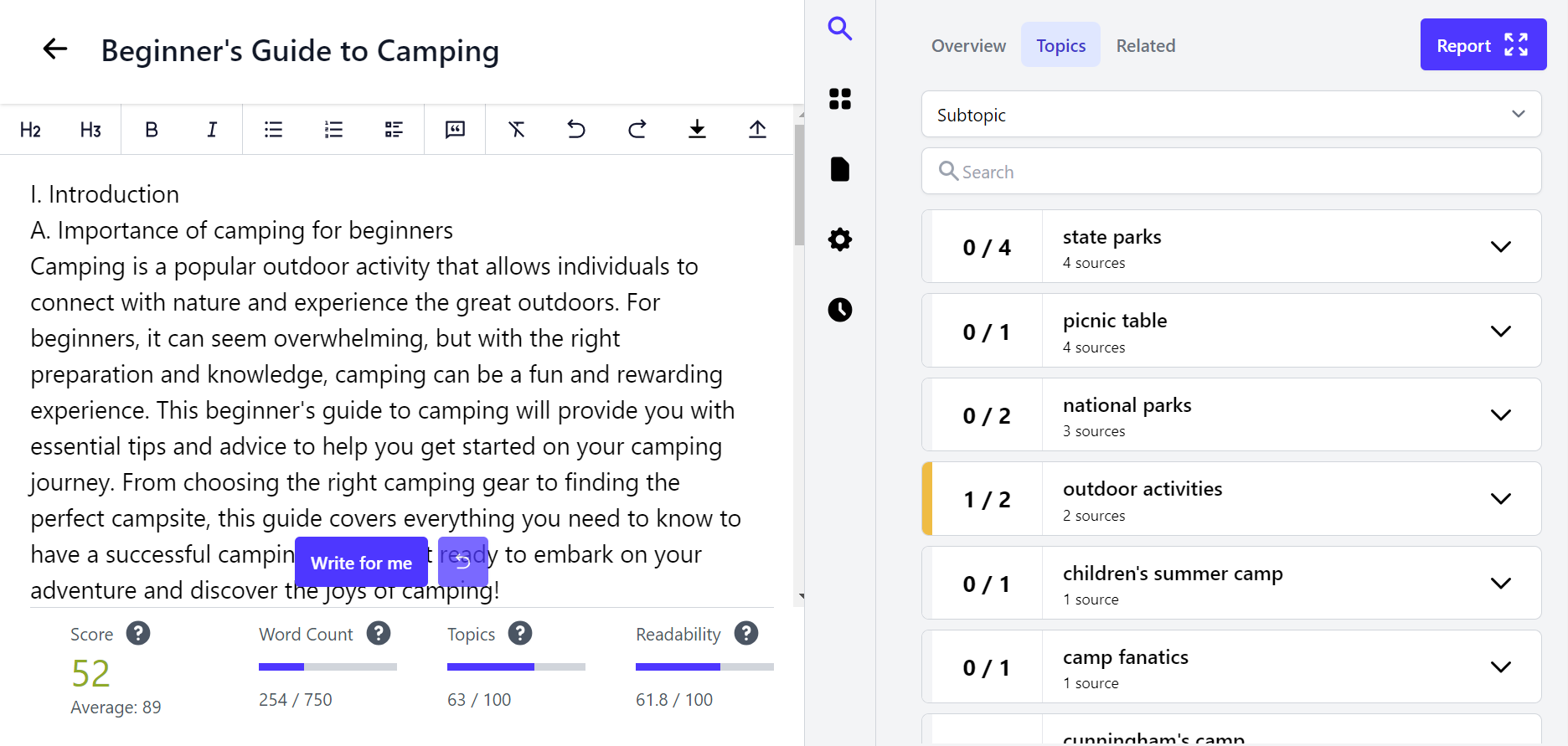 Additionally, NeuralText leverages the power of the web to provide users with related questions sourced from the internet. These questions offer valuable insights into the interests and concerns of your target audience. By addressing these questions in your content, you can align your material with popular search queries and improve its discoverability on search engines.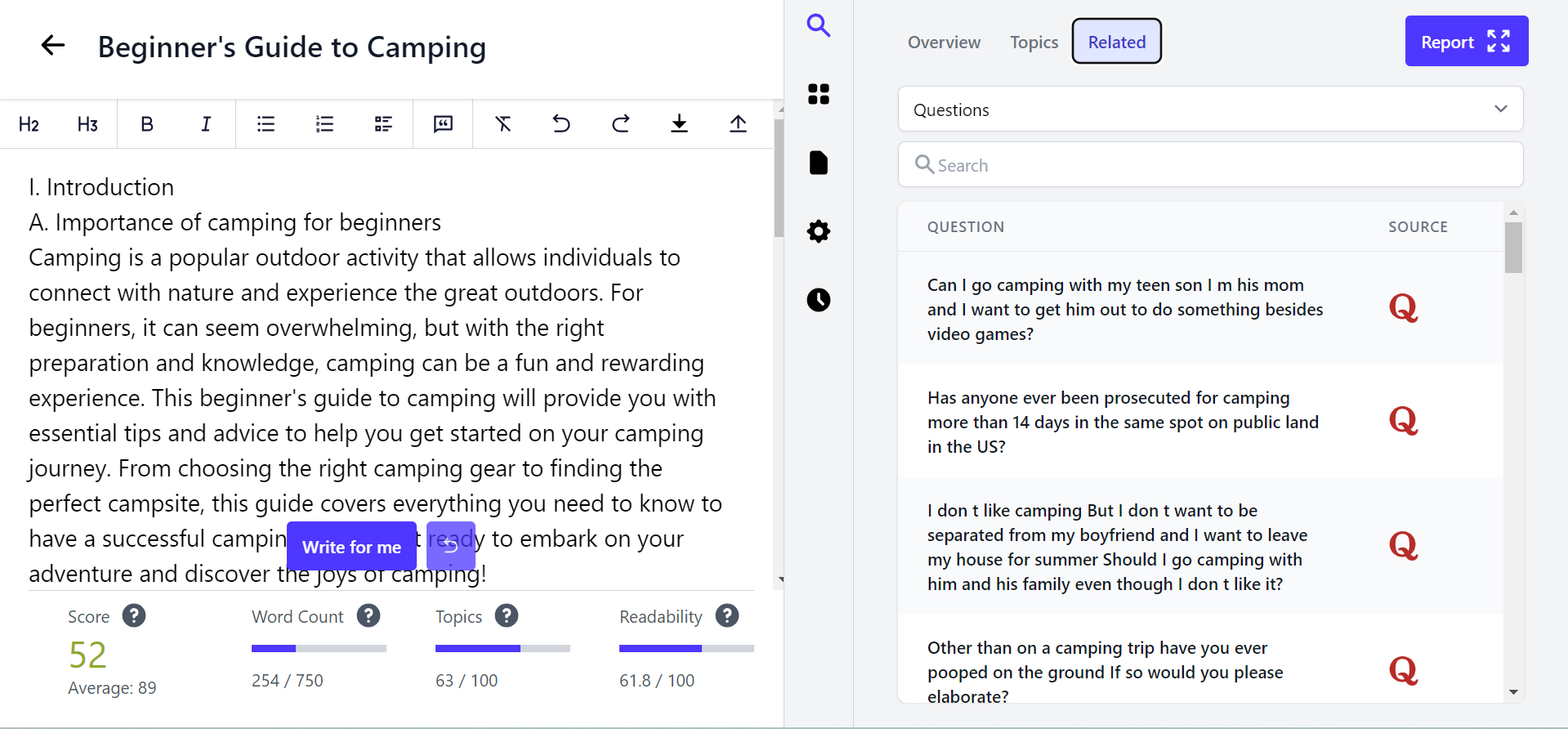 SERP Analysis Report
If you navigate to the 'Reports' button found in the upper right hand corner of the long-form editor screen, you'll find an in-depth SERP analysis on the project currently open. This SEO tool provides users with insights into keyword search trends, competitor article outlines, subtopics, and related questions.
The SERP Analysis Report begins by showcasing the frequency of keyword searches month by month. Keyword reports like this allow you to understand the popularity and seasonality of specific keywords. Users can take this information and align their content creation and publishing strategy accordingly. By capitalizing on trending keywords during peak search periods, marketers can increase the chances of capturing the attention of a larger audience.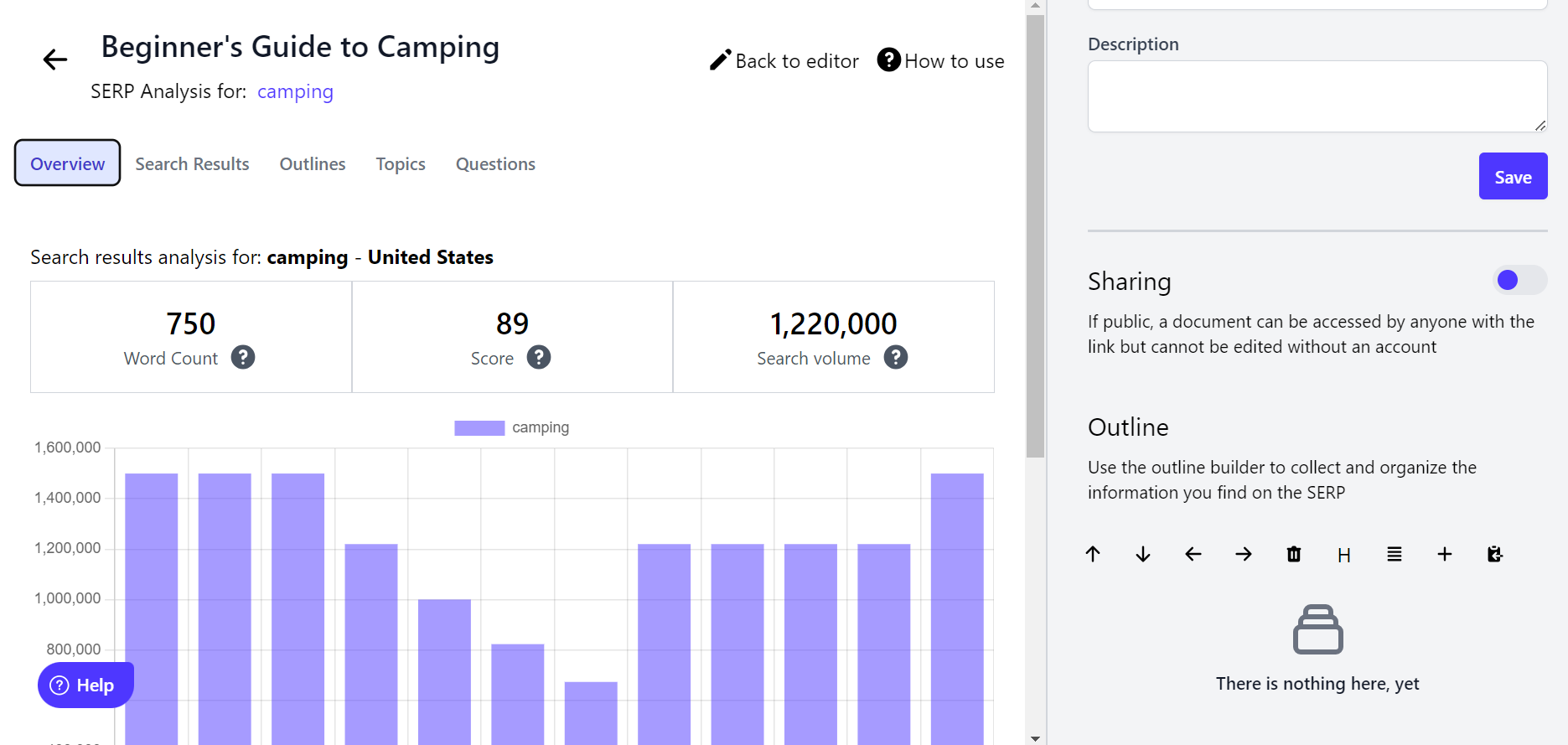 Delving deeper into the report, NeuralText provides more detailed search results of top ranking competitor articles accompanied by SEO scores. By assessing the SEO scores of top-ranking articles, you gain insights into what makes them successful in search engine rankings.
NeuralText's SERP Analysis Report goes beyond individual article rankings. It also provides outlines of competitor articles, allowing you to examine their structure and key points. This feature helps you understand how competitors present information, enabling you to identify opportunities to differentiate your content and provide a unique perspective that sets you apart.
Like the features in the long-form document editor, the report offers a review of common subtopics and popular questions from people searching for the same keyword(s). The questions in particular offer valuable insights into the specific concerns and interests of your target audience. Addressing these questions in your content not only enhances its relevance but also increases the likelihood of attracting organic traffic from search engine results.
With NeuralText's SERP Analysis Report, you can gain a comprehensive understanding of keyword search trends, competitor articles, subtopics, and related questions. Armed with this knowledge, you can refine your content briefs, optimize your SEO efforts, and create engaging, well-rounded content that captures the attention of both search engines and your target audience.
Keyword Research
NeuralText offers a robust 'Keyword Research' tool that helps marketers discover relevant and related keywords for their project. You can find this feature in the left-hand column of the dashboard. Begin the process by inputting a target keyword and then create a report.
Once the report is ready, you'll see a display of relevant terms and related keywords associated with the inputted keyword. This keyword tool feature expands your horizons, and helps you identify additional terms and phrases that can enhance your content's visibility and relevance on search engines. The report also includes the frequency of search for each keyword or keywords.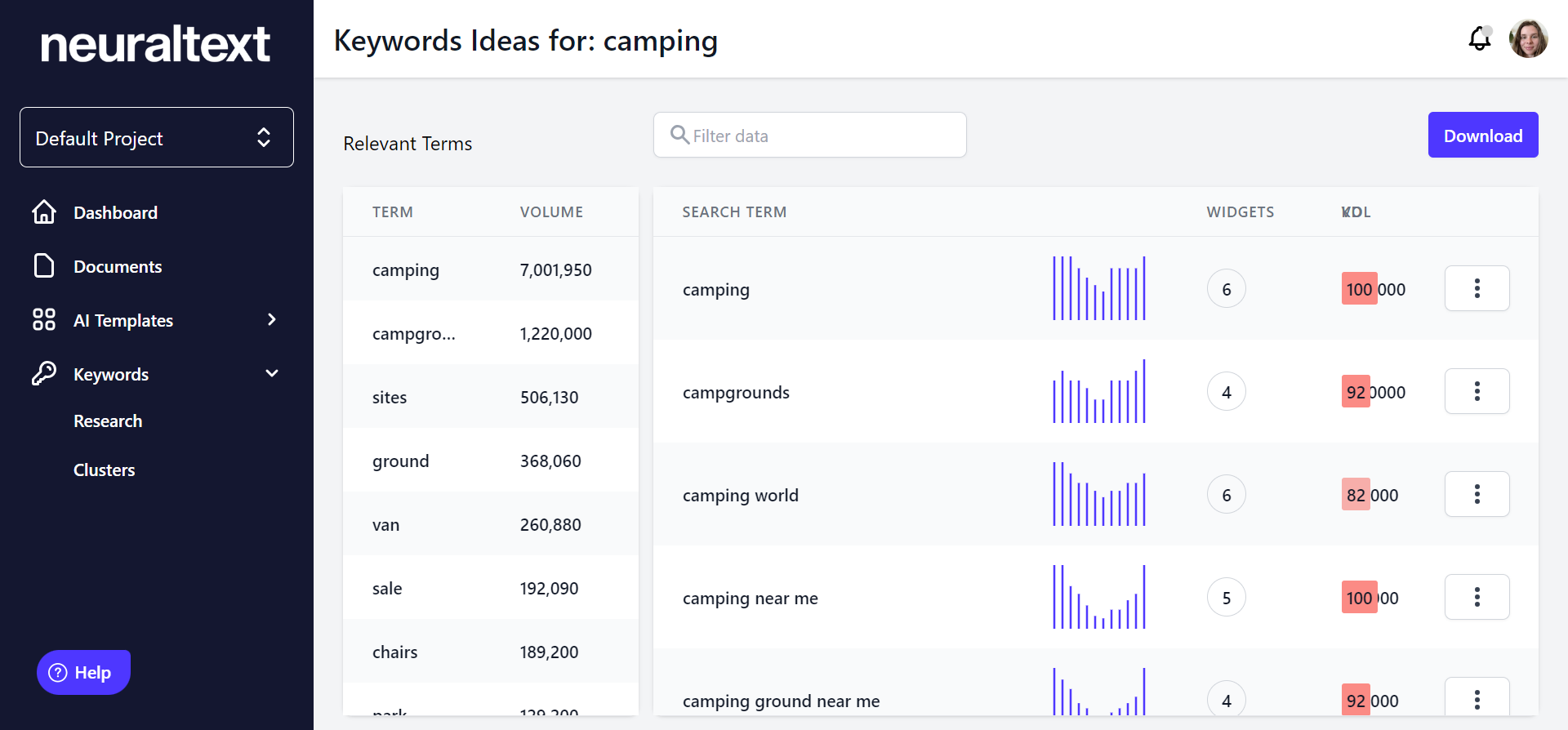 The Keyword Research tool also allows you to discover long-tail keywords, which are longer and more specific keyword phrases. Long-tail keywords often have less competition and can attract highly targeted traffic.
By utilizing NeuralText's Keyword Research tool, you can conduct comprehensive keyword research with ease. The tool's ability to provide relevant terms, related keywords, and their frequency of search equips you with the insights necessary to refine your content strategy, optimize your SEO efforts, and attract a broader audience.
NeuralText also offers a keyword clustering feature. While it appears promising, I was unable to delve into the tool due to the limitations of my trial.
Long-Form Document Editor
NeuralText's long-form document editor offers a clean and easy-to-navigate interface. This writing tool provides a distraction-free environment that allows users to focus on the task at hand. It comes with all the essential features, like headings, bold, italicize, bullet-points, and more.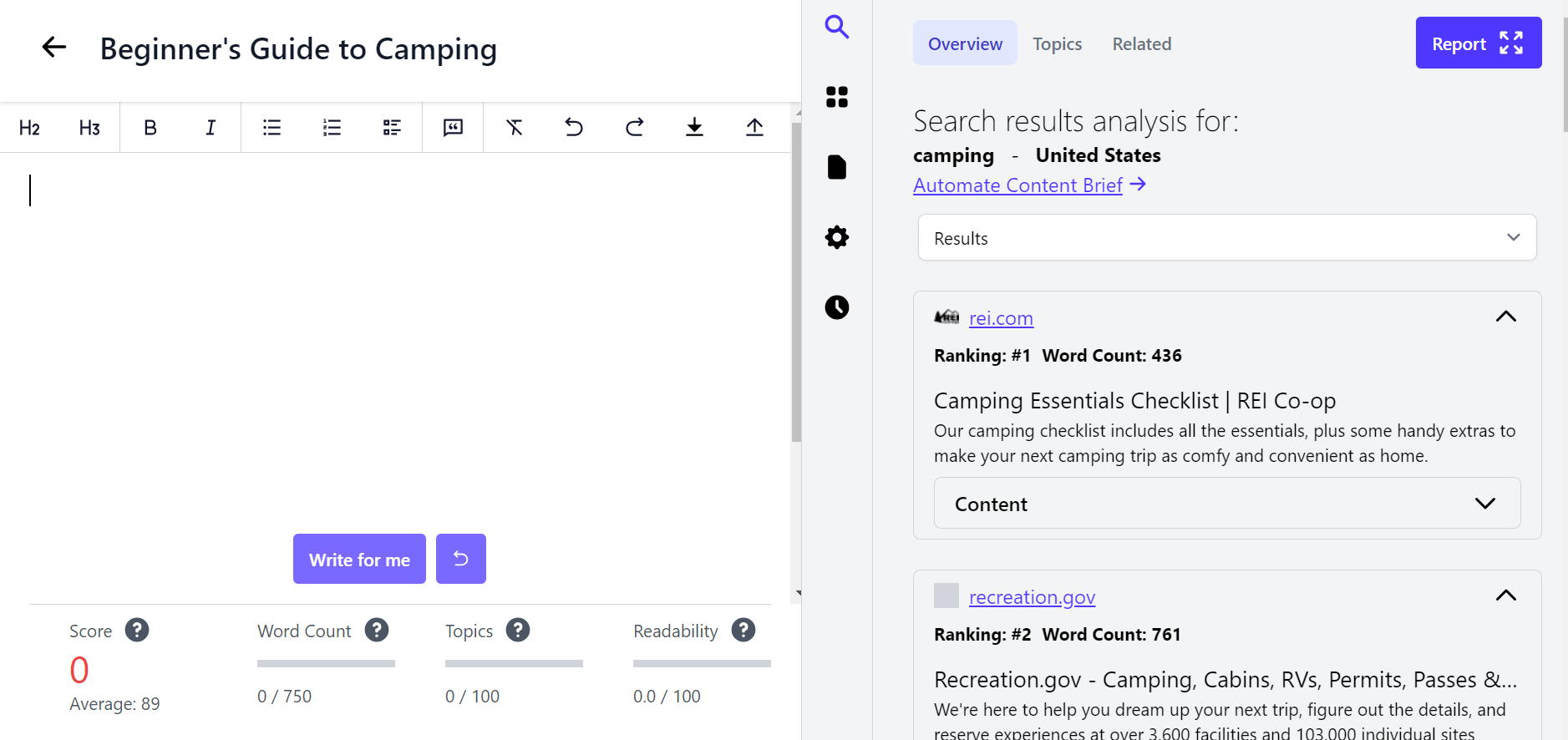 Within the long-form document editor, users can access NeuralText's AI assistant which houses the many marketing and content templates NeuralText has to offer. There is also a Notes feature that allows users to jot down ideas, reminders, or additional information related to their project, keeping everything organized within the platform.
NeuralText also allows users to dig into the version history of their document and even restore a previous version if need be. You can also share and make the file public for content collaboration.
With its clean design, easy navigation, access to AI templates, notes functionality, version history, and collaboration options, the editor provides all the necessary tools to streamline the writing process and unleash creativity.
What Neural Text Could Improve
While NeuralText offers an impressive set of features, there are areas that could benefit from improvement. Addressing these aspects would contribute to an even more refined and reliable user experience with NeuralText. Let's focus on what NeuralText can improve below.
User Experience
NeuralText presents a sleek and visually appealing platform that aims to empower writers and content creators. With a user-friendly interface and intuitive design, it creates an environment that encourages productivity and sparks creativity. However, there are some areas where the platform would benefit from improving.
During my review, I decided to play around with the 'Write for Me' tool. This AI powered tool is supposed to expand on a topic in the long form editor and generate content with a click of a button. Unfortunately, the tool glitched out and failed to generate any content.
After refreshing the page, I prompted the 'Write for Me' tool on another portion of the blog, and it worked. However, the paragraph was incomplete. See example below.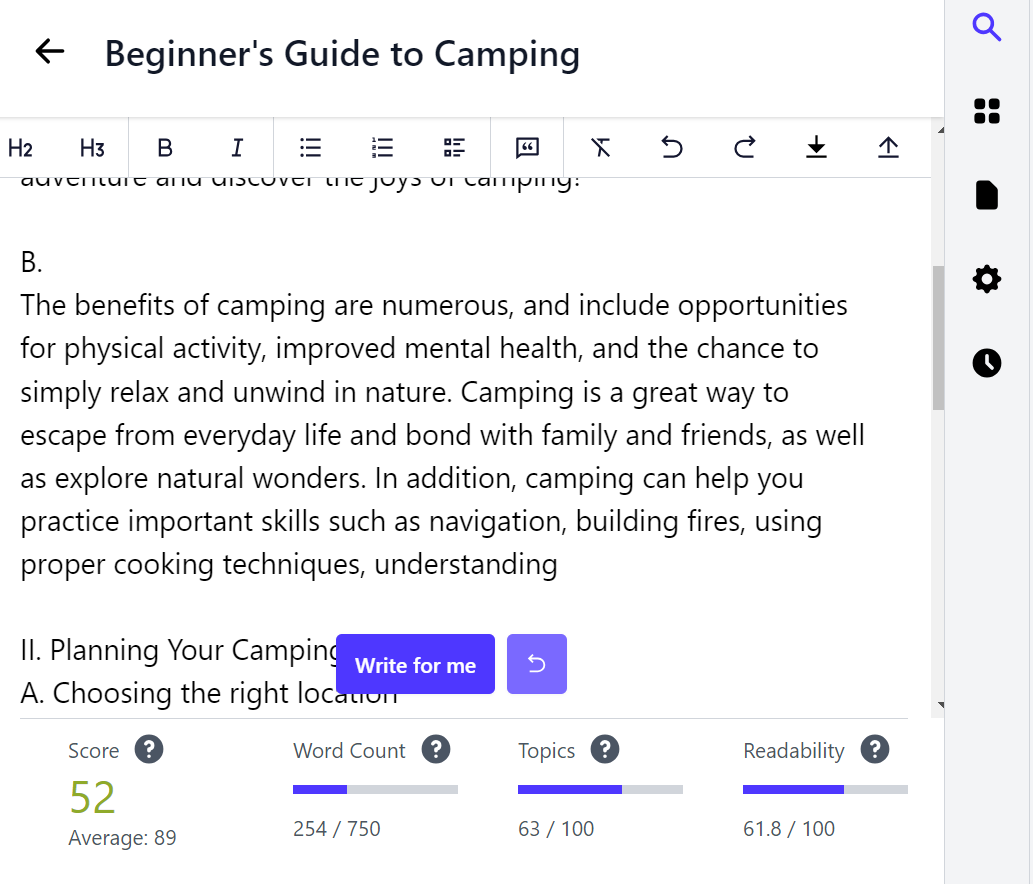 I went back to the previous section I was prompting, and the 'Write for Me' tool stopped working again.
In order for the 'Write for Me' Tool to (hopefully) work, users must highlight the text they would like to expand on. When the tool creates content, it removes the section that was highlighted instead of expanding on it. This can create frustration during the writing process.
While using the 'Bullet to Paragraph' tool, I noticed inconsistencies in the topic provided vs the AI's output. The tool works by taking provided keywords or topics and writing a paragraph about it. When I provided a paragraph topic about the benefits of camping, the generated content was off-topic. I tried a second time, and got the same results.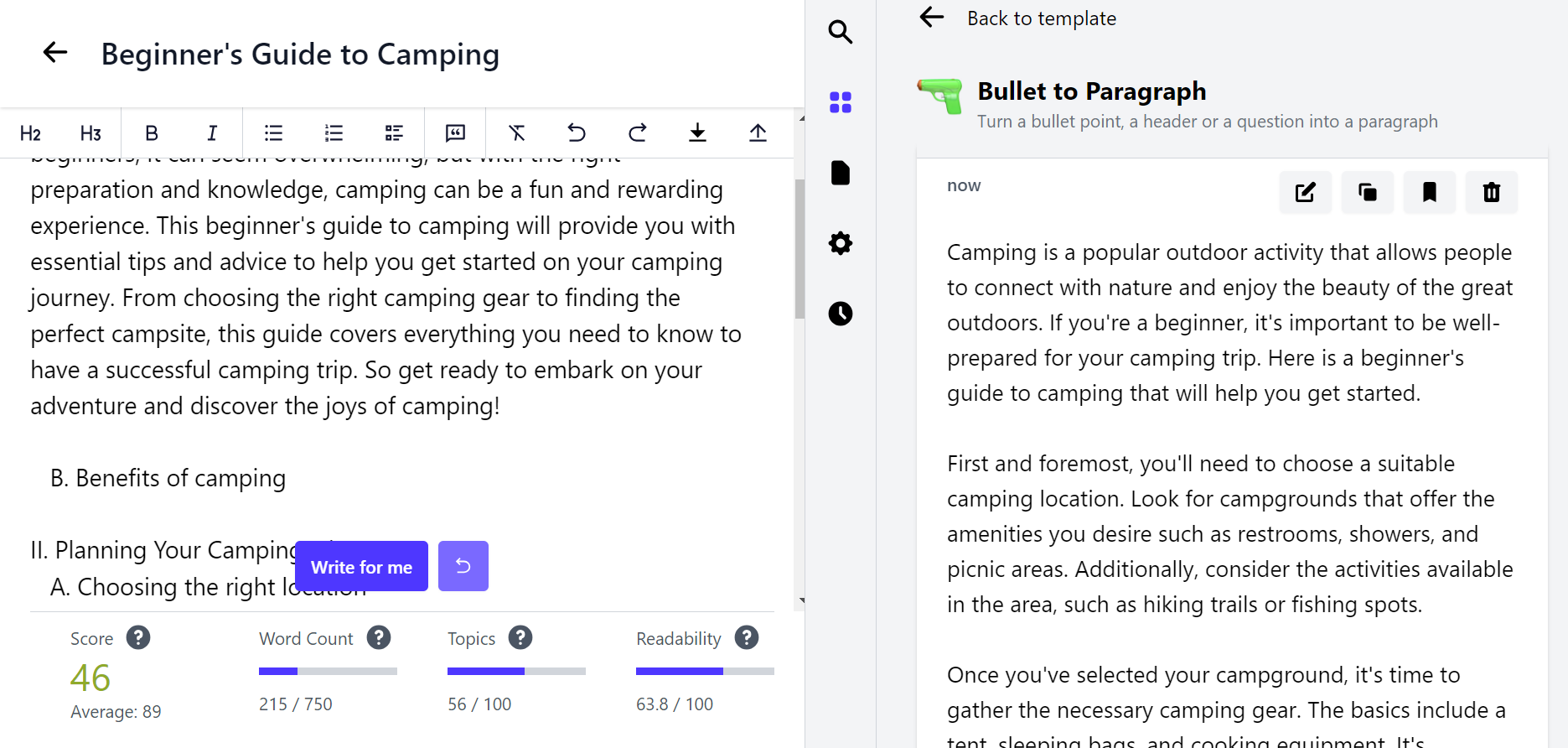 Despite encountering these setbacks, NeuralText's user experience remains promising. The platform's visually appealing interface and user-friendly design make it an attractive choice for writers and content creators. Improvements can be made to the "Write for Me" tool and content generation accuracy.
Final Thoughts
NeuralText showcases is an AI tool that empowers content creation. The platform excels in providing a user-friendly experience, offering intuitive features and an aesthetically pleasing interface that fosters a seamless workflow. The AI assistant, with its diverse range of AI templates, serves as a valuable resource for generating compelling content ideas and outlines.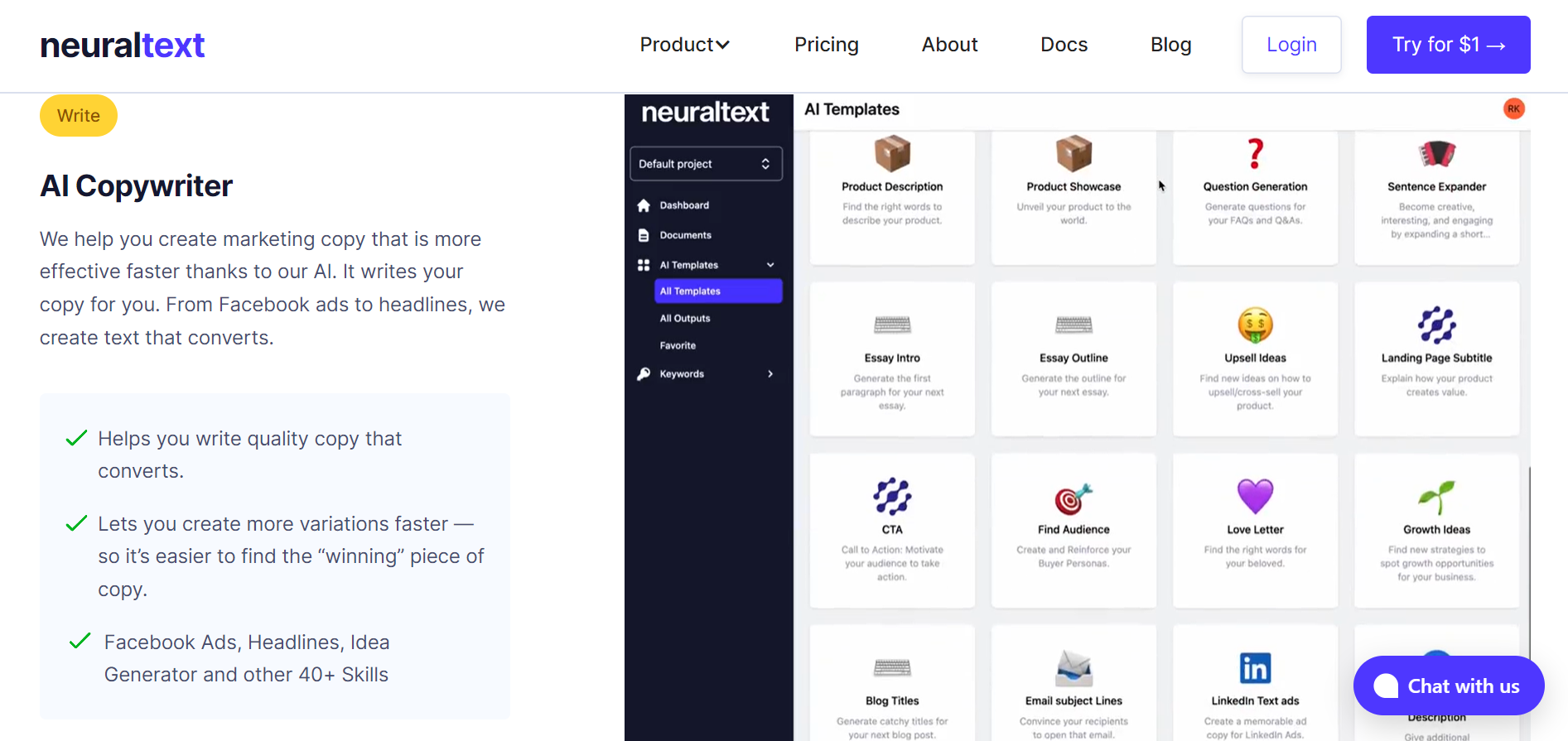 NeuralText is a powerful SEO assistant that helps marketers effectively gain the insights they need into current search trends and competitor analysis. Additionally, the long-form document editor, complete with notes, version history, and collaboration options, enhances productivity and facilitates efficient content collaboration.
While NeuralText showcases immense potential, there are areas that could benefit from refinement. Users may encounter occasional glitches or inconsistencies in the output of the AI models, and there is room for improvement in ensuring more precise content writing. Addressing these aspects would contribute to an even more robust and reliable user experience.
NeuralText is best suited for writers, marketers, and content creators who seek to streamline their content creation process and enhance their SEO efforts. Whether you are a seasoned professional or a beginner, NeuralText's intuitive design and AI-driven features provide valuable assistance, inspiration, and optimization tools. The platform caters to individuals or teams looking to create engaging marketing material, conduct keyword research, and gain insights into what the competitor is doing well.
In summary, NeuralText offers a powerful set of AI-driven features that can significantly elevate your content creation endeavors. Its user-friendly experience, keyword research tools, SERP analysis, and long-form document editor make it a valuable asset for those seeking to produce compelling, optimized content. With ongoing improvements and refinements, NeuralText has the potential to become an indispensable companion for content creators in various industries and disciplines.