Jasper vs. Copy AI: How Do I Pick?
When it comes to AI content writers and typing assistants, there is no doubt that the two industry leaders are continuously competing and proving to clients whose platform is the best. So, who is the rightful winner of the Jasper vs. Copy AI battle?
Both provide compelling copy, outstanding client reviews, and a large user base. More importantly, both feature an excellent user interface and can help you produce high-quality material quickly.
Therefore, in this detailed piece, we will explain why these two AI content production tools exist, who each of them best serves, and highlight their key capabilities.
Disclaimer: this post contains affiliate links which means that if you click one of my links (please do!) and purchase the tool, I get a small commission at no additional cost to you.
Join Renaissance Rachel's holiday giveaway!
1st Prize: $300, 2nd Prize: $75, 3rd Prize: $25
What Is Jasper AI?
Jasper AI (formerly Jarvis) is an AI writing tool driven by cutting-edge technology that claims to generate content up to five times faster than the typical human copywriter. You can also instruct the AI writer to improve an existing article or simply utilize it as a virtual assistant.
Input your thoughts and it will generate content for you. The program provides a variety of templates from which to choose, so you don't have to start again from scratch with each job. It is suitable for usage in blog posts, papers, promotional materials, and even textbooks.
Advertisements, specific niche articles, instructional content, or any kind of keyword can be entered into Jasper's AI writing software, and it will produce variations of requested content for you to select from. It is your AI writing assistant that can work around the clock without interruption.
What Is Copy AI?
Copy AI is an AI-powered copywriting tool that promises to save you time while increasing traffic and conversions.
Copy AI can be used to create a variety of content formats, such as marketing copy, social media captions, Google ads, landing pages, long form blog posts, Instagram postings, and so on.
In addition to tailoring the content to specific use cases, you can instruct the AI to write in a voice tone relevant to the situation. An academic essay, for example, can be written in a formal manner, but engaging social media material can be hilarious and persuasive.
Jasper vs Copy AI: What is the difference?
Want to see how these two AI writing software stack up? The table below provides an overview of all you need to know about Jasper vs. Copy AI.
Features
| | | |
| --- | --- | --- |
| Features | Jasper | Copy AI |
| AI Technology | GPT-3 | GPT-3 |
| User Experience | Clear and Compelling UX | Intuitive Design and transparent UI Layout |
| Educational Material | Guest Experts, Mini-courses, Video Tutorials and Articles | Weekly Live Demos |
| Languages Supported | 25 | 25 |
| Plagiarism Checker | Powered by Copyscape | No built-in plagiarism checker |
| Long Form Document Editor | Yes, only in Boss Mode | Yes |
| Search Engine Optimization | Yes | Yes |
| Chrome Extension | Available | Available |
| API/Webhooks | Yes | No |
| Free Trial | 5 days | 30 days |
| Pricing Model | Starts from $40 per month | $49 per month |
AI Technology
Jasper and Copy AI both use the GPT-3 platform. This revolutionary technology makes use of neural networks and machine learning in order to create long form content with minimal inputs. Over 175 billion machine-learning parameters are said to be used by the GPT-3 technology. This is why Jasper and Copy AI produce content that seem like it was written by an actual human.
User Experience
The Jasper AI interface is fairly easy to use and navigate through. It has handy features that make the search for tools simple. However, beginners who aren't familiar with tech-based software or applications powered by AI might find it a bit tricky to use at first. Fortunately, it gets easier for beginners to use once they've gotten used to it.
Jasper AI also makes sure to constantly be updated with the latest features and templates to improve its efficiency. Getting fully-optimized content within seconds is fully possible with Jasper.
When you open Copy.ai, you are greeted by an incredibly user-friendly interface that makes the entire process helpful. All you need to do is enter the URL or keyword for what content you want written about, and then a snippet of text is automatically created so you can use it on your own personal site. Its ease of use and high accuracy rate is why it has become one of the leading tools in the market.
Educational Material
Beginners can quickly learn how to use Jasper with the vast selection of educational materials and support that they offer. From live training to blog articles to mini-courses to guest experts, you'll be learning how to use Jasper in no time.
Copy AI also offers support to its users. However, their educational materials aren't as extensive as Jasper's. They do offer weekly live demos at a set schedule to serve as a guide for every user of Copy AI.
Languages Supported
Jasper AI can write in 25 different languages. This means you can cater to audiences from all over the world. The best part is you don't even have to be an expert in the language – Jasper will take care of the translating aspect for you! You no longer have to worry about being restricted by the language gap.
Copy AI also supports different languages. However, there are only 25 available languages for this tool while Jasper supports 29 different languages.
Plagiarism Checker
Jasper's plagiarism checker is powered by Copyscape, the most advanced system that can detect plagiarism and is used by millions of people all over the world. With this feature, it becomes a lot easier to see if any part of the text has been copied online. You can find the plagiarism checker at the top right toolbar of your Jasper document. It gives you the option to choose between scanning the whole document or only the highlighted text.
Copy AI does not have a plagiarism detection feature according to its website.
Long Form Document Editor
Jasper has a long form assistant that helps you from start to finish. It assists you with several tasks such as creating eye-catching titles and writing the opening paragraph of your work. You can then choose to have the rest of the content automatically generated or write the rest yourself. However, the auto-generated content is only available in Boss mode. It's also fairly easy to move the content from the editor into your website. You can simply copy and paste it. However, Jasper does not currently offer rich text control.
Copy AI initially did not have a long form content editor since its target market is those who primarily focus on creating short form content. However, they've recently added in that feature which makes them a stronger contender.
Search Engine Optimization
Unfortunately, Jasper does not have a built-in SEO tool. Instead, you would have to integrate with Surfer SEO if you want your work to be optimized for the search engine. On the other hand, Copy AI has free tools that help you generate SEO titles, blog conclusions or meta descriptions that can make sure your article ranks high in the search engine.
Chrome Extension
Jasper offers a chrome extension that allows access to its features across the internet. It supports different platforms such as Gmail, Google Docs, Webflow, WordPress, Canva and many more. You can bring Jasper AI's writing assistance with you wherever you work.
Copy AI also has a chrome extension that streamlines your work processes. It lets you work simultaneously with Gmail tools and Google Docs. All the features of the Copy AI website can be found on the add-on so you don't have to constantly revisit the website. The only drawback is that their extension doesn't support other platforms.
API/Webhooks
Jasper originally had no intentions of releasing an API when it first launched on January 26 of last year. However, with the amount of user demand and interest in API, they are currently in the middle of developing an API for their tool. Features that come with this include cloud storage, a rich-text document editor and integration.
Unfortunately, Copy AI does not have API integration which means you can't use it anywhere or connect it with other tools.
Free Trial
Jasper offers a 5-day free trial for any plan that you prefer. To start this, you need to provide your credit card information. You will be able to enjoy everything that your chosen plan has to offer up until the free trial ends.
Unlike Jasper, Copy AI offers an unlimited free trial. What this means is that you can use Copy AI for free for as long as you want with no credit card information required. This plan comes with ten credits per month, over 25 languages, 20 bonus credits during the first month, over 90 copywriting tools and a Blog Wizard tool.
Pricing Model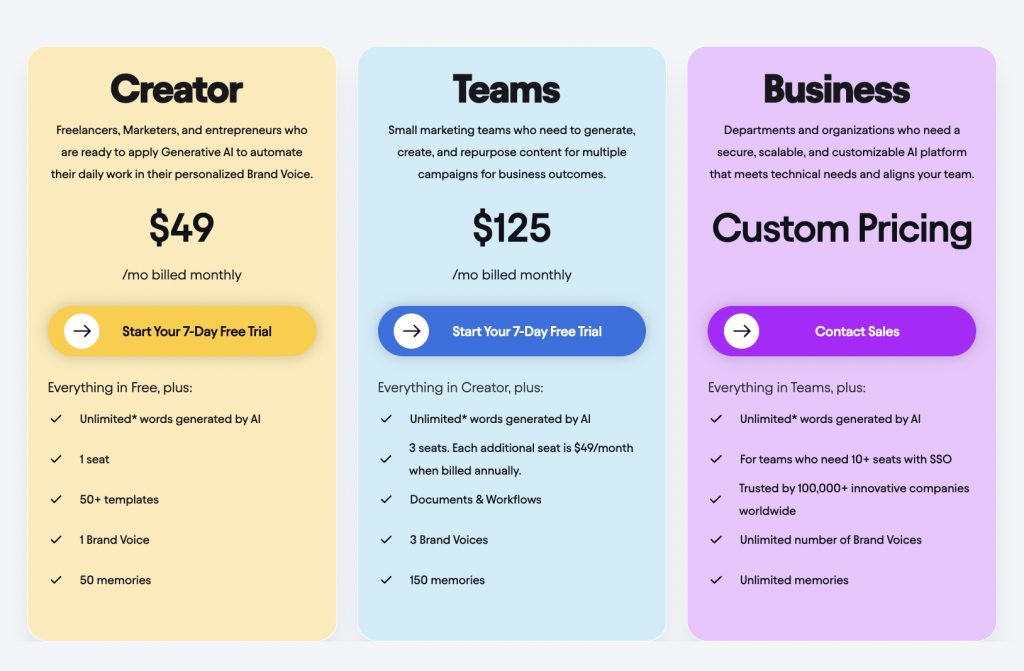 Jasper has three paid plans:
Creator Mode: $49/month for unlimited words
Teams: $125/month with unlimited words, 3 seats, and 3 brand voices
Business: Custom pricing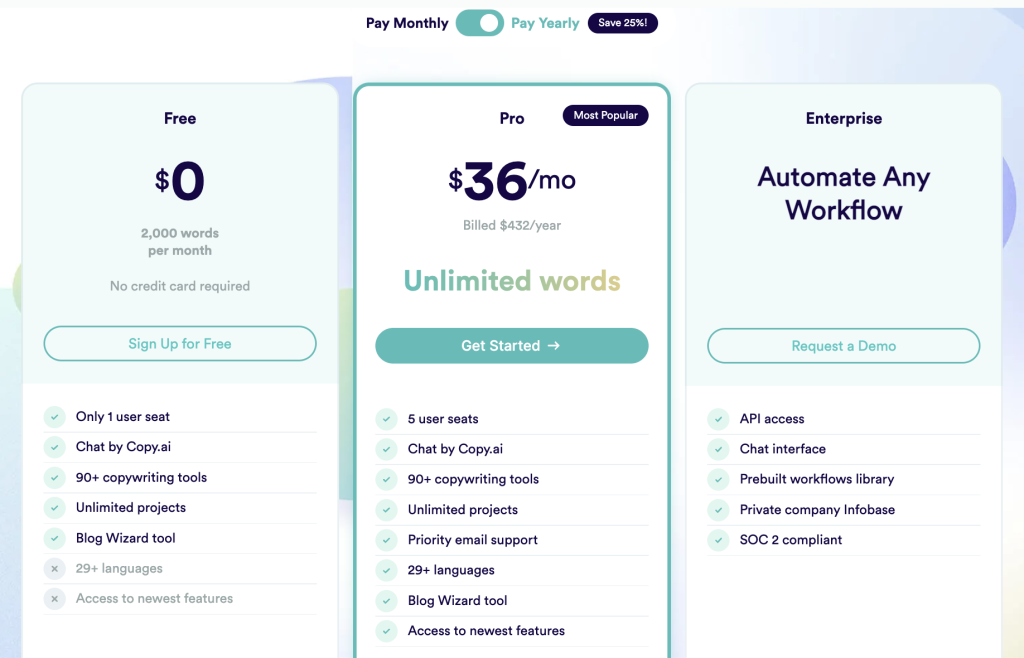 Copy AI only offers one pricing plan beyond the free version, which is the Pro Plan for $36 per month. This plan offers unlimited credits, chat, support for 29+ languages, a Blog Wizard Tool, unlimited projects, over 90 copywriting tools, priority support, and access to the latest features the tool has to offer. 
How do I Choose Between Jasper and Copy AI?
So, how do you choose the right tool to use? It all comes down to preferences and which features you require the most.
Before choosing which AI-powered content tool to use, you need to consider the following:
The teams that will be utilizing it
The type of content your team generates the most
The social media platform that you frequently use
The current weakness that you have observed in your team
Other AI Writing Tool Alternatives
If you're looking for alternatives to Jasper and Copy AI, here are several other tools that are worth checking out:
The ones listed above are other tools you can check out for your copywriting and content creation needs. Each of these tools makes use of deep learning models to assist you with your writing. You can try them out for yourself and see which one you favor the most.
Final Thoughts
Jasper vs Copy AI, which of the two is the best AI content tool? At the end of the day, the best tool for you depends on your needs and preferences.
Both tools are amazing and have features that can help content creators. However, Jasper does have an edge as it's ideal for small business owners and agencies that produce long form content and need help offloading some of their writing burdens.
But, based on the Copy AI review, it's still highly recommended because of the unlimited free plan that it offers and its focus on producing short form content.