10 Best Heatmapping Tools of 2023
One of the best ways to optimize the user experience of your website or mobile app and increase conversions is to try out heatmapping software.
But if you are starting out or would like to switch heatmap software, you might feel overwhelmed with the number of heatmap tools available. No worries, because this is where we come in to provide you with the technical knowledge, facts, data, and expertise needed to find the perfect heatmapping tool for your needs.
What are the best heatmapping tools?
The best heatmapping software will offer features like heatmaps (or heat maps, as both terms are used frequently), session replays, A/B testing, and personalization options. It should also be user-friendly, with easy installation and advanced filtering options.
Additionally, excellent customer support and compatibility of heatmap solutions with popular website platforms are crucial aspects to consider when choosing the best heatmap software for you.
Join Renaissance Rachel's holiday giveaway!
1st Prize: $300, 2nd Prize: $75, 3rd Prize: $25
Lastly, pricing plans that are feasible for the business website, mobile app, owner, or the company's budget are essential when deciding on heatmap software tools.
In this article, we will compare some of the best options on the market.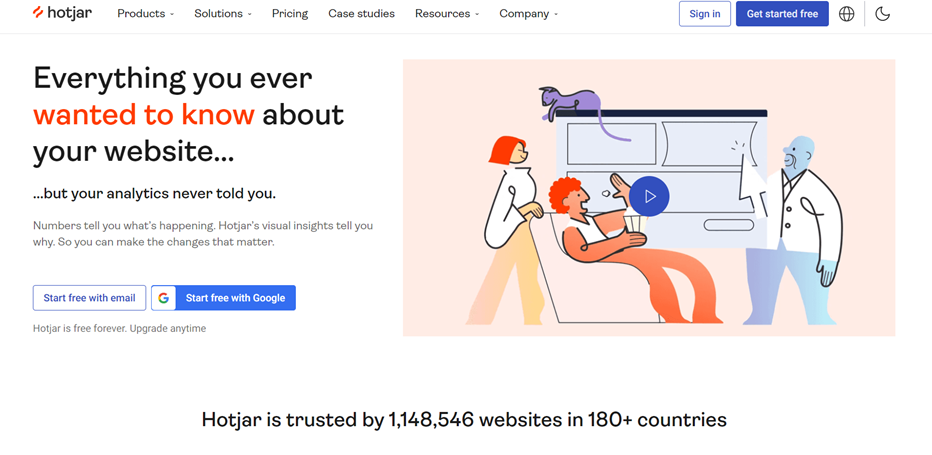 Overview
Hotjar is a powerful heatmapping software that provides visual insights into website traffic and user behavior, complementing the analytics that numbers can provide. The software provides detailed insights into visitor behavior, making it easy to determine the areas of your website that need improvement.
Highlights
With its heatmapping feature, Hotjar gives you an overview of how visitors interact with your website by showing how far they scroll, which buttons they click, and what content they ignore.
By identifying high-impact changes, spotting problems in customer experience, and prioritizing changes that matter, Hotjar provides the necessary tools for website optimization.
It also allows you to collect live feedback from your visitors, thus giving you a direct insight into what they care about and how you can cater to their needs.
Furthermore, Hotjar is free forever, with the option to upgrade at any time.
Hotjar's standout feature is its visual representation of user behavior, which is essential in creating an effective website.
Pricing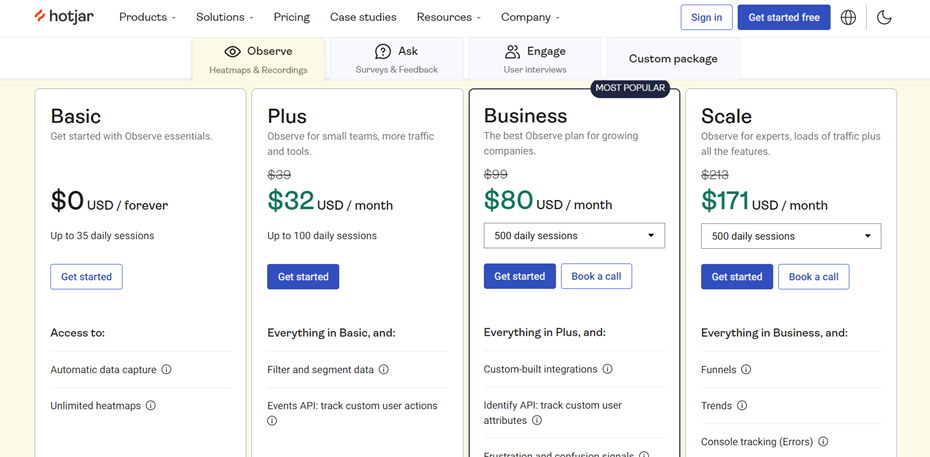 Basic Plan is a free version of the heatmap software that includes unlimited heatmaps, automatic data capture
Plus Plan is $32 per month
Business Plan is $80 per month and includes custom-built integrations
Scale Plan is $171 per month and includes funnels, trends, and many more
Bottom line
Hotjar is ideal for website owners, web developers, and designers who want to enhance their website or web front's user experience by discovering visitor behavior and feedback. The software is trusted by more than one million websites across the world.
With its numerous integrations and easy installation process, Hotjar is an essential tool for any website or web front that seeks to further user engagement and improve its user experience.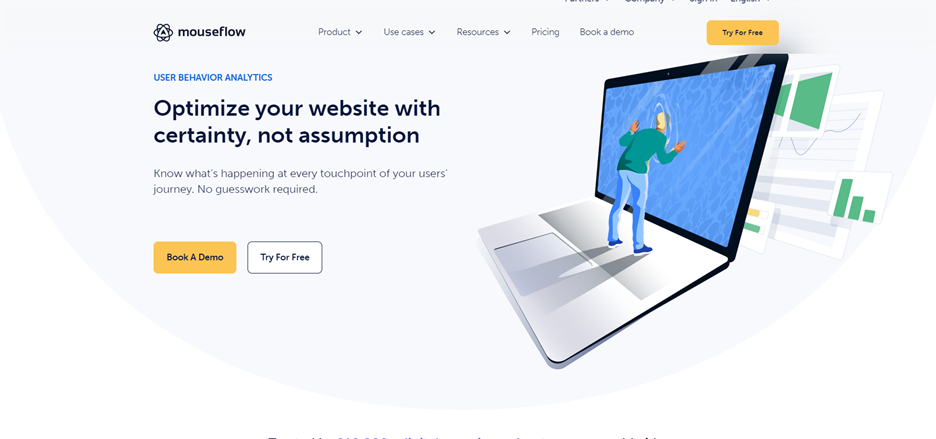 Overview
Mouseflow is a user behavior analytics software that helps website owners optimize their website's performance by providing insights into user behavior. It accomplishes this through advanced features, such as replaying sessions, heatmaps, conversion funnels, funnel analysis, forms, and feedback. The software provides a comprehensive solution to help businesses understand their users better and optimize their website's performance.
Highlights
The software provides real user journeys, and friction scores to help focus on areas that need optimization.
Mouseflow is GDPR compliant, CCPA compliant, and uses enterprise-grade security to protect user data, making it suitable for even the most strictly regulated websites.
One of the key features that make Mouseflow stand out from the competition is its cross-functional value. The software allows for seamless collaboration between different teams in an organization through its integration with over 30 different platforms, including Google Analytics, Adobe Analytics, Hubspot, Intercom, Shopify, and Zendesk. This feature makes it easier to sync user data across different platforms, providing more insights into user behavior.
Mouseflow provides a full-featured solution that can help optimize the user experience and increase ROI for marketing campaigns, landing pages, and form submissions.
Pricing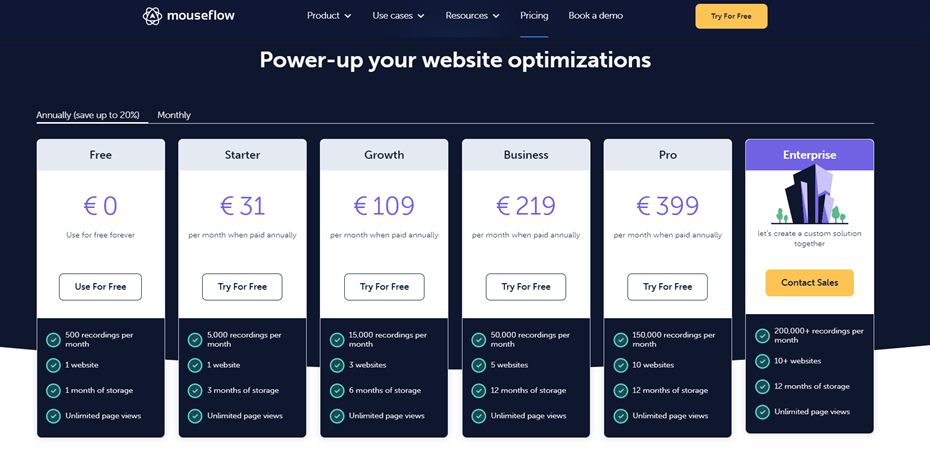 Free Plan
Starter Plan for $31 per month covers 1 website
Growth Plan for $109 per month covers 3 websites
Business Plan for $219 per month covers 5 websites
Pro Plan for $399 per month covers 10 websites
Enterprise Plan is custom-tailored to cover over 10 websites
Bottom line
Mouseflow is the best option for digital experience frontrunners worldwide, including businesses, agencies, and marketing teams that want real-time analytics to optimize their website's performance. It is an ideal solution for businesses that want actionable insights to improve user experience and increase conversions. They can easily accomplish this by utilizing the best AI project management and AI time management tools.
Overall, Mouseflow provides a secure, easy-to-use, and full-featured solution that is designed to help businesses get more insights into user behavior and optimize their website's performance with confidence.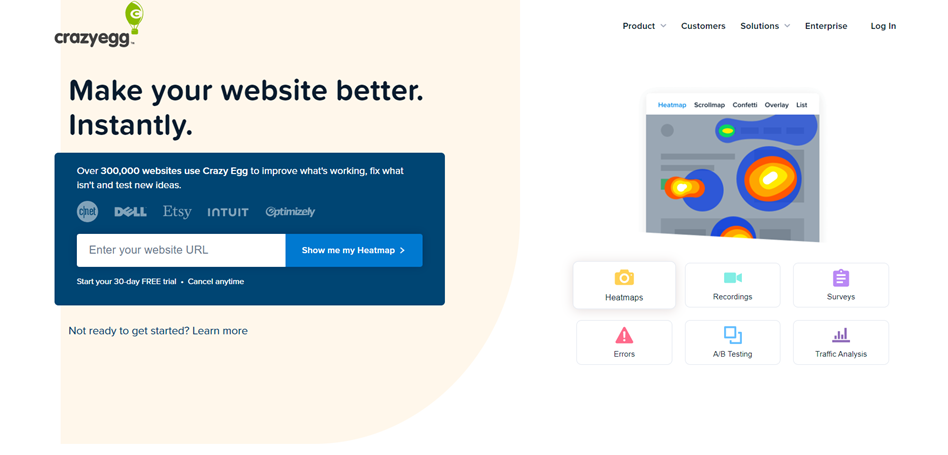 Overview
Crazy Egg is a website optimization tool used by over 300,000 websites to improve website performance, fix errors, and test new ideas. The software stands out because of its unique features like Heatmaps, Session Recordings, Surveys, A/B Testing, Traffic Analysis, and Errors.
These heatmap features can help website owners and marketers understand the customer journey with snapshots, heatmaps, and recordings. Users can analyze website traffic sources by channel and get direct feedback from customers and website visitors to improve the user experience.
Highlights
The software's standout feature is Snapshots. Crazy Egg takes a snapshot-in-time of users' web pages and generates five reports that show visitor click behavior.
The Heatmap report is the originator in webpage heatmap technology, showing areas of the highest click activity on any of the users' webpages.
The Scrollmap report shows where the most popular scroll-depth of users' webpage is, which is usually a prime spot for an important call-to-action.
The Confetti report displays color-coded dots that represent individual clicks and can be segmented by various metrics.
The Overlay Report shows the percentage breakdown of clicks on all the webpage elements, while the List Report provides a purely numerical report of the number of clicks on the webpage elements.
The Recordings feature enables users to watch session recordings of actual visitors using their website to understand the truth about visitor behavior and what makes them tick or frustrated.
Crazy Egg has easy integration with popular services like Shopify and WordPress, making setup easy.
The software is powerful enough to customize and grow with users. Teams can add all their members free of charge.
Pricing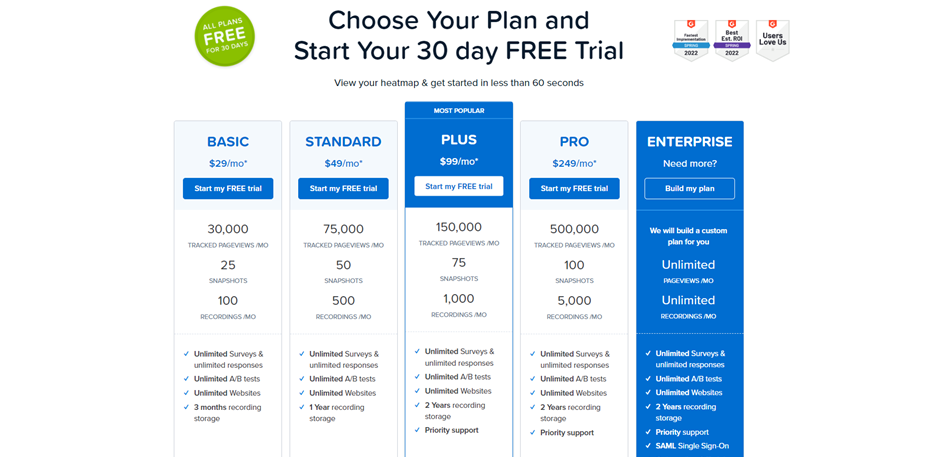 Crazy Egg offers a free trial version for 30 days
Basic Plan for $29 per month includes 30,000 tracked pageviews
Standard Plan for $49 per month includes 75,000 tracked pageviews
Plus Plan for $99 per month includes 150,000 tracked pageviews
Pro Plan for $249 per month includes 500,000 tracked pageviews
Enterprise plans are custom-tailored
Bottom line
Crazy Egg is the best solution for website owners and marketers who want to improve website performance, fix errors, and test new ideas. This heatmap software is the answer for those who want to figure out which elements of a website page are getting clicks, measure versions against one another, and get an accurate picture of how their real visitors are using their site.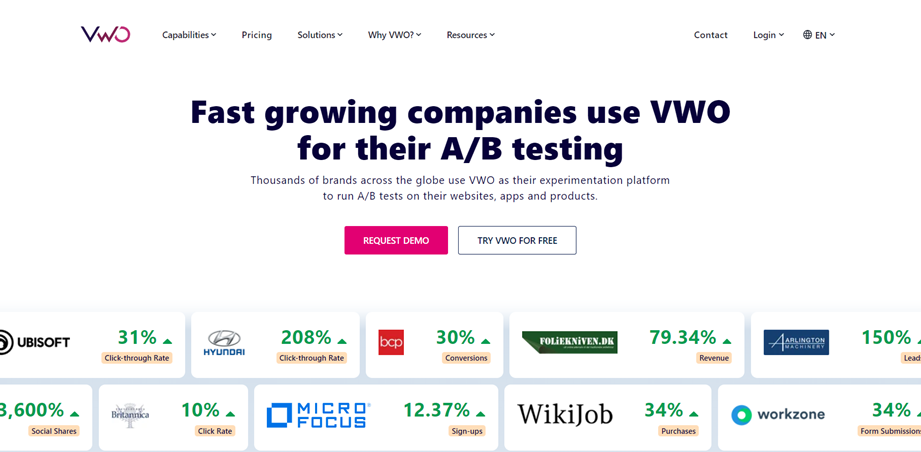 Overview
VWO Testing is a powerful tool that allows you to run different experiments to convert your website and mobile app visitors into paying customers. With VWO Testing, you can run A/B, multi-variate, split, multi-device, and multi-page tests on your website.
VWO provides user insights through unique features like integrated user session recordings, click heatmaps, and popup surveys, allowing users to augment their analysis with qualitative user insights. The platform comes with a point-and-click visual editor that enables you to edit any element on your website, personalize user experience using dynamic texts, and embed videos with just one click.
Highlights
The VWO visual editor comes with a library of ready-to-use widgets that you can deploy and test on your website.
The platform is compatible with any website architecture and allows you to make sophisticated changes directly in HTML/CSS/JS using its advanced code editor.
VWO Testing also comes with GPT-3 powered AI copy generator that helps you generate alternative copies for headlines, product descriptions, CTAs, and more.
The platform also allows you to run multiple tests without worrying about overlaps, segment your audience, and track multiple metrics to measure the impact of an A/B test across the entire funnel.
The platform's Bayesian statistical engine outputs interpretable probabilities, and VWO's approach toward statistical validity ensures that users can see genuine, long-lasting changes.
VWO is GDPR, CCPA, and HIPAA compliant and automatically removes PII (email addresses and IP addresses) to ensure user privacy is respected.
VWO's SDK is open-source on GitHub, providing total transparency and easy implementation.
VWO offers fanatical support, including 24×7 customer support, a dedicated customer success manager, and on-demand team augmentation services.
Additionally, VWO allows users to monetize mobile apps users through targeted experimentation and offers the simplest platform for experimentation on mobile apps. With VWO's Mobile App Testing, users can launch new app features with confidence, improve their app engagement and retention, and track all their KPIs.
Pricing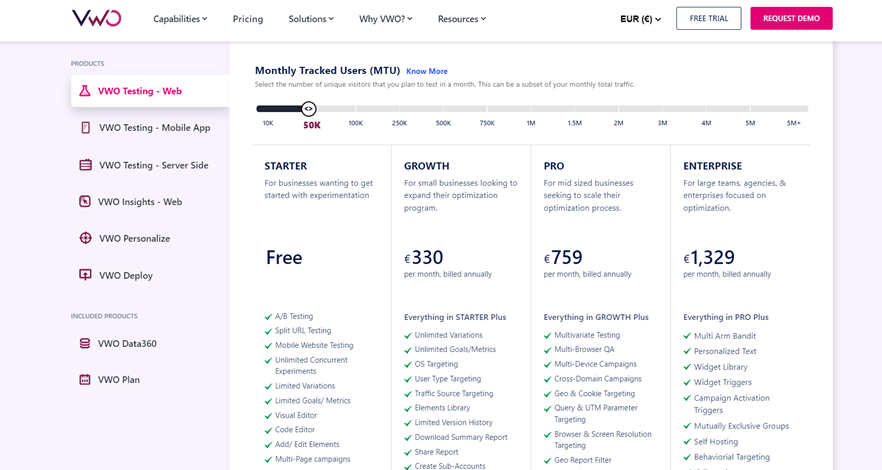 Pricing differs based on the number of monthly tracked users (MTU). Here we will show pricing for 50,000 MTU on a website
Starter Plan is free
Growth Plan is $330 per month
Pro Plan is $759 per month
Enterprise Plan is $1329 per month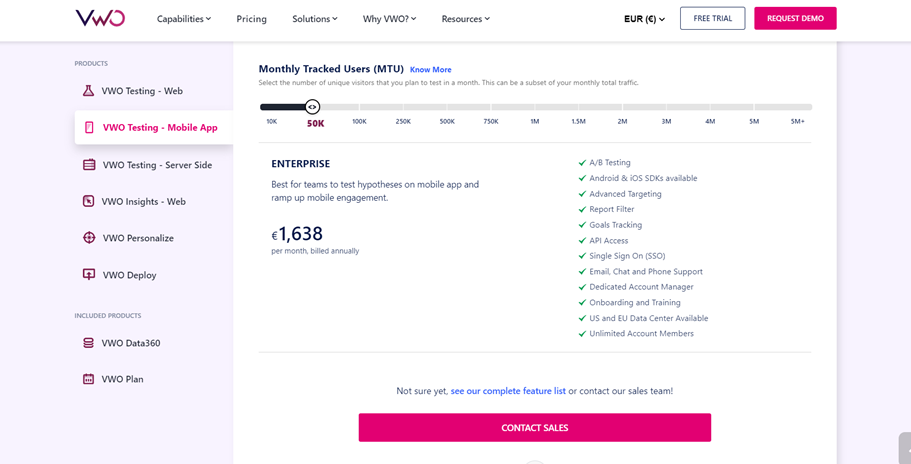 Mobile app testing for 50,000 MTU is covered by the Enterprise Plan for $1638 per month
Bottom line
VWO is trusted by thousands of brands across the globe, including NVIDIA, Ubisoft, Paytm, and The Atlantic. VWO offers more control, more power, and easy configuration, making it a popular choice for companies who seek software tools to reduce user friction and increase app monetization and conversion rates.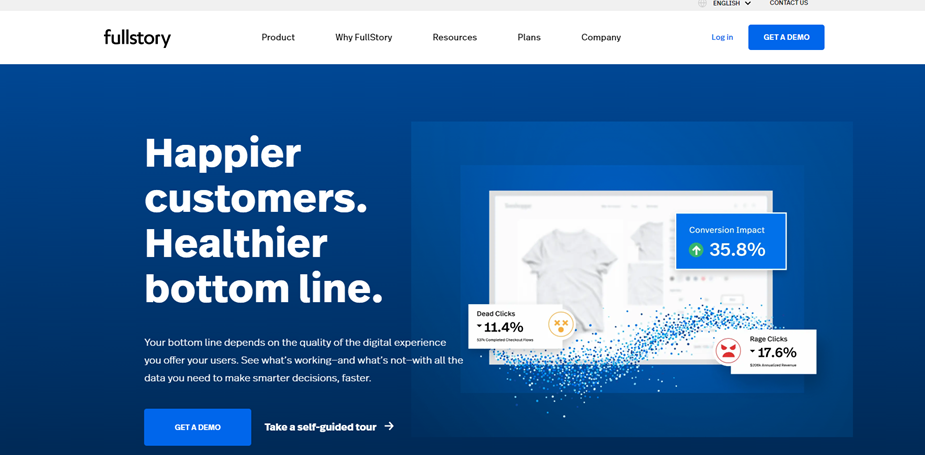 Overview
FullStory is a Digital Experience Intelligence software that offers businesses the data they need to optimize their digital presence and provide their users with the best experience possible. Its proprietary auto-capture technology monitors websites, mobile apps, and software platforms, helping businesses identify issues and opportunities, prioritize changes, and give users exactly what they want.
With its unique features like complete coverage of both key events and long-tail data, FullStory can reveal bugs, friction, and opportunities that would have otherwise flown under the radar.
Highlights
FullStory's unique heatmap features, such as Session Replay, Heatmaps, and its Tech Stack Integrations, give businesses the tools they need to build better digital experiences.
FullStory offers auto-capture technology that provides complete data coverage, a retroactive, private-by-default, and fully indexed database, and its fully customizable dashboards, conversion analysis, and other metrics that allow businesses to track their crucial metrics.
Its open API and growing catalog of integrations enable businesses to leverage the full power of their data tools.
FullStory's privacy protections, industry-leading security practices, and automatic PII detection provide peace of mind to brands that are looking to build faster.
Pricing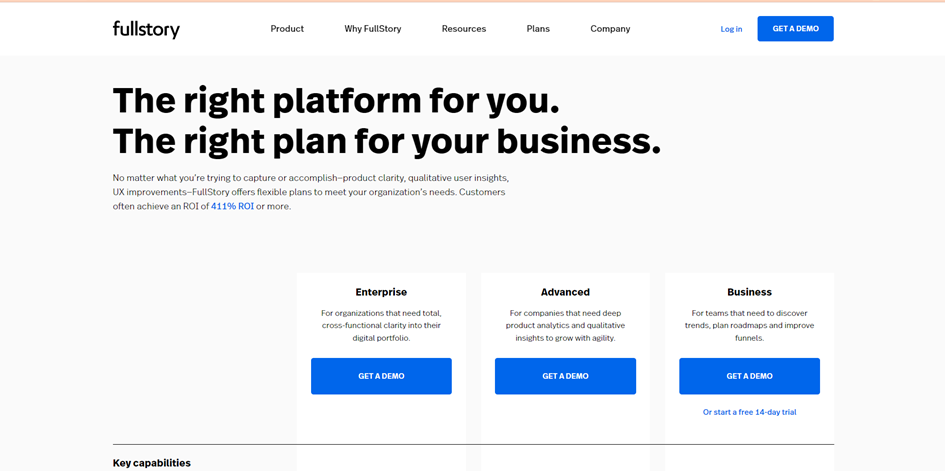 FullStory offers 3 plans but doesn't disclose the pricing tiers of the heatmap software:
Business Plan
Advanced Plan
Enterprise Plan
Bottom line
FullStory's clients, such as L'Occitane, SytnerGroup, William Hill, Segment, and Elvie, have saved millions of dollars through the heatmap software. FullStory has received positive reviews on G2 and TrustRadius, with over 11,000 digital destinations using its services.
With its comprehensive coverage, privacy protections, and customizable dashboards, FullStory is an excellent choice for businesses looking to optimize their digital presence with the best heatmap tools and software tools.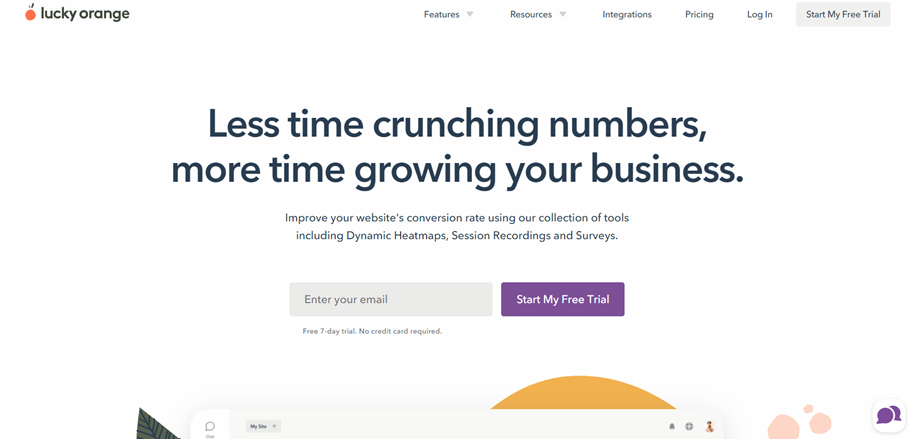 Overview
Lucky Orange is a heatmap software that provides powerful ways to learn about your site visitors and improve your website's conversion rate. Its collection of tools includes dynamic heatmaps, session recordings, surveys, live chat, conversion funnels, funnel analysis, form analytics, visitor profiles, announcements, and a dashboard. These tools are used by over 375,000 websites worldwide and are fully CCPA and GDPR-compliant.
Highlights
One key feature that sets the heatmapping tool apart from the competition is its dynamic heatmaps, which provide insights into what parts of a page drive conversions and what parts hinder them.
The operating system includes segmentation, which allows you to compare user behavior across date ranges, traffic sources, or other custom variables, and visual customization, which lets you change the look and opacity of your heatmap tool based on analysis or presentation needs.
The heatmap software provides insights into marketing, user experience, and customer support (which helps marketers almost as much as the best AI marketing tools).
Pricing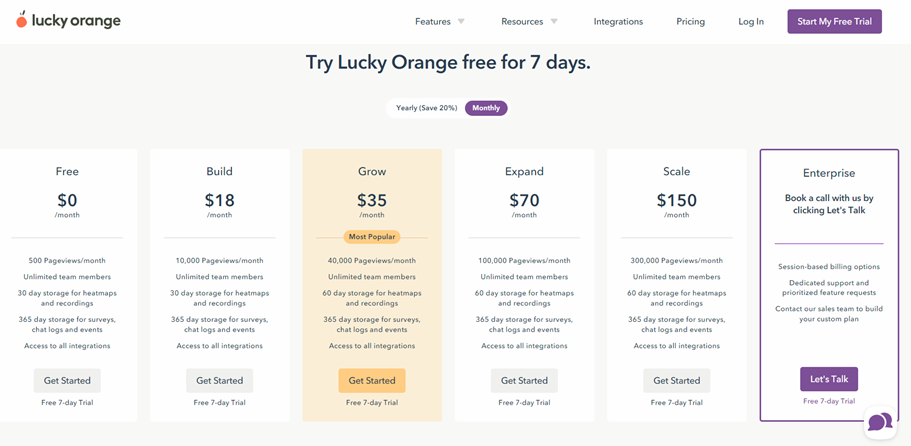 You can try out Lucky Orange in a 7-day free trial
Build Plan is $18 per month
Grow Plan is $35 per month
Expand Plan is $70 per month
Scale Plan is $150 per month
Bottom line
Lucky Orange is the best heatmap software for various types of businesses and their needs, including lead generation, agencies, e-commerce, and enterprise. By using Lucky Orange as their heatmap software, businesses can understand their customers on every level, improve their products and services based on customer needs, and build customer loyalty.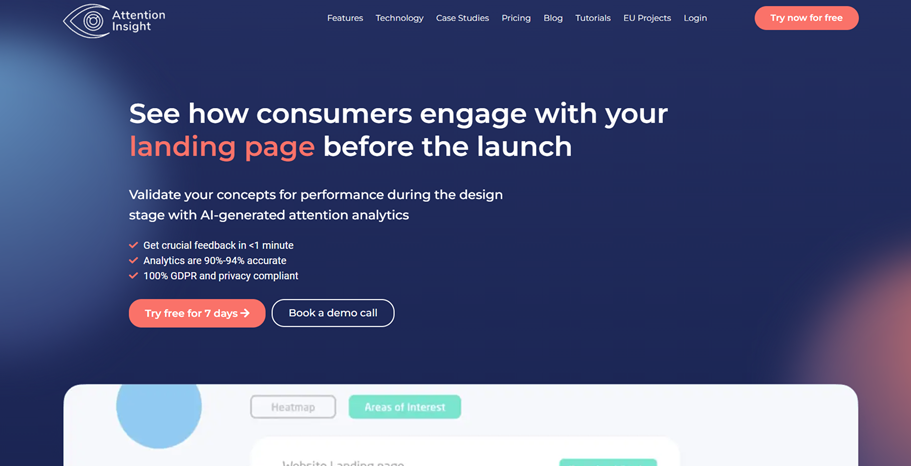 Overview
Attention Insight is an AI-generated attention analytics software that provides crucial feedback in less than a minute. The predictive attention heatmaps generated by Attention Insight help to identify potential performance issues during the design phase of advertisements, landing pages, apps, and package designs. The heatmap software is 90%-94% accurate, and it is GDPR and privacy compliant.
Highlights
An attention heatmap provides a visual representation of data to help determine which elements of a design attract the most attention.
Another heatmap feature of Attention Insight is the ability to define an Area of Interest (AOI) and obtain the exact percentage of attention that object receives when users interact with it on the web page. The platform's algorithm recognizes CTA buttons automatically, but other AOIs can also be set by the user.
The Focus Map feature is another powerful tool that shows which parts of a design of the web page or app are noticed or missed within the first 3-5 seconds. This feature is crucial because if users can't find what they are looking for within seconds, they're likely to leave the site.
Attention Insight's Clarity Score feature allows users to measure the clarity of their designs and compare them against competing designs in the same category.
The platform is highly customizable, with six different types of analyses to choose from.
Pricing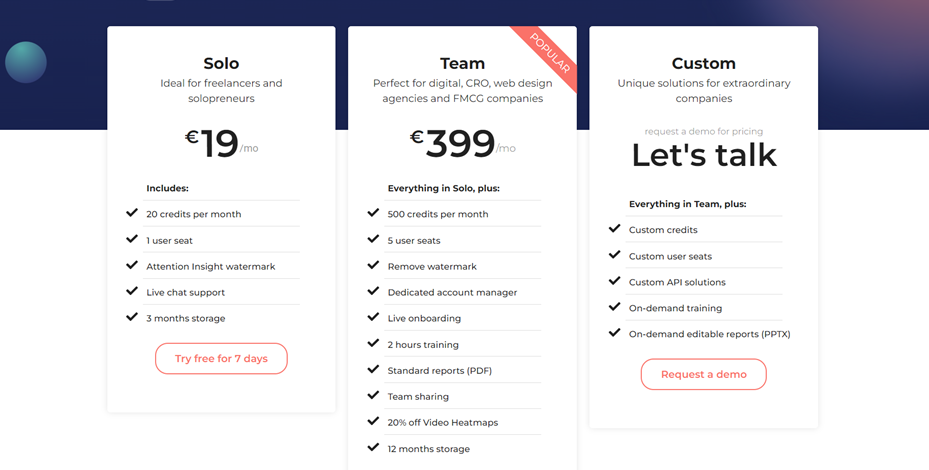 Free trial for 7 days
Solo Plan for $19 per month per user seat
Team Plan for $399 per month per user seat
Custom Plan is custom-tailored
Bottom line
With its multiple types of analysis such as desktop, marketing material, mobile, posters, packaging, and shelves, Attention Insight caters to various industries' design needs.
Attention Insight's accuracy is based on years of psychological research, and its algorithm automatically predicts changes in visual attention based on 30,800 images of historical data from eye-tracking studies, making it a reliable solution for businesses of all sizes. The heat mapping software is a great choice for designers looking to optimize their designs (and if they are scarce on time, they can use one of the best AI design tools as a design assistant).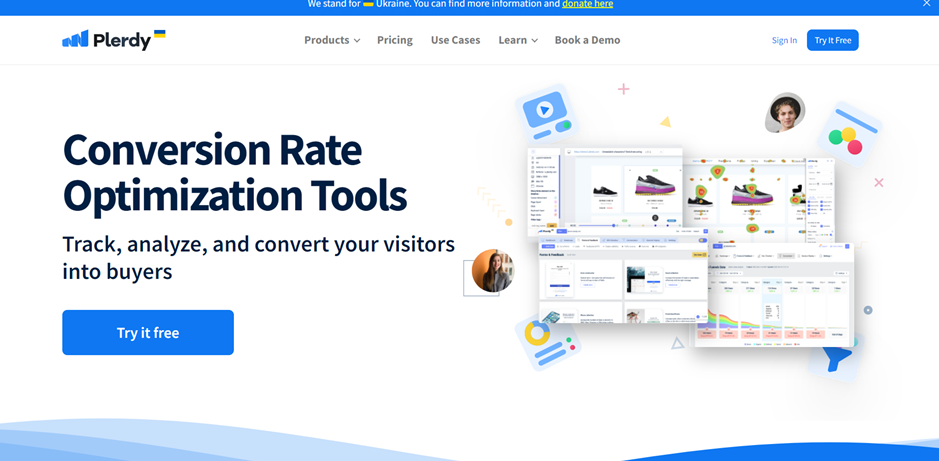 Overview
Plerdy is a conversion rate optimization software that provides a range of tools to help businesses track, analyze, and convert website visitors into customers. Key features include Heatmap Tools, Session Replay, and Event Tracking.
Highlights
Heatmap tool provides accurate user behavior reports by visualizing website traffic flow and user behavior.
Another useful feature of Plerdy is its Session Replay tool, which allows businesses to understand how their visitors behave on the website by recording user sessions. This tool records all user interactions on web pages and provides businesses with a visual playback of each session for individual users and their mouse movements.
Plerdy also offers an Event Tracking tool that allows businesses to quickly synchronize all events with Google Analytics.
The data transfer is protected with SSL technology, and reports for conversion rate optimization are created instantly.
Pricing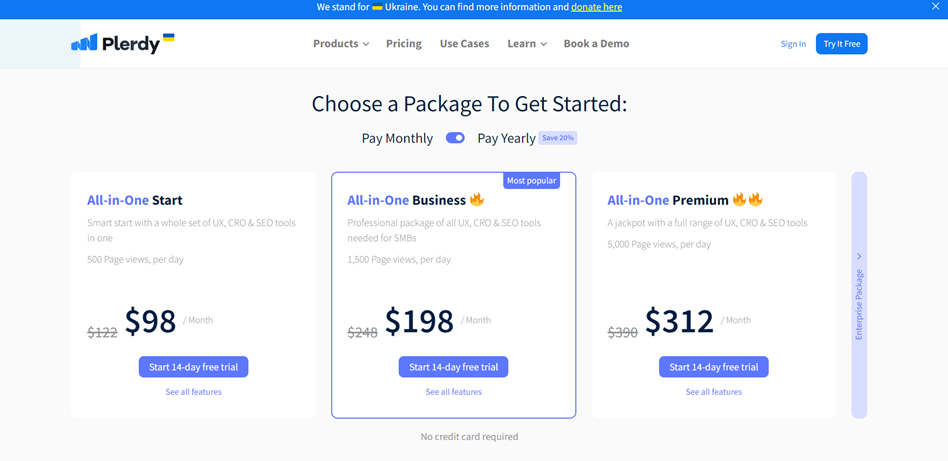 Start Plan for $98 per month
Business Plan for $198 per month
Premium Plan for $312 per month
Bottom line
The heatmap software is easy to install, and marketers can enjoy many free functions, making it ideal for beginners. Plerdy's heatmap tracking software is a reliable and easy-to-use tool that can help businesses improve their website's performance and easily create successful websites.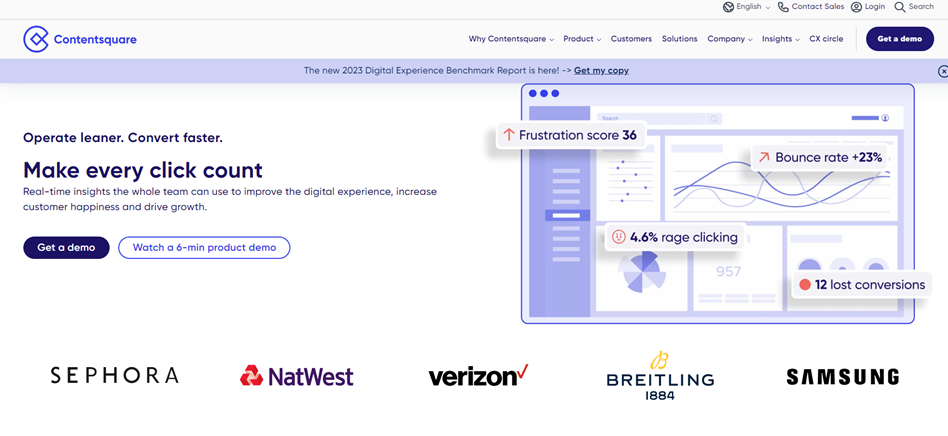 Overview
ContentSquare is a digital experience analytics tool that offers real-time insights for improving customer satisfaction, and digital experience, and driving growth to your web page. Unlike traditional analytics tools, ContentSquare provides a more comprehensive and user-friendly platform that helps you prioritize decision-making based on what matters most for your customers and what has the biggest impact on your business.
It offers effortless, automated insights that surface your biggest opportunities and issues with the web page, making it feel like you have your own team of analysts to crunch your data and provide you with a smarter to-do list.
Highlights
One of the key features that make ContentSquare stand out is its simplicity and easy-to-use visual reporting that helps anyone understand the metrics. The platform provides an intuitive interface that makes it easy to see how customers are using your site or app, enabling you to drive intelligent action at an enterprise scale.
The tool also provides a comprehensive, enterprise solution that includes the Digital Experience Analytics Cloud, ContentSquare Services, and Partner Ecosystem, providing a blueprint for teams to drive understanding, action, and trust.
The Digital Experience Analytics Cloud comprises five applications, all built upon a private, secure, and intelligent cloud platform.
The Contentsquare Services provide a prescriptive, best-practices model that guides your digital customer experience approach, while the Partner Ecosystem offers pre-built integrations with best-in-class technologies, all supported by open APIs.
The software also quantifies the most significant UX issues that might be costing you online customers, helping you find errors before they cost you revenue (just like one of the best AI UX tools on the market).
Pricing
ContentSquare doesn't disclose its pricing tiers
Bottom line
With over 850 brands using the heatmap software to understand and optimize their digital experience, ContentSquare is the leader in digital experience analytics. It provides an industry-first cookieless experience analytics platform that helps build trust with your customers by delivering an accessible experience while keeping their data secure and private.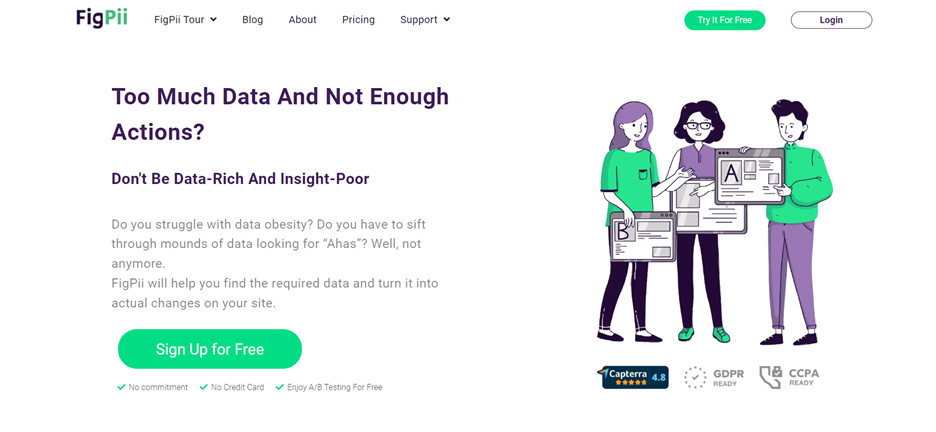 Overview
FigPii is a platform that helps users to analyze and understand their website data to make informed decisions, making it stand out from other heatmapping software.
Highlights
The tool's key features include recording every visitor's action on the site using machine learning to understand visitors' behavior, identifying where visitors are struggling and the exact changes that should be made to improve the website, visualizing where visitors click and their scrolling behavior, A/B testing, video recording of user interactions, and polls. FigPii is GDPR and CCPA-ready, and the platform offers a free A/B testing service.
FigPii helps businesses focus on figuring out what to do with their website data rather than merely providing more data. The software works by the actual changes that users should make on their site, based on a combination of visitor data and the largest dataset of site improvements. As users implement these changes, FigPii analyzes the impact on visitor behavior and makes further suggestions to improve the site. FigPii's machine learning does the heavy lifting, analyzing heaps of data on the site, so you don't have to watch thousands of session recordings.
The tool offers an easy-to-use interface and wizard for creating and launching tests, making it easier to prove hypotheses. Finally, FigPii offers excellent support to its users throughout their growth journey.
Pricing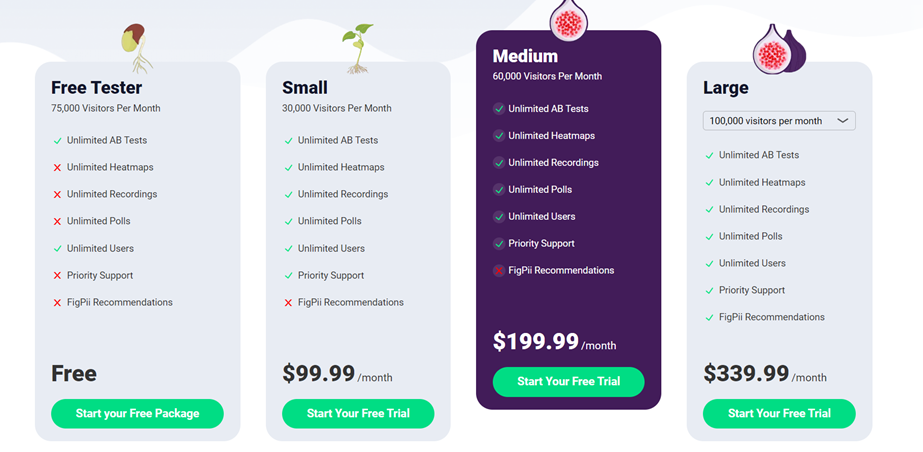 Free Tester Plan
Small Plan for $99.99 per month
Medium Plan for $199.99 per month
Large Plan for $339.99 per month
Bottom line
The platform is perfect for businesses that are looking to simplify their website data, fix their conversion funnel, and understand how visitors interact with their website. FigPii is also suitable for businesses looking to improve their website's design, copies, and placement of elements to make the page more engaging.
What is heat mapping software?
Website owners can track and analyze user activity on their websites using heatmap tools and mapping software. Using heatmap software tools with features like heatmaps, scroll maps, graphical representation, replaying sessions, and other statistics assists website owners in improving their user experience and boosting conversions.
Heatmaps offer a visual picture of the areas of a website where people are clicking, scrolling, and spending time. These details like mouse movement and load time may be used by website owners to optimize the design and user experience of their websites.
Session replays give website owners insight into how people are interacting with their website in real time by enabling them to see a video of a user's session.
A/B testing enables website owners to compare the performance of individual users across several iterations of their website.
Form analytics give information on how users interact with forms on a website, while personalization tools let website administrators adjust the user experience for each unique visitor.
Final thoughts
Heatmapping software and heatmap software tools assist owners in making informed decisions regarding the layout, design, dynamic content, and pop-ups of their web pages and mobile apps by offering useful data and insights.
By choosing the best heatmap software tool, owners can significantly improve the process of usability testing their web page, user interaction, load time, user feedback, and conversion rates.