Forget staring at a blank page trying to come up with the perfect words for your marketing campaign or social media post – Rytr is here to help. Rytr, an AI writing tool, helps you craft compelling content in a fraction of the time it would otherwise take to do it yourself. The introduction of AI for marketers, entrepreneurs, and anyone who needs to produce content on a regular basis has been a game-changer, allowing professionals to save absurd amounts of time and increase overall productivity.
As Rytr themselves put it, "Rytr is an intuitive AI writing assistant that provides the best content, period." By using advanced algorithms and (NLP) natural language processing, Rytr generates human-sounding, professional content. In addition to NLP, Rytr's algorithms are also trained on a vast corpus of data, including millions of web pages, articles, and other documents. Rytr's algorithms are also continuously learning and improving over time, enabling it to produce even more effective and compelling content.
Out of all the AI writing tools on the market today, why choose Rytr? How is it different from more popular platforms like ChatGPT? Does it really work and hit all the important bullets? In short, yes. Rytr is incredibly easy to use and successfully generates high-quality content quickly.
Rytr Overview
Rytr is an AI-writing tool designed to help businesses and individuals streamline their writing workflow. The platform offers a range of capabilities, including content generation, copywriting, and even translation services. Rytr is a versatile tool that can be used for a variety of purposes.
Join Renaissance Rachel's holiday giveaway!
1st Prize: $300, 2nd Prize: $75, 3rd Prize: $25

One of the key advantages of Rytr is its ability to generate high-quality content quickly and efficiently. The platform uses advanced algorithms and machine learning models to analyze user input and generate text that is relevant, engaging, and mostly error-free.
Additionally, Rytr is particularly well-suited to businesses that require multilingual content. Rytr's translation services allow users to offer their content into over 30 languages, making it an incredibly valuable tool for businesses with a global presence.
Another advantage of deploying Rytr as your new AI writing tool is its ease of use. The platform is designed to be intuitive and user-friendly, with a simple document editing interface that allows users to easily create new projects, collaborate with team members, and manage their writing workflow. Rytr provides a range of project management features, including the ability to set deadlines, track progress, and assign tasks to team members.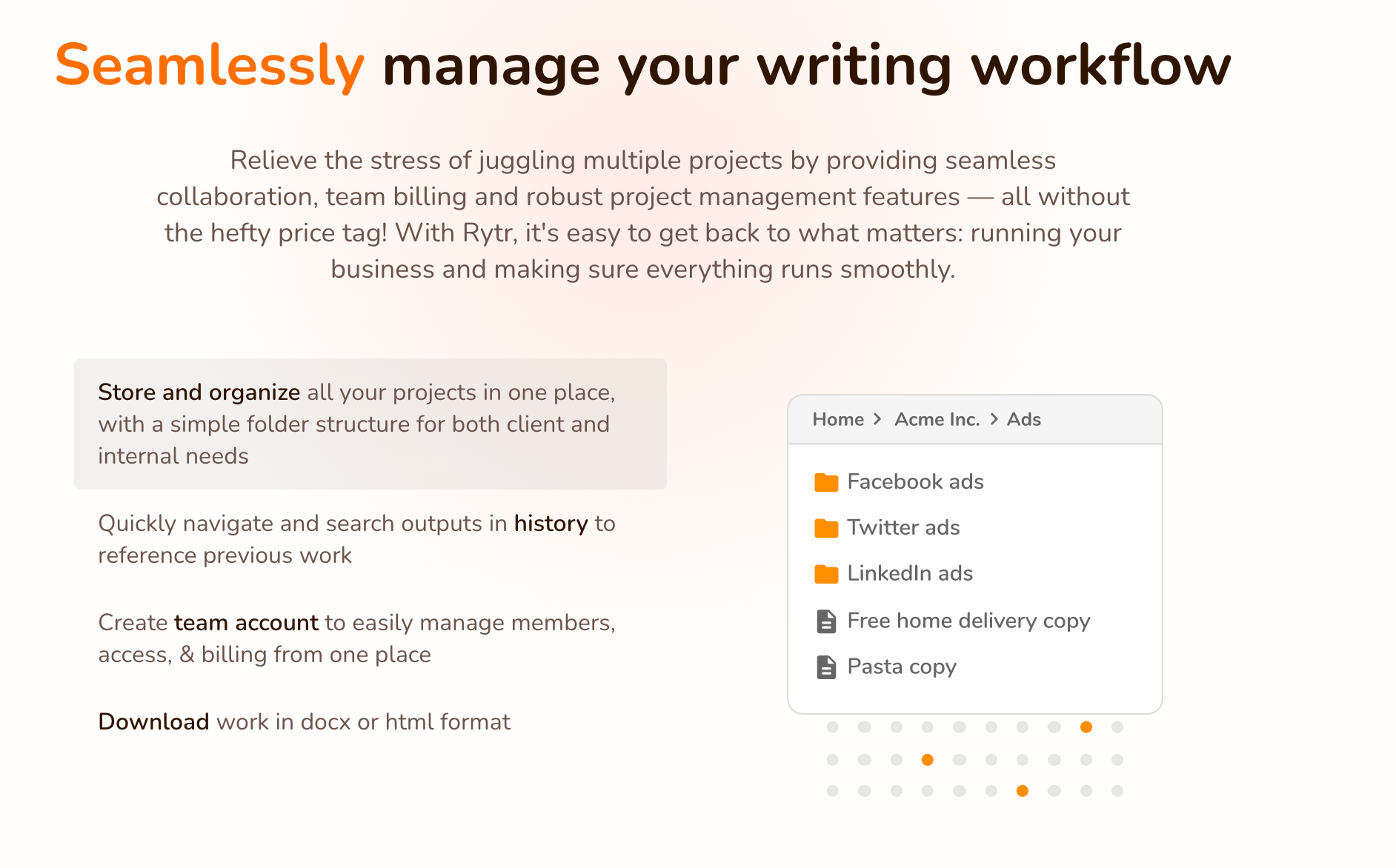 Some of Rytr's key features include:
Content Generation: Rytr's content generation capabilities are powered by advanced AI algorithms that analyze user input and generate content based on what the user provides. As we'll learn more in this article, you can specify the type of content you need (such as blogs, social media posts, royalty-free images, or product descriptions) and Rytr will generate the assets automatically.
Copywriting: Rytr as an AI writer allows businesses to produce high-quality copy for their websites, landing pages, emails, and other marketing materials.
Translation Services: Rytr's translation services allow users to translate their content into over 30 languages, making it a valuable tool for businesses with a global presence. Users can specify the target language and Rytr will generate the translated text automatically.
Project Management: Rytr provides a range of project management features, including the ability to set deadlines, track progress, and assign tasks to team members. This makes it easy for businesses to manage their writing workflow and collaborate effectively with team members.
Rytr offers a streamlined user experience that makes it easy for anyone to generate high-quality content with minimal effort. The platform's intuitive and easy-to-use interface makes it accessible for users of all skill levels. Its affordable pricing, along with its support for mobile devices, makes it a go-to tool for anyone looking to produce high-quality content quickly and easily.
| | |
| --- | --- |
| Feature | Rytr |
| AI Technology | GPT-3 |
| Languages Supported | 30+ |
| User Experience | Clean and simple to navigate |
| Educational Material | Yes, guidance and prompts are integrated within tool |
| Long Form Document Editor | Yes |
| Search Engine Optimization | Yes |
| Art Generation | Yes |
| Text Summarization | Yes |
| Plagiarism Detection | Yes |
| Chrome Extension | Yes |
| API/Webhooks | Yes |
| Free Trial | Yes |
| Pricing Model | Subscription-based |
What Rytr Does Well
AI Technology
Rytr's AI-powered technology is designed to make content creation quick, easy, and accessible to anyone, regardless of their writing experience or expertise. At the heart of Rytr's technology are GPT-3 based language models, which are among the most advanced natural language processing models available today. These models have been trained on vast amounts of text data and can generate human-like text in a wide range of styles and tones. By fine-tuning these models for various use cases, Rytr is able to meet the needs of anyone, including those with niche content needs.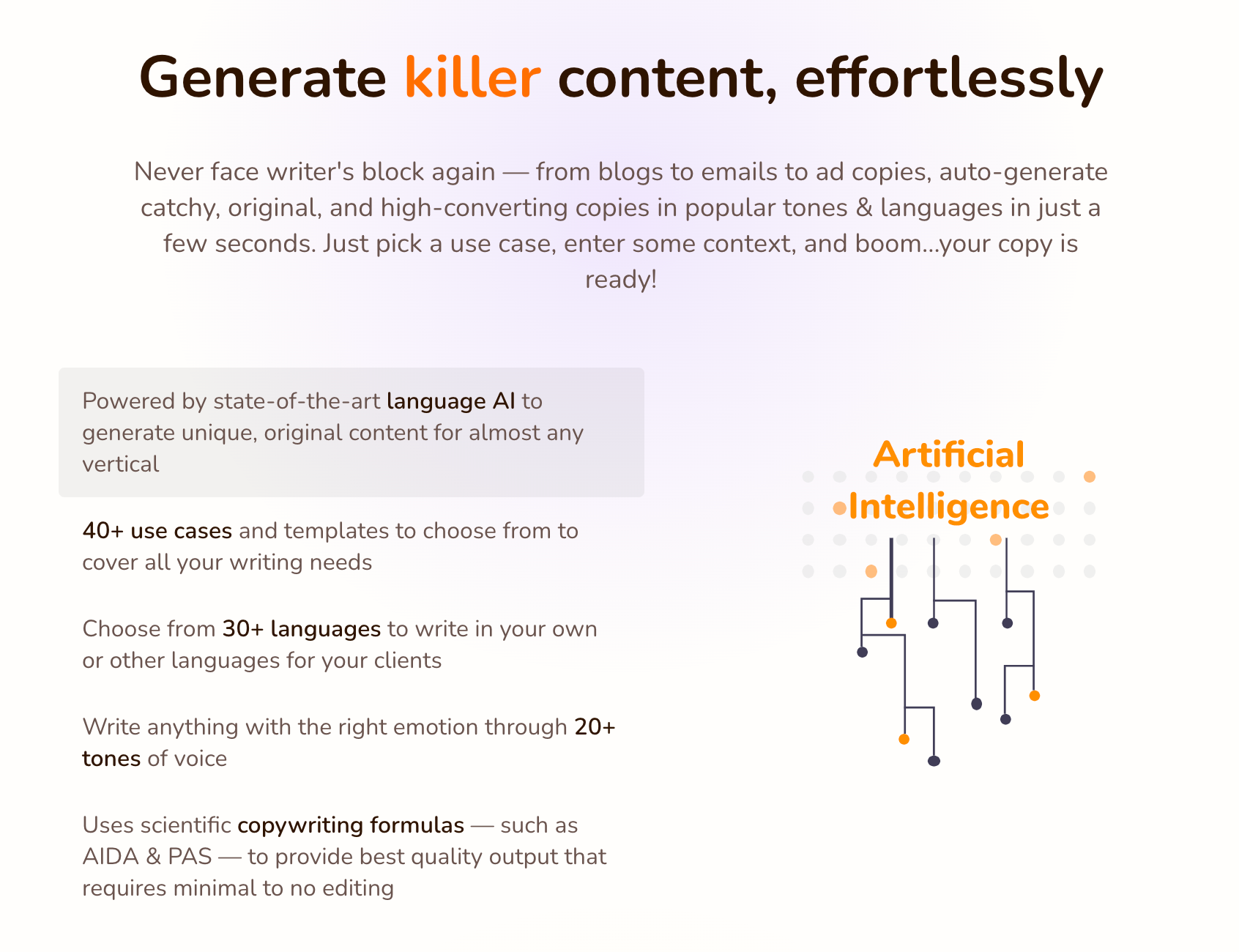 User Experience
Rytr's interface is simple and easy-to-use. If you're exploring Rytr for the first time, the platform makes it exceptionally easier to sign up for a free account and start writing. There are no hoops to jump through, like email account verification. It really is as easy as 1-2-3 to get started.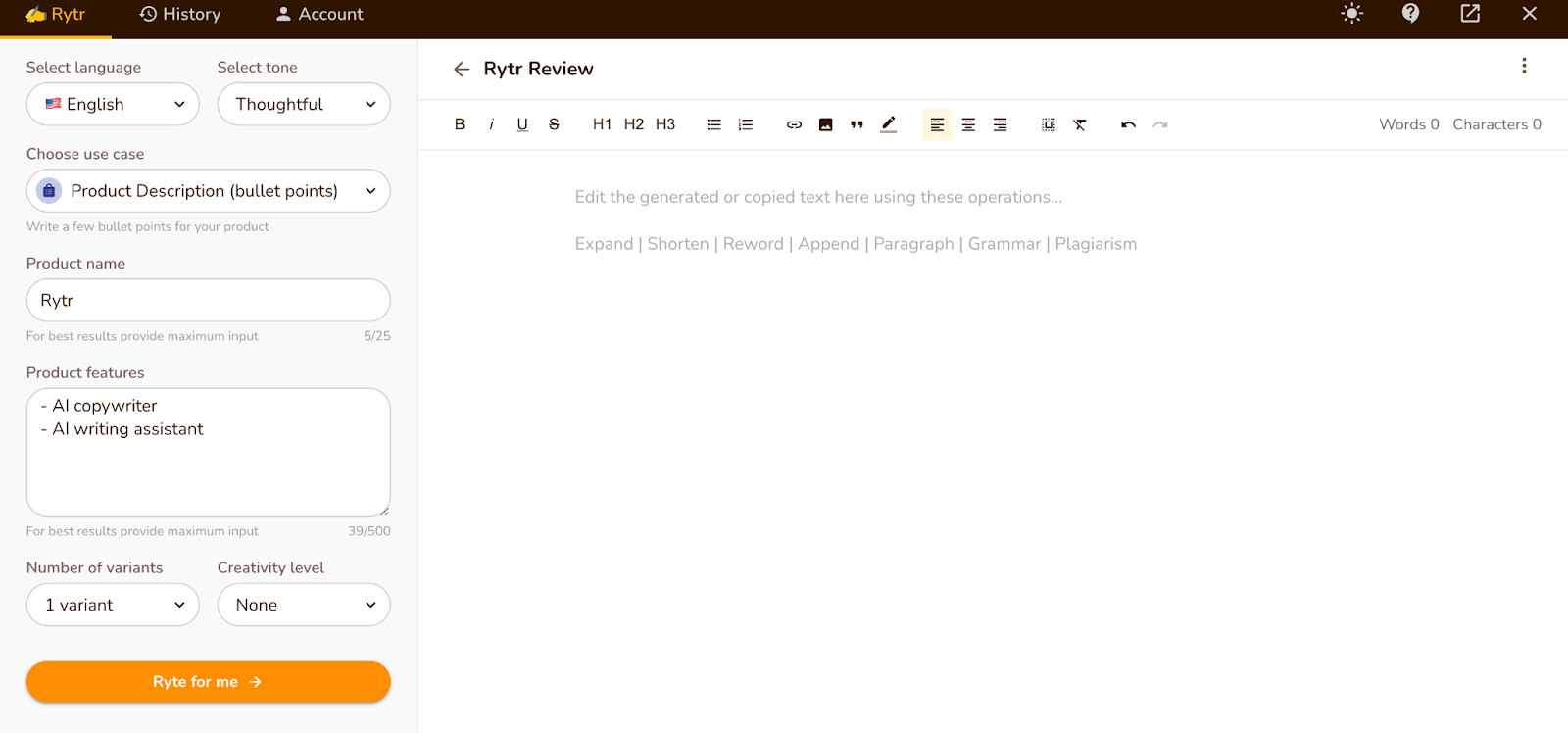 First, you'll want to select the language in which you want your content to be generated. With over 30 language options to choose from, users can generate content that is tailored to their target audience, and in a variety of languages. This feature allows you to increase your reach, potentially increasing conversions and your audience.
You will be prompted to select the tone that you want your content to convey. Choose from over 20+ tone options – like candid, convincing, humorous, thoughtful, and more. This feature allows you to personalize your message and ensures the generated content aligns with the desired end-product.
Move on and choose a specific use case from over 40+ options, including landing pages, product descriptions, social media posts, and more. Create compelling product descriptions that highlight the unique features of your product or generate social media posts that precisely captures your brand's personality and engages your target audience.
Finally, provide Rytr some context by inputting SEO keywords or phrases. Provide Rytr with the best and most crucial information to work with and avoid incomplete or punctually incorrect phrases. Users can choose the number of variants they'd like to see and adjust the AI assistant's creativity level as well.
Now, with just a click of a couple of buttons and some typing, you've created AI-generated content that would have otherwise taken hours, possibly days, to produce. You can keep generating multiple variants until you're satisfied with the output.
The various dropdowns and text prompts in the left-hand column sufficiently provide direction for users throughout the experience – As long as you follow the prompts and customize input according to your project's needs, high-quality and compelling content is a likely outcome.
Like other AI tools, the more information and keywords provided to Rytr, the better the output. I started by trying out the "Product Description (bullet points)" use case. In addition to tone and language, Rytr prompted me to add the Product Name and its features. I used Rytr as an example. Here's the output I got when I set the creativity level to "Optimal":

Then I lowered the creativity level to "None (more factual)":

Rytr is an AI writing assistant, and to my surprise, it's also an apt storage solution for various projects and copy. This makes Rytr appealing for freelancers and marketing teams tired of digging through Google Drive to find one asset. Rytr provides a centralized location for storing and organizing all projects in one place.
You can use Rytr to manage your writing workflow by organizing various projects into folders and collaborating with team members in-platform. These features make it easy to get back to what matters most – running your business and ensuring everything runs smoothly. Additionally, with Rytr's team account option, managing members, access, and billing is made easy from one place.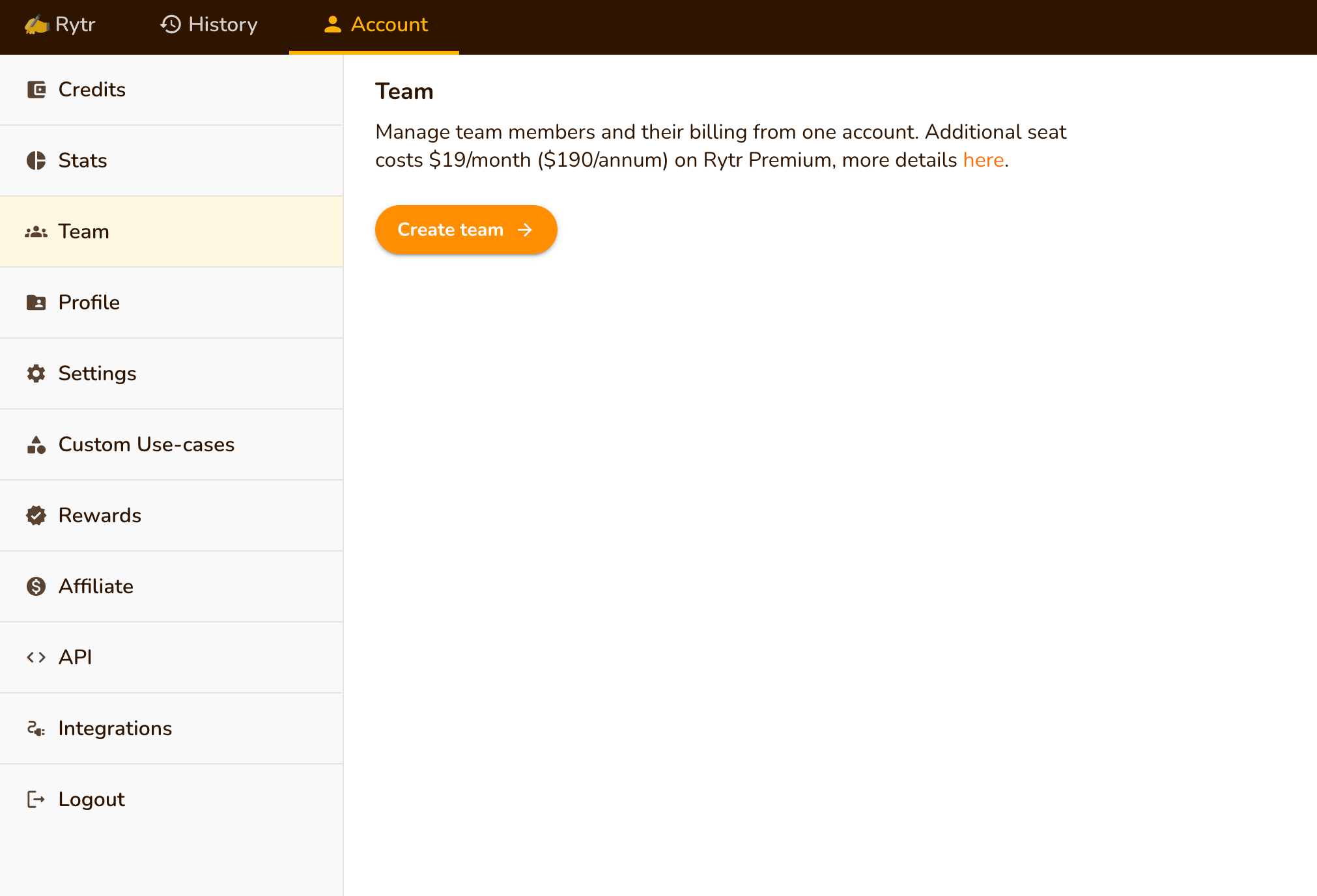 If needed, users can download their work in .docx or .html format, allowing for versatility for different use cases. Rytr allows teams of all sizes to create high quality content at a fraction of the cost.
Rytr is a fantastic tool for those new to the AI-copywriting scene. Rytr's use of AI technology means users do not need to have any experience in writing or copywriting, and its free plan makes it accessible to anybody.
Long Form Document Editor
Rytr's long-form document editing capabilities allow users to generate, edit, and optimize longer pieces of content, such as blog posts and articles. The platform offers a range of formatting options, allowing users to easily create headings, expand or refine content, rephrase, and more.
While reviewing this section, I prompted Rytr to write a Blog Section about itself to use as a starting point for my tests. The platform appeared to struggle with the prompts I input, and an error occurred. This could have been a one-time thing. I prompted Rytr to generate the text again, and it worked almost immediately this time.
Expand
Rytr's Expand feature enables you to add a few extra words throughout a selected text to increase its length. To utilize this function, simply highlight the desired text, and a ribbon will appear above it. From there, click on the Expand option to access this tool.

Rytr expanded on the selected text by adding more words and another sentence, seen below:

The Expand tool is incredibly valuable if you're facing writer's block or struggling to meet your word count.
Shorten
The Shorten feature is a tool that enables users to reduce the length of text while preserving the overall meaning. To use this feature, select the desired text, and you will see a ribbon appear above it. Click on More and then Shorten to access this tool. This feature is helpful for condensing long, redundant paragraphs or sentences into refined, straight-to-the-point versions.

We can see below how Rytr successfully simplified and reduced the above-highlighted sentence's character count.

The ability to shorten longer form content is incredibly valuable for situations where brevity is necessary.
Rephrase
Rytr's Rephrase tool helps you reword any selected text while keeping the same underlying meaning. Paraphrasing tools are useful for avoiding plagiarism, generating alternative versions of a text, or simply improving the readability of the content. See the example below.

The Rephrase tool can help improve the clarity and quality of sentences or paragraphs you may not be sure about.

Append
If you're staring at an incomplete sentence or struggling to complete a thought, the Append option is super useful. There is a 100 character minimum in order to use the Append tool.

Rytr substantially increased the length of the above highlighted sentence, even adding another sentence about pricing.

Rytr's per-word cost wasn't inherently clear to me while exploring their website, so I can only assume this information is accurate.
Paragraph
Rytr's Paragraph feature is a powerful tool designed to help users expand on certain sections of copy. You can quickly generate a paragraph on any given topic. If you're working with a heading format (H1, H2, H3, etc.), Rytr's AI-technology will generate an intro-like, long paragraph that sets the tone for your section. For normal body text cases, it will produce a couple of sentences that provide a succinct overview of the topic.

I added a Header, and asked Rytr to write a paragraph about it.
Here's the result.

This feature is helpful for anyone working with blog outlines, website copy, and more.
Search Engine Optimization (SEO)
Rytr offers real-time SERP, or Search Engine Results Page, analysis to optimize your copy. This process can quickly transform your content from just using one primary keyword to being fully SEO-optimized. You'll also find Rytr provides helpful assistance by suggesting keyword clusters and frequency when you generate a blog outline, allowing you to optimize your content based on existing search engine results.
If you're marketing savvy, you know what SERP is. For those in the room who aren't familiar with the concept, SERP refers to the page that displays the results of a search engine query, typically in response to a provided specific keyword or phrase.
SERPs are used to help users find relevant information quickly and easily, and they are a key tool for businesses looking to improve their online visibility. By appearing near the top of a SERP, businesses can attract more traffic to their website and increase their chances of converting visitors into customers.
To enable SERP analysis, head to Account < Integrations.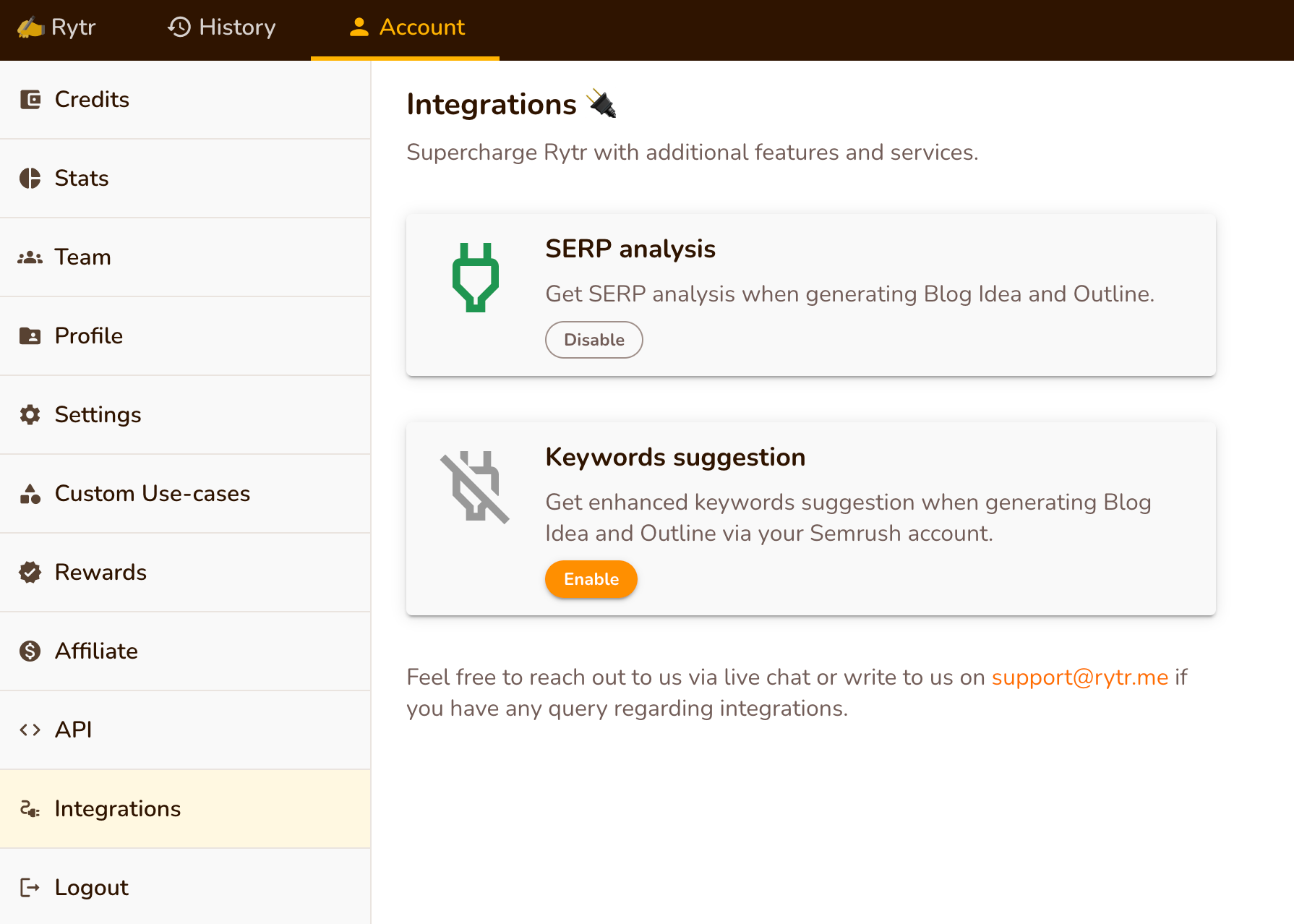 According to Rytr's resource page, once SERP analysis is enabled, I should have automatically seen it pop-up. In my case, it did not. I had made sure pop-ups were enabled in my browser settings.
While I could not see it in action myself, I am confident the SERP analysis feature is helpful in endeavors to fully optimize content.
Plagiarism Detection
Rytr offers a built-in plagiarism checker that helps ensure the authenticity and uniqueness of your content. Powered by Copyscape, an industry leader in plagiarism detection, this feature can be accessed as part of all plans with a 50,000 character ceiling.
To use the plagiarism checker, simply select any text between 100 and 1600 characters and click on the three dots to bring up the checker. If any plagiarism is detected, sources found will appear in a pop-up window, allowing you to review the original content and make any necessary changes to ensure your content is unique.
However, it's important to note that while the plagiarism checker is a helpful tool, it's not a substitute for careful review and editing of your content. The outputs generated by Rytr should be treated as raw ideas and suggestions that require additional work before being shared. Expect to review and edit all content before publishing your copy.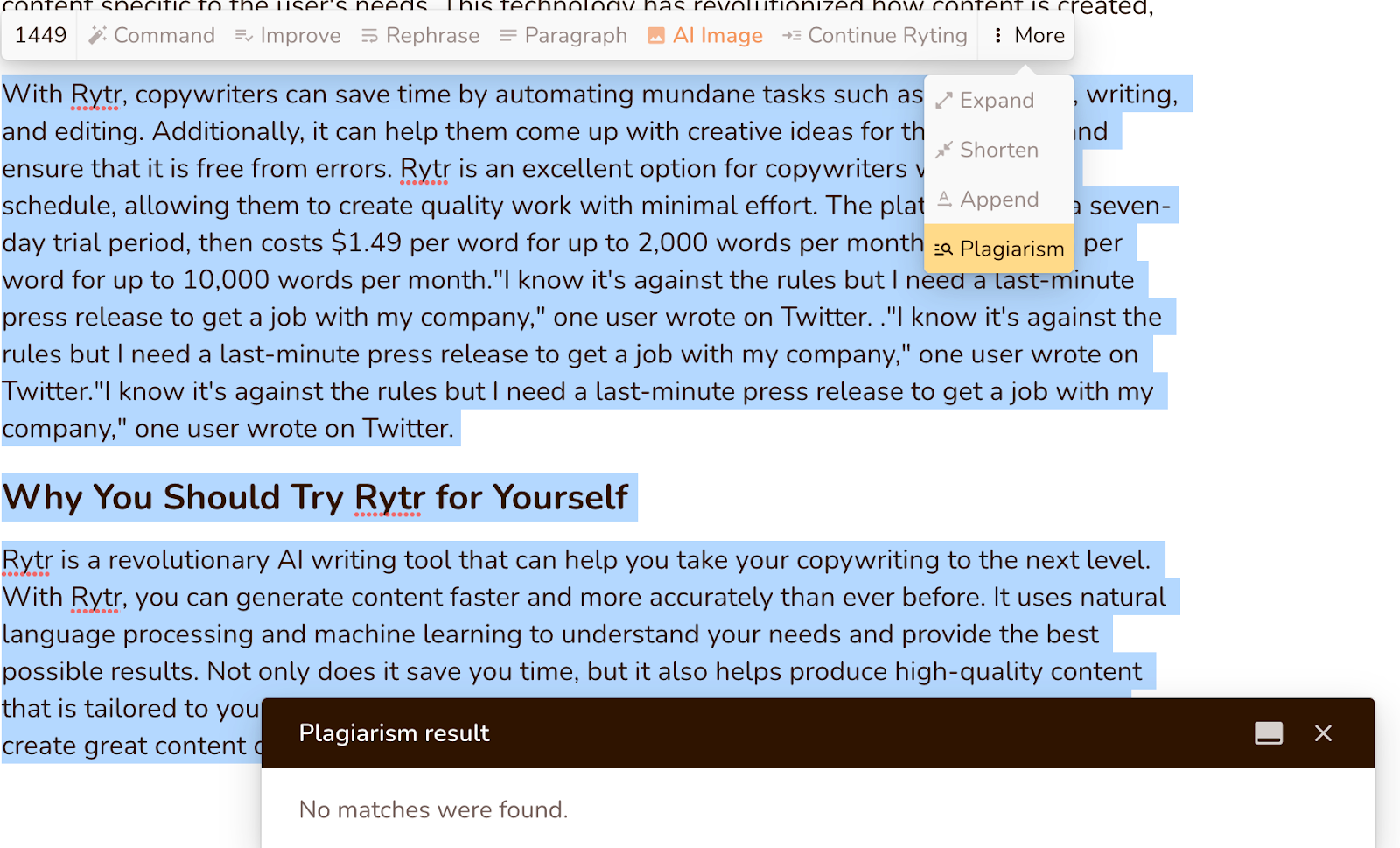 API/Webhooks
If API integration is what you're looking for, Rytr offers exactly that. Available in over 30 languages and using just a few lines of code, you can connect to the API, send a message to write, and receive quality content that matches your brand voice, tone, and language requirements. The API is designed to work seamlessly in your app or company environment, and you won't need any development knowledge or coding experience to get started.
There are no limits on Rytr's API usage. You can start with 10,000 API credits and scale up as needed, paying only for what you use.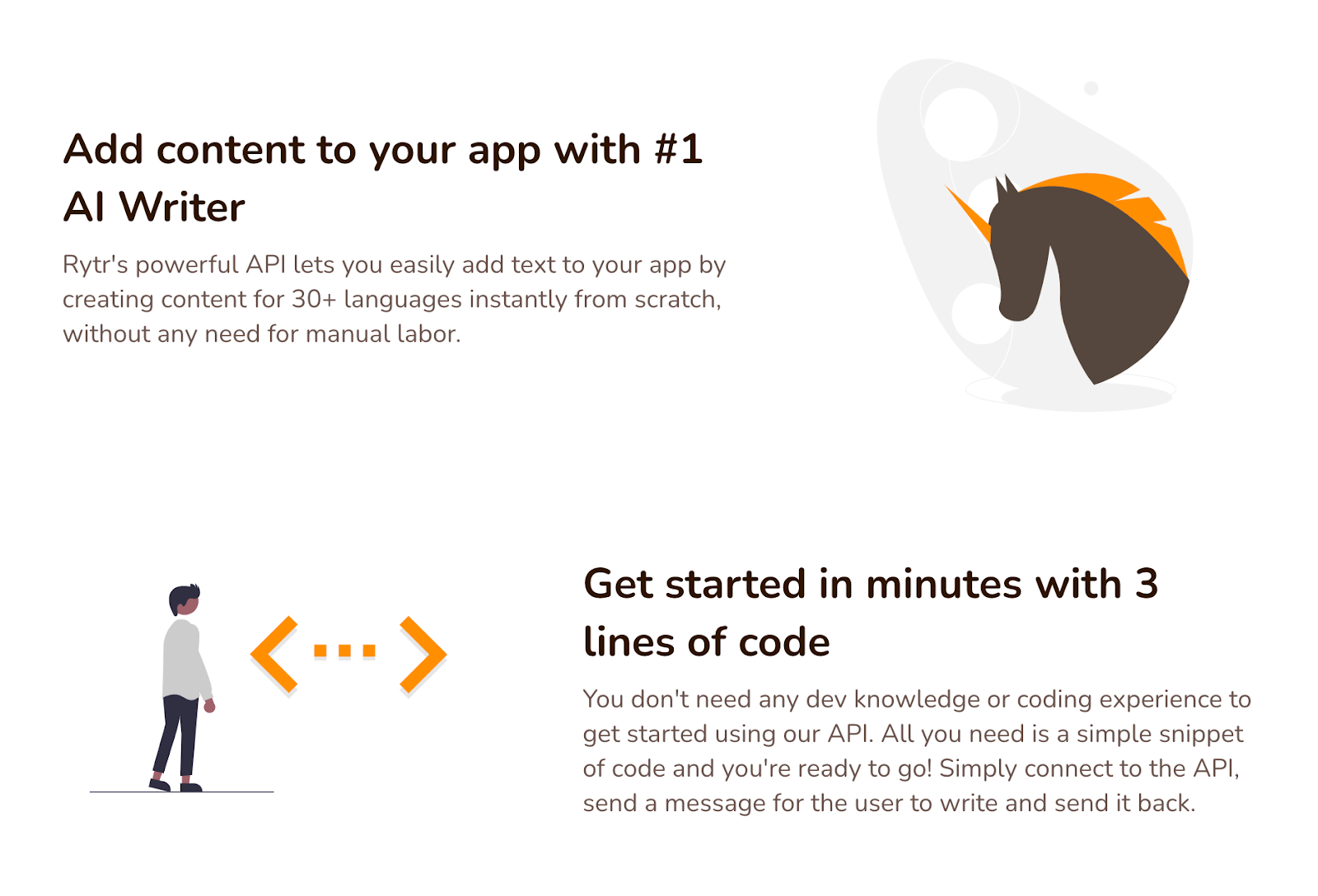 What Rytr Could Improve
Continue Ryting
Rytr's Continue Ryting tool is great in theory – allowing Rytr to help put the pieces together and continue writing where you left off. When I tested the feature on the last paragraph I generated, I ran into the following error.
I tried the feature on the highlighted sentence in the screenshot below.

Here was the result.

Rytr did not continue writing in a seamless manner and seemed to throw a completely random quote in at the end. I had the creativity level set to None, but in this case, Rytr had a mind of its own.
I prompted Rytr to continue writing one last time, and for some reason, it repeated the last quote twice.

This is definitely a feature Rytr can improve on.
Art Generation
Rytr's AI Image Generation tool is a cutting-edge feature that allows users to generate royalty-free and copyright-free images using their friendly AI assistant. To use this feature, all you need to do is create a document and input some context for your picture. Then, Rytr's AI will generate an image that should match the context provided. I tried it below and got this image.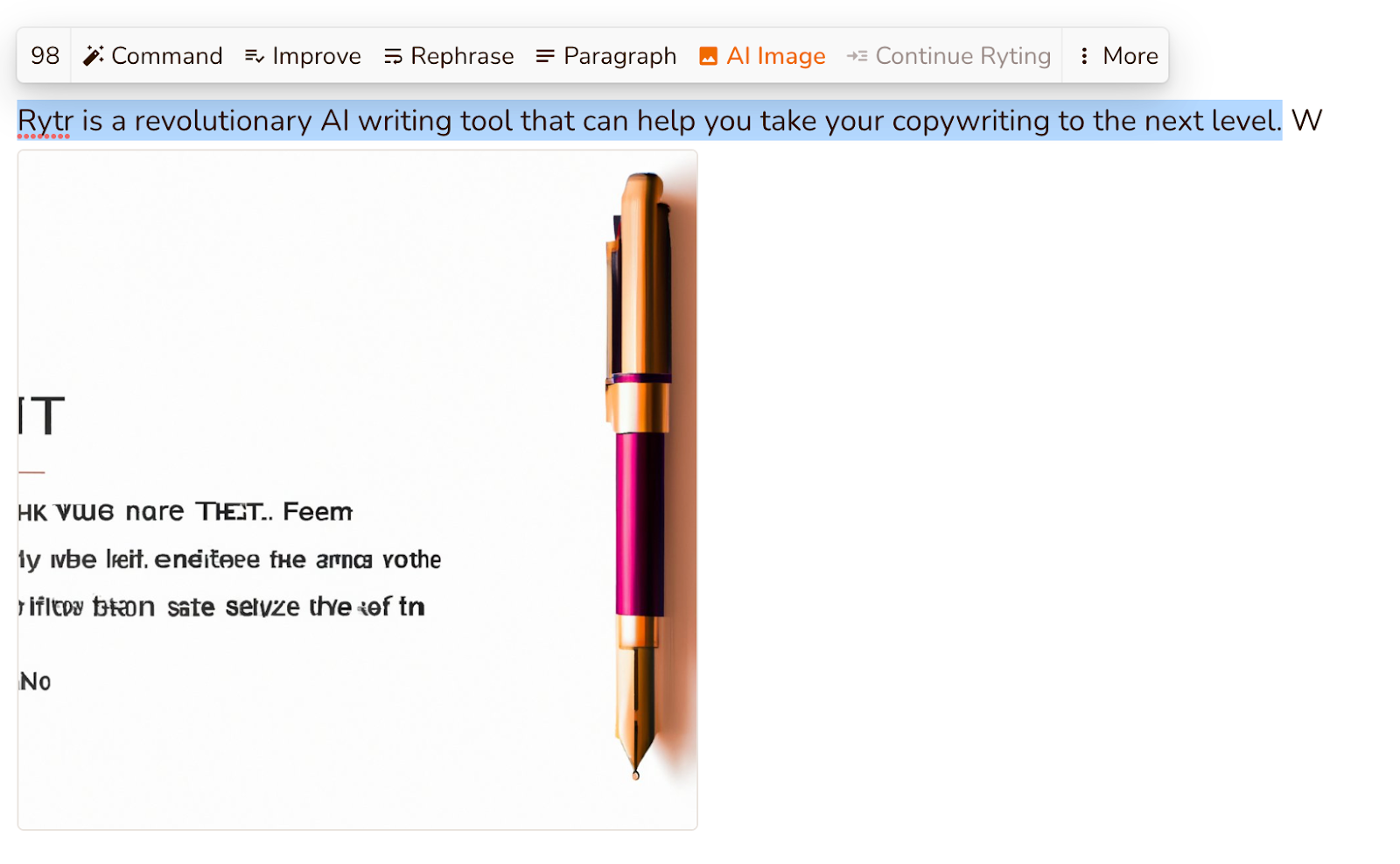 Rytr could improve on the way it inserts images, or make moving images easier. It wasn't clear to me how I could move the image in the document.
With any AI image generation tool, it is best to be incredibly specific with what you want. I prompted Rytr with a more specific prompt and here's what the AI output. We don't know why the pen is in her nose, but we can tell she's thinking. I'll give half a point to Rytr for that one.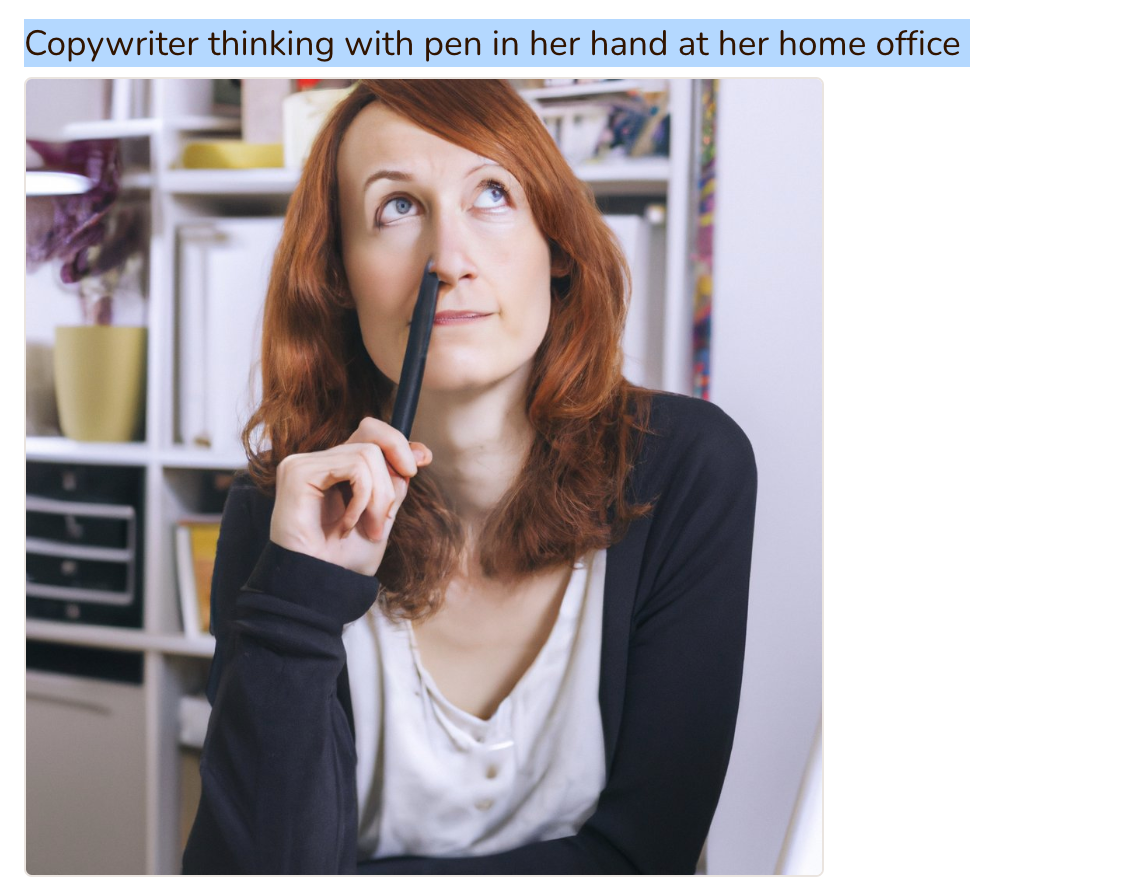 Overall, the Rytr AI Image Generation tool is a lot of fun and valuable, as long as you take the time to be specific with your input.
Pricing Model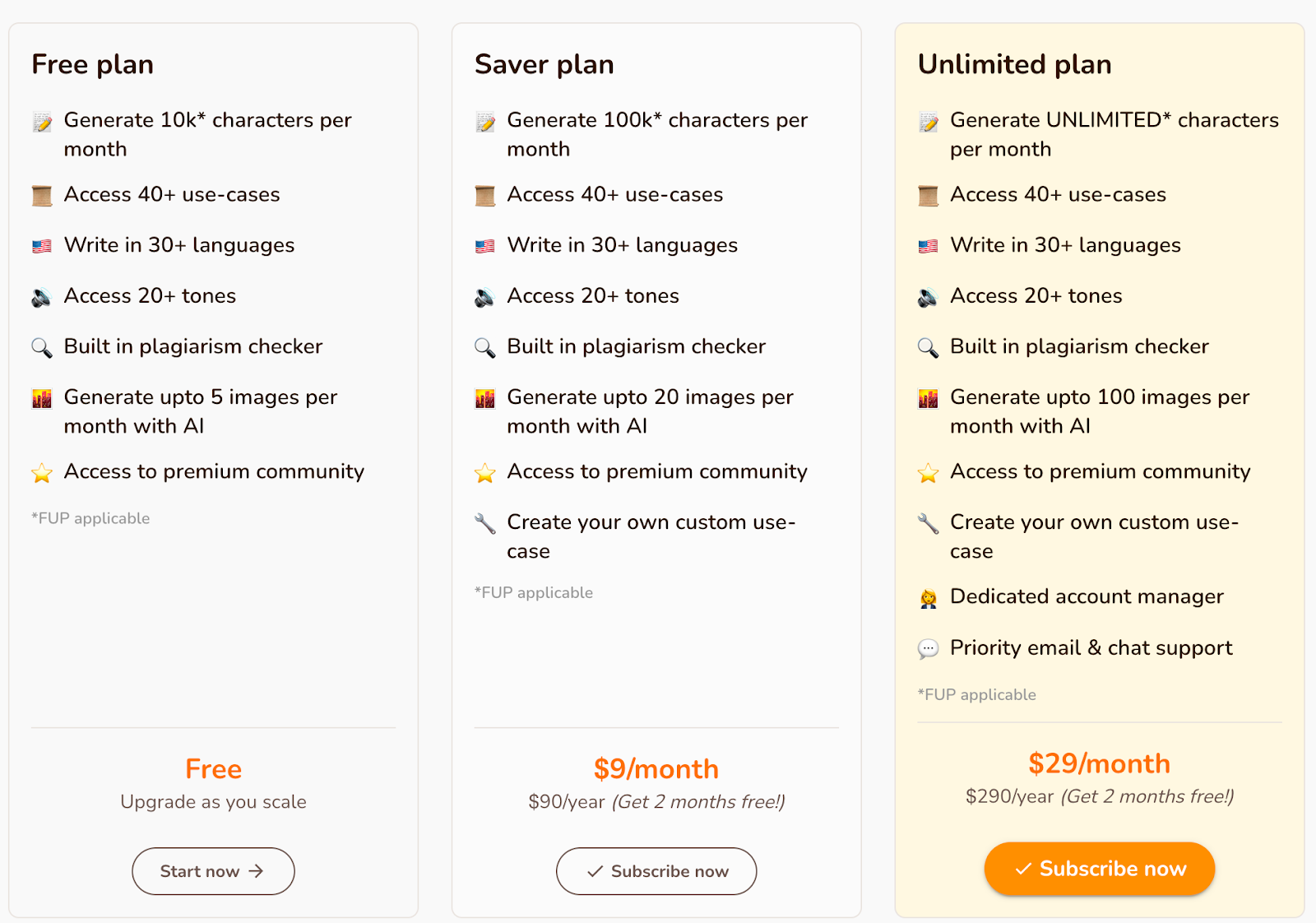 Rytr offers a subscription-based pricing model with three pricing plans to cater to different needs.
The Free plan allows users to generate up to 10k characters per month with access to 40+ use cases, 30+ languages, 20+ tones, a built-in plagiarism checker, and up to 5 AI-generated images per month.
The Saver plan offers more characters (up to 100k per month), up to 20 images per month, the ability to create custom use cases, and it's ideal for individual writers, bloggers, or small businesses.
The Unlimited plan offers the capability to generate unlimited characters, up to 100 AI-generated images per month, the ability to create custom use cases, a dedicated account manager, and priority email and chat support. This plan is best for larger organizations or agencies with higher content needs. Both the Saver and Unlimited plans offer annual subscriptions at a discounted price.
Final Thoughts
Rytr's biggest strength is its advanced AI technology that allows it to generate high-quality content in multiple languages and tones for a wide range of use cases. It's a beginner friendly AI writing assistant that succeeds in providing clear guidance for its users on how to produce the best content.
The platform's AI-powered tools, such as the SERP Analyzer and plagiarism checker, add value to the content creation process by providing users with useful insights into the state of their copy and how it will perform. Additionally, Rytr's pricing model is affordable and scalable, making it an ideal choice for small businesses and individuals looking to generate high-quality content without breaking the bank.
One of Rytr's weaknesses is that, like many AI-powered platforms, the quality of the generated content may not always meet the user's expectations. We saw that with the Continue Ryting tool and AI Image Generation.
The output generated by Rytr may require additional editing and polishing to match the desired tone, style and formatting. It's not a one and done solution. Rytr is best suited for individuals and businesses looking to save time and resources on laying the frameworks for content creation. Rytr has the potential to be one of the best AI writers on the market, and its future is promising.