12 Best Organic Coffee Brands of 2023
The best organic coffee combines robust flavor, sustainable processes, single-origin beans, and a mission to help protect the planet. This is why it is super important to buy organic when you can. You are helping keep the earth healthy and still getting a great cup of joe!
Tasting great coffee starts with a company that understands the process of creating a certified organic bean with robust flavor and various prep options.
What is the best organic coffee?
The best certified organic coffee uses organic fair trade beans and partners with farms that take pride in protecting the environment. They can do this by becoming Rainforest Alliance Certified, not using synthetic fertilizers, being chemical-free and bird-friendly, and prioritizing grown coffee using a sustainable process.
We've looked at many brands with an organic certification that takes coffee farmers that put the earth first – which is why it's essential to buy organic when you can; it's great for the planet and incredible for you.
Lifeboost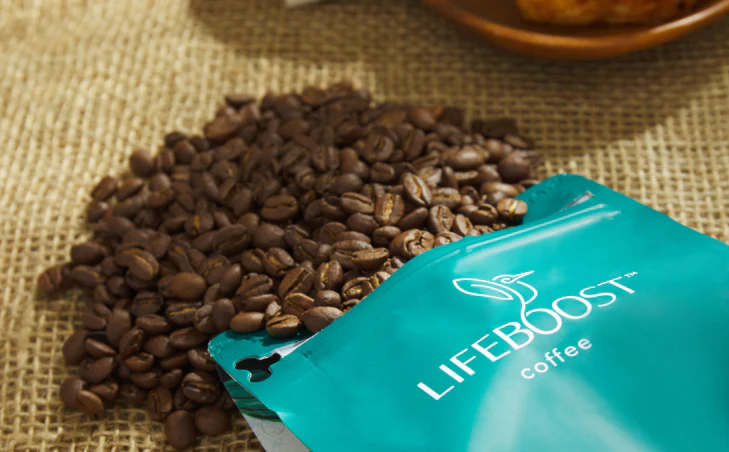 Overview
Lifeboost was co-founded by Dr. Charles Livingston, a Chiropractic Physician. As an expert in nutritional research, he understands that what you put into your body is also what you get out – and coffee should be no different.
Lifeboost created a stomach-friendly coffee bean from a single origin to avoid cross-contamination and give you the cleanest and purest coffee beans.
Pricing
Lifeboost has a variety of coffee beans to choose from, as well as a variety of methods depending on how you prefer your coffee.
Coffee pods: 1 box (10 cups) | 3 boxes (30 cups) | 6 boxes (60 cups) from $14.95 per box – $19.95
Whole bean coffee: 1 bag (12oz) | 3 bags | 6 bags from $22.95 per bag – $27.95
Ground coffee: 1 bag (12 oz) | 3 bags | 6 bags from $22.95 per bag – $27.95
Flavors
Apart from the roast level of your coffee, they have so many additional flavors, and you're sure to find one you fall in love with. Organic coffee doesn't have to be boring.
Amaretto
Birthday Batter
Boston Creme Donut
Caramel Macchiato
Cherry Mocha Truffle
Chocolate Covered Orange
Chocolate Covered Strawberry
Chocolate Macadamia Truffle
Cinnamon Apple Streusel
Creme Brulee
So many more!
Location
Although they are headquartered in Indiana, they source their coffee beans from the top 2% of coffee around the globe, mainly from small farms. Their main goal is to create the purest and cleanest coffee by making it in small batches for order and sourcing their beans from fair trade and the best organic farms.
Volcanica Coffee

Overview
Volcanica Coffee specializes in exotic coffee that started when they made frequent trips back to their home in Costa Rica. They source their coffee beans from mineral-rich soil to ensure the best organic coffee with bold flavor.
They are a family-owned business that has involved family for more than two generations. They take coffee seriously, and you can taste the rich flavor in every cup.
Pricing
They have over 207 products, including coffee beans, accessories, coffee makers, and grinders. With a range of options and prices, they have something for every coffee lover – whether you prefer conventional coffee, french roast, whole beans, dark roast coffee, or light roast – they have something for you.
Nespresso Pods: 10 ct at $9.99
Coffee sample packs: 4 packs | 6 packs | 8 packs from $19.99 – $39.99
Arabica beans: 2-pack (16 oz each) at $38.98
Whole bean coffee: 16 oz | 3 lbs. | 5 lbs. from $18.99 – $124.95
Drip grind coffee: 16 oz | 3 lbs. | 5 lbs. from $18.99 – $124.95
Cold brew coffee beans: 16 oz | 3 lbs. | 5 lbs. from $18.99 – 124.95
Espresso Grind coffee: 16 oz | 3 lbs. | 5lbs. from $18.99 – $124.95
French press coffee beans: 16 oz | 3 lbs. | 5 lbs. from $18.99 – $124.95
Flavors
Volcanica has around 29 organic coffee flavors to suit your coffee mood. Their flavors are organic and fair trade, meaning you get quality coffee and rich flavor in every cup. Among their 29 flavors are:
Bourbon Praline Pie
ButterScotch Toffee
Caramel Chocolate
Caramel Crunch
Chocolate Creme Brulee
Chocolate Raspberry
Cinnalicious
Coconut Cream
Dark Chocolate Decadence
Eggnog
So many more!
Location
Volcanica Coffee has a variety of sources for its coffee beans. Ranging from Africa, Arabia, America, the Caribbean, Indonesia, and other blends. Though the company is headquartered in Georgia, they source its organic coffee from various locations that offer quality coffee with an organic certification.
Death Wish Coffee
Overview
Death Wish Coffee takes being bold and adventurous to heart – and it's the basis of the brand. They started in New York and still have a headquarters there, but they source coffee beans from around Europe.
They understand that you have an agenda to stick to, adventures to take, and life to live – so you do that while they supply the coffee to keep you going.
Pricing
Their organic coffee is a bit more creative and on the darker side of life. They have a bunch of options, from bundles of death cups, as well as whole bean and ground coffee.
Death cups: 10 ct | 20 ct | 50 ct from $15.99 – $59.99
Whole bean: 12 oz (1 bag) | 12 oz (2 bags) | 12 oz (5 bags) from $19.99 – $89.99
Ground coffee: 12 oz (1 bag) | 12 oz (2 bags) | 12 oz (5 bags) from $19.99 – $89.99
Bundles: Ground coffee | whole bean | death cups from $33.99 – $59.99
Instant coffee: 8 packets at 0.17 oz each for $11.99
Flavor
Death Wish has organically grown coffee ranging from medium roast, dark roast, and espresso roast – but they also have a variety of coffee flavors.
Blueberry & Vanilla
Mint Chocolate Whiskey
Vanilla
Pumpkin Chai
Gingerdead
Location
Death Wish Coffee is sourced from USDA Organic and fair trade certified from India, Peru, and other countries throughout South and Central America. They hold their coffee beans to high standards and source their coffee from safe and sustainable farming methods. The brand originated out of Saratoga Springs, New York.
Kicking Horse Coffee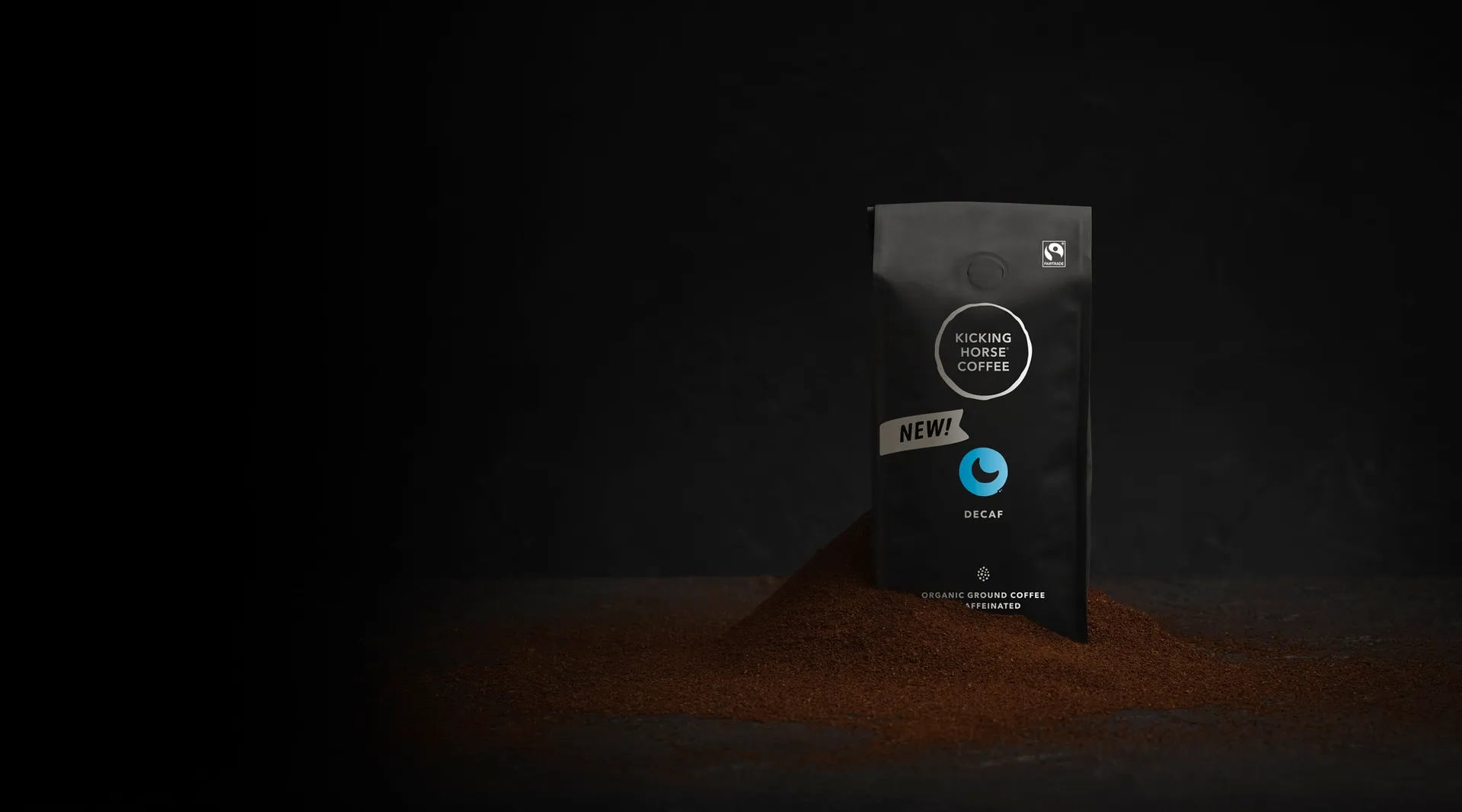 Overview
Kicking Horse Coffee started in the Rocky Mountains and has stayed in the Rockies, except now they brew much more coffee. They take the fun and playful aspect of great coffee to heart, evident in their flavors and the quality of their organic coffee.
When you want organic coffee with a quality recipe, straightforward flavors, and a brand that values being fun and playful – Kicking Horse Coffee is perfect.
Pricing
Their organic coffee is relatively affordable, and you can choose from any flavor of whole-bean coffee of two sizes, any taste of ground coffee or whole-bean espresso.
Whole bean coffee: 10 oz | 2.2 lbs from $11.99 – $29.99
Ground coffee: 10 oz at $11.99
Decaf coffee: 10 oz | 2.2 lbs from $12.99 – $32.99
Whole bean espresso: 2.2 lbs at $29.99
Flavors
Kicking Horse Coffee doesn't have many flavors, unlike the other companies we've looked at. They have the standard dark to light roast range and decaf coffee. Some additional notes included in the coffee range from dark chocolate to fruit and cocoa.
Location
They are located in the middle of the Rocky Mountains. The business started and thrived there, roasting the coffee since the beginning. Their beans are sourced from Mexico, Nicaragua, Honduras, Peru, Ethiopia, Sumatra, and East Timor.
Don Pablo Columbian Gourmet
Overview
Don Pablo Coffee prides itself on fresh organic coffee – because its process would be wasted without being able to bring you that fresh cup you crave in the morning. What started as a business to bring great organic coffee to the world has transformed into a coffee business that thrives on sustainability and brings fresh coffee daily.
Each of their batches is roasted using a small batch roaster to ensure that each is of the highest quality every time.
Pricing
Don Pablo has a variety of coffee beans available, but if we focus on their organic coffee, they still have quite a variety.
Subtle Earth Organic Coffee: 12 oz | 2 lbs | 5 lbs | K-cups (12 ct) | K-cups (84 ct) | Packets (32) 2.5 oz from $12.99 – $52.49

Whole Bean
Drip Coffee
Pour Over
French Press
Espresso
Cold Brew

Subtle Earth Organic Decaf Coffee: 12 oz | 2 lbs | 5 lbs | K-cups (12 ct) | K-cups (84 ct) | Packets (32) 2.5 oz from $13.49 – $49.99

Whole Bean
Drip Coffee
Pour Over
French Press
Espresso
ColdBrew

Pablo's Pride Organic Dark Roast Coffee: 12 oz | 2 lbs from $12.99 – $22.99

Whole Bean
Drip Coffee
Pour Over
Press
Espresso
ColdBrew

CharBeanz Dark Roast Coffee: 12 oz | 2 lbs from $12.99 – $22.99

Whole Bean
Drip Coffee
Pour Over
Press
Espresso
ColdBrew
Flavors
They have various flavors of non-organic coffee, but their organic coffee ranges from light to dark roast.
Location
The story of Don Pablo started in Florida after a visit to Columbia – to see family. It blossomed into a coffee brand that provides organic and sustainable coffee for people all over. They source their coffee from Brazil, Columbia, Costa Rica, Cuba, Ethiopia, Guatemala, Honduras, Kenya, and Sumatra.
Peet's Coffee

Overview
Peets Coffee has a variety of cafes and coffee bars around the United States that provide Peet's coffee in a cafe setting. However, they have at-home coffee available for you to order from their website, so you can still enjoy a delicious cup of robust coffee anywhere.
They currently have around 331 cafe and coffee bar locations serving made-to-order Peet's coffee, primarily in California around San Fransisco and Los Angeles.
Pricing
Peet's Coffee has six organic coffee varieties you can order from their website. They have various other flavors and roasts, but their organic coffee is slightly more limited.
Whole bean: 1 lb at $20.95
Drip coffee: 1 lb at $20.95
Press: 1 lb at $20.95
K-Cup: 10 ct at $9.99 per box
Organic bundle: 3 bags (1 lb each) at $62.85
Flavors
As far as their organic coffee goes, they have six varieties, each with a unique flavor profile. Their non-organic coffee has much more variety in flavor.
Apricot, toasted almond, milk chocolate
Dark chocolate, smoke, burnt sugar
Dulce de Leche, cocoa, floral
Blossom, earth, cacao
Sweet citrus, bittersweet chocolate, toasted nut
Location
Peet's began in Berkley, California, and they continue to thrive there with cafes all over the United States. However, their at-home coffee is sourced from Europe, North and South America, Africa, and Asia. The business aims to provide sustainable, flavorful, robust, and organic coffee to those around the globe by partnering with various farmers and paying for their verification.
Gimmie! Coffee
Overview
Gimmie! Coffee is both an organic coffee wholesaler and a cafe where you can sit down and have a coffee with a friend or coworker. Whether you prefer medium dark or light roast coffee, they have a flavor you'll surely fall in love with and still feel great about drinking fair trade and USDA organic coffee.
You can stop into one of their cafe locations or order directly from their website to find the perfect cup of coffee.
Pricing
They have several organic and fair-trade coffee options, including different flavors and brewing methods.
Whole: 12 oz at $14.00 – $23.00 | 5 lbs at $127.00

Coldbrew
Press
Flat bottom filter
Cone filter | Clever | Chemex
Home espresso | aeropress
Turkish
Flavors
Gimmie! Coffee has some of the more unique flavors we've seen than other brands. They are elaborate flavor profiles that combine a few different blends.
Raspberry drizzled in honey
Cherry cola syrup
Bittersweet chocolate, cherry pie
Apricot and pink currant jam
Bittersweet chocolate, caramel
Apricot, Chocolate
Butterscotch, chocolate mousse
Maple candy
Candied lime
Candied almonds
Milk chocolate, almond
Sweet honeycomb, clementine
Sugar cane, clover honey
Dark chocolate, cherry
Bittersweet cocoa nibs
Peanut and cashew brittle
Dark cherry, almond butter
Chocolate cherry cream pie
Dark chocolate, toasted nuts
Location
They are headquartered in New York and get their roasted coffee from Africa, the Americas, and Asia. They have several physical cafe locations where you can taste the coffee roasters and the flavor packed into each cup.
Tiny Footprint Coffee
Overview
Tiny Footprint Coffee takes the entire process of coffee from start to finish very seriously – they roast in small batches and train their baristas to make the perfect cup of coffee every time.
Often, the best coffee doesn't need anything special – it can be simple, robust, and flavorful.
Pricing
Tiny Footprint Coffee has a wide range of sizes and types. You're sure to find something that fits your routine and your flavor palette – all their coffee is fair trade and USDA organic, so you know that every cup of coffee you get is chemical-free.
1 lb | 3 lbs | 5 lbs | from $13.95 – $ 93.00

Whole
Espresso
Fine
Drip
Cold press
Flavors
They like to keep it quite simple with their flavors and stick to light, medium, and dark roast profiles. So if you're the type of coffee drinker that likes a simple cup with some cream and sugar – Tiny Footprint Coffee offers the perfect variety.
Location
Their headquarters are based in Minnesota, yet they source their coffee from various locations such as Mexico, Honduras, Ethiopia, Ecuador, Congo, Guatemala, Peru, Sumatra, Nicaragua, and Colombia.
Stone Street Coffee
Overview
Stone Street Coffee prides itself on providing artisanal-quality coffee to its customers; this includes where it is sourced from and how it is roasted. The coffee is roasted in small batches, but their machinery and expertise allow them to produce products for customers of all sizes.
They also take customer service and satisfaction very seriously – always attempting to provide top-notch coffee and service.
Pricing
What I love about Stone Street Coffee is that they are very straightforward with their pricing structure and the variety of products they offer their customers.
Instant coffee: 10 ct $5.99
Coldbrew pitcher packs: 4-pack (2.26 oz) at $10.99
16 oz | 2 lbs | 5 lbs from $15.00 – 67.50

Whole
Course grind
Medium grind
Fine grind

Specialty blends: 16 oz | 2 lbs | 5 lbs from $18.50 – $83.25

Whole
Course grind
Medium grind
Fine grind
Flavors
They make up in flavors what they lack in a variety of products themselves; they have a ton of flavors to choose from, starting with standard coffee flavors and blends to more creative and unique combinations. that you don't often see with other organic coffee brands.
Hazelnut supreme
Southern pecan
Cinnamon swirl
Blueberry cobbler
French Vanilla
Chocolate hazelnut
Pumpkin spice
Caramel nut
Creme brulee
Vanilla hazelnut
Chocolate Indulgence
Hazelnut supreme
Southern pecan
Coconut
Irish cream
Chocolate raspberry truffle
Dulce de leche
Gingerbread
and more!
Location
Based in New York, they continue to provide some of the best organic coffee worldwide. Still, they also source their coffee from Central America, South America, Africa, and Asia.
Jo Organic Coffee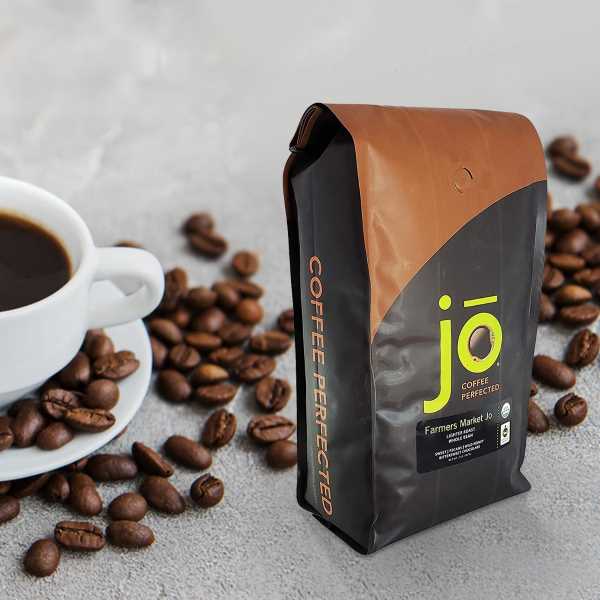 Overview
Jo Organic Coffee strives to provide customers with outstanding coffee products using organic and fair trade processes and coffee beans – without sacrificing quality and flavor. Their organic beans are sourced from around the planet, so you can rest assured that each ingredient is grown without synthetic fertilizers, making it better for you.
They are also certified in the Swiss water process and certified organic – so Jo Organic Coffee is great for you and the planet.
Pricing
You can buy Jo Organic Coffee standard or in bulk with cases and cartons. You can get a sampler K-cup set of four to test the flavors and blends.
12 oz | 2 lbs | 6 (12 oz) | 6 (2 lbs) | K-cups (24 ct) from $13.49 – $145.99

Ground
Whole
Keurig
Nespresso
Espresso
Drip
Cold brew
Flavors
Their blends and flavors are all incredibly unique – they have a variety of "Jo's" to choose from, and they're all creatively named based on the type of roast – medium, medium-dark, or dark roast.
Columbia Jo
Farmer's Market Jo
Morning Jo
Tree Hugger Jo
New York Jo
Jo Espresso
No Fun Jo
Jo Sumatra
Smooth Jo
Stone Cold Jo
Wild Jo
Cold Brew Jo
Location
The Jo Organic headquarters is located in Minnesota, and its ingredients are sourced from various fair trade and USDA-certified organic farms. They are huge on sustainability and want to make sure that every bag of coffee they roast is good for the planet and makes you feel good about drinking Jo.
Java Planet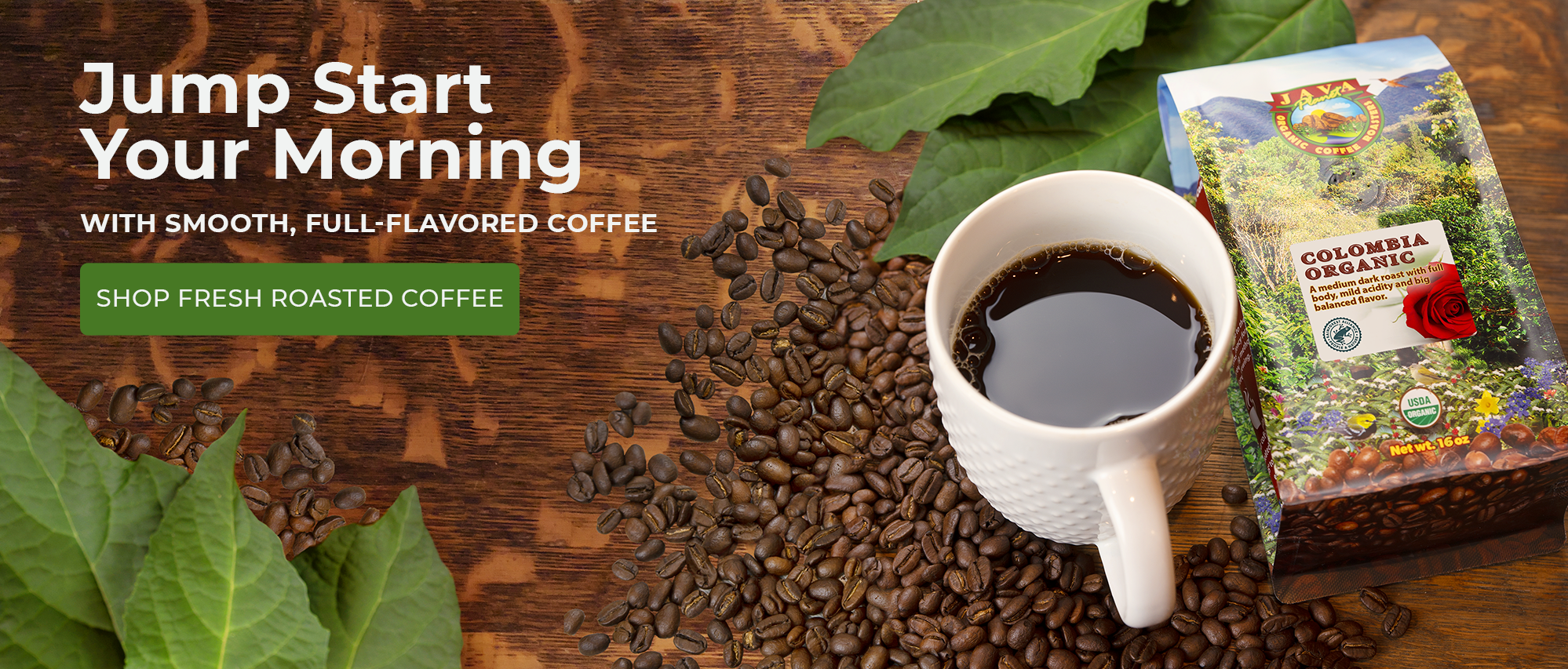 Overview
Java Planet Coffee was founded by Jennifer and Mike Simmons in 2009. They wanted to fuel their passion for a great cup of joe and turn it into a business that would bring organically grown coffee to you.
They also source their coffee beans from Rainforest Alliance Certified farms, meaning they follow specific tree coverage and height requirements and protect birds and other wildlife.
Pricing
All their blends and flavors are offered in either 1 lb or 5 lb bags. The price ranges from the type of coffee and the way it is prepared.
1 lb | 5 lbs from $17.99 – $87.25

Whole
Ground course
Ground drip
Espresso grind
Coldbrew grind
Flavors
Java Planet Coffee keeps it simple with its flavors, but its coffee is still one of the best organic coffee brands around.
Chocolate almond
Cinnamon Vanilla
CocoHaze
Pumpkin Spice (seasonal)
Location
Located primarily out of Tampa, Florida, as a family-owned business, they've been sourcing and providing outstanding organic coffee to customers since 2009. They source their coffee from Columbia, Sumatra, Guatemala, Peru, Costa Rica, and Ethiopia.
Camano Island Roasters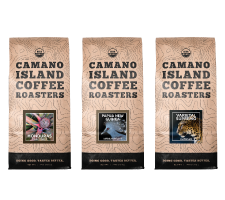 Overview
Camano Island Coffee Roasters puts ethical roasting and growth first, meaning you always get the best cup of organic coffee. They make it a point to source their beans from sustainable farms and practices.
Their flavor profiles are simple yet robust, with various prep methods to choose from.
Pricing
Camano Island Coffee Roasters is affordable, considering other companies we've discussed. Their pricing ranges from 1 lb to 2 lb bags of coffee with various flavor profiles and roasts.
1 lb | 2 lbs from $22.99 – $44.99

Drip cone
Drip flat
Espresso #1
Espresso #2
Press
Keurig grind
Percolator
Turkish
Universal grind
Whole
Flavors
They don't have many unique flavor options besides the traditional flavor profiles and the different roasting levels. That being said, their flavor notes do vary.
Honey and milk chocolate
Molasses and mixed berry
Almond, honey, and cocoa
Molasses, brown sugar, and cinnamon
Licorice, hazelnut, and praline
and more!
Location
Their organic beans are sourced from around the world from Southeast Asia, South American, Central America, and Africa. Based and headquartered in Washington, they strive to provide organic and sustainable coffee to customers worldwide. They sell individually as well as wholesale.
What is organic coffee?
Organic refers to the way that the beans are prepped. This includes farms that are growing and prepping the plants in a bird-friendly, sustainable way and can even be grown by a Rainforest Alliance Certified farm, which is an even higher authentication for organic beans.
Final Thoughts
Single-origin and shade-grown coffee with an organic label is incredible for the planet and makes you feel good when you're having your breakfast blend early in the morning. You can feel good about drinking your coffee knowing it's organic and grown sustainably to help protect the earth.
Each brand we covered offers standard whole beans, single-origin beans, organic decaf, traditional roasts, and Swiss water-process coffee. So many incredible brands provide outstanding coffee while putting the planet first – which makes you feel good to buy organic, whether it be tea, clothing, or other food and beverages.