13 Best Organic Teas of 2023
The best organic tea varies depending on what blends and types you prefer. However, these brands are outstanding at positively impacting the environment while creating a product that will benefit your health and well-being.
Each of these brands is working towards a mission that protects the environment, uses ingredients sourced ethically, and follows fair-trade practices while making a fantastic product.
What are the best organic teas?
The best organic teas depend on your price range, drinking style preference, and flavor choices. We'll go into all of that below.
Arbor Teas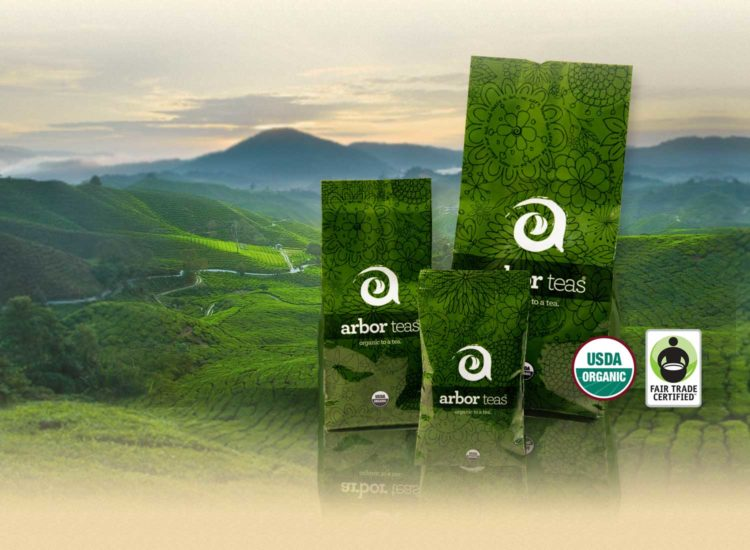 Overview
Arbor Teas is an organic and fair trade tea company that focuses on sustainable business practices such as ensuring all their organic tea products are USDA-certified organic and fair trade certified in compostable packaging.
Join Renaissance Rachel's holiday giveaway!
1st Prize: $300, 2nd Prize: $75, 3rd Prize: $25
They are a family-owned business based in Ann Arbor, Michigan, and truly understand the power that a small-scale business of like-minded people who value certified organic tea and the health benefits it brings. The business is rooted in organic, loose-leaf teas that maintain a positive environmental impact with eco-friendly practices and packaging.
Price
Arbor Teas offers dependable pricing that will not change based on customer data, and they do not offer flash sales – meaning they always have pricing you can depend on for their organic and fair trade tea.
Sample: 6 servings at $3.00
Regular: 2.5oz, 31 servings at $9.50
Bulk: 8oz, 100 servings at $19.00
Blends
They have many flavors and blends to find your perfect cup of tea. Blends include green tea, iced tea, herbal, white tea, and more.
Earl Grey Black Tea
Sencha Green Tea
Lapsang Souchong Black Tea
Japan Pu Erh
Raw Pu-erh
Ginger Chili
Yaupon Lemongrass
Chaga Chicory
Location
All organic tea sold by Arbor Teas is USDA-certified organic loose-leaf tea sourced from the United States, India, Africa, China, Japan, Korea, Nepal, South America, Sri Lanka, and Vietnam.
Tielka Tea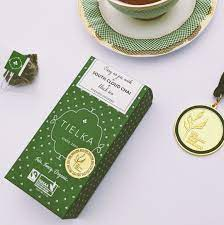 Overview
Tielka Tea was created after Rebecca Domorev, co-founder, visited her friend's cafe in Poland. She was stunned by the culture and the tea varieties and wanted to take them home. There was an overwhelming response from the people Rebecca confided in that their love of tea was forgotten among the espresso and coffee monopolies.
Tielka released their first line of loose-leaf teas that were fair trade and organic certified in 2009 – and the rest is history. They continue to provide outstanding organic and fair-trade tea to the world.
Price
Tielka Tea has a variety of sizes for all its blend offerings. In addition to their loose-leaf tea tin options, they have an organic tea sampler box and a pouch to determine which blend you like best.
Organic tea sampler box: 21pc | 48g | 1.69oz at $17.00
Organic tea sampler pouch: 7pc | 16g | 0.56oz at $7.00
Loose leaf tin: 40 – 70 servings at $18.00
Loose leaf tin: 70 – 80 servings at $24.00
Tea bags: 25pc at $17.00
Loose leaf refill pouch: 80 servings from $15.00 – $22.00
Loose leaf refill pouch: 25pc at $14.00
Blends
They have 17 blends to choose from. Some are traditional tea blends, while others are unique flavors.
Black Tea – 5 varieties
Green Tea – 3 varieties
Herbal Tea – 6 varieties
Oolong Tea
White Tea
Location
Tielka Tea is based in Australia but sources its teas from around the globe. They are family-owned and are organic and fair trade certified. They take pride is being Australia's most awarded organic tea company.
The Art of Tea
Overview
The Art of Tea is one of the world's leading organic tea brands for fair-trade and organic tea. They are passionate about sourcing blends from cultures and environments worldwide to bring them to you.
They source from the top 2% of all teas produced worldwide, so quality and organic are their top priorities regarding how their tea is sourced.
Price
The Art of Tea has over 242 products with a wide variety of flavors – whether you like black, green, white, or ice tea, or even loose-leaf or tea bags, they have something for you.
Loose leaf tea tins: 3oz | 2.5oz | 40z | 1lb from $221.00 (1lb) – $15.oo
Tea bags: 12ct | 50ct from $18.00 – $48.00
Tea bundles: from $33.00 – $40.00
Black tea sampler set: $41.00
Ice tea pouches: 2qt at $11.00
Blends
With over 242 tea products on their website, the flavors and blends are endless, but they have the basics and some out-there flavors like crème brûlée.
Black tea- 56 varieties
Green Tea – 59 varieties
Matcha – 5 varieties
Chai
White Tea – 5 varieties
Art of Tea Blends
Location
They are based out of Los Angeles, California but are a tea importer and wholesaler who source tea blends from all over the globe. Each year Art of Tea travels and brings back unique and exotic tea blends from all over – to bring them directly to you.
Numi Organic Tea
Overview
Numi Organic Tea was founded by Ahmed Rahim and Reem Hassani in 1999. They take pride in the organic tea they source and the benefits of organic tea.
They strive to be a zero-waste company without synthetic ingredients – so you can count on their tea being free of non-organic ingredients.
Price
Numi has a range of eco-friendly tea leaves and traditional medicinals that are all certified organic, and some are specialized for health benefits.
Loose leaf tea: 16oz at $29.99
Organic tea bags: 16ct box | 6 from $7.99 – $41.94
Bulk tea bags: 100ct | 12 x (18ct) | 6 x(18ct) | 18ct from $7.99 to $80.88
Flowering tea: set (teapot & tea) | 5 blossoms & teapot from $36.99 to $141.99
Blends
They have 12 different blends to choose from, and all of them stay true to Numi's certified organic pledge
Black tea: 9 varieties
Green Tea: 11 varieties
Pu-erh Tea: 4 varieties
Turmeric Tea: 4 varieties
White Tea: 2 varieties
Chocolate Tea: 2 varieties
Matcha: 2 varieties
Oolong Tea
Seasonal Tea: 4 varieties
Herbal Teas: 10 varieties
Location
Numi Organic Tea was originally founded and is based out of Oakland, California. The company continuously advocates for programs and policies that positively impact the world, and its fair-trade certified organic tea takes that one step further.
Equal Exchange
Overview
Equal Exchange is a co-op-owned organic tea brand that specializes in tea production that is balanced, fair-trade certified, and shipped with sustainable, eco-friendly packaging
They routinely partner with farmer cooperatives to grow their natural, plant-based tea without GMO ingredients.
Price
Equal Exchange has a variety of natural teas of the highest quality ingredients. Whether you're looking for a tea bag or loose-leaf tea, you will find one within your price range.
Loose leaf tea: 250g from $14.00 – $25.00
Tea bags: 6-pack at $19.80
Blends
Equal Exchange's tea comes in various flavors, including caffeine-free and the most popular flavors
Black tea: 13 varieties
Green tea: 3 varieties
Herbal tea: 6 varieties
Caffeine-free: 7 varieties
Kosher tea: 16 varieties
Location
The tea brand was founded in New England when the three founders met. Still, in 1986 they started to take a risk and import fairly traded coffee from Nicaragua – which led to the Equal Exchange becoming an organically grown and fairly traded, sustainable brand.
Traditional Medicinals
Overview
Traditional Medicinals: when an herbalist met an environmental activist back in the 60s – together they created Traditional Medicinals with the purpose of creating a positive impact on the world.
In addition to their standard business purpose, they founded the Traditional Medicinals Foundation, which focuses on community-led initiatives.
Price
Traditional medicinals has a range of tea products and other goods in the health and wellness category – their prices range depending on the blend of tea you're looking for.
1 box (16 tea bags): $5.99
3-pack(3 x 16 tea bags): $16.72
6-pack (6 x 16 tea bags): $31.44
Blends
They have over 69 tea products on their website – these range from various uses and purposes from calming, women's health, immunity, and more.
Black tea
Lavender tea
Chai
Dandelion
Lemon
Fennel
Ginger Tea
and more!
Location
Traditional Medicinals started out in Sanoma County, California, and are still based there. They continuously source their tea blends and resources from around the world, providing fair-trade products and FairWild products to tea lovers everywhere.
Mighty Leaf
Overview
Mighty Leaf started out as a small Tea & Company store and has blossomed into the Mighty Leaf brand we know today. Since then, they have joined Peets Coffee & Tea and they decided to join Peet's Coffee & Tea because of their dedication to quality.
Their tea blends are sourced from the finest ingredients and always lead to organic tea that everyone can enjoy.
Price
The nice thing about Mighty Leaf is they offer a pretty standard range of fair-trade and organic tea
Tea bags: 1 box (15 pouches) | 1 box (12 pouches) | Tea Samplers (3 x 15 pouches) | 100 pouches | Presentation boxes from $11.00 – $74.00
Loose leaf: 1.5oz | 3oz | 3.5oz | 4oz from $15.00 – $37.00
Iced: 10 pouches from $19.00 – $21.00
Blends
Mighty Leaf has a variety of blends and choices. Whether you're looking for loose-leaf, bags, or iced – Mighty Leaf has a flavor you'll surely enjoy!
Black tea
Green tea
Matcha tea
Herbal tea
White tea
Oolong tea
Location
The two founders moved from Chicago, Illinois, to San Francisco, California, and have been there since, still providing outstanding herbal and organic tea. Mighty Tea has grown a lot over the years and now provides products at all major grocery stores and even on Amazon.
Teatulia
Overview
Teatulia strives to be a brand that brings you quality and ethical tea production that also helps the planet and brings forth positive environmental impacts.
What started as a Denver-based company has blossomed into a garden-to-table tea brand focused on organic practices.
Price
Teatulia offers a variety of products ranging from tea bags canned iced tea, and other products to fit into your beverage preference.
Square paper tea bags: $6.99 – $7.99
Pyramid paper tea bags: $8.99
Canned iced tea: $29.95
Pyramid bags: 50 ct at $21.95
Blends
From your standard tea blends to more uncommon ones, including canned iced tea, they have a lot of variety and some of the best organic tea.
Black tea
Green tea
Chai tea
Oolong tea
Chamomile tea
White tea
Lemongrass tea
Mint
Earl Gray
Location
They are based out of Denver but have their own organic tea garden in Bangladesh, and the tea comes right from their garden to your cup – meaning it's fresh and still some of the best USDA-certified organic tea.
Little Red Cup Tea
Overview
Little Red Cup Tea Company only provides organically grown and fair-trade, whole-leaf teas – meaning you don't get any synthetic blends; it is all-natural and made with high-quality ingredients.
To cut down on packaging, they use Tin packages to reduce negative environmental impacts and use less plastic – contributing to a healthy world.
Price
Little Red Cup Tea Company only provides organic loose-leaf teas with a range in size based on the particular blend.
Loose leaf: 1 oz | 1.75 oz | 2.25 oz | 3.5 oz | 4 oz | 4.25 oz | 16 oz from $13.75 – $75.00
Blends
They have some standard and common tea blends that are standard and true to the tea tradition.
Black tea
Green tea
Oolong tea
White tea
Herbal tea
Pu'er tea
Location
Based out of Brunswick, Maine, Little Red Cup Tea Company is a family-owned organic tea brand that took inspiration from living in Bejing for several years – coupling traditional tea blends and organic practices.
Stash Organics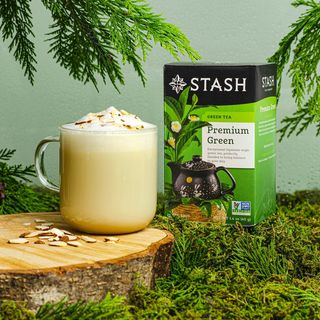 Overview
Stash Organics is a B-corp organic tea brand offering sustainable and natural tea with many health benefits and caffeine-free options.
They started with a mission to create tea euphoria, but that mission hasn't changed – with a new brand look and the same purpose, Stash Organics is providing the globe with organic teas.
Price
The price for tea varies depending on the blend you choose and the amount you purchase. There are several blend choices – whether you're looking for iced tea, loose leaf, or tea bags – there is something for everyone.
Tea bags: 18 ct | 20 ct at $3.95 – $5.95
Loose Leaf: 100g loose tea at $7.95 – $21.95, depending on the blend
Blends
Stash Organics has over 150 types of tea, ranging from ordinary types with unique flavors and blends to completely Stash-specific blends.
Black tea – 56 varieties
Green tea – 24 varieties
Decaf tea – 10 varieties
Herbal tea -42 varieties
Honeybush tea
Oolong tea – 4 varieties
Pur-erh tea
Rooibos tea – 4 varieties
White tea – 4 varieties
Location
Started in Portland, Oregon, by "two hippies" who wanted to create tea euphoria – Stash Organics is still based in Portland as a B-corp with a serious dedication to unique flavors and original recipes.
Yogi Teas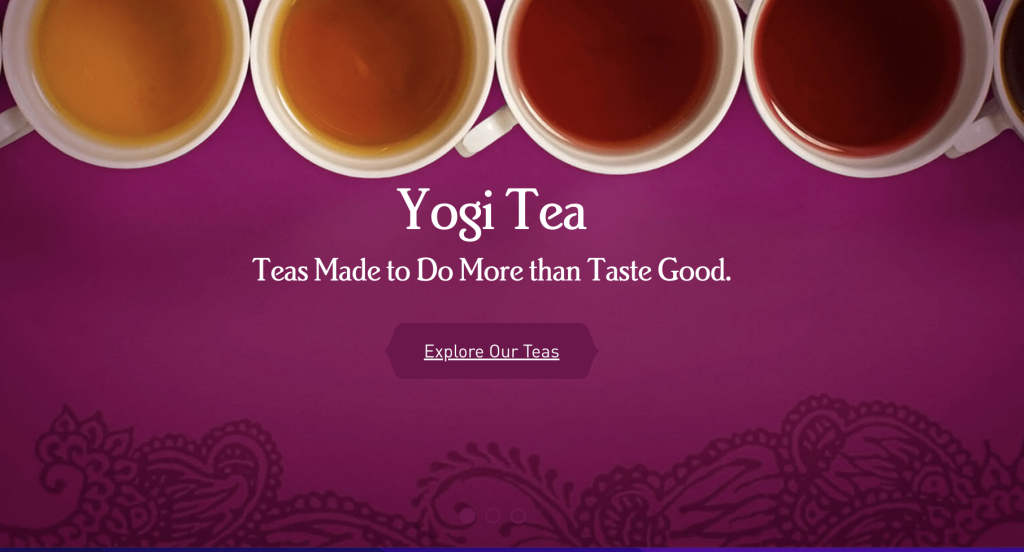 Overview
Yogi Teas is an incredibly popular tea brand found in all popular grocery stores, online at Amazon, and in many organic stores.
Yogi Teas also has incredible missions and has started various foundations and projects to help protect the environment and positively impact those around the world.
Price
Due to Yogi Teas being an international brand, their pricing varies depending on where you purchase them.
Local grocery stores: $4.95 – $25.98
Amazon: $14.99 – $24.00
Blends
From seasonal, health-benefit, and traditional flavors, Yogi Teas has a ton of blends and flavors that will make any tea lover happy.
Black tea – 5 varieties
Green tea – 16 varieties
Chai – 8 varieties
Herbal tea – 43 varieties
Pu-erh tea
Caffeine-free – 34 varieties
Location
They are rooted worldwide, and their primary mission and purpose are rooted in the practice of Ayurveda from India. They have headquarters in several locations but source their ingredients and tea leaves worldwide.
Pique Teas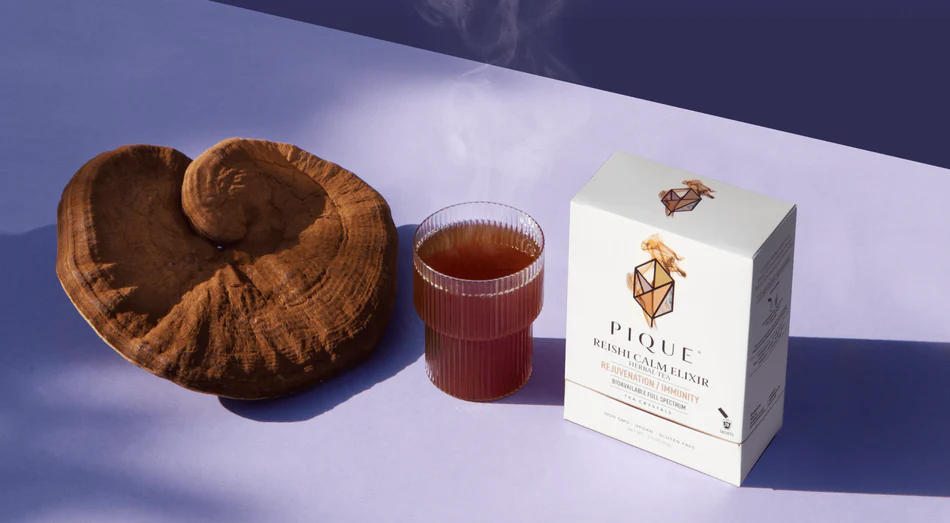 Overview
Pique Teas wants to take health to the next level by creating doctor-approved solutions to health from head to toe. Their teas are specifically created with unique ingredients to target particular health areas.
They source their ingredients and tea leaves from the most biodiverse and ecological destinations worldwide.
Price
Their teas are a bit pricey due to their unique and exclusive ingredients.
All tea blends: 14 servings | 28 servings | 84 servings | 112 servings from $16.00 – $108.80
Blends
Their teas are crafted with specific health areas in mind, so they have a limited number of tea types but a ton of blend varieties within these categories.
Black tea
Green tea
Herbal tea
Mushroom tea
White tea
Location
The founder is from Hong Kong and took tradition, culture, and his family experience with tea to create Pique and all it stands for. Their ingredients are sourced from all over the world.
Pukka Organic Tea
Overview
Pukka shares the single mission to create teas from real and genuine herbs (the meaning of the term Pukka). Tim and Sebastian work together to create unique tea blends to provide sustainably-made products.
Price
Their teas and other products can be found at select local supermarkets or online at Amazon. Their price varies depending on the location and vendor.
Average range: from $8.39 – $29.99
Blends
Pukka is unique in adding additional herbs to its list of tea blends, apart from the standard blends for black, green, white, chai, and more.
Ashwagandha
Tumeric
Ginger
Matcha
Licorice Root
Lavender
Valerian Root
Mint
Elderberry
Hemp
Mushroom
Sweet Fennel
Oat Flower
Nettle
Shatavari
Location
Pukka's story started in Vermont when Tim and Sebastian met and shared their dream of herbs and healing. Their ingredients are sourced from over the world.
What is organic tea?
Organic tea is produced using organic products and ingredients – ones that are non-GMO and are not made with the use of synthetic ingredients.
This type of tea can include a variety of flavors, and is simply created using environmentally-friendly practices and organically grown ingredients.
What is fair trade tea?
Fairtrade tea is organic and sourced ethically – meaning there is no exploitation of resources. These companies' price for resources and ingredients is ethical and fair.
This vastly differs from other companies that exploit those in other countries where they source their ingredients. It's a much better way to buy products when you know they are of fair-trade origin.
Final Thoughts
There are so many organic tea brands out there that stand for a good cause and help to save the planet while providing you with outstanding products. We've covered a few with an affordable price range, high-quality ingredients, and an incredible story.
No matter what way you prefer your tea – loose leaf, tea bags, iced tea – or the type of tea you like – black, green, white, herbal, caffeine-free there is something for you within these outstanding brands specializing in fair-trade and organic tea.
Their missions and purposes are phenomenal, and they emphasize the impact their policies and practices have on the environment. There are many more organic options to integrate into your daily routines, such as organic snacks, meat, and other beverages.