5 Best AI Real Estate Tools of 2023
Technological advancements are taking over the world and it's the era of AI. The power of AI opens up a whole new world of possibilities and efficiency. With that being said the real estate market is no exception. These AI tools, like your trusted sidekicks, can help you navigate property listings, market analyses, and customer behavior and interactions.
Real estate professionals and enthusiasts can take full advantage of these amazing tools by which they can analyze data, streamline processes and provide an exceptional customer experience. This information about market trends will eventually give you the foresight to make informed decisions. These amazing tools can definitely help you skyrocket your success regardless of your level of experience or industry reputation.
In this article, we are going to show you the top real estate tools that can give you unbelievable virtual property tours, property valuations, market analysis, and much more.
What are the best AI real estate tools?
We have compiled a list of the best AI real estate tools, each with a comprehensive set of capabilities to streamline operations and optimize decision-making.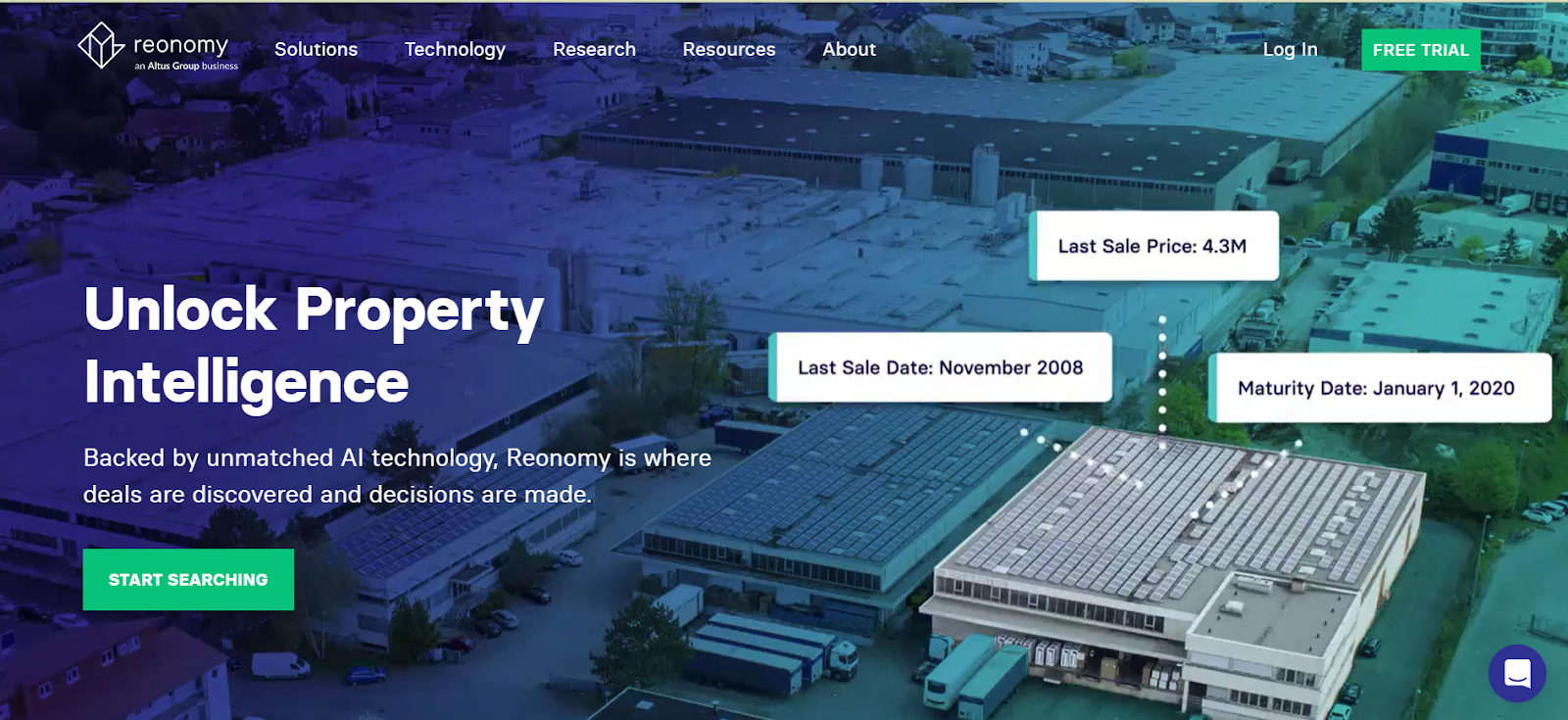 Overview
Designed for commercial real estate professionals, Reonomy is an advanced property intelligence platform. Here you can find comprehensive data and analytics to gain insights into properties, ownership information, and market trends.
Highlights
Data Aggregation: Reonomy collects and organizes data from a variety of sources, including public records, property tax records, deed transactions, and proprietary databases. This massive data set includes information on millions of business properties across the United States.
Property Intelligence: Reonomy provides specific property information such as property attributes, ownership history, sales history, zoning information, and legal papers. This enables you to conduct in-depth property research and due diligence.
Integration and APIs: Reonomy provides integration options and APIs to users, allowing you to combine its data and insights into your own systems and workflows, increasing efficiency and productivity.
Ownership Information: You can access ownership details such as property owner names, contact information, and portfolio analysis through Reonomy. This is advantageous for prospecting, lead generation, and relationship building with property owners.
Pricing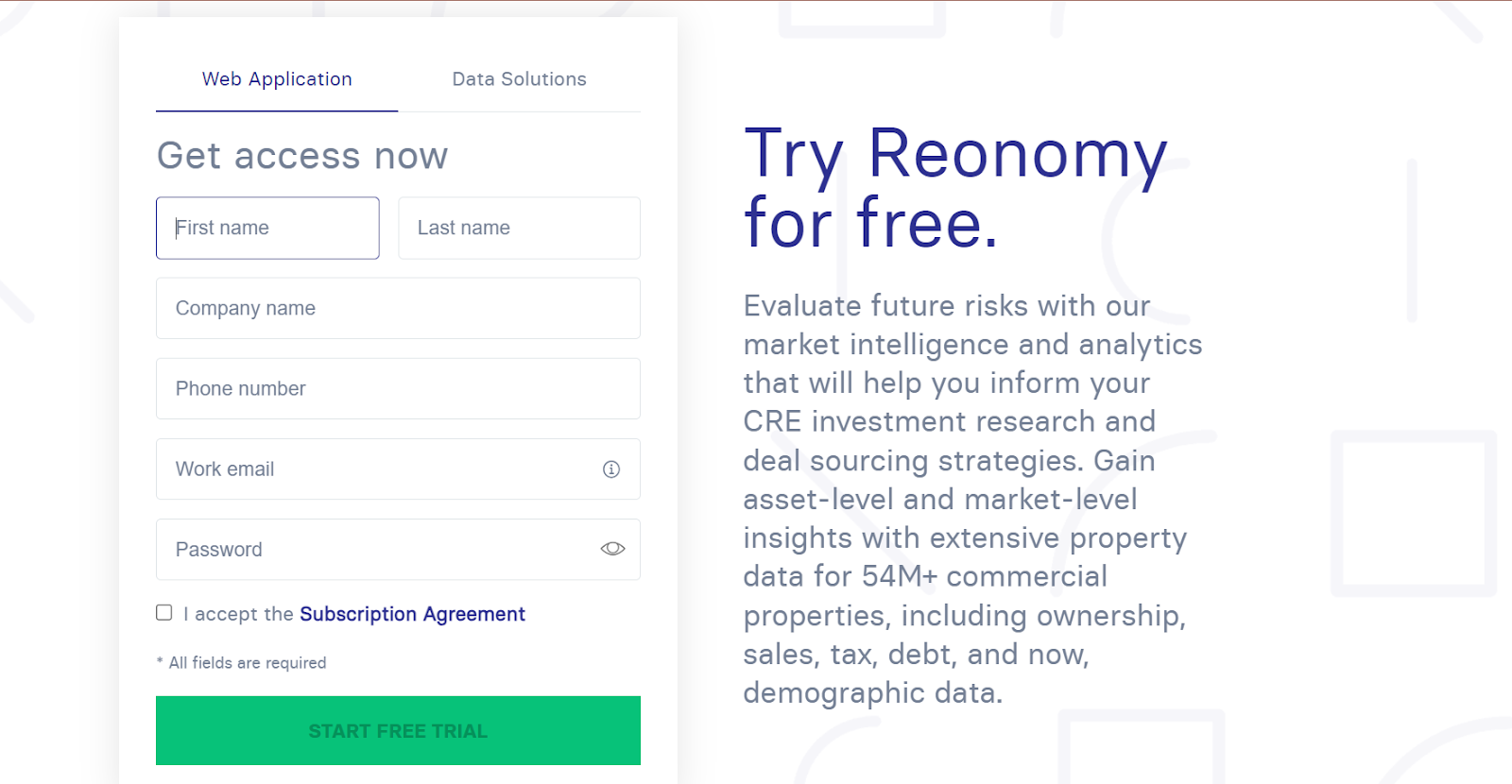 7-day free trial
Individual accounts at $49 per month
Detailed pricing information is not available. For more information on pricing, you need to contact Reonomy.
Bottom Line
Reonomy's comprehensive data, smart analytics, and property intelligence capabilities make it a great resource for commercial real estate professionals seeking precise data, market insights, and investment and growth prospects.

Overview
Zillow is an eminent online real estate marketplace that allows you to buy, sell, rent, and research residential properties. It is one of the most popular and widely used real estate websites in the United States. The features and services of Zillow are both for homebuyers and homeowners.
Highlights
Property Research: Zillow includes details like characteristics of the property, history, tax records, and comparable sales in the specific area. This will help you in the decision-making process whether you are a buyer or seller.
Home Valuation: Using data analysis and proprietary algorithms, Zillow gives you an estimation of property values called 'Zestimation', which offers approximate market values for homes.
Mortgage Tools: Using these tools and calculators you can estimate mortgage payments, investigate refinancing alternatives, and connect with lenders.
Property Listings: Zillow compiles listings from a variety of sources, including homeowners, brokers, and real estate agencies, and publishes them online. Users can do property searches using a variety of criteria, including location, cost, size, and more.
Real Estate Agent Directory: Zillow's comprehensive real estate agent database enables you to look up and get in touch with experts in the areas you choose.
Zillow 3D Home: Gives you a more dynamic and engaging viewing experience where you can view 3D immersive virtual tours of properties.
Pricing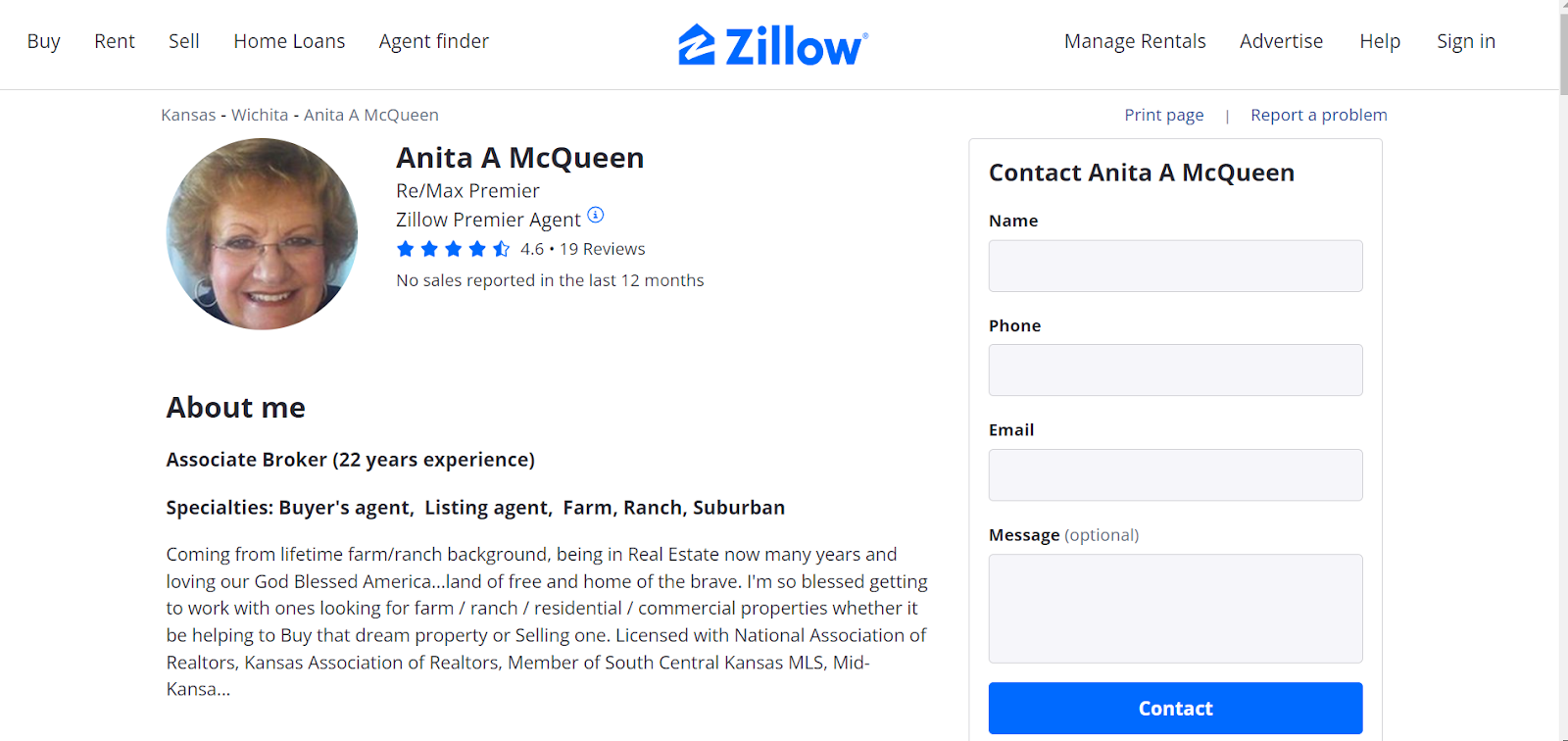 Pricing may vary depending on the type of service and your needs. You need to contact Zillow for more information.
Bottom Line
Zillow is a powerful go-to resource for anyone trying to buy, sell, rent, or research residential real estate because of its user-friendly interface, extensive property database, and different tools and features.
Overview
Cherre is the leading platform for providing accurate real estate data and insight. It takes advantage of Artificial Intelligence and Machine Learning to give you comprehensive information and analytics. It saves you from manual data collection and costs by giving you precise market information and helping you make smarter decisions.
Highlights
Data Integration: Cherre integrates and consolidates massive amounts of real estate data from multiple sources such as public records, demographics, listings, geospatial data, and more. This enables you to access diverse information from a single platform.
Portfolio Analysis: Cherre will assist you in analyzing and evaluating your real estate portfolio by giving portfolio-level performance metrics, risk assessments, and benchmarking. This will help asset managers, and investors, optimize their portfolios.
Analytics and Insights: Cherre uses AI and ML algorithms to generate actionable analytics and insights from integrated data. You can gain access to visualizations, reports, and predictive models that assist you in identifying trends, patterns, and opportunities in the real estate market.
Market Comparisons: You can use this feature to compare properties, neighborhoods, and markets to gain a deeper understanding of local dynamics, market conditions, and investment potential.
Real Estate Use Cases: Cherre also caters to a broad range of use cases, including investment analysis, risk management, asset valuation, portfolio optimization, market research, and more.
Data APIs and Integrations: This feature allows you to leverage its data and insights to seamlessly integrate them into your workflows, applications, and tools.
Data Enrichment: This feature enhances raw data by applying data enrichment techniques, such as cleaning, standardization, and normalization, to ensure data accuracy and consistency.
Pricing
Pricing details are currently not available. Connect with Cherre for more details.
Bottom Line
Cherre truly harnesses the power of AI and ML to propel your business forward with its single-source comprehensive and customizable solutions. This powerful platform revolutionizes the real estate industry by empowering professionals and helping them stay on top of market trends, optimize portfolios, and make smarter decisions.
Overview
Propy is transforming the way real estate works by utilizing blockchain technology to buy and sell properties. Propy makes transactions safer, faster, and more transparent with global accessibility and streamlined processes. Propy aims to simplify the process of buying and selling properties by digitizing and automating various stages of the transaction. So if you are seeking efficiency and convenience to buy or sell properties Propy might be the best option out there.
Highlights
Secure and Efficient Transactions: Propy takes advantage of blockchain to create a secure and transparent environment for your real estate transactions. It reduces the risk of fraud and provides a higher level of trust between the parties involved and ensures that transactions are executed accurately.
Global Reach: Operating on a global scale, Propy enables you to participate in cross-border real estate transactions. It facilitates the process of purchasing property in different countries, including compliance with local regulations, documentation, and payment methods.
Escrow and Payment Integration: Propy's technology includes escrow services and allows you to make secure payments. This ensures that funds are held securely and delivered in accordance with the conditions of the transaction, adding an extra layer of protection for both buyers and sellers.
User-Friendly Interface: Propy has an intuitive and user-friendly interface that walks users through the transaction process, making it accessible to people with varied levels of technical expertise.
Pricing
The monthly membership starts at $19.99 per user.
For agents, the sign-up fee for the Crypto Certified Agent Course is $497.
No fee for finding a tech agent, or listing a property.
Bottom Line
Propy offers an alternative approach to traditional real estate transactions, making it an attractive option for those seeking efficiency, transparency, and convenience. Its advanced and innovative use of blockchain technology aims to transform the real estate industry
Overview
HouseCanary is reshaping the real estate sector by using the power of data-driven research. It delivers a complete toolbox for evaluating property prices, market trends, and predictive analytics using massive data, complex analytics, and cutting-edge algorithms. With a dedication to accuracy, HouseCanary enables real estate professionals, investors, and lenders to make educated decisions that find profitable possibilities while mitigating dangers. HouseCanary will guide you toward real estate success with precision.
Highlights
Forecasting and Predictive Analytics: HouseCanary will provide you with predictions and projections for house prices, market trends, and investment possibilities based on extensive data modeling and predictive analytics. Users may utilize this information to predict market trends and organize their strategies appropriately.
Data Visualisation and Reports: It gives intuitive data visualization tools and configurable reports that display complicated real estate data in an easy-to-understand manner. These visualizations and reports can assist you in effectively presenting findings and fostering data-driven debates.
Neighborhood Insights: The HouseCanary platform delivers relevant neighborhood statistics, such as demographics, school ratings, crime rates, and facilities. This data will help you in determining the desirability and potential of individual neighborhoods for the purposes of purchasing, selling, or investing in real estate.
Property Valuations: Using its extensive data sets and own algorithms it offers automated property valuations. These valuations further provide estimated property values helping you assess the worth of residential properties accurately.
Pricing
Pricing details are currently unavailable. Users can contact the sales team for price-related queries and other services.
Bottom Line
HouseCanary's data-driven strategy and extensive analytics give insightful information and tools for real estate professionals to make intelligent choices, lessen risk, and maximize opportunities in the ever-changing real estate market. Discover the true potential of your real estate ventures with HouseCanary's cutting-edge analytics and technology.
What Are AI Real Estate Tools?
Artificial intelligence (AI) real estate tools are technology solutions that use AI capabilities to improve many parts of the real estate sector. These technologies use complex algorithms, machine learning, and data analytics to automate operations, give important insights, and improve real estate professionals', investors', buyers', and sellers' decision-making.
How Do AI Real Estate Tools Work?
AI real estate solutions analyze vast amounts of real estate data and deliver important insights using powerful algorithms and machine learning. These technologies take data from a variety of sources, process and analyze it in order to find patterns and trends, and provide features such as property evaluation, market analysis, lead creation, and customer interaction.
Why Do Real Estate Professionals Use AI?
Real estate professionals can gain a competitive edge and improve their decision-making by using AI. AI has the ability to process a large volume of data and provide valuable insights that ultimately enhance their work. It automates lead generation and customer management procedures, increasing productivity and boosting customer satisfaction. AI also automates workflows, freeing up time for more strategic tasks.
Final thoughts
With the help of emerging AI technologies and tools, real estate professionals, buyers, sellers, and investors can boost their productivity, make rational and accurate decisions, and save time. Advanced automation, predictive analytics, and enriched customer experiences will make AI a long-term companion for real estate professionals and business personalities. Leverage this opportunity and try out these exceptional AI tools to understand their capabilities and find out what best suits your needs. Pave your way to success with the power of AI.